Breaking Out
British Open 2021: Daniel Van Tonder's eccentric swing and career path arrive at their major moment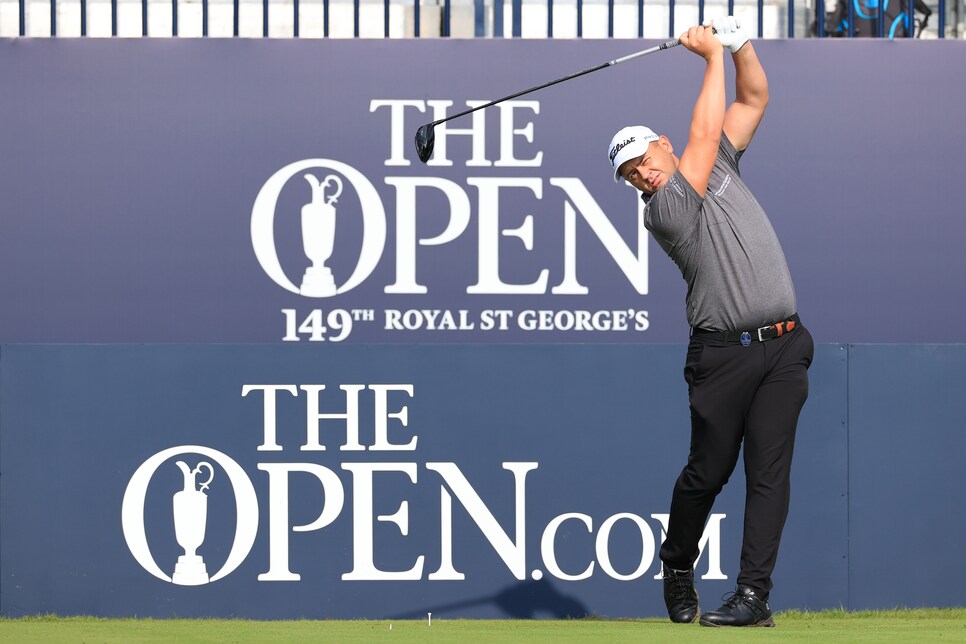 Photo By: David Cannon/R&A
SANDWICH, England — At the halfway stage of this 149th Open Championship, Daniel Van Tonder is six under par after rounds of 68 and 66 over Royal St. George's. Nine birdies and only three bogeys have dotted the two cards returned by the 30-year-old South African, a level of performance just about anyone in the 156-strong field would surely find acceptable. Which begs the question: Playing in only his second major championship, how has this relative unknown—at least on such a high-profile stage—achieved such a notable feat?
The answer is simple: his own way. And the hard way. Van Tonder's route to a major championship leader board has been both circuitous and not without incident.
"It's been tough for us," says wife/caddie/psychologist Abi. "We've had to do all of the qualifying schools. They are normally held at the end of the year, which is usually when Daniel's game is not the best. Mid year to October is when he plays better and peaks. Over the years we have twice missed qualifying from the European Tour school by one shot. And we did the same at the Asian Q-school."
Still, things have been going a lot better over the last few months. Back in February, Van Tonder received an invitation to play in the Magical Kenya Open, a European Tour event. He missed the cut there, but another invitation came his way the following week, what would become the biggest break of his 10-year pro career. Shooting 21 under par for four rounds, he won the Kenya Savannah Classic. Just like that, the need for invitations and trips to Q-schools were gone; Van Tonder was a European Tour player.
Since then, life on the European Tour has been "difficult" because of COVID, but exciting too. And, inevitably, there has been a bit of attention. Nothing new there, of course. It has always been so for this seven-time winner on the Sunshine Tour. Self-taught, Van Tonder's swing is up there alongside Matthew Wolff's for distinctiveness. Once seen, never forgotten. But it works.
"There is only one common denominator amongst all good players; they all get into pretty much the same 'delivery position' for the shots they are trying to play," says noted swing coach Pete Cowen. "But they all do that in different ways. I like Daniel's swing and how he goes about it. His method is a constant. He gets the club in the right position. At an early age he clearly picked up a club and thought, 'this feels right to me' and 'I do it better this way.' I like and admire that in any player."
Indeed, there is much to applaud about the life and times of Daniel Van Tonder. Disowned for unspecified reasons by his family back in 2015, he endured what Abi calls "a difficult childhood."
"Daniel went through a very emotional thing," she says. "I said I'll be on the bag to get him through the emotional stuff. We were engaged at the time. He's comfortable now. At the beginning it was really difficult, but it is fine now. We don't really know what happened. They just all of a sudden decided they didn't want to be part of his life anymore. It was really difficult for him to get over it. And when he eventually did, they tried to make contact again at a tournament in 2018. But he just said, 'What's done is done.' The whole thing was mostly his parents. He didn't really grow up with his mother and father. So they don't have a real connection."
Growing up in that troubled environment, Van Tonder turned to golf, building his game around an action that is both unique and, one imagines, tough to copy. It looks complicated, his arms outstretched way from his body on both the backswing and follow through. But, crucially, his thoughts over the ball are both clear and straightforward.
"For me, my swing feels simple," he says. "I just pull it back and go through with it. I know it looks 'different' to other people but it's me. When you're self-taught you can't see it. It feels right to me. And who is anyone else to judge? I went once to see a coach when I thought I was struggling. Then I went to a few others. Every single one said something different. So I went back to trusting myself. All I think about during my swing is 'pull-back, pull-through.'"
Still, Van Tonder would be less than human if he had not been aware of the comments people make when they see him swing a golf club. Again though, his philosophy is sound.
"I do hear what people say, especially when I'm out there in a tournament like this one," he says with a smile. "I can see people judging me. But, on the other hand, there are plenty of people enjoying what I do. Most people enjoy something different. All I do is trust myself."
The eccentricities in the Van Tonder game do not stop at his full swing. His putting follows suit, at least to an extent, his 6-foot-2 frame bent over to accommodate the 31-inch putter he has long employed to good effect.
"It looks shorter because I use my fingers under the grip," he explains. "Besides, I'm just a small dude (smiles). It just feels like I can turn better with my arms and shoulders. I see the line better. When I'm over the ball I can almost feel the slopes. When I use a longer putter, I don't feel 'over' the ball enough. Again, no one talked me into using the putter I have. It just feels good to me. I've done it that way for a long time."
What will happen over the next two rounds remains to be seen. Van Tonder is going to be keeping some heady company with his wife by his side. No worries though. It is clearly a fruitful partnership both on and off the course. Although not always without incident. Claiming to have "selective hearing," Mrs. Van Tonder clearly puts up with little or no nonsense from the man she "works" for.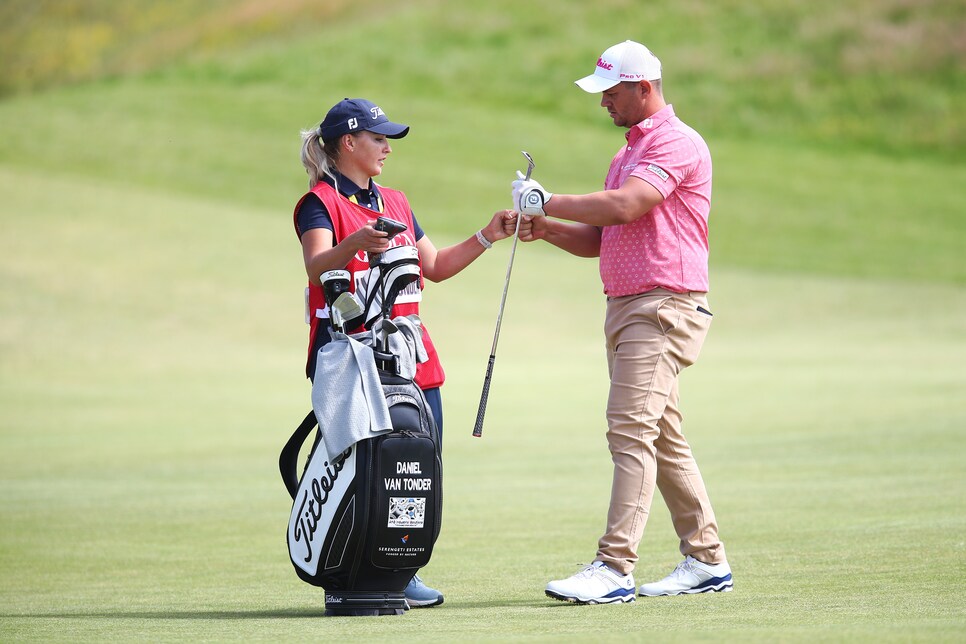 Van Tonder passes a club to his caddie and wife, Abigail, during Friday's second round at Royal St George's.
Christopher Lee
"I give my wife a lot of credit," says Daniel. "Sometimes she gets cross with me when I get cross with myself. But she does 90 percent of everything. All I do is grip it and hit the thing. She gives me good advice. She tells me the yardages. She tells me to 'keep it straight.' She tells me to see a mark and trust my draw. She could caddie for anyone. But they won't pay as good as me."
Or, this week so far, play as well. Arriving here after missing the cut in both the Irish and Scottish Opens, Van Tonder has "done everything better here."
"It's strange," he says. "I've driven well and when I've been in the bush, I have muscled it out there. And when I get to the green I've been chipping and putting well. I won earlier this year at a time when I was struggling. But I found something there and it went well. When I won in Kenya I had missed the cut the previous week and I was seven shots behind during the final round. Then I won by one. Golf is strange."
The next crossroads in the life of the Van Tonders may be imminent. Abi has family in the Chicago area and the pair are keen to move to the States, hopefully with Daniel playing the PGA Tour. He might do that next week. If he finishes in the top 10 in this Open, he will tee it up in the 3M Open in Minnesota. If he does not, the Cazoo Open in Wales beckons.
Which way will Van Tonder go? As ever, his own way, of course.