News
2018 U.S. Open live blog: Tiger Woods gets off to disastrous start, Dustin Johnson shares the lead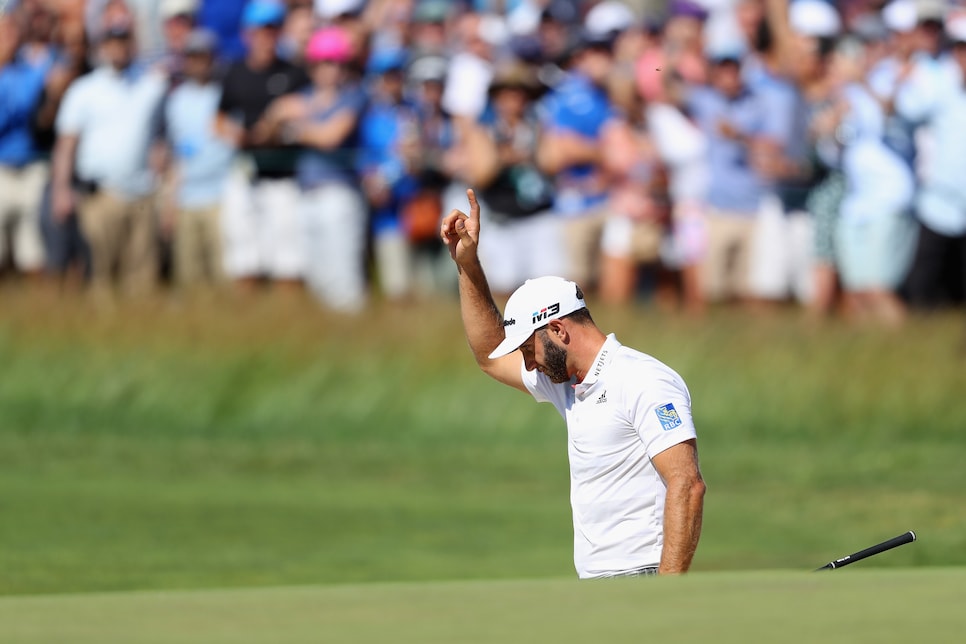 Enough about the traffic and what happened in 2004, thankfully, it's time for some actual golf. The U.S. Open returns to Shinnecock Hills, and while the historic track -- and all its potential treachery -- will take center stage, so will a large group of stars playing at a high level. Dustin Johnson, fresh off a six-shot victory in Memphis, will tee off as a 9-to-1 favorite, but close behind are Justin Rose (12/1), and Rory McIlroy, Justin Thomas and Rickie Fowler all at 16/1. Then there are the two guys everyone will be paying attention to: Tiger Woods and Phil Mickelson. Each will anchor a marquee group on Thursday and Friday with Woods playing alongside DJ and JT (1:47 p.m. ET on Thursday) and Phil grouped with Rory and Jordan Spieth (8:02 on Thursday). As the action gets underway, here are some last-minute thoughts from our editors and a chat with Sergio Garcia. And keep it here for all the latest scores, news and highlights.
7:10 p.m.: Tiger Woods gets up and down to save par on No. 18 to post an opening 78. It's not good, but it's an improvement from the 80 he shot on Thursday at Chambers Bay in his last U.S. Open appearance. Meanwhile, Dustin Johnson also gets up and down for par to shoot 69 and remain in a share of the lead. Thomas settles for par after missing a good look at birdie. He finishes the middle man of this pairing with 74. If we're comparing the two marquee groups, this one -- a combined 11 over -- dominated the morning threesome of Phil Mickelson, Rory McIlroy and Jordan Spieth (25 over). That was fun, huh?! Let's do it again tomorrow!
7:03 p.m.: After a 422-yard (yep, that's correct) drive by Justin Thomas on No. 18, he hits a nice approach to set up a good chance at a closing birdie. However, a bit earlier Dean Burmester did even better on the same hole after a long drive of his own:
7:00 p.m.: Dufner gives himself a tap-in birdie (good thing) on the par-5 16th and he moves back to even par. He's been joined at that number by Byeong Hun An, who recently lost in a playoff at the Memorial.
6:37 p.m.: After three solid shots, Woods leaves himself with a 6-footer for birdie on the par-5 16th and. . . misses. Obviously. He's had his adventures at Shinnecock on Thursday, but he's also missed a bunch of makable putts (Yes, some of those have been for bogey, but they still count).
6:10 p.m.: Russell Henley had a great chance to post the first round of 68 or better, but he missed an 8-footer for par on 18 and settles for 69. Henley joins Ian Poulter and Scott Piercy in the clubhouse at that number. Dustin Johnson and Jason Dufner are also at one under late in their opening rounds.
5:55 p.m.: Warm up the yacht. Woods makes it back-to-back double bogeys to drop to eight over. Suddenly, there's a better chance he doesn't break 80 than he contends this week at Shinnecock.
5:34 p.m.: If Tiger's 10-year major drought is going to end this week, Woods is going to have to do something really special the rest of the way. An opening triple bogey put him in an early hole, but his double bogey on 13 might be more stunning. Woods had a 30-foot birdie putt after two solid shots before a disastrous four-putt. He's now six over.
5:15 p.m.: After another good drive, Tiger comes up just short on his approach and No. 12 and just misses a long putt from the fringe for birdie. Playing partner Justin Thomas doesn't have to worry about judging his birdie putt after doing this:
Maybe a first birdie will finally get the former World No. 1 going. Meanwhile, the current No. 1 makes bogey to drop back to two under. He's tied for the lead with Russell Henley.
5:00 p.m.: Woods makes his first bogey since the second hole and it comes on another difficult par 3, No. 11. This time, he finds the right bunker, hits an indifferent second, and misses an 18-footer for par. Meanwhile, Johnson drains a similar putt for birdie to move to three under and take the lead.
4:40 p.m.: Woods makes a remarkable par save on No. 10 from the bottom of the slope in front of the green, but first a rules issue. As Tiger is lining up his four-footer for par his ball moves. But after conferring with DJ -- and rules officials -- there is no penalty thanks to a new(ish) rule stemming from a similar incident with DJ at Oakmont two years ago. Carry on, everyone.
4:20 p.m.: Woods, Thomas and Johnson all par No. 9. As they make the turn, Johnson is in the lead at two under while Thomas (+1) and Woods (+3) remain within striking distance.
4:00 p.m.: Woods and Thomas find the green, but miss very makable birdie opportunities. Johnson finds the sand, but doesn't miss on this incredible bunker shot:
The World No. 1 is now 2 under and tied for the lead. That's not good news for the rest of the field.
3:51 p.m.: Woods' ball just hangs on in the light rough on the "Redan" hole instead of tumbling into a deep bunker. From there he plays a bump-in-run that results in a tap-in par. Then he pummels another driver on the par-4 8th. Now this is more like it. . .
3:37 p.m.: Shinnecock Hills finally bites Russell Henley as he pays a steep price for a bad pitch shot and makes double bogey. There are now eight golfers under par, but no one is better than -1.
3:30 p.m.: Bit of a crazy situation on No. 6 after Dustin Johnson's tee shot bounces into the fescue. A search party has trouble finding his ball -- look at Tiger putting in a big-time effort!
Until Rich Beem (Yes, that Rich Beem) finds it by stepping on it. Since no one knows how that affected the lie, DJ gets a drop. He can't quite take advantage of the break, pitching out and failing to get up-and-down for par. Still, it's better than a lost ball. Tiger and Justin Thomas narrowly miss their birdie attempts.
3:15 p.m.: Tiger takes advantage of the lone par 5 on the front nine, booming a drive, coming up short with his second and pitching to five feet. His first birdie gets him back to three over. Playing partner DJ also makes birdie to get to two under.
2:51 p.m.: Woods goes long on his approach shot for a fourth straight hole to start his round, but a deft chip leaves him a tap-in par. Meanwhile, World No. 1 Dustin Johnson makes his first birdie of the tournament to get into red figures:
Co-worker Ryan Herrington, who picked DJ to win, starts chirping in my ear. Way to go out on a limb, Ryan. Also, despite DJ's good start, it's Russell Henley who leads at three under. Not that any of this matters. There's a lot of golf to be played.
2:32 p.m.: Tiger pipes a driver (past Dustin) and makes par on the difficult par-4 3rd. Still, that triple bogey looms large. Yes, he made a triple bogey during his romp at the 2000 U.S. Open. But that was 2000 Tiger.
2:18 p.m.: It doesn't get much better for Woods on No. 2. After a driving iron on this brute of a par 3 just runs through the green, Woods three-putts from the fringe for bogey. Two holes, four over. Ouch.
2:05 p.m.: Oh boy. After missing long on No. 1 with his approach, Woods' flop shot comes up short and rolls back down the hill. Then his putt comes up short. Then he finally finds the green and misses for double bogey. That's right. Tiger Woods starts the 2018 U.S. Open with a triple bogey. Meanwhile, Johnson and Thomas make great par saves. If there's a bright side for Tiger, it's that he's still only four shots off the lead. And that he double bogeyed the first hole at Torrey Pines three times in 2008 and still won the U.S. Open that year.
1:55 p.m.: Maybe I spoke too soon. . . DJ and JT both find a greenside bunker while Tiger airmails the green. Again, this is supposed to be Shinnecock's easiest hole. Not a good start.
1:50 p.m.: Tiger Woods finds the fairway on the first hole with an iron, which isn't that big of a deal since you could land a 747 on that thing. Still, we're off.
Dustin Johnson and Justin Thomas do the same, and I'm just going to guess these three will beat the 25 over shot by Phil, Rory and Jordan earlier.
1:33 p.m.: The first round mercifully ends for the group of Phil Mickelson, Jordan Spieth and Rory McIlroy. Phil nipped Spieth for low honors in the group with a 77, and Rory carded an 80, the worst opening round at a major in his career. Add it all up, and this pairing was a combined 25 over par. Maybe McIlroy was right about these marquee groups being a bad thing. . .
1:29 p.m.: Sergio Garcia birdies the first hole. That's great news for him and great news for me since it gives me another opportunity to plug the podcast I did with him earlier this week:
1:15 p.m.: And we have a second player to (barely) shoot in the 60s! Ian Poulter joins Scott Piercy with a 69. "It's nice to get into the clubhouse with a red number in the first round of a U.S. Open," Poulter said after. "I don't think I've done that before." FACT CHECK: Poulter actually shot a 1-under 70 at Pebble Beach in 2010, but maybe he meant a score in the 60s. Either way, it's a great start for Poulter.
12:47 p.m.: Justin Rose posts a solid opening 71. The 2013 U.S. Open champ at Merion didn't convert many birdie opportunities, but he nearly holed a couple sand shots en route to shooting one over, which currently puts him in the top 10 on this trying Thursday. "I'm watching the TV here with you and seeing Rory, Phil and Jordan struggle," Rose told Fox's Shane O'Donoghue. "So that makes me feel a lot better about my round."
12:45 p.m.: In a fantastic example of too little, too late, Rory McIlroy birdies his second consecutive hole at the 6th. That moves the four-time major champ back to eight over. If he's got a side game with his playing partners, though, he's now only two back of both after Mickelson and Spieth bogey the difficult par 4.
12:40 p.m.: Tiger is here! Tiger is here! The 14-time major champ makes his way to the practice area in a grey pants-navy shirt combo that gets my wife's approval. This is Tiger's first time playing in the U.S. Open since missing the cut (badly) at Chambers Bay in 2015. Of course, he's also trying to win his first major since capturing this tournament at Torrey Pines in 2008. Feel like taking a walk down memory lane? You're in luck. I recently took a look back at that epic victory.
12:22 p.m.: For the first time all day, Phil, Rory and Jordan play a hole in which neither make a bogey. Not only that, they all make birdie on the par-5 5th hole. That brings this star-studded group's cumulative score through 14 holes down to 19 over. This leads to an obvious question. . .
And what's an obvious (at least, to me) answer: YES!
12:03 p.m.: Scott Piercy proves it's possible to break par at Shinnecock Hills, firing a one-under 69 to start his tournament. And Piercy is no stranger to playing well under difficult conditions. The four-time PGA Tour winner finished T-2 at the 2016 U.S. Open at Oakmont.
11:57 a.m.: And there it is. Scott Gregory, an English pro who was the 2016 British amateur champ, posts 92. He might be the only guy who fails to break 90, but there are going to be a bunch of players who don't break 80 on Thursday. And two guys who appear to be heading that way are to former World No. 1s, Rory McIlroy and Jason Day. Both are at 10 over well into their second nines. Oh, and Gregory got a photo with Tiger Woods so it's still been a good week.
11:35 a.m.: Scott Gregory just double bogeyed No. 17 to fall to 21 over (Yes, TWENTY-ONE over) with one hole to play. That guarantees we will see a score in the 90s at the U.S. Open for the first time since 2002. History!
11:07 a.m.: OK, it's a new nine for the morning marquee group and the first hole is the easiest hole on the course. Time to get something going, right? Nope. Mickelson makes a four-footer for par while Spieth makes bogey and McIlroy makes double. Rory is now nine over through 10 holes. HOWEVAH, if he uses what a 15-handicap friend of mine calls "The Standard" (AKA bogey golf), he's one under. Gotta stay positive.
11:02 a.m.: Jason Day just chipped in on 12! To save par! And stay at six over! U.S. Open, baby!
10:47 a.m.: Jordan Spieth drains a 30-footer birdie putt on 18 to make the turn in . . . 39.
Playing partner Phil Mickelson is also four over, while the third member of the group, Rory McIlroy, cards an opening 42. Let's hope the afternoon super group of Tiger Woods, Dustin Johnson and Justin Thomas fares a bit better.
9:55 a.m.: Finally, a little life from Rory McIlroy. He rolls in his first birdie on No. 15 (his sixth holed of the day) to get back to (gulp) five over.
9:52 a.m.: Matthew Fitzpatrick rolls in a 30-foot curler for eagle on No. 5. See? This course isn't that hard. Fitz joins a group of eight players currently under par, led by Charley Hoffman at -2.
9:35 a.m.: Shinnecock is playing tough from tee to green, but the wind is also wreaking havoc on the putting surfaces. Take the story of Scott Stallings, who found the green with his third shot on the par-4 14th, but walked away with a NINE.
9:30 a.m.: Spieth makes his longest putt of the day, a 10-footer, but it's for another bogey. Meanwhile, McIlroy makes a second straight double bogey. At three over through five holes, Mickelson is dusting his playing partners. Fox Sports just came on the air with their coverage. They might be showing a lot less of the morning marquee group than planned if this keeps up. . .
9:10 a.m.: Justin Rose, the second-favorite (and my pick) to win, has moved to red numbers through five holes. Meanwhile, the early marquee group of Phil, Rory and Jordan is a combined 11 over through four holes. Yikes.
8:55 a.m.: Jordan Spieth is not the only big name struggling early at Shinnecock. Playing partners Phil Mickelson and Rory McIlroy are both two over through three, Jason Day is three over through four, and Bubba Watson is three over through three.
Somewhere, Mike Davis is smiling.
8:43 a.m.: After birdieing his first two holes, Patrick Reed bogeys No. 3. I'll admit, that GRAND SLAM call may have been just a tad premature. . .
8:31 a.m.: The good news for Jordan Spieth? He rammed in a five-footer on his second hole after a miss from a similar distance on his first. The bad news? It was for TRIPLE BOGEY. Yep, Jordan Spieth is four over through two holes. Not an ideal start.
8:28 a.m.: Reigning Masters champ Patrick Reed birdies the first two holes. Patrick Reed is winning the GRAND SLAM!!!
8:19 a.m.: Jordan Spieth, whose putting struggles have been well-documented this year, leaves himself a four-footer for par on his first hole and. . . doesn't touch the hole. Ouch. Mickelson also bogeys, which McIlroy misses a good look at birdie and settles for par.
8:10 a.m.: Mickelson, McIlroy and Spieth all find the fairway on the par-4 10th, their first hole of the day. However, Mickelson goes long, Spieth only finds the front of the green and McIlroy hits a nice shot to about 10 feet. The wind is howling, folks! Well, it's actually pretty typical for this area, but it's certainly a force. Even with some softer conditions from yesterday's rain, we could see some carnage today!
7:55 a.m.: Defending champ Brooks Koepka birdies the opening hole. We're going to have a repeat, people! OK, not so fast. You will probably see a lot of birdies on the 399-yard, downhill par 4, which is arguably Shinnecock's easiest hole. Things get a lot tougher after that. . . But still, it's a nice start for Koepka, who rolled in a 40-footer to quickly get into red numbers.