News
The 2004 U.S. Open and a Sunday to forget
Fourteen years after debacle of the seventh hole at Shinnecock Hills, Tom Meeks, the man who holds himself responsible, discusses what went wrong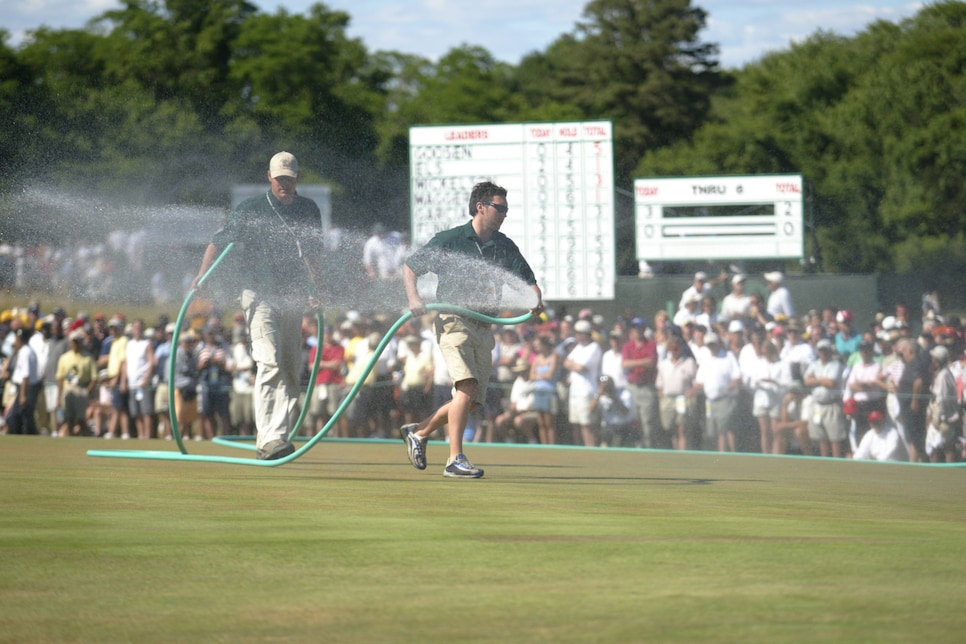 SOUTHAMPTON, N.Y. — Tom Meeks was on the 11th green at Shinnecock Hills on the morning of June 20, 2004, when he got the call on the radio. It was Mike Davis, now the CEO of the USGA, but then the U.S. Open championship director. "Tom, we need you at 7 right away," Davis said.
Meeks, hearing the urgency in his colleague's voice, jumped onto his cart and drove to the short, par-3 seventh hole. He had spent considerable time there that morning searching for, as he put it, "the easiest possible hole location I could find." He had finally selected a spot on the front right of the green, not wanting to go too far back on a green that sloped front-to-back and had been very difficult for players to hold the previous day during the third round.
When Meeks arrived, Davis was standing on the green with the flag lying on the ground. He had watched from a spot nearby as the first two groups of the morning flailed helplessly at a green that simply wouldn't allow any putt of more than a foot or a two to stop if it didn't hit the hole dead center.
Those first four players—J.J. Henry, Kevin Stadler, Cliff Kresge and Billy Mayfair had made three triple-bogeys and a bogey. Ironically, it was Mayfair, who would go on to shoot 89—the highest score of a day when 28 players failed to break 80—who made the miracle bogey.
Meeks had been setting up championship golf courses for the USGA for close to 30 years, and this was the 10th time he had been charged with setting up a U.S. Open course. His reputation was as someone who would squeeze courses to their limits, following the USGA mantra of "fast and firm" at all times.
"You have to understand that the USGA had pushed the notion that it wanted its U.S. Open to be the biggest, baddest, toughest golf tournament in the world," said David Fay, who was the organization's executive director from 1989 to 2010. "Heck, even before I started working there [1979] that was the image of the Open. We were in love with fast and firm. That day, we went too far."
"I started to say, 'What the hell happened,' but before I could get the words out of my mouth, Tom said, 'I screwed up.' " —Former USGA executive director David Fay
Even as the Open finally returns to Shinnecock 14 years later, that sunny, windy Sunday is talked about in hushed tones in USGA circles. No one broke 70 and only Robert Allenby shot 70—even par—moving him from a tie for 34th to a tie for seventh. Retief Goosen and Phil Mickelson, who finished first and second, each shot 71. Ernie Els, who began the day two shots behind Goosen, shot 80—and still finished tied for ninth.
Meeks. who's now 77, retired from the USGA in 2005 and lives in Indianapolis. He says one man was responsible for the debacle: him.
"It was my fault," he said last weekend. "On Saturday, I thought the golf course was perfect—exactly where we wanted it to be. I went out to dinner with Susie [who he's been married to for almost 53 years] and some friends and I was in a great mood. I loved Shinnecock as much as any Open venue we'd ever played, and I thought we were about to walk away from a perfect week."
The weather had been benign the first two days and Phil Mickelson and Shigeki Maruyama had tied for the 36-hole lead at six-under-par 134. On Saturday though, the winds that often buffet Shinnecock began to appear and, by day's end, Goosen had the lead at five under par, with Mickelson and Els two shots back.
A number of players coming off the golf course Saturday afternoon, issued warnings about the need to get plenty of water on the greens overnight. "They're just barely holding up now," said Nick Price, now a member of the USGA executive board. "If we get wind tomorrow, there's potential for disaster."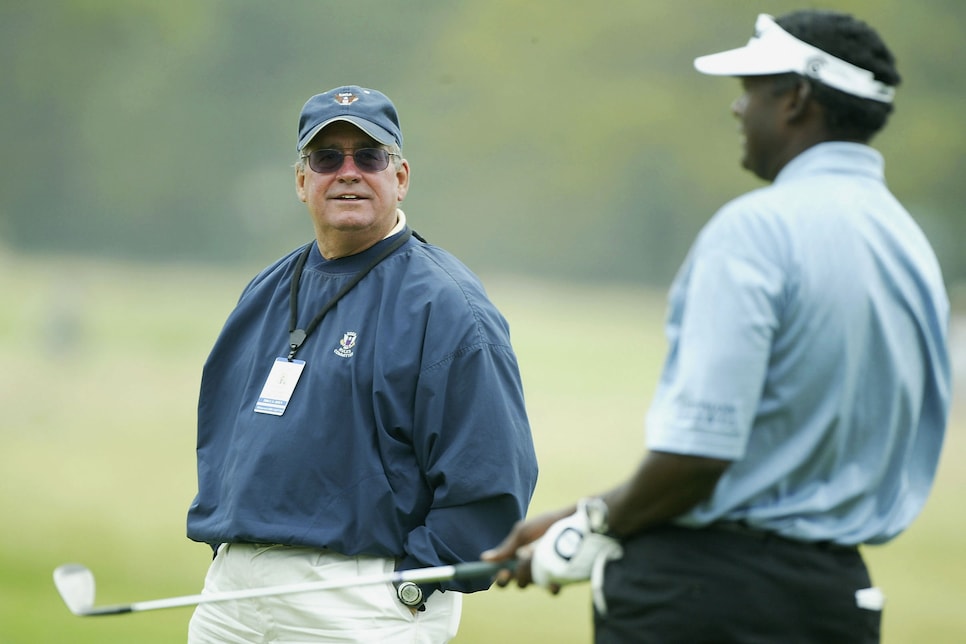 Scott Halleran/Getty Images
"I thought we had the golf course perfect on Saturday," Meeks said. "So, I told Mark Michaud [Shinnecock's superintendent] we should do the same things Sunday morning that we had done Saturday. What I didn't count on was the affect the winds were going to have on the golf course overnight."
There have been all sorts of urban legends about what happened after the sun set on Saturday: That Walter Driver, then chairman of the championship committee, who had defended the condition of the golf course during a TV appearance late Saturday, ordered Meeks not to water; that Michaud's ground crew somehow disobeyed Meek's instructions and triple-rolled the greens.
"Not true at all," Meeks said emphatically. "Walter never interfered with what I wanted to do even a little bit, even though he technically had final say. My mistake was rolling the greens on Sunday morning. After the overnight winds, I never should have done that."
Meeks went out to set the hole locations early Sunday, a few holes ahead of the lead group of Stadler and Henry. He sensed trouble as he went to set his hole locations—which are all tentatively decided on early in the week before play begins.
He could see a potential issue at No. 7, which is why he decided on what he hoped would be the easiest hole location on the green. He was facing a similar problem at 11 when the call from Davis came.
"Once I got there and Mike filled me in, I went back to the tee and told the players there to hold up," Meeks said. "Then I made the decision to syringe the green. At that point it was clear we had no choice."
Other greens on the back nine were watered too, but the syringing began before anyone had played the holes. This was different because two groups had already played the seventh.
Meeks went back to finish his set-up, finally finding a spot he thought would work on 11 and, after much gnashing of teeth, finding a spot on the very back of 18, which he thought would work.
"Fortunately, those two worked," Meeks said. "We didn't get any complaints about them."
Not long after completing the set-up, Meeks got a call from Jeff Hall in the scoring tent. The first group of Henry and Stadler was in there, and Henry had asked to speak to Meeks. By then, everyone on the property knew what was going on at No. 7 and the place was in an uproar.
Henry had actually played well that day, shooting one of the lower scores—75—even with the triple bogey on seven. He is one of the more mild-mannered players on the tour. But when Meeks arrived in the scoring area, he was fuming.
"Tom, when you watered that green after the first two groups had come through, you changed the way the golf course played," he said. "That wasn't fair at all."
Meeks nodded his head. "J.J. you're absolutely right," he said. "It's not fair to the four of you. But we had no choice. We did it to preserve the integrity of the championship."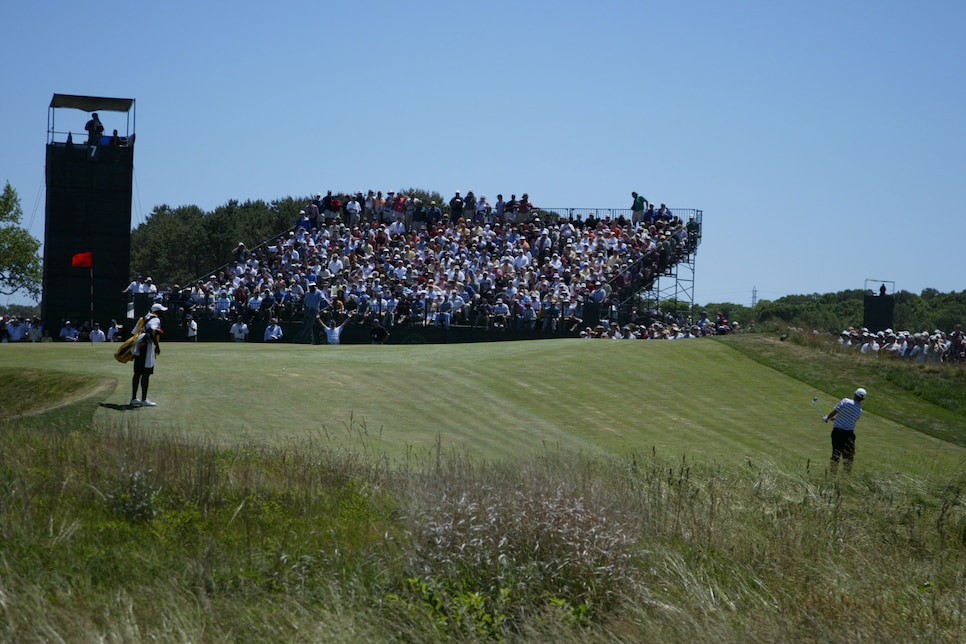 There was no one at the USGA better-liked than Meeks during his 30 years there. One reason was because of his self-deprecating sense of humor and his oft-imitated Midwestern twang, complete with cackling laugh. One long-time USGA employee commented during his retirement speech, "I think the one thing that made me unique all these years is that I'm the only person at Golf House who never did a Tom Meeks imitation."
But, according to Fay, there was more to it than that. "All the years I worked with Tom, he never fibbed or tried to explain his way out of a problem or blame anyone else," Fay said. "He'd look you in the eye and say, 'My fault.' If you're looking for the truth about what happened that day, the only person I'd trust 100 percent to give it to you is Tom."
That doesn't mean Fay wasn't furious about what happened that day. The fallout lasted for years: Shinnecock's membership initially vowed never to host another Open. Time passed and negotiations finally began again. The members first offer was to allow the championship back to their club in return for the USGA giving them a share of the TV rights. That wasn't happening.
It took seven years to finally hammer out a deal to come back. Fay remembers sitting down with Meeks when the dust—and wind—had settled. "I started to say, 'What the hell happened,' " Fay said. "But before I could get the words out of my mouth, Tom said, 'I screwed up.' "
Rolling the greens and not getting enough water on them overnight left Shinnecock close to unplayable on that windy afternoon.
Meeks was already set to retire in 2005 after the Open at Pinehurst. Davis had been named as his successor. "I told Mike afterwards that I had learned a lesson after that Sunday," he said. "I told him, 'more important, I hope you learned a lesson. You can push an Open course to the edge, but you have to be super careful about not letting it go over the edge.' "
Davis has made numerous changes to the Open's set-up philosophy since taking over at Winged Foot in 2006. But he's very much looking forward to this week because he too, vividly remembers the Sunday disaster of 14 years ago.
"One of our greatest courses got a black eye," he said two years ago. "And it was our fault."
Fay doesn't disagree with that sentiment but he does wonder about one thing: What if Mickelson had won that day instead of Goosen?
"That would have been back-to-back majors after people had been saying he'd never win one," Fay said. "I kind of think the storyline would have been different. Sure, the seventh hole and the golf course getting away from us would have been part of the story, but not nearly as much as it was. Phil would have been the story.
Fay also wonders about the impact on another competitor. "The guy who really got screwed in the whole thing was Retief Goosen. He played brilliantly—birdied 16 to get the lead, got it up-and-down on 17—and very few people talk about that at all."
During the 11 years he set up Open courses, Meeks had one other disaster: the 18th hole at Olympic on Friday in 1998. That was a green where finding five usable hole locations (including a potential playoff) was virtually impossible. Meeks went back left on Friday and it backfired. Downhill putts didn't stop; uphill putts rolled back to players' feet—notably Payne Stewart and Tom Lehman, who played in the last group on Sunday but didn't win when Lee Janzen came from behind to beat them both.
Meeks remembers that day all too well. "I remember watching the first groups putt on 18," he said. "I knew I was a dead man. I was supposed to go to dinner with David Fay and some others that night. Instead, I went back to my room, ordered room service, got some red wine and went to bed."
Meeks made a point of apologizing later to both Stewart and Lehman. A year later, when Stewart won at Pinehurst, he pulled Meeks aside in the scoring area, put his hands on his shoulders and said, "I just want you to know, you set up a hell of a golf course."
That's a memory Meeks hangs onto.
In all, Meeks set hole locations on 810 U.S. Open holes—including five rounds in Tulsa when Goosen and Mark Brooks played off on Monday in 2001. He understands that many people only remember the two he got wrong.
"Comes with the territory," he said. "I loved my job. I loved working for the USGA for 30 years. I know people will always remember the 18th at Olympic and the seventh at Shinnecock—I completely understand that. I'm glad though that I still had a year to go before retirement after Shinnecock. I thought we got the golf course right at Pinehurst. I wanted to live up to what Payne had said to me about '99, and I think I did."
Meeks won't be at Shinnecock this week, but he'll be watching—except on Saturday when he and Susie have to be in Columbus, Ohio, for a wedding.
"I hope they get it exactly right," he said. "Shinnecock is such a great venue for the Open. It deserves a perfect week."