Social Media
Photos: The Week in Golf Instagrams
FedEx Cup finale, action in the Alps and birthday wishes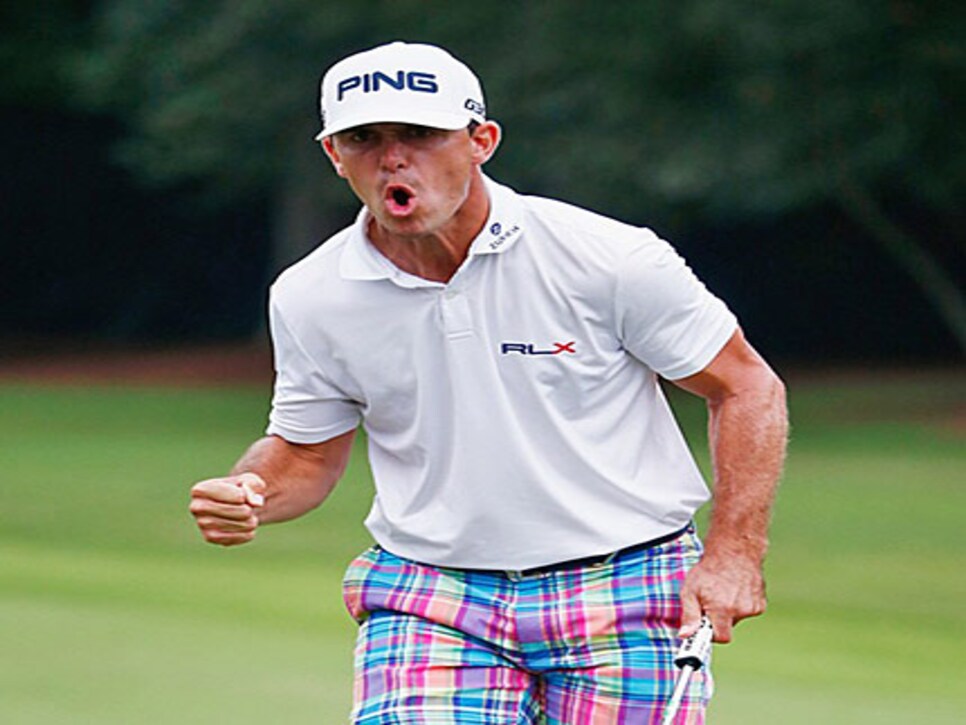 Back9network @back9network
That moment you win $11.4 million. Congrats to Billy Horschel who is your 2014 @playofffinale and #FedExCup Champion! (Photo: Getty Images) #RalphLauren #RLX #Golf #Lifestyle #PGATour #TOURChampionship #Back9Network #B9N
Jeremy And Shannan Whalen @jamesandjack76
The first US Open after 9/11 was held at #bethpageblack in #newyork. Fitting because I believe no other #golf course can better symbolize what ny and the USA are all about. Open to the public, brutally tough yet fair and you have to walk, no shortcuts . . . Pictured is the par 3 17th, a great amphitheater setting where the chants of U-S-A were heard echoing throughout the enormous property. #neverforget #Remember911 #whyilovethisgame
Jack Nicklaus @jacknicklaus
When Jack joined @gcmorningdrive today to pay tribute to friend Arnold Palmer's 85th birthday, the Golden Bear was asked to share his side of "the wig story" from a tournament in Palm Springs. "They used to have these jam sessions after each round of the tournament in Palm Springs, where everybody would go in and there would be people dancing . . . I went off and went to the bathroom, and came back and brushed this wig unintentionally off this lady's head. It fell on the floor! Good gracious! Arnold was there and he picked it up and put it on my head! He danced with me, and I took it off my head and put it on his head, and I danced with him! We had a lot of jokes and a lot of fun. The poor lady was mortified. Her wig got a lot of publicity." @golfchannel #arnoldpalmer #nicklaus #jacknicklaus #goldenbear #golfchannel #golf #happybirthday
Golf4Her.com @golf4her
Congrats Hyo Joo Kim on winning the #EvianChamp. Extra big congrats to Marina Alex on her T29 finish!! #majorsunday
Lindsey Vonn @lindseyvonn
Had a private screening of The Equalizer with my man @tigerwoods and some friends. It's definitely not one for the kids, rated R, comes out Sep 26. #adultsonly #actionmovie #theequalizer #denzelwashington
Greg Norman @shark_gregnorman
Working with a chainsaw ALWAYS be respectful of the unexpected. I was one lucky man today. Damaged, but not down & out. Still have left hand
Paula Creamer @paulacreamer1
Team USA!!! Matching over here in France #black&gold @mpressel @lexi
Cheyenne Woods @cheyenne_woods
Had to do it!! Got some swings in at the top of the French Alps this afternoon. #MontBlanc #Charmonix
Keegan Bradley @keeganbradley1
My girls! @jillianfstacey and our new puppy Penny! #penster
Walter Iooss @walteriooss
Happy 85th birthday to Arnold Palmer, one of the greatest people I have ever met in sport. Here he is with former Pres. Eisenhower in 1965.
Bud Cauley @budcauley
real disappointed to say I tore my labrum last wed but out of surgery and everything went great. will be out for a while but already can't wait to be back.
PGA Tour @pgatour
Among the fans stopping by to take a #SERVPROSelfie, @jordanspieth's grandpa. Pretty obvious which Fathead he was going to choose. #FedExCup (via @playofffinale)
Jessica Korda @thejessicakorda
So this is just the cherry on top of the icing #illBeback