History Lesson
The Greatest Seasons In Golf History
Where does Jordan Spieth's 2015 rank among the very best? Let's look back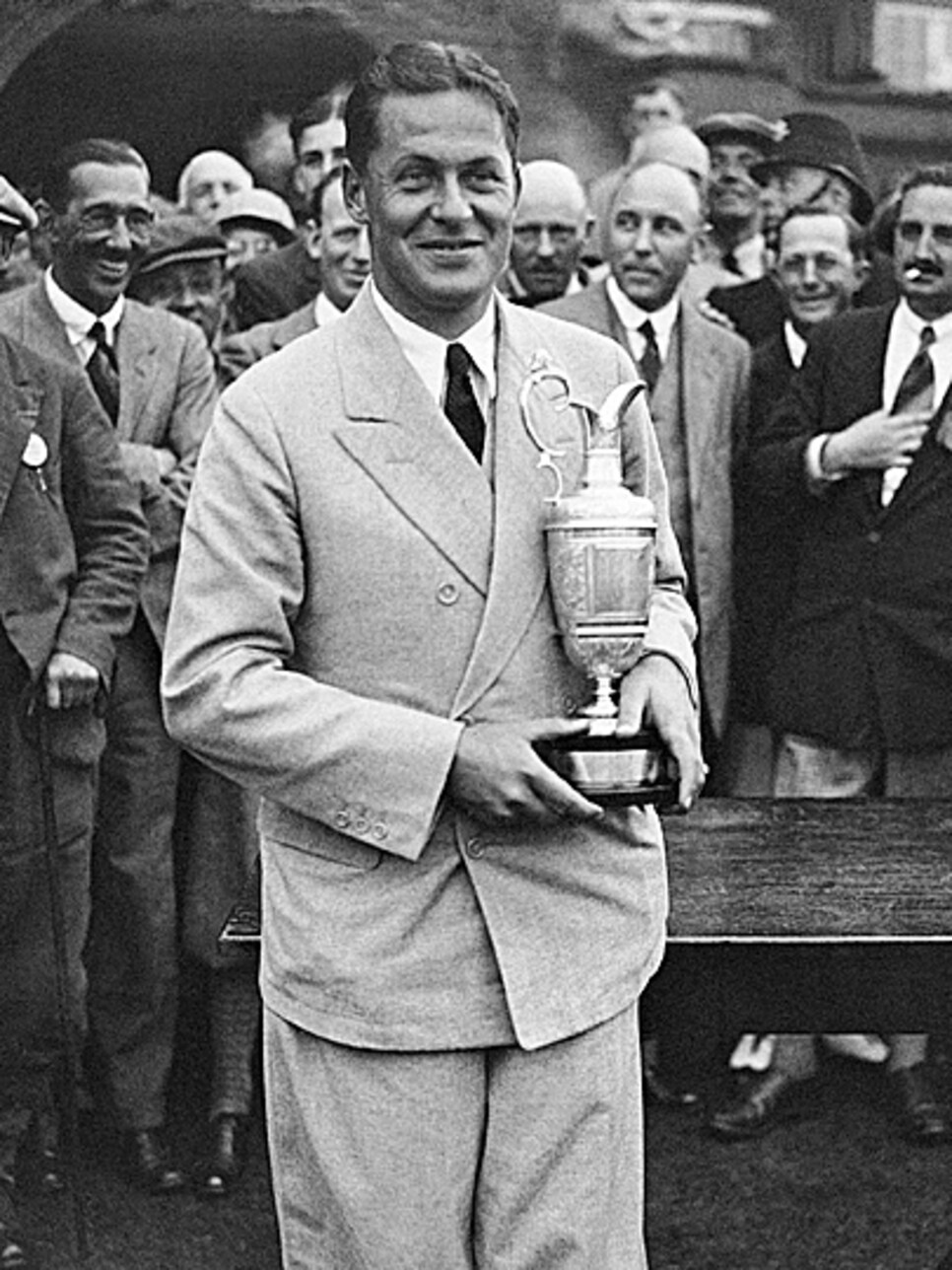 Photo By: Ed Maloney/AP Photo
Photo By: Augusta National/Getty Images
Photo By: Central Press/Getty Images
Photo By: Augusta National/Getty Images
Photo By: Augusta National/Getty Images
Photo By: Montana Pritchard/PGA Tour /Getty Images
Photo By: David Cannon/Getty Images
Photo By: Stephen Dunn/Getty Images
Photo By: Joe Robbins/Getty Images
Photo By: Michael Cohen/Getty Images
Photo By: Stephen Dunn/Getty Images
Photo By: Al Bello/Getty Images
Bobby Jones, 1930
The only player in history to crack what was then golf's "impregnable quadrilateral," Jones won the U.S. and British Opens, and the U.S. and British Amateurs all in one season. With little else to prove in the game, Jones retired after the 1930 season, eventually turning his sights to the founding of Augusta National Golf Club three years later.
Photo By: AP Photo
Byron Nelson, 1945
What does an amazing season look like? How about 13 consecutive wins, 18 overall, and one major. Oh, and legend has it that he went the whole year without missing a fairway.
Photo By: AP Photo
Babe Didrikson Zaharias, 1950
Zaharias in 1950 set the standard that Inbee Park has now matched 63 years later, winning the first three major championships (there were only three in 1950). She won each by a wide margin, too: The Titleholders Championship by eight strokes, the Women's Western Open, 5 & 3, over Peggy Kirk (now Peggy Kirk Bell), and the U.S. Women's Open by nine strokes. Zaharias won eight tournaments and was the Associated Press female athlete of the year for the fifth time.
Photo By: Ed Maloney/AP Photo
Ben Hogan, 1953
Four years removed from a horrific car crash, Hogan went undefeated in '53, winning all five PGA Tour events he entered, including the Masters, U.S. Open, and British Open. Only a scheduling conflict prevented Hogan from entering that year's PGA Championship, which would have made him the only player eligible after three majors to win the modern Grand Slam.
Photo By: Augusta National/Getty Images
Arnold Palmer, 1960
The King caught fire in the early part of 1960, winning four times in February and March before claiming the Masters and U.S. Open. He only won twice more after that, bringing his season total to eight.
Photo By: AP Photo
Mickey Wright, 1963
With ten wins in both 1961 and 1962, many probably thought Wright couldn't get any better -- until she took home 13 wins and three majors the next year.
Photo By: AP Photo
Lee Trevino, 1971
Trevino needed only 20 days in the summer of '71 to construct one of the great years in history, winning three national championships -- the U.S. Open, the Canadian Open and the British Open. All told, he won six times that year, was awarded the Hickok Belt as the professional athlete of the year and was Sports Illustrated's Sportsman of the Year and ABC's Wide World of Sports athlete of the year in addition to being the PGA player of the year.
Photo By: Central Press/Getty Images
Jack Nicklaus, 1972
After a resurgent 1971 season in which he won eight times and went 5-1-0 in that year's Ryder Cup, Nicklaus had a monster 1972. He won the first two majors, the Masters and the U.S. Open, each in wire-to-wire fashion, and finished just a stroke back of winner Lee Trevino at that year's British Open. Overall, he won seven times, and had three second-place finishes.
Photo By: Augusta National/Getty Images
Johnny Miller, 1974
The year after Miller won the U.S. Open with a final-round 63 at Oakmont Country Club, this was his encore: Eight victories (including three in January alone), including two by double digit margins. Miller was the PGA player of the year and earned a PGA Tour record $353,201, which stood until 1978.
Photo By: Augusta National/Getty Images
Nancy Lopez, 1978
Lopez' professional debut in 1978, at age 21, was staggeringly successful. She won eight tournaments, including the LPGA Championship, and won five tournaments in a row, a feat matched only by Annika Sorenstam in LPGA history. Lopez was LPGA rookie of the year and player of the year and the Associated Press' female athlete of the year.
Photo By: AP Photo
Hale Irwin, 1998
The greatest Champions Tour player in history, Irwin followed a season in which he won nine times (in 1997) with one in which he won seven times, including the two most prestigious senior majors, the Senior PGA Championship and U.S. Senior Open. It was his third straight Senior PGA Championship victory and the first of two U.S. Senior Open championships.
Photo By: Montana Pritchard/PGA Tour /Getty Images
Tiger Woods, 2000
The only downside to Woods' 2000 was a fifth-place finish at the Masters. Otherwise, he was virtually unbeatable, winning nine times, including the year's final three majors. When he won the 2001 Masters to complete the "Tiger Slam," he became the only player in history to win four consecutive professional majors.
Photo By: David Cannon/Getty Images
Annika Sorenstam, 2001
Sorenstam began one of the great runs in LPGA history with eight victories in 2001, including the Nabisco Championship and the Standard Register Ping, in which she shot the only 59 in tour history. She was the LPGA player of the year and leading money winner, the first of five consecutive seasons on both counts. To boot, she won 11 times in 2002.
Photo By: Stephen Dunn/Getty Images
Vijay Singh, 2004
Capitalizing on a period when Tiger Woods was in the midst of another swing overhaul, Singh won nine times in 2004, including the PGA Championship, and became the first player to surpass $10 million in on-course earnings. Later that season, he also overtook Woods as the No. 1 player in the world.
Photo By: Joe Robbins/Getty Images
Ryan Moore, 2004
Though he's enjoyed a respectable PGA Tour career, Moore's amateur career projected even bigger things. In 2004, he won the NCAA Championship, the Western Amateur, the U.S. Amateur Public Links, and the U.S. Amateur all in a four-month span.
Photo By: Michael Cohen/Getty Images
Lorena Ochoa, 2007
It's hard to tell which year was best for Lorena Ochoa. In 2007, with Annika Sorenstam still the top dog, Ochoa won eight times, including the women's British Open at St. Andrews. The next year she won seven times and added another major.
Photo By: Stephen Dunn/Getty Images
Inbee Park, 2013
Talk about peaks and troughs: After winning her first major in 2008, "Winbee" went four years without an LPGA win. But that's not the problem anymore. She's already won six times in 2013, and is 3/5ths of the way to the "Super Slam."
Photo By: Al Bello/Getty Images
Rory McIlroy, 2014
McIlroy only won three times on the PGA Tour in 2014, but boy did he make those count. He claimed the British Open, WGC-Bridgestone Invitational, and the PGA Championship in a row to reclaim his spot as golf's unquestioned best player. McIlroy also won the BMW PGA, the European Tour's flagship event, and he helped lead Europe to a win in the Ryder Cup, becoming the first player to win two majors and a Ryder Cup in the same season since Tom Watson in 1977. His overall consistency -- even if he wasn't winning early in the season -- was just as remarkable. He finished inside the top 25 in all 17 starts on the PGA Tour and he led the tour with 12 top-10 finishes.
Photo By: Getty Images
Jordan Spieth, 2015
Spieth had a legitimate chance to win the calendar Grand Slam after winning the Masters and U.S. Open, and being tied for the lead late at St. Andrews. He missed out on a playoff by a shot and then finished runner-up at the PGA Championship to join Jack Nicklaus and Tiger Woods as the only players to finish in the top four of all four majors in the same season. But he wasn't done. With a win at the Tour Championship -- his fifth victory of 2015 -- Spieth also captured the FedEx Cup. And oh yeah, he didn't turn 22 until July.
Photo By: AP