Who Knew? New York's Golf History
New York's golf history is as varied and surprising as the city itself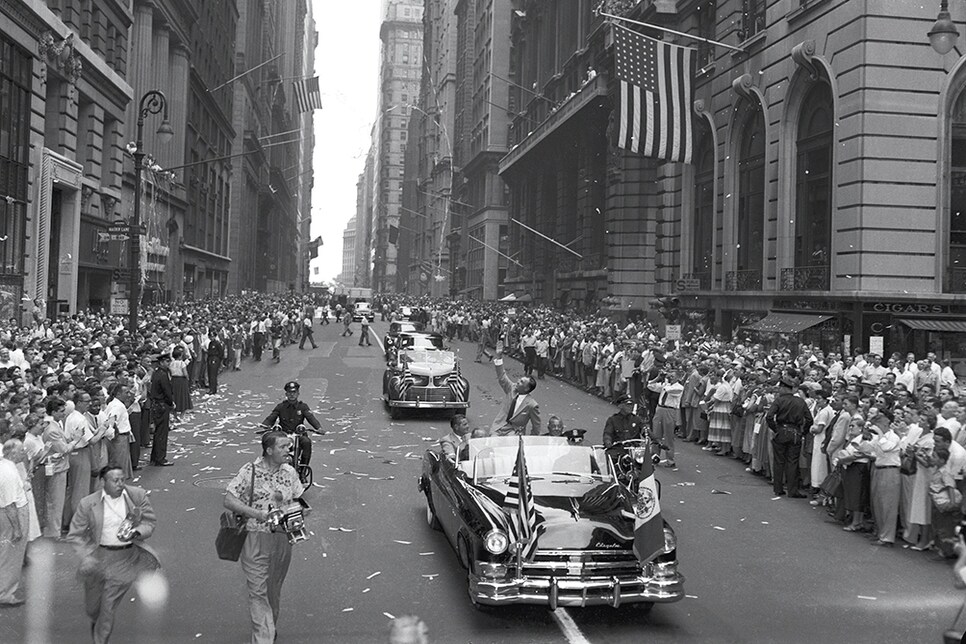 Photo By: Photo by Getty Images
Photo By: Sarah Fabian-Baddiel/Heritage Images/Getty Images
Photo By: Hank Olen/New York Daily News Archive/Getty Images
Photo By: Photo by George Rinhart/Corbis/Getty Images
Photo By: Photo by Alan P. Pittman
Photo By: Photo by Fox Photos/Getty Images
Photo By: Photo by Stephen Szurlej
Photo By: Photo by Stephen Szurlej
Photo By: Photo by Rick Dole/Getty Images
Photo By: Stephen Szurlej
Photo By: Photo by Underwood Archives/Getty Images
Photo By: Photo by Bettmann/Getty Images
Three golfers have received ticker-tape parades down New York's famed Canyon Of Heroes: Bobby Jones in 1926 and 1930, Ben Hogan in 1953 (pictured) and Willie Turnesa, after he won the British Amateur in 1947.
Photo By: Photo by Getty Images
The Amateur Golf Association Of The United States (later the USGA) was formed in New York in 1894. The PGA of America was also founded in Manhattan, in 1916, at the Hotel Martinique on Broadway. The inaugural PGA Championship was played in Bronxville, N.Y., that same year.
Photo By: Sarah Fabian-Baddiel/Heritage Images/Getty Images
In 1942, backed by club members, former Augusta National shoe shiner Sidney Walker (aka Beau Jack) knocked out Tippy Larkin at Madison Square Garden to become the lightweight champion of the world. He would headline a record 21 fight cards at the Garden.
Photo By: Hank Olen/New York Daily News Archive/Getty Images
Sammy Byrd played in both the World Series and the Masters. A backup outfielder for the Yankees, Byrd replaced Babe Ruth in the ninth inning of the 1932 World Series. Byrd later turned to professional golf, winning six times on tour and playing in five Masters.
Photo By: Photo by George Rinhart/Corbis/Getty Images
Van Cortlandt Park in the Bronx is home to the oldest municipal golf course in the United States, opening in 1885. Its 115-year-old wood lockers, used by Willie Mays, Joe Louis and the Three Stooges, among others, remain intact. Look familiar? The movie "Wall Street" shot a scene here.
Photo By: Photo by Alan P. Pittman
In 1964, the city rejected a proposal to build a driving range in Central Park. "How can we have this in Central Park without hitting people in the heads with golf balls?" Parks commissioner Newbold Morris said.
Photo By: Photo by Fox Photos/Getty Images
After several starts and stops, Trump Golf Links at Ferry Point officially opened in 2015. Built atop a former landfill, the course reportedly cost city taxpayers $230 million. Who made the first ace on the 149-yard 12th? Donald J. Trump.
Photo By: Photo by Stephen Szurlej
Bethpage Black
became the first publicly owned and operated course to host the U.S. Open, in 2002, with Tiger Woods emerging victorious. The course had another Open in 2009, won by Lucas Glover.
Photo By: Photo by Stephen Szurlej
Without New York City, Tiger Woods might never have become a golfer. Woods' father, Earl, was introduced to the game at Dyker Beach Golf Course in Brooklyn in 1972 while stationed at Fort Hamilton.
Photo By: Photo by Rick Dole/Getty Images
Shinnecock Hills
was one of the first U.S. clubs to welcome female members, and one of its own won the first U.S. Women's Amateur in 1895. Playing at Long Island's Meadow Brook Club, C.S. Brown shot 69 in the morning and 63 in the afternoon for a winning total of 132—for 18 holes.
Photo By: Stephen Szurlej
It wasn't unusual in the 1930s to play mini-golf on top of a skyscraper. The first New York mini-golf course was constructed on a building near the stock exchange in 1926 using cottonseed hulls dyed green. soon, 150 more popped up across the city.
Photo By: Photo by Underwood Archives/Getty Images
MORE NEW YORK GOLF TRIVIA
The honored tradition of Sunday golf was secured in New York when Benjamin Adams successfully defended himself after he was arrested for disturbing the "peace of the day" by playing golf on a Sunday at Saegkill Golf Club in 1901. At that time, it was illegal to play sports on Sundays.
---
Seeking a pay hike from 50 cents a bag to 75 cents, Siwanoy Golf Club caddies went on strike in 1914. Some beat up their replacements, and others stole golf balls and clubs. eventually most of the striking caddies returned to work— at the old rate.
---
The '70s and '80s were a dangerous time for golfers in NYC. It wasn't unusual for players to hit around abandoned cars, get mugged or worse. "We get a certain number of dead bodies," John DeMatteo, a driving force to clean up golf in the city, told The New York Times in 1985. "I try not to be the first one out on the courses in the morning."
---
New York City auction houses have brokered the sale of Andy Warhol's famous Jack Nicklaus painting (sold for $52,500 in 2012), Frank Sinatra's golf cart ($20,700 in 1995), and an original program from the first Masters Tournament ($12,650 in 1995).

Photo By: Photo by Bettmann/Getty Images