13 Horribly-Timed Water Balls
Recounting shots that found the drink at inopportune moments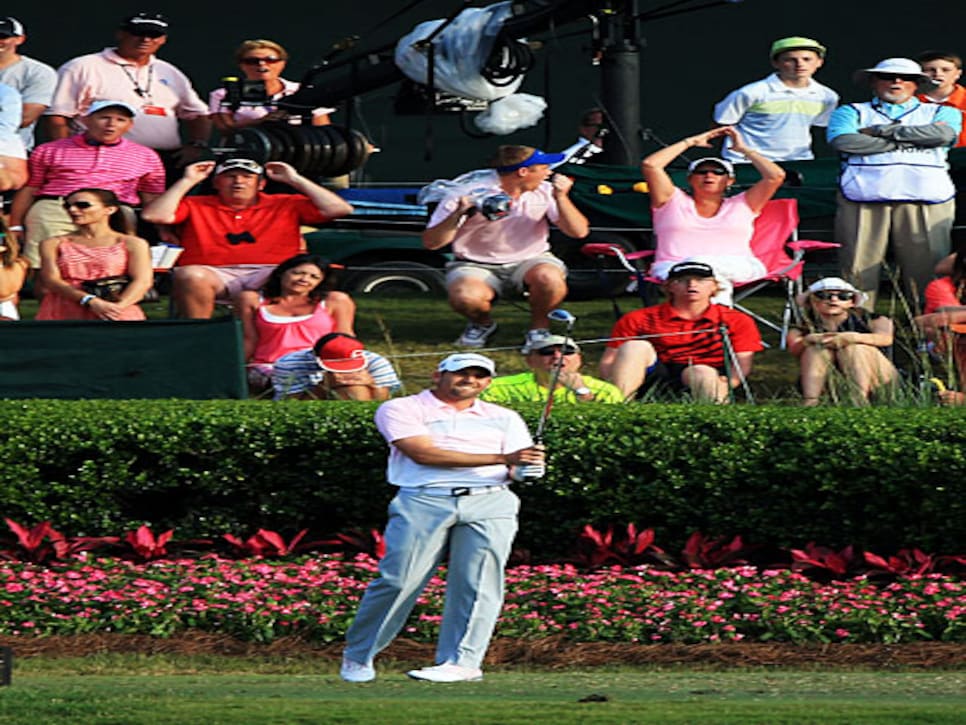 Sergio Garcia, 2013 Players Championship
Things were tense between Sergio Garcia and Tiger Woods all week after the Spaniard accused the world No. 1 of trying to put him off during their third round, prompting a curt response from Tiger: "Not real surprising that he's complaining about something." But the two remained locked in a shootout for golf's fifth major until the 71st hole, when Garcia -- tied for the lead at the time -- dunked two in the water on Sawgrass's notorious par-3 17th for a quadruple-bogey 7.
Sergio Garcia, 2008 PGA Championship
The 2013 Players Championship wasn't the only time Garcia found the drink under pressure. Battling Padraig Harrington -- who had snapped the British Open away from Garcia a year earlier -- in the final round of the 2008 PGA Championship, Sergio leaked his approach shot to Oakland Hills's 406-yard par-4 16th hole into the water right. It was the first of two bogeys he would make on his final three holes, resulting in a two-stroke loss.
Billy Joe Patton, 1954 Masters
No amateur has ever won the Masters, but Billy Joe Patton was among the closest. Leading Sam Snead and Ben Hogan in the final round of the 1954 Masters, Patton appeared in good shape going into the final hole of Amen Corner. But, deciding to go for the green in two on the par-5 13th, his shot found the water and resulted in a double-bogey 7. Patton eventually missed out on a playoff with Snead and Hogan by one stroke.
Seve Ballesteros, 1986 Masters
The 1986 Masters is best known for bringing Jack Nicklaus his 18th major at age 46. But less attention is paid to some of the chokes that made it happen. Seve Ballesteros, who was in the hunt all week, provided one of them, hitting an ugly chunk-hook into the water left on Augusta's par-5 15th. Jack, meanwhile, was on the 17th green, and was moments away from making his famous "Yes sir!" birdie putt.
Charles Howell III, 2005 Buick Invitational
"I didn't know whether to laugh or cry," said Charles Howell III after his shot on the final hole of the 2005 Buick Invitational hit the bottom of the pin and bounced back into the water. Needing to hole-out his wedge shot on the par-5 18th for eagle to force Tiger Woods, the eventual winner, into a playoff, Howell took dead aim with no luck. He chipped-in for bogey to leave him tied for second, but it was still a bitter pill: the shot cost him somewhere between $200,000-$500,000.
Kyle Stanley, 2012 Farmers Insurance Open
Charles Howell III wasn't the only golfer to be dealt a cruel blow by Torrey Pines' 18th hole. Kyle Stanley had been playing well all week, building himself a five-stroke lead going into the final round, which shrunk to three going into the final hole. After playing his second shot safely short of the water in front of the green, Stanley's wedge landed on the surface before spinning backwards into the drink. He would make a triple bogey, and eventually lost in a playoff to Brandt Snedeker.
Ben Hogan, 1960 U.S. Open
Five years after being denied a record fifth U.S. Open title at the hands of the unlikely Jack Fleck, a 47-year-old Hogan returned to contention in 1960 and put on a ball-striking clinic. Having hit all 34 greens on the tournament's final day to grab a share of the lead (in those days, the third and fourth rounds were played on Saturday) going into Cherry Hills's 548 yard Par-5 17th, Hogan's third shot spun back into the water, leading to a bogey. Distraught, Hogan then hooked his tee shot on the 72nd hole and made a triple-bogey 7 to finish T-9.
Jean van de Velde, 1999 British Open
Jean Van de Velde hit it in the water on Carnoustie's final hole and although he got up and down -- albeit for a triple bogey -- to force a playoff, his name will always be synonymous with one of the biggest chokes of all time. Looking back, Van de Velde said he should have used his third shot to chip from the rough back into the fairway rather than try to hit the shot that finished in the water and, ultimately, cost him the tournament.
Tiger Woods, 1997 Ryder Cup & 2005 Masters
Tiger Woods may have spent more time atop the world ranking than anyone else in history, but even he's not immune to an ill-timed water ball. Making his first Ryder Cup appearance in 1997 at Valderrama, a young Tiger putted from the back of the course's 17th green into the water hazard. An anomaly? Not quite. Eight years later, at the 2005 Masters, Woods putted his first round eagle attempt on Augusta's 13th hole into Rae's Creek. It wasn't enough to prevent Woods from claiming his fourth green jacket.
Mark Calcavecchia, 1991 Ryder Cup
Mark Calcavecchia was dormie with four holes to play in his final day singles match against Colin Montgomerie at the 1991 Ryder Cup, with his U.S. team looking good for the win. But after his lead shrunk to 2 up with two to go, Calc shanked his tee shot on Kiawah's par-3 17th hole into the water. Monty eventually tied the match and Calcavecchia, trying to recover from his collapse, made his way to the Kiawah beaches where he reportedly sank to the ground and cried.
Raymond Floyd, 1990 Masters
Having been the beneficiary of a Scott Hoch meltdown a year earlier, Nick Faldo won his second Masters playoff in consecutive years after Raymond Floyd pulled his 7-iron approach shot into the hazard on Augusta's 11th hole. "This is the most devastating thing that's ever happened to me in my career," said Floyd after the playoff. "I've had a lot of losses, but nothing like this."
Greg Norman, 1996 Masters
In 1996 Greg Norman was in prime position to become the first Australian winner of the Masters. But the Shark knocked it in the water on both par 3s on the back nine -- 12 and 16 -- leading to double bogeys on each occasion. He turned a six-shot lead into a five-shot defeat and as a result, handed Nick Faldo his third green jacket.
Roy "Tin Cup" McAvoy, 1996 U.S. Open
Roy McAvoy (also known as Kevin Costner) put his life as a beer-swilling driving range pro from West Texas on hold to qualify for the U.S. Open in hopes of impressing a woman. After a bad first round, he charged up the leader board of the fictional 1996 U.S. Open. Tied with the clubhouse leader Peter Jacobsen going into the final hole, McAvoy stayed true to his "go for it" personality and went for eagle but knocks it in the drink. He then refused to leave until he pulls off the shot, which he eventually holes out for a crowd-pleasing 12.