News
PGA Tour University program comes at the right time for men's college golfers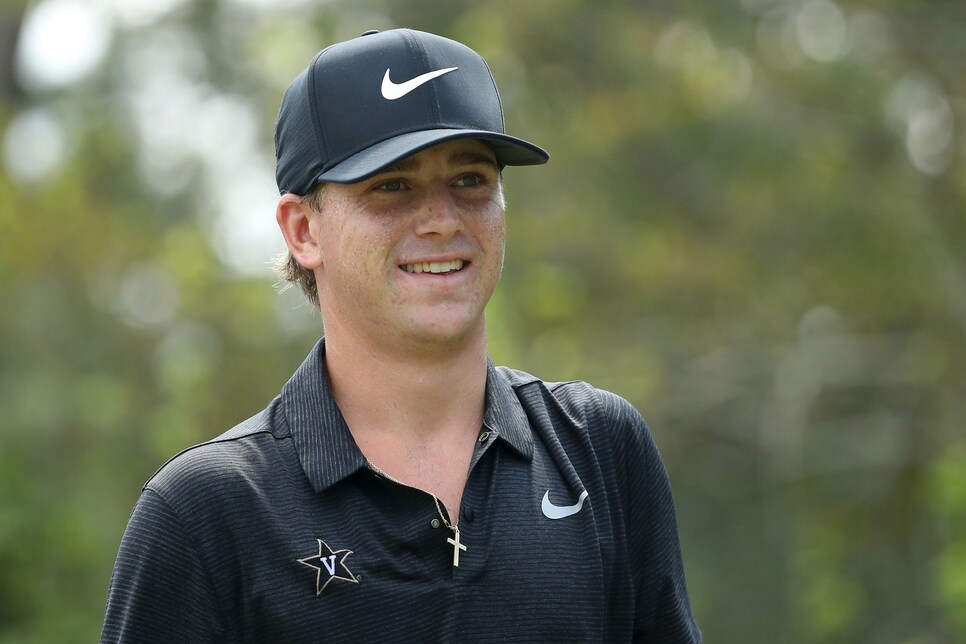 Vanderbilt's John Augenstein will be among the college seniors vying for Korn Ferry Tour membership in 2021 via the new PGA Tour University program.
Streeter Lecka
Three months later, with PGA Tour University formally revealed on Monday and set to begin in the 2020-'21 college season, the program has garnered more praise given the lifeline it's providing a class of collegiate players hamstrung by the impact of the COVID-19 pandemic on competitive golf at the college and pro levels.
Last week, 2019 U.S. Amateur runner-up John Augenstein cited the program as a factor in his decision to return to Vanderbilt for a fifth year. Like most top players seniors in the Class of 2020, Augenstein was planning to turn pro after this year's NCAA Championship (which was scheduled for this week at Grayhawk Golf Club in Scottsdale). The hope was to follow the path of Matthew Wolff, Collin Morikawa and Viktor Hovland, college stars who used sponsor's exemptions in 2019 to eventually play their way on to the PGA Tour in a matter of months.
After the 2020 college season was wiped out due to the coronavirus, and the NCAA agreed to grant student-athletes in spring sports an added year of eligibility, Augenstein still leaned toward sticking to his plan and turning pro. But when the PGA Tour's schedule was shortened and tour officials called off 2020 KFT Qualifying School, another year in college—and the opportunity to earn tour status while doing it—looked preferable to the limbo of being a nascent pro with limited access to any PGA Tour-affiliated tour.
In addition to Augenstein, Baylor's Cooper Dossey, Oklahoma's Quade Cummings and Garrett Reband and Arizona State's Chun-An Yu, all senior who had earned first-team All-American honors during their careers, will also be returning for a fifth year in college.
"By the weird circumstances [of COVID-19], the byproduct of that is I think we're going to get an incredibly strong class," said Brendan von Doehren, the Korn Ferry Tour's senior director of tournament and membership affairs who helped oversee the development of the PGA Tour University program. "Six months ago they would have been going through Q school and the normal route. We are very fortunate for that. It should add more interest, more drama, more excitement."
Here's how PGA Tour University works: The top five players on a new created collegiate player ranking, which will include only golfers playing in their fourth or fifth year of college eligibility, gain immediate membership on the Korn Ferry Tour after the NCAAs in late May. That will allow them to compete in the final eight or nine KFT events as full members. If these college players earn enough points in those tournaments to crack the top 25 on the KFT's year-long points list, they will earn a PGA Tour card for the following season. They also can play their way into the top 75 on the points list and gain entry in the KFT final series, giving them another shot at earning PGA Tour eligibility. If a player doesn't crack either threshold, they will still get direct entry into the final stage of KFT Q school later in the year.
Contrary to what some might presume, the program was not a reaction to the success of Wolff, Morikawa and Hovland in 2019. Von Doehren, a former college golf coach, says development of the plan has been going on for more than two years, with much discussion centered around how to build the proper ranking to fairly identify and reward the top players. The tour ultimately chose a variation of the World Amateur Golf Ranking that includes only college events from the previous two years as well as PGA Tour starts, including majors. The first ranking will be revealed in late summer, allowing all players to see where they stand as they prepare for the college season ahead.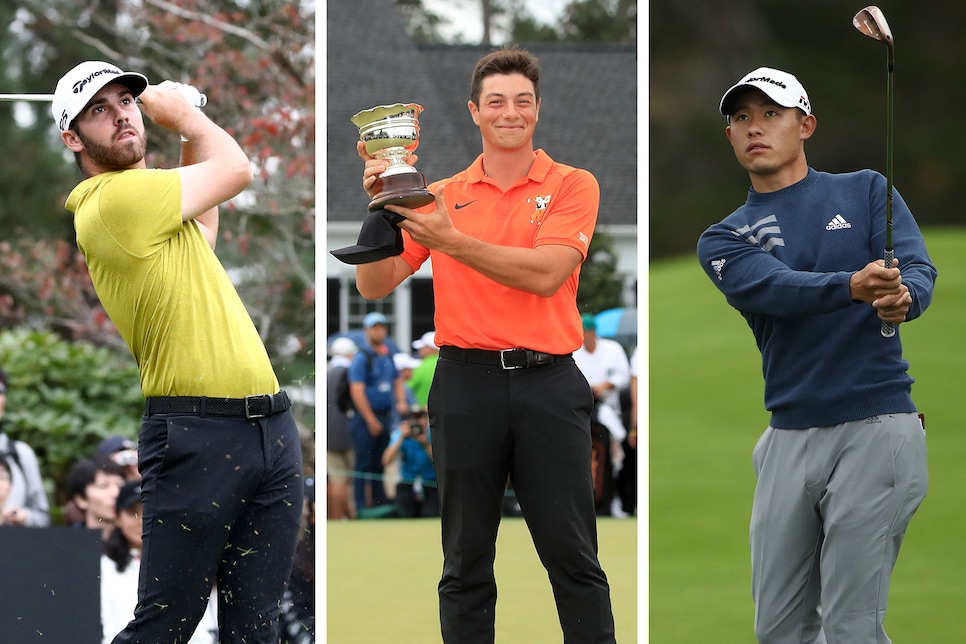 PGA Tour University wasn't inspired by the success of Matthew Wolff, Viktor Hovland and Collin Morikawa right out of school in 2019, but is something that it can build on.
Getty Images (3)
Von Doehren said that with all the changes to the PGA Tour and Korn Ferry Tour schedules due to the coronavirus, there was a review of the program to be sure it made sense to launch it in the fall. Given what happened to KFT Qualifying School, however, PGA Tour Univeristy seemed even more important.
"Hopefully," Von Doehren said, "we have a class and the first few classes here where we see these guys take these opportunities and really push them forward."