News
Uncertain times lead Vanderbilt star John Augenstein to choose fifth year of college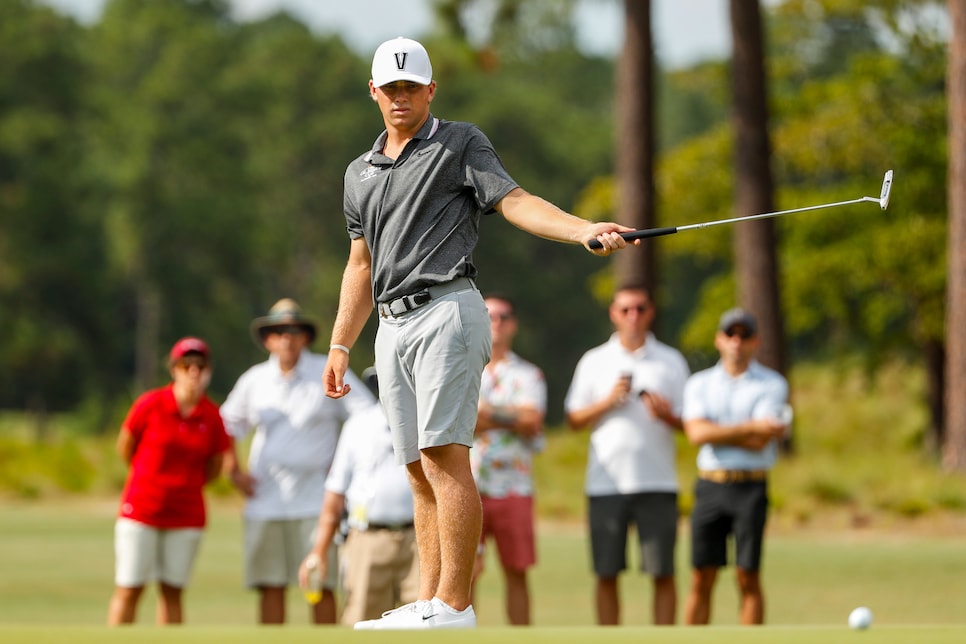 John Augenstein is the reigning SEC player of the year.
Copyright USGA/Chris Keane
Fifth-year seniors are rare in college golf, particularly those with the credentials of Vanderbilt's John Augenstein. Yet the 2019 U.S. Amateur runner-up's announcement on Monday that he'd be returning to college for a fifth year in 2020-'21 was hardly a shock, given the abrupt end to what was expected to be his final season with the Commodores due to the coronavirus this spring, and the uncertain road facing collegians who anticipated turning pro this summer. Moreover, it might be the first of many among college golf's top players.
"My four years at Vanderbilt were everything and more than what I dreamed they would be," Augenstein said. "These last few months did not go as planned for any of us, and after talking with my family, coaches, and close supporters, I have decided that it would be best for me to return to Vanderbilt Golf for a fifth year. I am not content with how this year played out for myself and for my team. There is more work to do."
Before the 2020 NCAA Championship was canceled in March, Augenstein, who earned his undergraduate degree in sociology this spring, was having a stellar season. In seven starts, he had a 69.95 stroke average, with one win and three top-five finishes. His performance earned him SEC player of the year honors and a spot on the first-team All-American list.
Having earned a spot into the Masters and the U.S. Open thanks to his performance at the U.S. Amateur last summer, Augenstein was expecting to play both tournaments as an amateur before turning professional in June after the conclusion of the NCAA season. Given his amateur resume, he would have likely earned several sponsor's exemptions into PGA Tour events for the summer, allowing him to try to play his way on to the Tour in the same way that Matthew Wolff, Collin Morikawa and Viktor Hovland did in 2019.
But with the coronavirus truncating the PGA Tour and Korn Ferry Tour schedule, and causing the cancellation of the Korn Ferry Tour Qualifying school, opportunities for a nascent pro golfer suddenly looked slim.
In comparison, by remaining an amateur and returning to school next fall, Augenstein sets himself up for plenty of exciting opportunities. He will get to take advantage of his U.S. Open exemption in September and Masters invite in November. He also has the chance to play his way onto another U.S. Walker Cup team, with the 2021 match scheduled for next May at Seminole Golf Club; Augenstein played for the victorious American team at Royal Liverpool last September.
Additionally, the PGA Tour policy board approved in March a new program, PGA Tour University, that will provide professional playing opportunities to top graduating seniors beginning in 2021.
There's also some unfinished business regarding an NCAA team title that Augenstein was hoping might come this spring.
"John, like so many [college players], got a lot of his senior season taken away, including the SEC and NCAA Championship, and lost a lot of other opportunities including playing in the Masters and U.S. Open," said Commodores men's coach Scott Limbaugh. "John's Vanderbilt story is not finished."
As other top college golfers—notably Pepperdine's Sahith Theegala, winner of the Fred Haskins Award for top college golfer, and Georgia Tech's Andy Ogletree, the 2019 U.S. Amateur champion—consider their futures and whether or not to turn pro this summer or stay for another year or school, the lures of college and amateur golf might be too attractive to pass up.