How Have Golf's Greats Performed As Team Captains?
On Wednesday at Sea Island, 2016 Ryder Cup captain Davis Love III announced Tiger Woods as one of his assistants for next year's event. Though he's just in an ancillary role, it's clear Woods harbors captaincy aspirations. Which got us thinking: How have golf's other greats performed as captains in team events?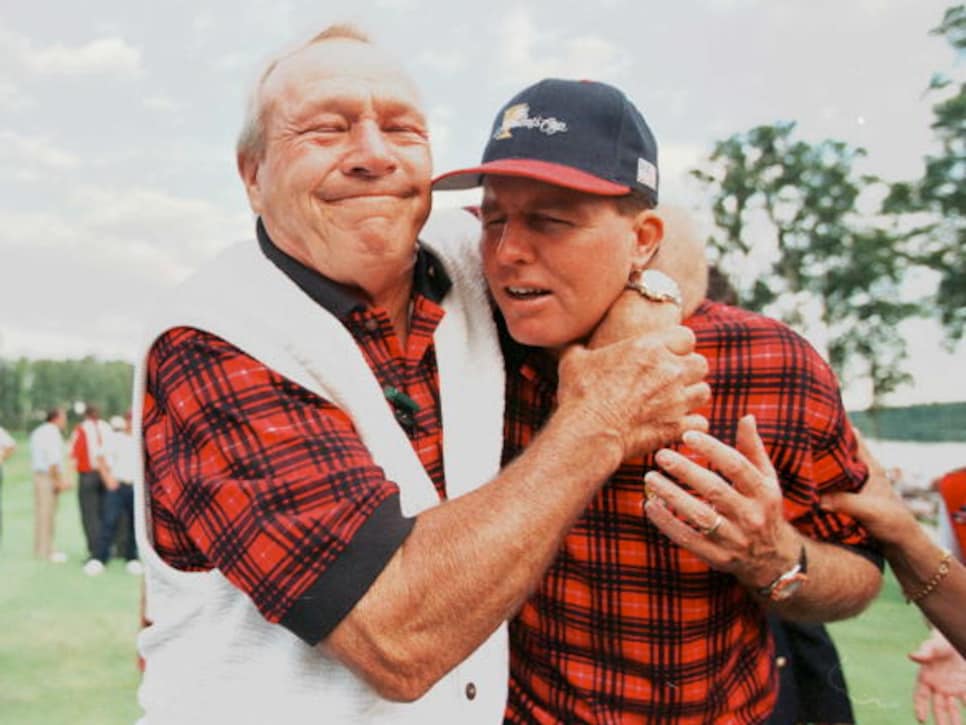 Arnold Palmer
Palmer is a magnetic force and a man of the people. As you would expect from one who galvanized "Arnie's Army," Palmer was a leader to be reckoned with, guiding the Americans to a perfect record in the Ryder Cup (1963, 1975) and Presidents Cup (1996). Palmer was the last playing captain in the Ryder Cup in '63, and did his share, going 3-0-1 during the event.
Ben Hogan
The Hawk guided the U.S. ship three times, leading the Americans to the Promised Land on each occasion. He was a playing captain in 1947 and won his lone match. Famously, in 1967, he introduced the American squad as "the 12 best golfers in the world" at the Champions Club in Houston, Texas. Although he wasn't necessarily right -- Jack Nicklaus was unable to participate -- his team backed up his proclamation, winning by a record 23½ to 8½ margin.
Bobby Jones
Jones was a playing captain at the 1928 and 1930 Walker Cup, both runaway victories (11-1 in '28, 10-2 in '30) for the United States. It was his exploits here,
according to David Fay
, that elevated Jones to icon status.
Photo By: AP Photo
Nick Faldo
Sir Nick's playing resume at the Ryder Cup is irrefutably great, winning the most points in the event's history. His tenure as captain in 2008? Not so much. Faldo displayed an erratic and combative relationship with his team and the media, and his decisions -- most notably, appointing a lone assistant and "bottom loading" his Sunday lineup -- were met with eyebrow raises. Despite entering as heavy favorites, the Europeans fell to the Americans at Valhalla.
Gary Player
Player was put in a tough position as head of the International team from 2003 to 2007, as the world lineup lacked the talent and depth of the Americans. Nevertheless, Player's teams managed to keep the proceedings competitive, and even managed a tie in 2003 in Player's home country of South Africa.
Tom Watson
The debacle at the 2014 Ryder Cup -- Watson allegedly ripping into his team on Saturday night, flipping his captain's pick after receiving a text from Webb Simpson, the Americans getting trounced at Gleneagles, and Phil Mickelson trashing Watson's captaincy at the post presser with Watson SITTING RIGHT NEXT TO HIM -- is what comes to mind. However, in Watson's defense, he was in charge of the 1993 team that won in Europe, the last U.S. crew to win overseas.
Sam Snead
Snead was twice (1951, 1959) a playing captain for Team USA, racking up a 3-0-1 record during these victorious matches. His 1969 leadership was marred by controversy, as both teams displayed unsportsmanlike conduct. This Ryder Cup is best remembered for Jack Nicklaus' concession to Tony Jacklin on the last hole to halve the event.
Walter Hagen
The Haig served as Uncle Sam's inaugural Ryder Cup captain, ultimately holding the position six times in his career. Under his reign, the U.S. went 4-2, with the two losses occurring in England. Hagen was a leader by example, playing in the first five cups and boasting a strong 7-1-1 line.
Lee Trevino
The Merry Mex was a formidable foe as a Ryder Cup player; only three Americans have scored more points in the event than Trevino. But these feats did not translate when Trevino took the helm of the 1985 team, as the U.S. fell to Europe at the Belfry, 16½ to 11½.
Photo By: Getty Images
Greg Norman
Norman's teams did little of merit at the 2009 and 2011 Presidents Cup, losing 19½–14½ and 19-15, respectively. Worse, Norman wanted to return in 2013 but was axed from his position. In an interview with FOXSports.com,
Norman claimed this was at the request of a sponsor
, while others chalked it up to his hostile rapport with PGA Tour commissioner Tim Finchem.
Seve Ballesteros
Arguably no player personified the Ryder Cup more than Ballesteros, who spurred Europe into relevance with his aggressive, exciting play, and, ahem, gamesmanship. Named the captain for the 1997 Ryder Cup, which was held in his homeland of Spain, Ballesteros guided his team to a one-point win.
Raymond Floyd
At the introductory dinner at the 1989 Ryder Cup, Floyd borrowed Ben Hogan's "the 12 greatest players in the world" line. Unlike Hogan's decree, the American squad did not live up to the billing, tying Team Europe at 14, thus allowing Europe to retain the trophy.
Byron Nelson
Just a lone captaincy post for Nelson, but he made it count. As leader of the 1965 Ryder Cup team, Nelson brought the trophy home for the Americans with a 19½-12½ win.
Jack Nicklaus
Forgive the blasphemy, but the Golden Bear's captaincy record leaves a tad to be desired. Nicklaus was the Presidents Cup man in charge for Team USA's only loss (1998) and tie (2003) in the event's 11-tournament history. And though he steered the Americans to victory at the 1983 Ryder Cup, Nicklaus failed to recapture the magic in 1987, doubly irritating as it was at his home course in Muirfield Village. Which just proves that Nicklaus really is human. (Dodging lightning bolt).