College golf
Chris Riley, Phil Mickelson and the rebirth of a college golf team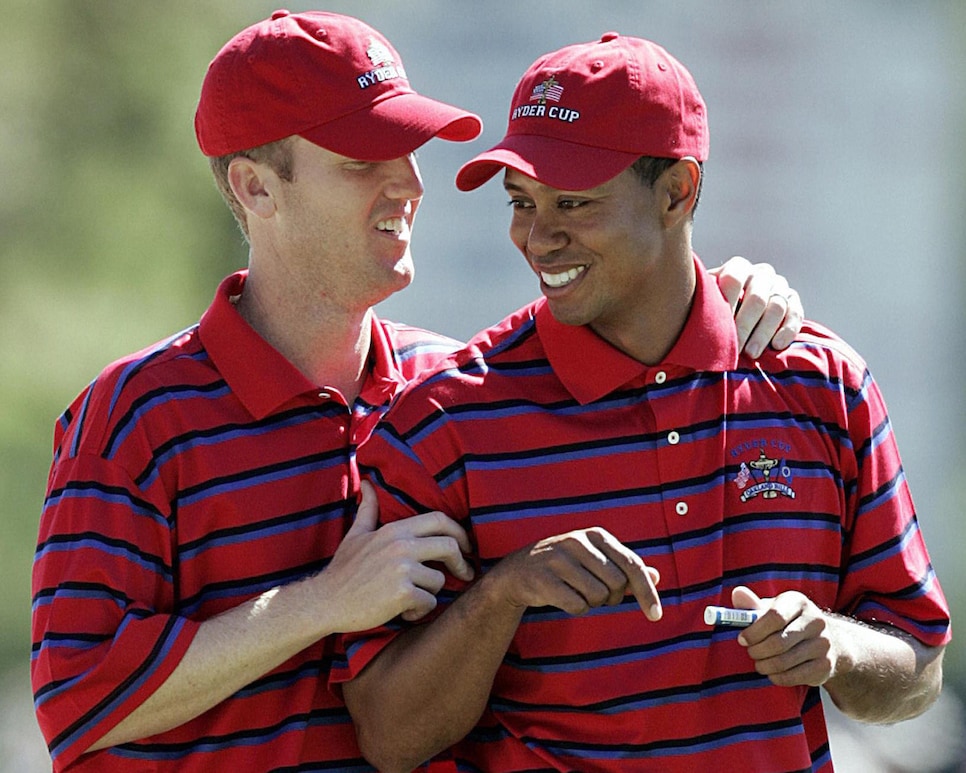 Tiger Woods and Chris Riley celebrate after their 4-and-3 win over Europeans Darren Clarke and Ian Poulter in their four-ball match in the 2004 Ryder Cup.
TIMOTHY A. CLARY
SAN DIEGO — Tiger Woods had good reasons to deem Chris Riley a worthy friend back in their more innocent days on the Southern California junior golf circuit. With his strawberry blond hair and impish nature, Riley seemingly approached life as a carefree Leprechaun, and he was the release valve to Woods' pressure-cooker existence. Born two years apart and traveling parallel paths that included a Walker Cup, Ryder Cup and more than a dozen majors, Riley could make Tiger smile, even laugh, with his goofy observations and endless repertoire of innocuous questions.
There was respect on Woods' part for Riley's world-class short game­—one that would carry Riley to one PGA Tour victory, a couple of runs at winning the PGA Championship, an eventful 2004 Ryder Cup at Oakland Hills, and a healthy living that gave the San Diego native the choice to walk away from the competitive grind at the youngish age of 37 to enjoy life with his wife, Michelle, a former LPGA player, and their two daughters.
"I'm one of those guys who was all in or all out," Riley says now. "I couldn't balance family and golf on the tour. I remember talking to Kenny Perry at the '05 Masters. He said, 'Chris, the one thing I regret is that I don't know my own kids. I don't remember them growing up. I was never home.' I was, like, Holy crap, I'm not going to be that. When I saw I had the money in the bank [$12 million in tour earnings], I was pretty much done."
Well, as done as anyone can be when golf is the only job they've known and loved. Riley joined Michelle in coaching the girls in their various sports, and their oldest, Taylor, 16, is now following her parents' path, set to play golf at her mother's alma mater, LSU.
But beyond looking forward to a possible PGA Tour Champions bid, Riley, 47, needed his golf fix. He dabbled in instruction, but that didn't do it for him. Then the head coaching job for the men's program at the University of San Diego, a few miles from Riley's home, came up, and it felt like the right opportunity at the right time. "The journey has been incredible," Riley says.
The USD program, which Tim Mickelson resurrected over an eight-year span in the 2000s, leading the Toreros to three NCAA Championship appearances before heading off to coach at Arizona State, again drifted into mediocrity. When Athletic Director Bill McGillis went on a search for new leadership, he got the usual candidates, but the one who stood out had never coached before. For a program desperately in needed of jazzing up, Riley's hometown roots, tour pedigree and that Ryder Cup experience were too dazzling to pass up. Even if it was a bit of a gamble.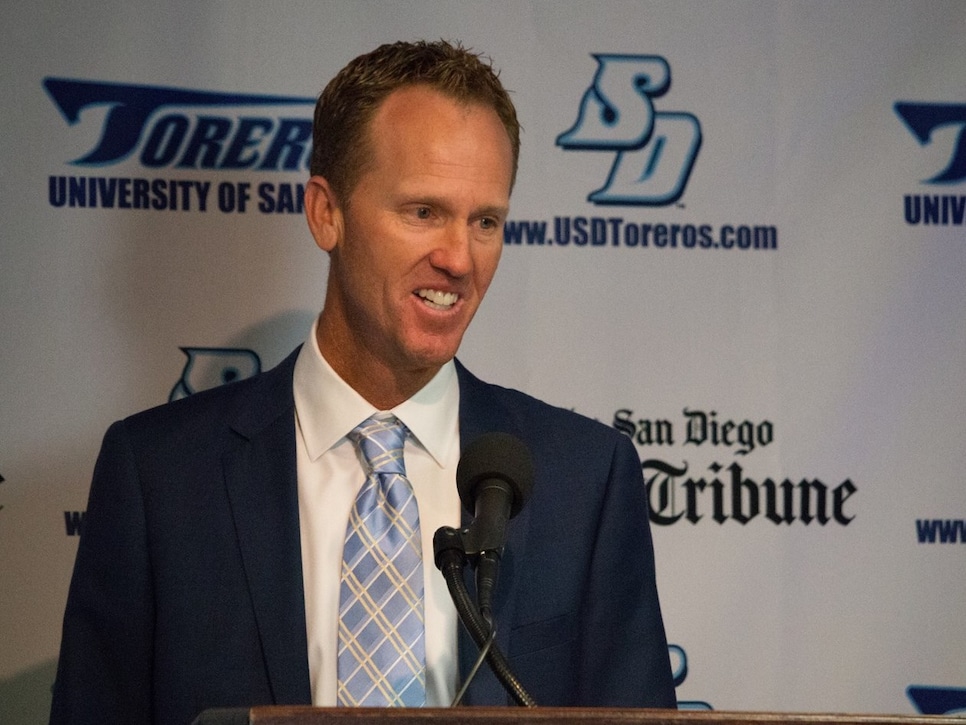 Former PGA Tour pro Chris Riley was hired to be the head men's golf coach at the University of San Diego in the summer of 2017. (Photo courtesy of USD Athletics)
"It was 'go big or go home,' " McGills recalls. "We went big."
At the time of Riley's hiring in the summer of 2017, McGillis smartly brought on Logan Goulding, a former professional caddie who most recently was the head coach at Hawaii Pacific University. With Goulding handling some of the fine details, Riley was able to focus on what he does best: yakking up folks to the point where you want him to either adopt him or be his best friend. That, and the promise of getting insight and advice from a bona-fide tour pro put Riley in front of players who might not have otherwise answered his calls. And, just as critical, after one leisurely round with him, donors were opening up their wallets to contribute to the Toreros' resurgence. "It's all about relationships," Riley says.
It's all working out remarkably well. Four seasons into the rebuild, USD—which ranked outside of Golfstat's top 300 only a few years ago—will make its first NCAA regional appearance under Riley when it begins play Monday in Albuquerque, N.M. The Toreros, ranked 66th by Golfstat, are seeded 11th out of 14 teams and were somewhat fortunate to be chosen by the selection committee after finishing fifth in the West Coast Conference Championship. But the WCC's USD and Pepperdine were among the few programs in California to play a fall schedule, and the Toreros fared well early in small fields, notching first-, second- and third-place finishes before Christmas.
Redshirt sophomore Charlie Reiter, out of Palm Desert, Calif., started out at USC but enjoyed a bit too much of the extracurricular activities college life offered in L.A. Through his relationship with Dave Stockton Jr., Riley convinced Reiter to come to the quieter confines of USD, a small but gorgeous campus of 6,000 undergrads that sits atop a hill overlooking the calm waters of San Diego's Mission Bay. Reiter has already delivered this season with eight top-25 finishes that got him on the All-WCC first team.
With Riley as the program's current cornerstone, something more tangible is coming at USD that will have a more lasting impact. With 1997 USD graduate Paul Purcell contributing $2 million, the university will soon build a one-acre short-game practice facility on campus, with future plans for a clubhouse and offices that would house the golf team. Purcell, who serves on USD's Board of Trustees, is a good friend to have. You might recognize Purcell Pavilion, home to Notre Dame basketball, which benefitted from a gift by Paul's father, Philip, former chairman and CEO of Morgan Stanley.
The designers of USD's golf facility are recognizable, too: Phil Mickelson and his associate, Mike Angus, who will duplicate on a smaller scale the work they did for ASU's practice area. Included at USD will be a 40,000-square-foot fairway and rough area, 7,500-square-foot putting green, and two features that are "Phil Mickelson" features—synthetic turf targets and putting pads with slopes range from 2 to 4 degrees.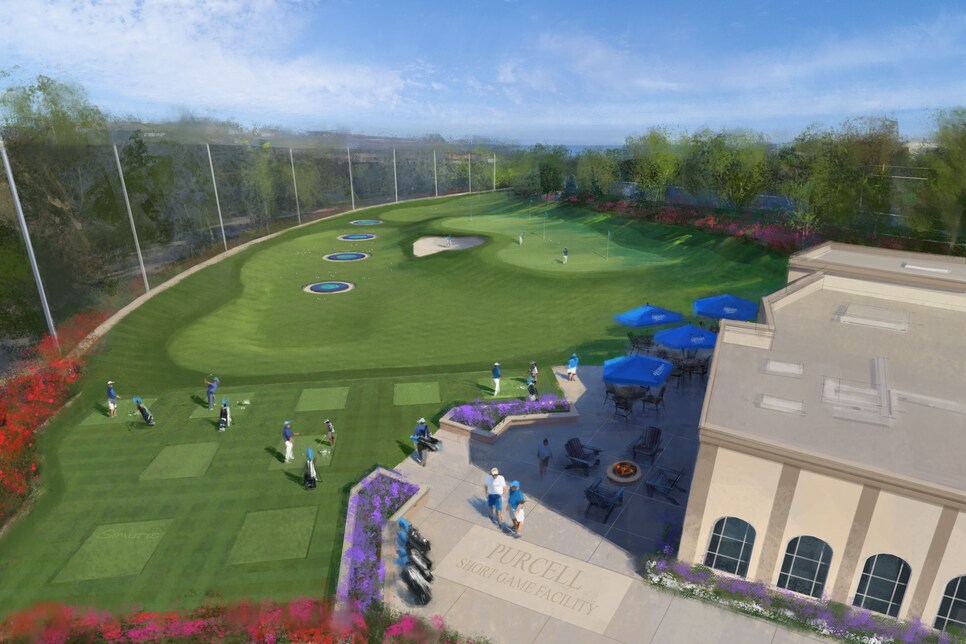 An aerial rendering of the new short game facility at the University of San Diego. (Rendering courtesy of USD Athletics)
"This is truly a transfromational gift," said McGillis, whose goal is to also open up the area to The First Tee San Diego and children in the diverse neighborhood that surrounds the campus.
Phil Mickelson's work on the project essentially completes his siblings' circle at USD—sister Tina was a student there.
"I could not be more thrilled to be designing a state-of-the-art on-campus practice facilty for the Toreros," Phil Mickelson said a in statement released by USD.
Currently, the Toreros practice at two very nice private courses that are each a 30-minute drive from campus—San Diego Country Club and The Farms Golf Club. "It's a game-changer for us," Riley says. "They've been talking up a short-game facility here for 20 years, and people said we'd never have it. There are so many schools now that have their own courses. For us to be able to practice on campus, where guys can go down to chip and putt any time they want to, that's big."
Of course, Riley is going to push his young bombers to be more acquainted with their shorter sticks as much as he can. Those are the clubs that defined him.
"All my guys hit the ball well. They just don't know how to score," he says.
Between their coach and their facility, they'll have no excuses now.