College Golf
Coaches and players talk about the NCAA women's regional that became their worst nightmare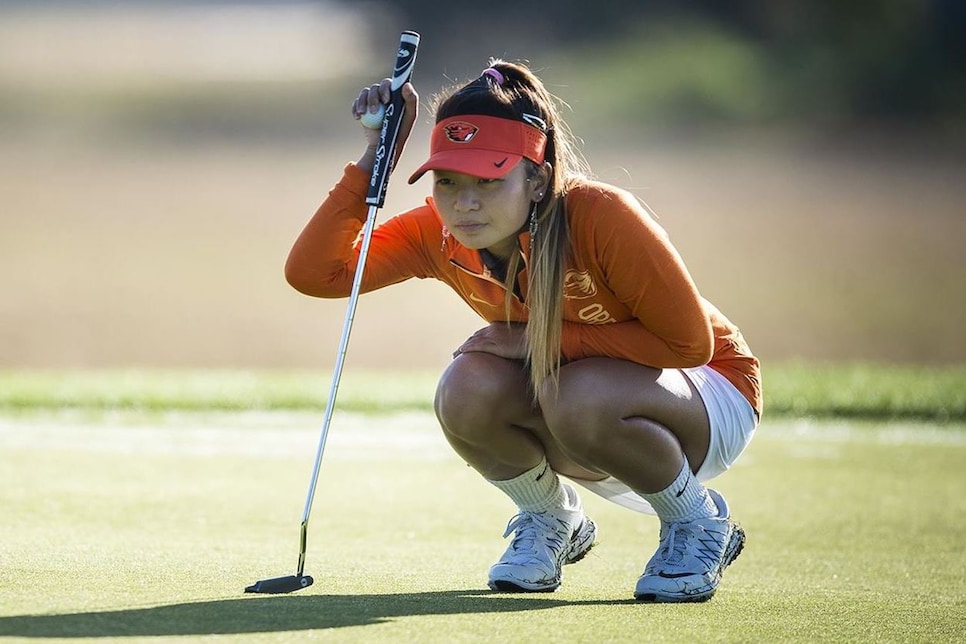 Oregon State's Mari Nishiura is a fifth-year senior who didn't get to play in the Baton Rouge regional after the event was canceled. (Photo courtesy of Oregon State Athletics)
Imagine dedicating years of your life to achieving a single goal, only to have it ripped away from you at the last minute. That's what happened Wednesday at the NCAA Div. I Women's Golf Regional in Baton Rouge, La.
That morning, 110 women headed to The University Club, home to LSU's men's and women's golf, with the expectation of playing in the regional. The course received seven inches of rain over three days, so a delay that day was probable. But in a shocking and disappointing turn of events, the NCAA committee on-site announced its decision to cancel the event altogether. Players listened as their hopes of qualifying for the NCAA Championship were crushed, and they were left to pack up and head home.
"Even though the course is playable, it's not playable at a championship level," said NCAA committee representative Brad Hurlburt.
Players, coaches, parents and the thousands of people who have seen the video (below) were left wondering what it means to be "not playable at a championship level."
Julie Manning, a member of the NCAA golf committee, defended the decision on Golf Channel's "Golf Today" show on Thursday. She said that due to the wet conditions and standing water in the bunkers, the course would have been altered to play at possibly a par of 65.
"Are you compromising the integrity of the championship and the game and the competition when you start doing that?" said Manning, golf coach at Iowa State for nearly 20 years and an inductee into the Women's Golf Coaches Association Hall of Fame in 2003. "Sure, we could play golf probably anywhere, but is that the right thing to do?"
Responded CC Buford, the head coach of East Carolina University, "From where we were standing, it appeared that they were trying to protect the course, not the championship. What would have protected the integrity of the championship was playing."
Absent any competition, the NCAA decided that the top six seeded teams (out of 18 total) and top three individuals not from those schools would advance to nationals.
Mari Nishiura, a player for Oregon State whose team did not make nationals, was just one of the fifth-year seniors at Baton Rouge with something to prove. "It's always been my goal to make it to nationals with my team," Nishiura said, "and like many other teams, we felt like this was our year."
While the cancellation was the final issue, coaches and players have said that the entire tournament was handled poorly from start to finish. Buford explained that her frustration started before they even left for the event. The lack of communication early on was a red flag for many coaches.
"It was well established that there would be rain that week," Buford said. "However, there was really no communication between the tournament committee and the coaches on how to best utilize our time and get in as much play as we could."
As teams arrived for their practice rounds, they said they started to notice just how unprepared the committee was. "I asked two separate committee members whether we could use carts for the practice round, and they both gave me different answers," said Aimee Neff, head coach of Florida Atlantic University. "Small details like that show that they weren't on the same page, which is vital when you're hosting a tournament at this caliber."
There was a storm Monday morning, but coaches and players said that it let up around noon with no sign of rain until 8 p.m. They figured that should have seemingly left golfers to play 18 holes, even if maintenance had to work on the course before they teed off.
However, coaches received a message around noon that stated play was suspended for the remainder of the day. They thought this was odd, considering weather delays are a common part of the game and can last for hours before play resumes.
While players and coaches were disappointed with the news, they said they trusted that the committee was making well-informed decisions and doing everything it could to get them out on the course.
That changed when teams arrived later on Monday for COVID-19 testing. "We got to the course around 12:30, and the weather was totally fine," Neff explained. "I'm sure the course was wet, but it wasn't actively raining."
Adding to their frustration, they saw no sign of maintenance staff working on the course. "We saw how sunny it was and were surprised that they weren't making more of an effort to drain the course or improve the conditions," Nishiura said.
Later that night, coaches received this promising notice from LSU event coordinator Drew Altavilla:
We will try and get as many holes completed on Tuesday as possible. Therefore, if we are able to complete 18 holes, scorecards will be collected on the course and play will continue for the second round. There will be no break in play. As is common practice during regular season 36-hole events, each coach will be responsible for the collection of their team's scorecards and returning them as soon as possible to the Clubhouse.
Tee times were delayed Tuesday morning due to thunderstorms, but it looked like things would let up around noon. However, players and coaches got a gut-wrenching case of deja vu when they received a message just before 12 p.m.
The Games Committee, along with the superintendent, determined that the course was not playable on Tuesday and that it would take until 10 a.m. on Wednesday to repair bunkers, etc. Therefore, play will begin at 10 a.m. on Wednesday."
Teams were instructed to return to the hotel and told that they weren't able to practice due to the conditions at the course.
After dropping their teams off, more than half a dozen coaches returned to the course to get a feel for what their players would be up against the next day. "We walked the front nine on Tuesday afternoon and saw standing water on tee boxes," Buford explained, "but when you got into the fairway, you saw a lot of areas that had drained pretty well."
Neff, who walked the back nine, said that a majority of the holes looked fine, and while there were some areas of standing water, they wouldn't have come into play for someone at the players' skill level. Buford added, "It was nothing the players hadn't seen before. We practice in these conditions because we know that we could end up playing in them."
While walking the course, coaches said they only spotted one maintenance worker out that day. "You're being assured that every step is being taken to make the golf course playable, but you're not seeing anyone out there working on the course to improve the conditions," Buford said.
The players became more angered when a photo was tweeted out Tuesday afternoon showing the LSU men's team practicing on its private range.
If The University Club course was seemingly good enough to play on, why weren't the women out there? "We heard that it was an issue with the greenside bunkers," Nishiura said. According to Sara Byrne, a freshman at the University of Miami, when asked if bunkers could be taken out of play, a rules official said: "It's better to just not play at all than to play with no bunkers."
"Going into Wednesday, it was unclear," Neff said. "After checking in, I asked if it would be one or two rounds, and the NCAA committee member couldn't give me a definite answer."
Later that morning, a coaches meeting was called. "I don't even think players were supposed to be there," Neff said, "but they shared the same feeling of doubt that we did and came over anyways."
"All we wanted was to play," said East Carolina player Dorthea Forbrigd. "We were there to fight for a spot at the national championship, and if they had given us the opportunity to play, I know every girl there would have taken it."
Forbrigd is another fifth-year senior who had her 2020 season cut short due to COVID-19. "Dorthea came back this year with the sole intention of competing in the NCAA postseason," Buford said, "and while she earned that opportunity to compete for a spot at nationals, she never got her chance."
Some of the coaches wondered: Would this have happened if it were a men's event? Players compared it to what they saw during the March Madness basketball tournaments, when the NCAA provided female athletes with vastly different accommodations than their male counterparts.
"I firmly believe this could have been a 36-hole event, and they didn't even try to give us a chance. It makes us feel underappreciated," Nishiura said. "Every single team that was there deserved to be there and deserved the opportunity to play. For it to be such a big event­—arguably just as big as nationals—and for them to give up so easily is devastating."
Although there's nothing that can be done to change the outcome, the coaches and players said they want to see the NCAA take responsibility for the poor handling of this tournament and ensure that this won't happen again. They say it comes down to better preparation and communication. If there were not the resources or staff to properly handle the weather, coaches said other courses in the area should have been considered.
Coaches were frustrated by not being included in the decision-making process.
"There were so many coaches there that had years of experience hosting events. Why wouldn't you tap into their wisdom?" Neff said.
While the women are heartbroken, they are taking comfort in knowing that so many people stood with and supported them.
"We knew that using our voices on social media was one of the only ways to get this out there," Nishiura explained, "and we're so grateful that so many people have our backs."