College Golf
Michelle Wie West, Justin Thomas among prominent golf voices blasting NCAA over canceled women's regional
Coincidence? Irony? The Golf Gods just being cruel? Whatever way you want to describe it, for the first time in days, the sun was out Thursday in Baton Rouge, La. However, the storm of frustration and bitterness hadn't lifted after what transpired the previous afternoon at The University Club.
"Look, this is one of the most gut-wrenching decisions and announcements that I've ever been a part of," Brad Hurlbut, Director of Athletics at Fairleigh Dickinson and a member of the D-I women's golf Committee, told the crowd standing outside the clubhouse. "Even though the course is playable, it's not playable at a championship level."
The problem with that explanation is how you define "playable at a championship level." For seniors facing potentially the end of their college careers, it could have been hailing and they still would have found it playable. The howls and shouts after the announcement were emotional and understandable.
"This is a joke," yelled one person. "You should be ashamed of yourselves."
"Thank you for ending our careers!" screamed another.
In the absence of a single shot being hit during the scheduled three-day tournament, the top six seeds entering the regional advanced to nationals: LSU, Mississippi, Baylor, Oregon, Maryland and Alabama.
For the remaining 12 schools—Oregon State, Houston, Miami (Fla.), North Texas, Purdue, Mississippi State, Tulsa, Sam Houston State, Kennesaw State, East Tennessee State, Jacksonville State, Quinnipiac—the only solace that could be taken was in the support they received after the decision.
Several prominent golf personalities took to social media to offer their empathy to those who seemed to be short-changed.
LPGA veteran Stacy Lewis, an NCAA individual champion at Arkansas in 2007 and wife of Houston women's coach Gerrod Chadwell, whose team was on the outside looking in, took to Twitter:
Here was an Instagram story post from Justin Thomas, who was a member of Alabama's 2013 NCAA title team: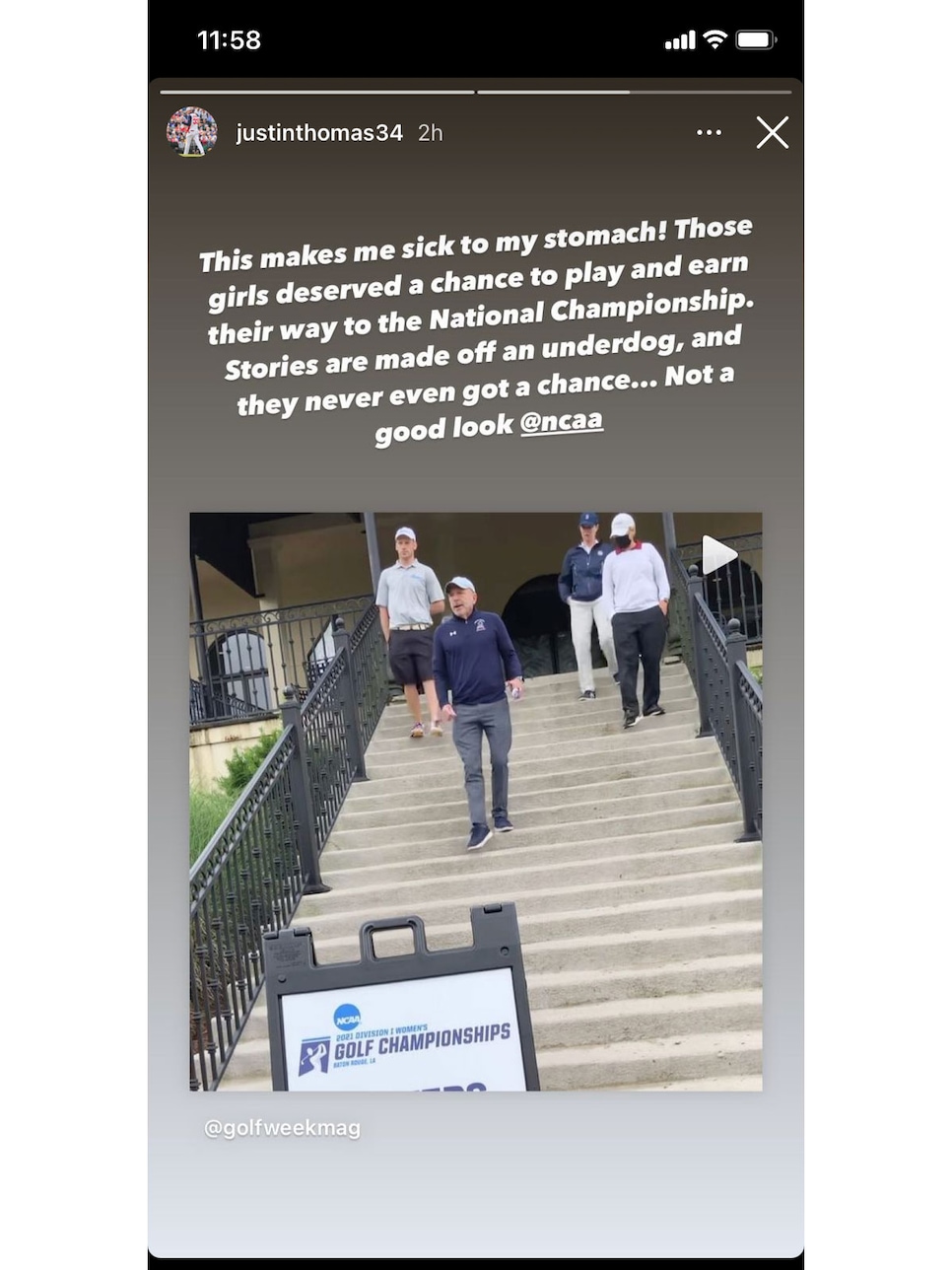 Two-time PGA Tour winner Max Homa, NCAA individual champion at Cal-Berkley in 2013, also voiced his disappointment:
Here was an Instagram story post from Michelle Wie West: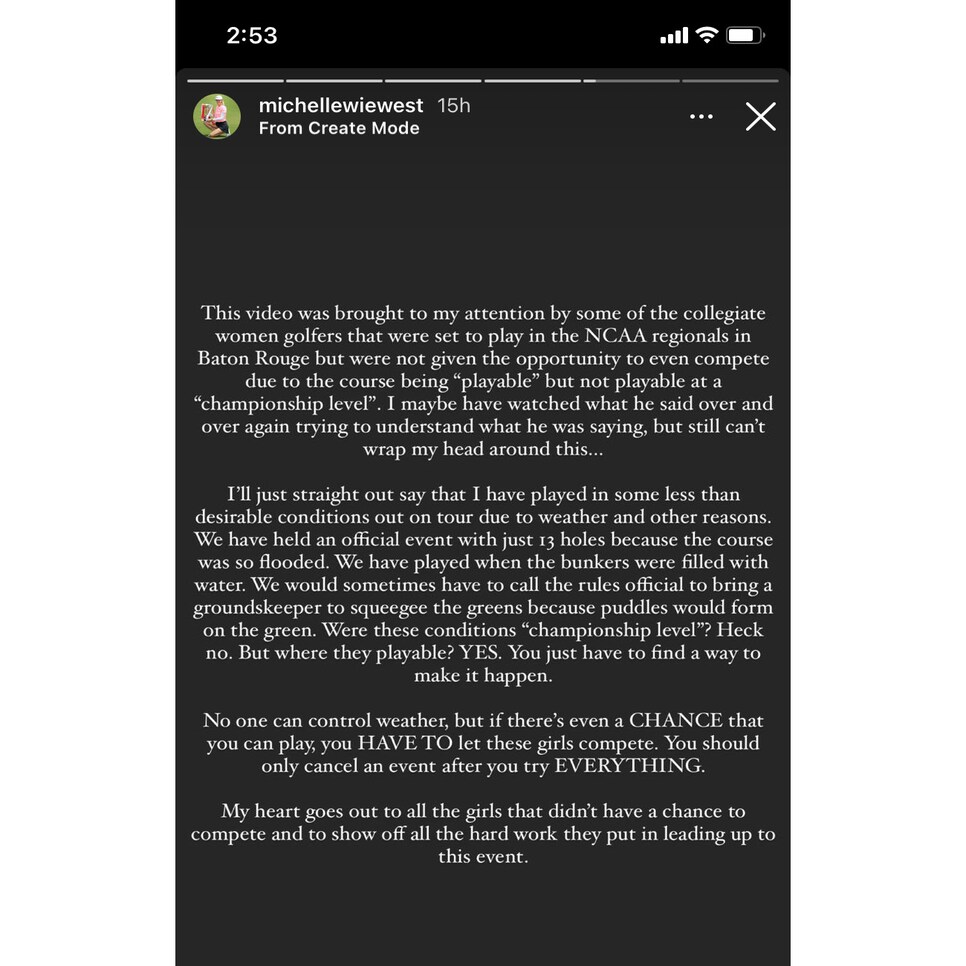 The empathy those players and teams received might potentially translate into something more, a mulligan of sorts. Officials with Barstool Sports are exploring the possibility of holding a tournament for the teams that missed out on a chance to earn a spot at nationals:
"We've got our biggest guns working on it," Sam "Riggs" Bozoian told Golf Digest via text. "We are committed to making this happen."
Whether any of the schools could compete in such a tournament is unclear as it would potentially violate NCAA rules (Coincidence? Irony? Damn Golf Gods again?). According to Bozoian, compliance officials at at least one of the programs are making inquires as to whether the school could compete.