News
Fantasy Golf Podcast: How much does Phil Mickelson have left in the tank as a new PGA Tour season starts?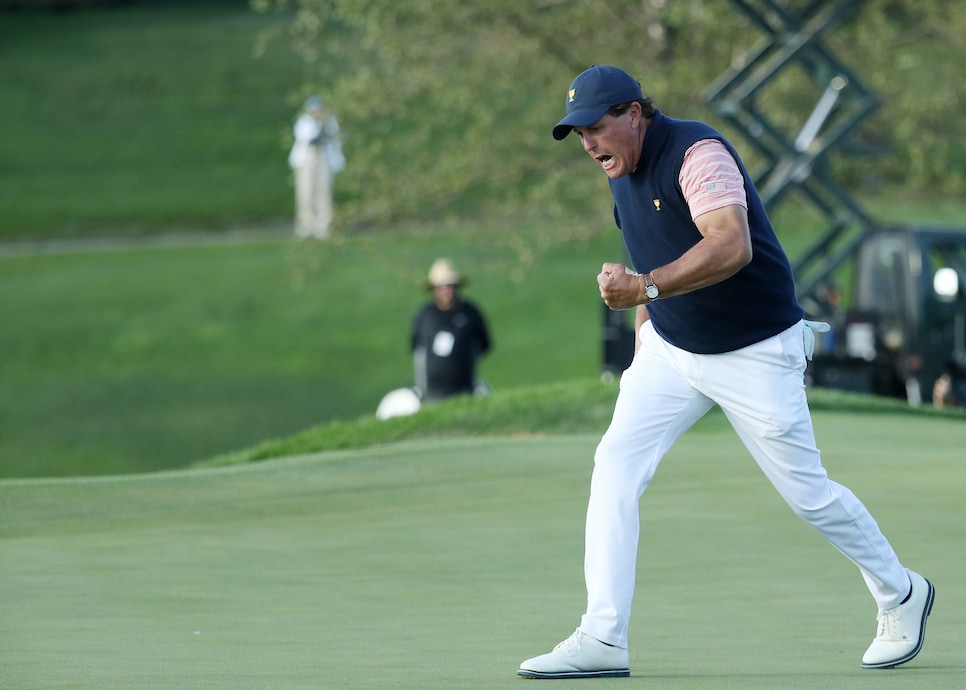 Remember when Xander Schauffele nipped Justin Thomas in the Tour Championship, but JT nipped Jordan Spieth for the FedEx Cup title? It seems like just yesterday, doesn't it? Well, that's because it basically was. Yet less than two weeks later – and just four days after Thomas and Spieth led Team USA to a dominant victory in the Presidents Cup, a new PGA Tour season is starting at the Safeway Open. To discuss this never-ending wrap-around schedule, what it was like to be at Liberty National for that laugher, and give our picks to play well in the season opener, Joel Beall joined me for our weekly chat. Please have a listen:
And if you're more old school and would rather just read my normal weekly fantasy golf picks, here's my fab foursome at Silverado:
Phil Mickelson: Not only did Mickelson play last week at Liberty National, but he played well. Not that we should be surprised considering he's posted an 8-1-3 record in Cup competitions since publicly roasting captain Tom Watson at the 2014 Ryder Cup. Speaking of that event, it's never too early to get a jumpstart on qualifying and that's precisely what Phil will try to do this week after finishing eighth in Napa Valley last year. And Mickelson, 47, will only be playing for a second week in a row after not qualifying for the Tour Championship -- something that Matt Kuchar reminded everyone of. Over and over again while Phil sat next to him.
Kevin Na. A master of the quietly good season, Na was quieter than usual in 2016-2017. He also was probably still getting adjusted to getting married last spring and having a first kid last fall, because by the end of the season, he finished top six in two of his last four starts. And in his last two starts at Silverado, he's gone runner-up and T-7.
Sam Saunders: Yeah, his 59 came on the scoring-friendly Web.com Tour and yes, it came on his home course, but he still posted a 59 under pressure. And he had a chance at shooting back-to-back 59s and becoming golf's Johnny Vander Meer (The Cincinnati Reds pitcher who threw back-to-back no-hitters in 1938) before stumbling late in the second round. Saunders, who wound up finishing T-2, gets to hit the reset button on his PGA Tour career and more than a year passing since his famous grandfather's passing should help as he continues to forge his own path.
Bryson DeChambeau: It's hard to make a name for yourself as a young player these days when four of the world's top five players are 25 or under. But DeChambeau is back on track to do that following his first PGA Tour win in July and a solid finish to the season once he finally settled on a more conventional putting stroke. DeChambeau finished 146th in Strokes gained putting, but that was an improvement from the previous season and he was better than that once he ditched the ridiculous side-saddle experiment. We're still big Delievers that more big things are coming for Bryson.
Just missed: Tony Finau and Ollie Schniederjans.
And for those of you playing other fantasy golf formats:
Yahoo! lineup: There is no Yahoo! fantasy golf this week. Even Yahoo! thinks this is too quick of a turnaround.
Knockout/One-and-done pick: Kevin Na.
And here's the podcast link again, if you want to hear Joel and I jabber: