The Loop
An epic Presidents Cup (press conference), Tiger Woods' new girlfriend, and Team USA PDA on full display
Welcome to another edition of The Grind, where we have the perfect solution for the Presidents Cup after the Americans' latest lopsided victory. Make the foursome of U.S. Presidents who came to Liberty National actually play in the event next time. They wouldn't have to pair with each other (that would be absurd), but imagine a lefty pairing of Phil Mickelson and Barack Obama? Or a Houston tandem of Patrick Reed and George W. Bush? Would Kevin Kisner do the Three Amigos dance with Donald Trump? And let's see Dustin Johnson go a perfect 4-0 in foursomes and four-balls while carrying Bill Clinton around as a partner. Sounds fun, right?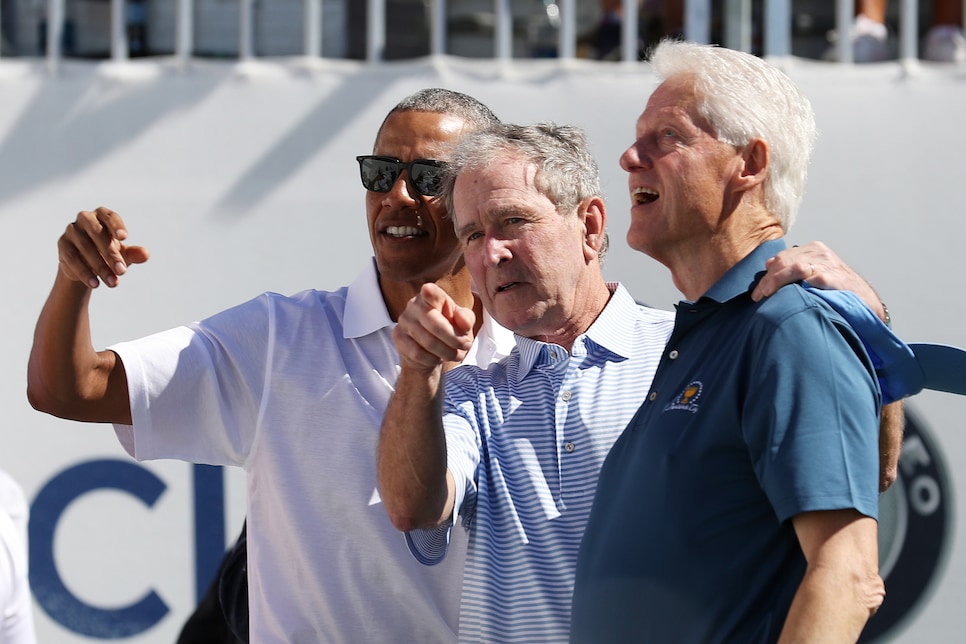 We can only hope. In the meantime, let's discuss this "Romp By The Swamp." Or was it the "Thump On A Dump," or maybe the "Landslide on a Landfill"? Regardless, it still gave us plenty to talk about.
Team USA: Tiger Woods called this the best collection of putters he's ever seen. Johnny Miller pondered if this year's U.S. squad was the best golf team of all time. Yeah, these guys are good. And the scary thing for the rest of the world is that this squad could get better with a young core and guys like Patrick Cantlay, Xander Schauffele, Bryson DeChambeau, Beau Hossler, and others waiting in the wings. Team Europe gets the next crack at next year's Ryder Cup in France. Good luck to Thomas Bjorn's squad.
Team USA's winning press conference: As expected, this was a real laugher following The Laugher at Liberty National. It began with Matt Kuchar playing the role of moderator and ended with Dustin Johnson climbing on a chair and singing "Si-Woo shakin' that ass." If you think I'm kidding, here's visual proof.
Paul Dunne: The British Masters wound up providing golf's most drama over the weekend as Rory McIlroy stormed into contention by finishing 64-63. But Paul Dunne (Remember him? The amateur who played in the final group of the 2015 British Open?) answered with a 61, including this walk-off chip-in:
As if golf fans needed more evidence that 2017 was not Rory's year.
This "foot" wedge: Check out the humorous club a pro-am partner of Greg Chalmers used:
We're not sure if that's on the USGA's conforming list, but that's great. Side note: Paul Dunne does NOT need one of these.
Matt Harmon's finish: The saddest golf tale of the week involved this 32-year-old journeyman. Harmon was on the cusp of earning his PGA Tour card for the first time at two under with two holes to play at the Web.com Tour Championship before missing a three-footer for birdie and then three-putting the final hole for bogey. As a result, Harmon will be back on the Web.com Tour this season. And he'll have a new putter in his bag after that rough finish.
Hole-in-one prize loopholes: Belen Mozo was the latest victim to one of these in New Zealand. After Mozo aced the 13th hole at the Mckayson New Zealand's Women's Open on Friday she ran up to the car she thought she had won in celebration, but was eventually told it was only for players who made an ace on the hole over the weekend. Ouch.
Still, speaking as someone who has never had a hole-in-one, just making one seems like enough of a prize.
Dangerous playing conditions: More from Mozo, who found herself avoiding flying signs and debris while trying to putt through gale-forced winds. Not surprisingly, she wasn't happy, yelling in this crazy video, "We are like sheeps" before play was finally suspended.
But it wasn't all bad news for Belen. Despite losing the 54-hole lead, she finished T-5 at the new LPGA event -- her best performance of 2017. And she took home plenty of prize money to buy a new car. Maybe even that sweet Infiniti Q60. If she goes easy on the amenities.
And just like that, a new PGA Tour season starts again with the Safeway Open, AKA that event that Tiger almost played in last year. Why are they already playing again on the PGA Tour? Because THERE'S NO OFF-SEASON IN GOLF! These guys are too tough for that!
Random tournament fact: Forty-seven-year-old Phil Mickelson is cutting his Presidents Cup celebrating short and teeing it up in the event. Amy must really want to spend a few days in Napa Valley.
RANDOM PROP BETS OF THE WEEK
-- This week's winner's press conference will be as fun as last week's: 1 MILLION-to-1 odds
-- Si-Woo Kim will win his next tournament: 100-to-1 odds
-- Si-Woo Kim will be asked to sing "Si-Woo shakin' that ass" at his next tournament: LOCK
VIRAL VIDEO OF THE WEEK (NOT INVOLVING "SI WOO SHAKIN' THAT ASS")
This brief interaction between a rules official and Tiger Woods was fantastic.
OK, so it wasn't much. But we had so little to get excited about at the "Bore By The (Jersey) Shore."
Phil Mickelson took a selfie with three U.S. Presidents. Pretty cool.
Although, apparently Phil needs to work on his selfie skills.
"I'm the worst selfie taker, I'm the worst Three Amigos dancer, but I can putt." – Phil Mickelson. No arguments here.
"Yeah, definitely. I don't know what my future holds for me. As I've told you guys, I'm hitting 60-yard shots." -- Tiger Woods when asked if he could see a scenario in which he doesn't return to competitive golf. Let's all pretend we didn't hear that.
THIS WEEK IN DUSTIN JOHNSON-PAULINA GRETZKY AND THE REST OF TEAM USA PUBLIC DISPLAYS OF AFFECTION
The 2017 Presidents Cup will go down as "The Pity In Jersey City" to NBC executives, but it delivered as promised on the WAGs front. There were on-course selfies: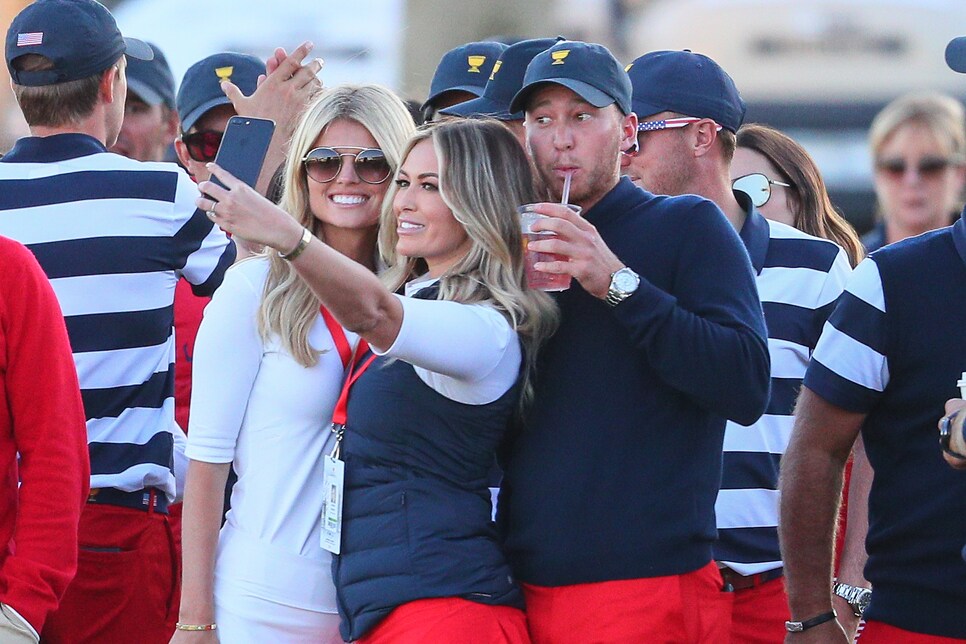 Off-the-course activities: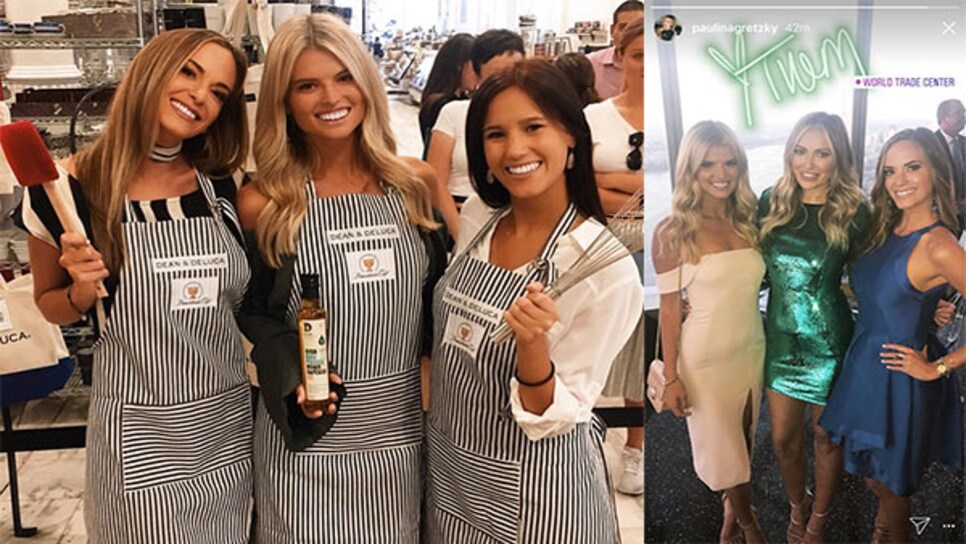 And, of course, plenty of PDA: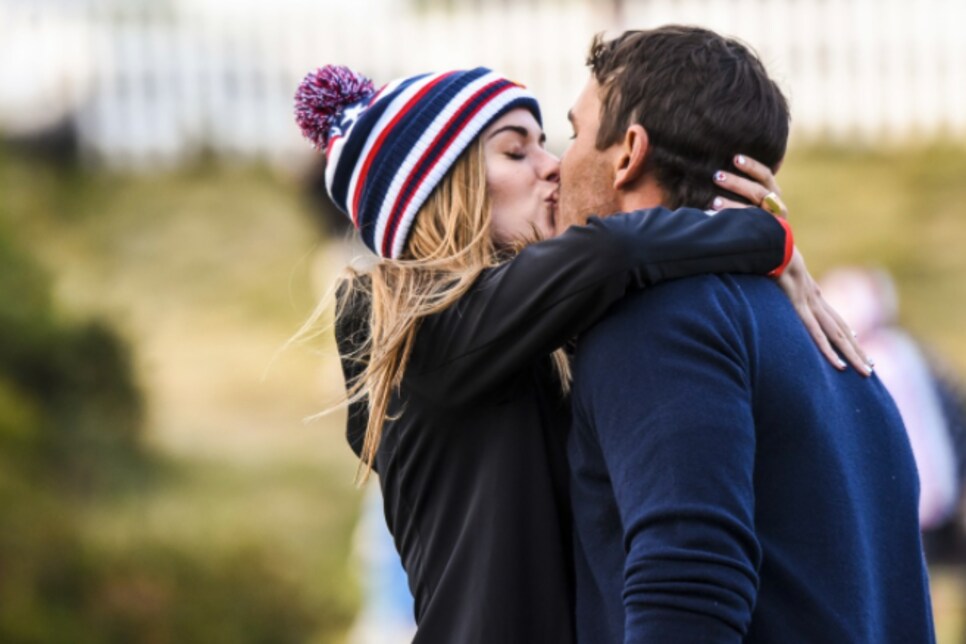 Oh yeah, there was even a bit of breaking news as Tiger Woods showed up with Erica Herman.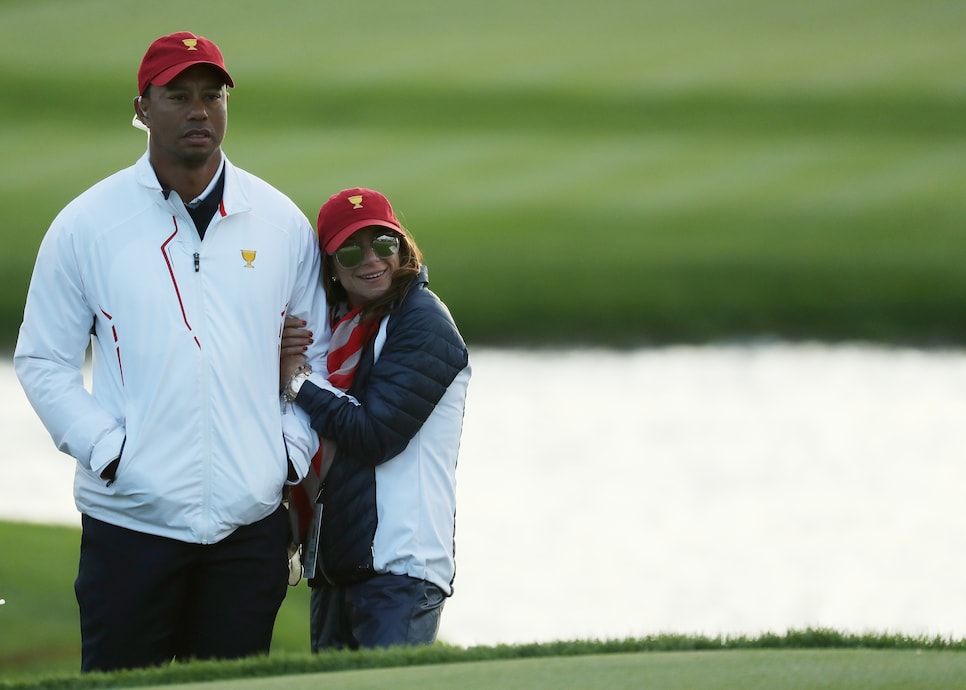 And if there was any doubt the two are a couple, that disappeared when Erica joined in for the official winning WAGs photo:
Welcome to the WAGs club, Erica! And for more of the WAGs' big week, read Jena Sims' (Brooks Koepka's girlfriend) photo diary from the event.
THIS WEEK IN JOHN DALY BEING JOHN DALY
It was a huge week for JD, who opened up a steakhouse in Arkansas on Wednesday:
And then took a trip to Paris:
Please let us find out that Jim Furyk has already named Daly a vice captain for next year's Ryder Cup and that this was a scouting trip. Please!
After a disappointing regular season on the Web.com Tour, Jonathan Byrd recaptured his PGA Tour card with a four-shot win at the Web.com Tour Championship. Good to see the man who once had a walk-off ace still has his good sense of timing. . . . Congrats to Sam Saunders, who used a first-round 59 to lock up his card again with a T-2 finish. The 59 also happened to come almost exactly one year after the death of his grandfather, Arnold Palmer. Talk about a fitting tribute. . . . I never saw Tom Petty in person, but I heard him warming up once while playing a round of golf in Saratoga, and I've worn out my Tom Petty & The Heartbreakers Greatest Hits CD driving on golf trips. I especially love the line "Even the losers get lucky sometimes," because it gives me hope that one day I'll get that elusive hole-in-one. Thanks, Tom. You'll be missed. . . . And finally, this chocolate milkshake I got at a rest stop on the New Jersey Turnpike might be the best milkshake I've ever had.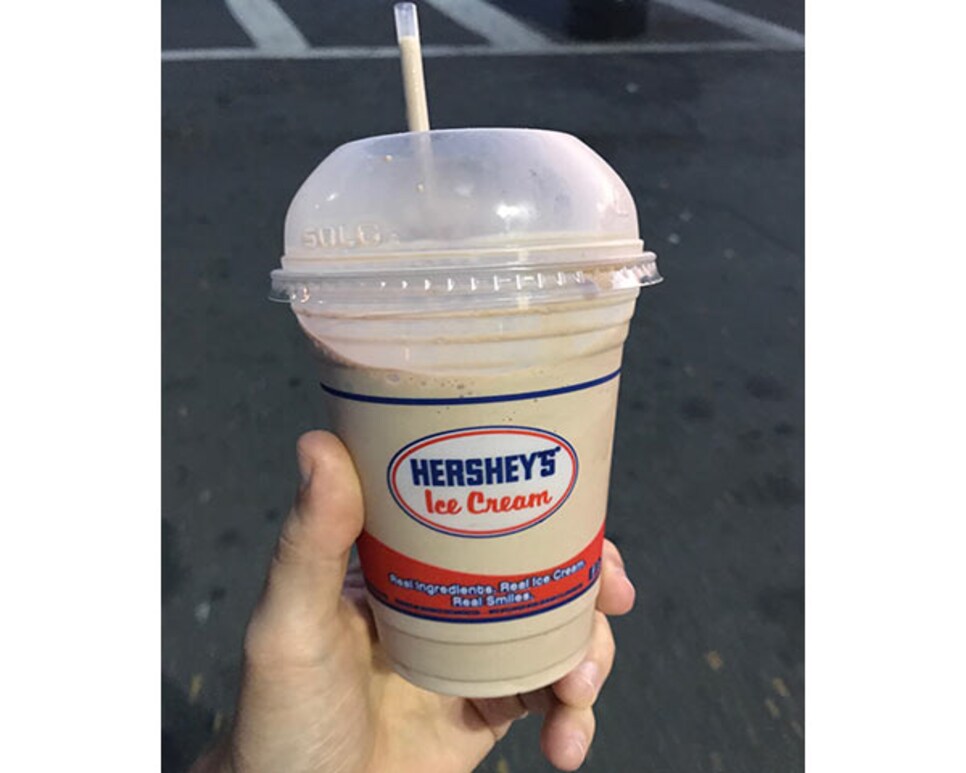 Considering how many milkshakes I've consumed, that's high praise.
RANDOM QUESTIONS TO PONDER
Will Tiger Woods play on the PGA Tour this season?
Will Tiger Woods play in the 2018 Ryder Cup?
Is there a better car song than "American Girl"?