The Loop
Presidents Cup 2017: What should we call this "Romp By The Swamp"? A collection of our favorite nicknames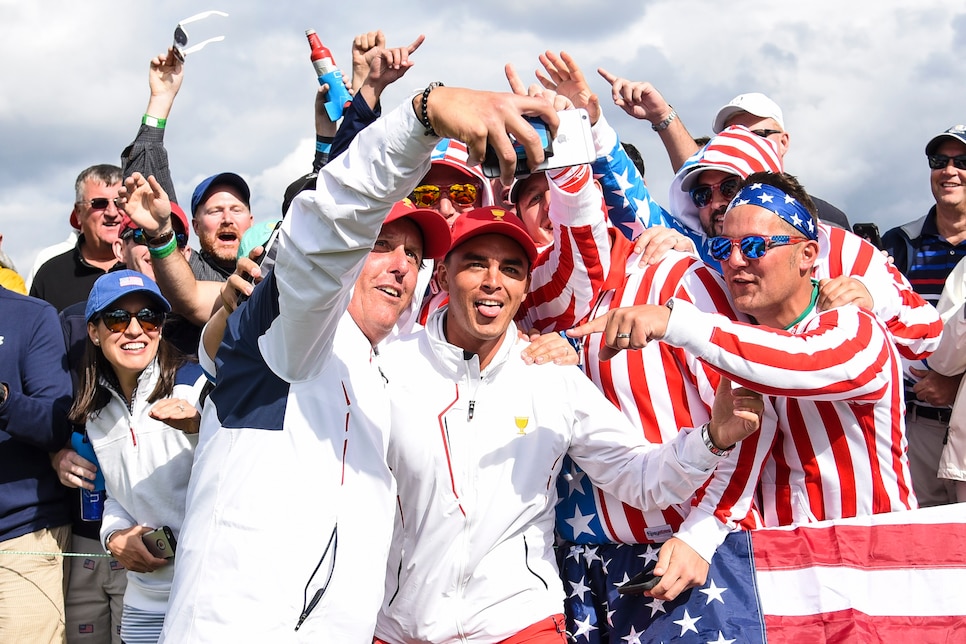 JERSEY CITY, N.J. -- Golf fans fondly remember the 1991 Ryder Cup at Kiawah because of its exciting, intense finish. But it doesn't hurt that it also has a great nickname: "The War By The Shore." In contrast, the 2017 Presidents Cup has been anything but a war by the (Jersey) shore. But that doesn't mean we can't come up with a memorable moniker for this landslide by Lady Liberty (Hey, that's not bad. . . ). Here are some suggestions, both from us and others.
Let's start with "The Romp By The Swamp." We like it because it's a tribute both to the surrounding New Jersey Meadowlands as well as a nod to "The War By The Shore" -- just like our "Brawl By The Mall" was last year when the 2016 Ryder Cup was played near Minneapolis' Mall of America. Yeah, that was a good one, thanks. Because "The Romp By The Swamp" checks both of those important boxes (and it rhymes, obviously), this is our favorite. Of course, you could also just go with "The Bore By The Shore."
But if we don't limit ourselves to the phrase "By The," then the options open up. How about "The Thump On The Dump"? You know Liberty National was built on a landfill, right? Hmm, now we're torn.
Or what about "The Pity At Jersey City"? It wouldn't surprise us to learn that this is how NBC executives are referring to the event thanks to a meaningless Sunday that will fetch rough ratings.
Some other possibilities are "The Pile On By The Skyline," "The Rumble By The Bridge and Tunnel,"The Annihilation By The George Washington," or "The Drub By The G-Dub." OK, so those are pretty bad. We should have stopped at "The Romp By The Swamp" and "The Thump On The Dump." But others chimed in with more good ideas while watching this U.S. yuck fest.
A co-worker said "Price's Last Stand" -- a reference to Nick Price losing as the International Team captain for a third consecutive time and of course, poor General Custer, who took a similar beating at the Battle of the Little Bighorn. And a friend suggested "The Price Is Wrong." Both are nice headlines, but they're too narrow in focus for this exercise.
Another colleague said "The Massacre On The Hudson," a play on "The Miracle On The Hudson." Now we're getting somewhere. Here are some other options that were sent in:
And finally, this particularly harsh take:
Geez, we hope that's not the case. Anyway, we're going with "The Romp By The Swamp." Only time will tell if the history books agree.