News
Presidents Cup 2017: Matt Kuchar ran a five-minute press conference -- and Jordan Spieth took some serious ribbing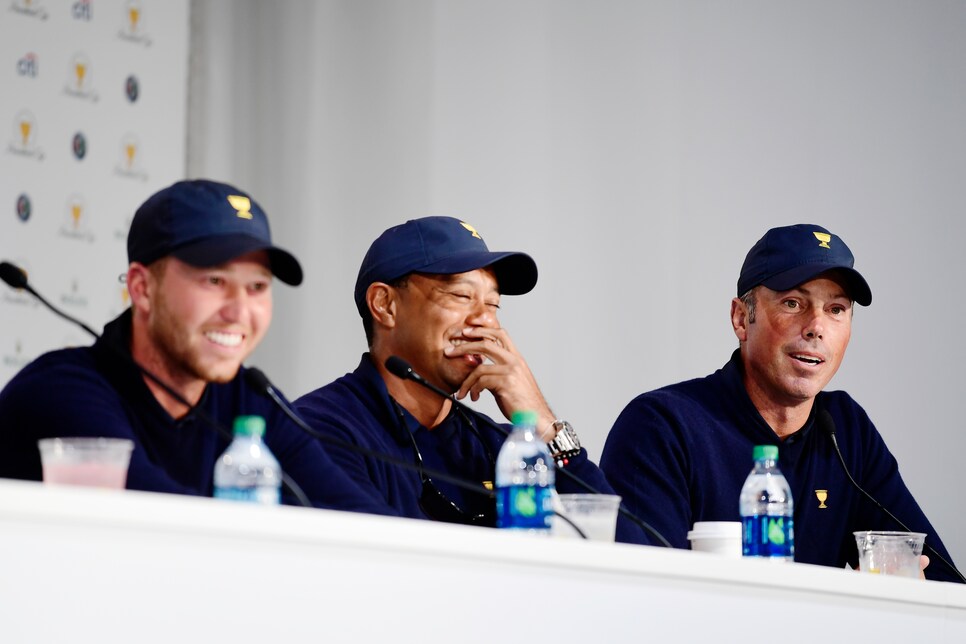 JERSEY CITY, N.J. -- Matt Kuchar lost to Charl Schwartzel on Sunday afternoon at the 2017 Presidents Cup, but he won an unofficial award on Sunday evening: MVP of Team USA's winning press conference.
As expected, the guys were in good spirits -- and imbibing good spirits -- when they arrived to the media center following their 19-11 romp of the Internationals. And Kuchar was in such a great mood (or perhaps, just ready to really start partying) that he decided to kick-off the team's presser by asking a few questions of his teammates himself. The bit had everyone laughing from crusty reporters to Tiger Woods, especially when the topic turned to Jordan Spieth. Specifically, Jordan Spieth's Presidents Cup/Ryder Cup singles record that fell to an inexplicable 0-5 following a 2-and-1 loss to Jhonattan Vegas.
"I just had to give him a little jab," said Dustin Johnson, who first brought up Spieth's record. "Golden Child here needs a little jab once in awhile."
A little later, after Kuchar opened the Q&A to reporters, Patrick Reed said the team could have found a way to win the point it needed if it only sent out three players. To which Johnson said if they picked three, they definitely wouldn't have picked Spieth. Watch the whole pre-presser here, which includes Justin Thomas telling Daniel Berger to "Stop" at one point before things really got out of control, and that finally came to an end when a PGA Tour employee took over. Too bad. Kuchar was on a roll.
But Kuchar got more time to shine later in the actual press conference when he took a question about having fun being part of this team and decided to bring up Phil Mickelson, who was sitting right next to him, not qualifying for the Tour Championship. Over. And over again.
MATT KUCHAR: This team was just an amazing bunch of guys, amazing performance. Everybody was on great form. For us to have -- we had 11 guys in the Tour Championship; everybody except Phil Mickelson was at East Lake (laughter).
It was like, how many times does it happen that you get 11 out of 12. If it was only for Phil, we would have had 12 of 12, but Phil was not there. So if we just -- we were one guy short of having an entire team there (laughter) and if Phil was there, that would have been the whole team. Like how many times does a team ever have that many guys play that well to make the tour champion?
PHIL MICKELSON: Gave me a chance to go home and work on my game in case it did come down to my singles match, you know.
MATT KUCHAR: Justin, tell him how great East Lake was (laughter).
Golf. Ping-pong. Press conferences. Matt Kuchar is a bonafide triple threat.