News
Presidents Cup 2017: The winners & losers from the final day at Liberty National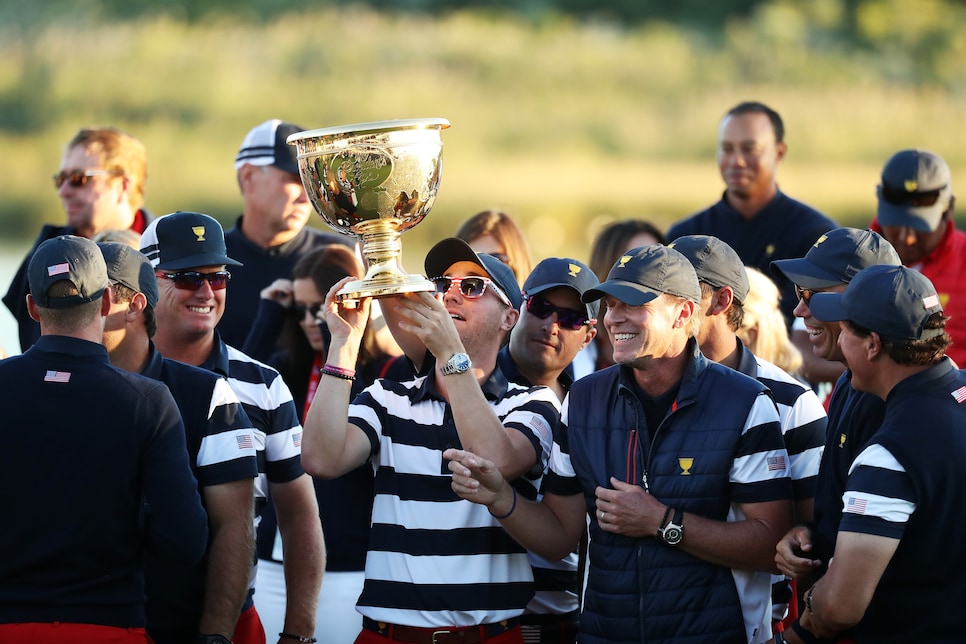 JERSEY CITY, N.J. -- Well, they decided to come back and play one more day of the 2017 Presidents Cup. And we're glad they did. Of course, the outcome of the event was never in doubt, but the day had its share of memorable moments from an adventure in a TV tower, an extra presidential trophy ceremony, and a rollicking winner's press conference. To wrap it all up, here's our final edition of winners & losers from a fun week at Liberty National.
This one is as obvious as it comes. Forget about the Internationals (finally) putting up a fight on Sunday, this was one of the most dominant performances in the history of team golf competitions -- so much so that we spent much of the weekend coming up with things to do at the course and nicknames to call this epic drubbing. No matter what you call it, this U.S. team is stacked. And young. And the 2018 Ryder Cup can't get here soon enough.
To the victorious captain go the spoils and -- fair or not -- all the credit. You certainly can't argue with the result Stricker oversaw. Now we have to wonder if/when the Strick Show gets another shot at running the show. Will it be at the 2019 Presidents Cup, or maybe, the 2020 Ryder Cup at Whistling Straits in Stricker's home state of Wisconsin? Regardless, it was an incredible weekend for the soft-spoken leader, who was also inducted into the University of Illinois' Sports Hall of Fame on Saturday night.
We just wish Kevin had attempted to get up and down from up there.
Loser: Jordan Spieth (In Cup singles)
Guess Patrick Reed was really carrying this chop all week. Kidding, because Reed actually lost on Sunday too. However, Spieth did get dusted by Jhonattan Vegas on Sunday to continue an odd trend in team events. While he's been a force when playing with a partner (usually Reed), he is now a dismal 0-5 in Ryder Cup/Presidents Cup singles dating back to the 2013 Presidents Cup. A fact his teammates gave him plenty of ribbing about in Sunday evening's press conference. Oh yeah, speaking of which, that was a winner too. Spieth gets some points back for singing "Si Woo shaking that ass" (Points to Dustin Johnson for that as well) and Matt Kuchar deserves a special media award for conducting an impromptu five-minute presser before the real one began. It's fun to win, isn't it?
Remember when Phil called out captain Tom Watson at the 2014 Ryder Cup at the most awkward press conference in golf history? Well, since that time, he's now a ridiculous 8-1-3 in team competitions following his win over Adam Hadwin on Sunday. If this is the 47-year-old's last Presidents Cup, he went out with a bang. And he got a great family photo on the 18th green to use as this year's Christmas card.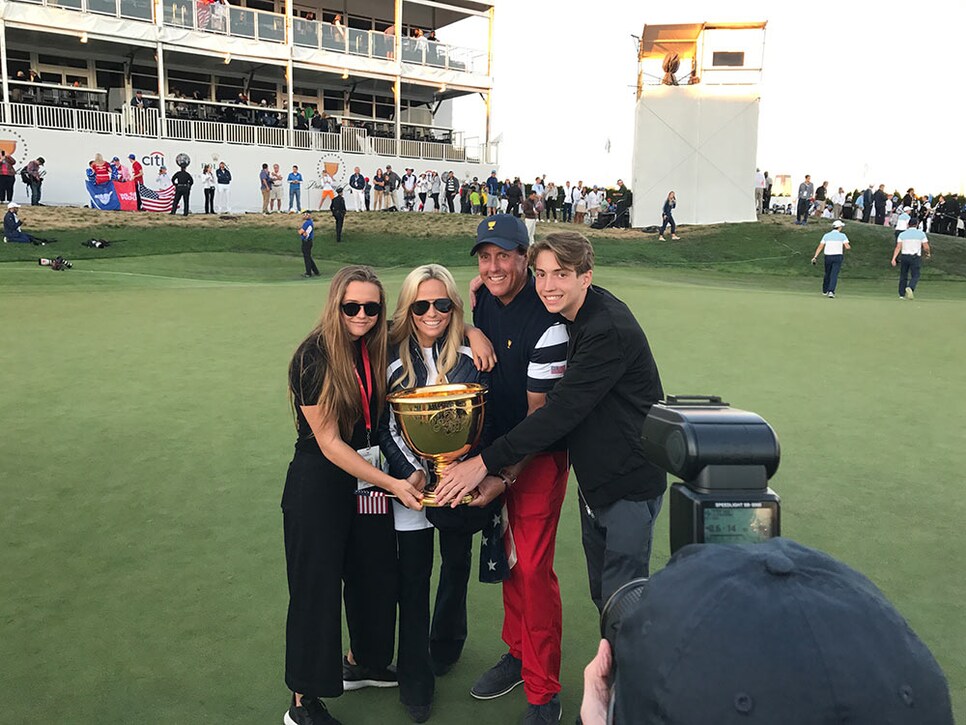 We love the competitive spirit Kim displayed over the weekend, but shushing the crowd a la Patrick Reed when your team is getting destroyed? And in a match you end up losing?
To be fair, Kim and opponent Daniel Berger shared a nice moment of sportsmanship after they traded birdies at the difficult 14th hole:
But we wouldn't have blamed anyone for turning to Kim at that shushing moment and saying, "Um, scoreboard."
Yes, you probably got sick of NBC showing shots of the NYC skyline and the Statue of Liberty. And if you were playing a drinking game around that, you definitely got sick. But you can't deny that it was a spectacular setting all week. Or that the often-critiqued course presents a compelling match-play venue with a variety of holes and a plethora of water hazards. We just hope the next time Liberty National gets a crack at hosting a team competition that both teams actually show up.
On Saturday, we applauded Chappell for conceding a short par putt -- and the match -- to Anirban Lahiri. It was a nice display of sportsmanship that he could have replicated during Sunday's opening match against Marc Leishman. Instead, after Leishman missed a birdie putt for the win, Chappell made the Aussie putt out from about two feet to halve the hole and the match. We're guessing Chappell did this because a Leishman miss would have clinched the Presidents Cup for the U.S., but again, it was the first match of the day. And you don't want to win like that anyway. Also, as we previously mentioned, Chappell had a chance to hit a shot out of a TV tower and he didn't take it. If Phil Mickelson finds out about that, Chappell's going to get chewed out.