News
Saturday was a really good day for Steve Stricker and it had nothing to do with the Presidents Cup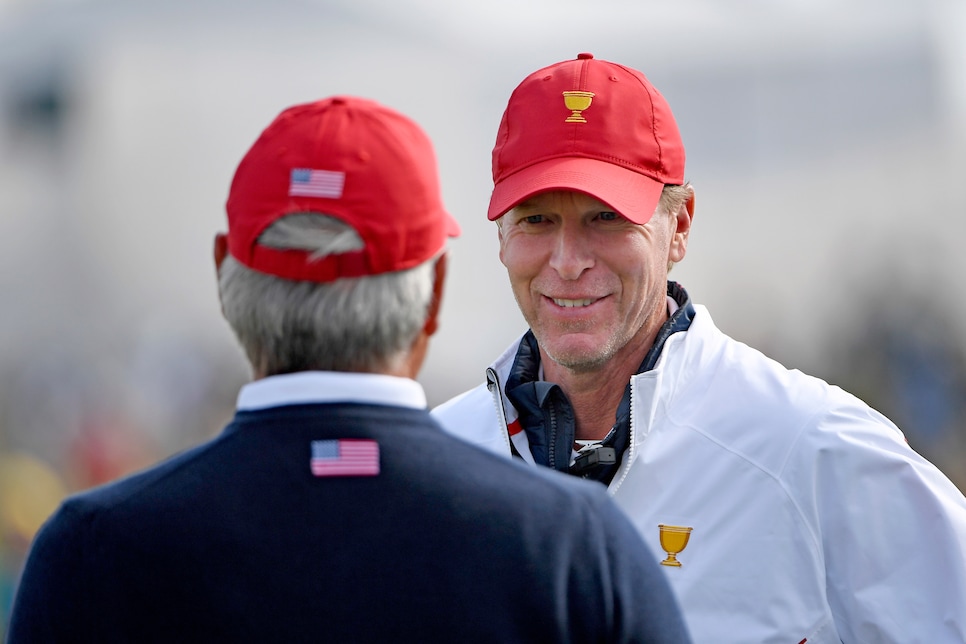 JERSEY CITY, N.J. — Steve Stricker rolled around Liberty National in his captain's cart on Saturday, assessing the damage that his U.S. team was inflicting as it blew open the Presidents Cup. It was a good day for the laidback 50-year-old, who could seemingly do no wrong as his charges won 6½ of 8 possible points, took an 11-point overall lead and nearly rendered the four-day event over in three days.
Mind you, Saturday was always going to be a special day for Stricker regardless of how the outcome of the double session day was going to play out. That's when he was going to be formally inducted into the inaugural class of the University of Illinois Athletic Hall of Fame.
Before his days as a big, bad captain, Stricker was a two-time All-American and Big Ten champion for the Fighting Illini from 1987-1990. His accomplishments allowed him to join a list of 28 athletes who were included in the impressive first class. Among the others are legendary football greats Dick Butkus and Red Grange, legendary sports executives George Halas and Jerry Colangelo, legendary hoops stars Nick Anderson, Dee Brown and Deron Williams and legendary baseball player Lou Boudreau.
Stricker was the lone male golfer in the class, with Renee Heiken Sloan, the current Illinois women's coach who as a player won eight titles her senior year in 1992-'93, being the lone female golfer included.
With the little thing known as the Presidents Cup going on, Stricker could not attend the formal ceremony back on campus. (Of the 16 living members of the first class, 11 were in attendance, including Butkus.) But he can proudly say that he's doing his best to earn his own legendary moniker this week outside New York City.