News
Presidents Cup 2017: There's plenty on the line Sunday at Liberty National. Just not the final outcome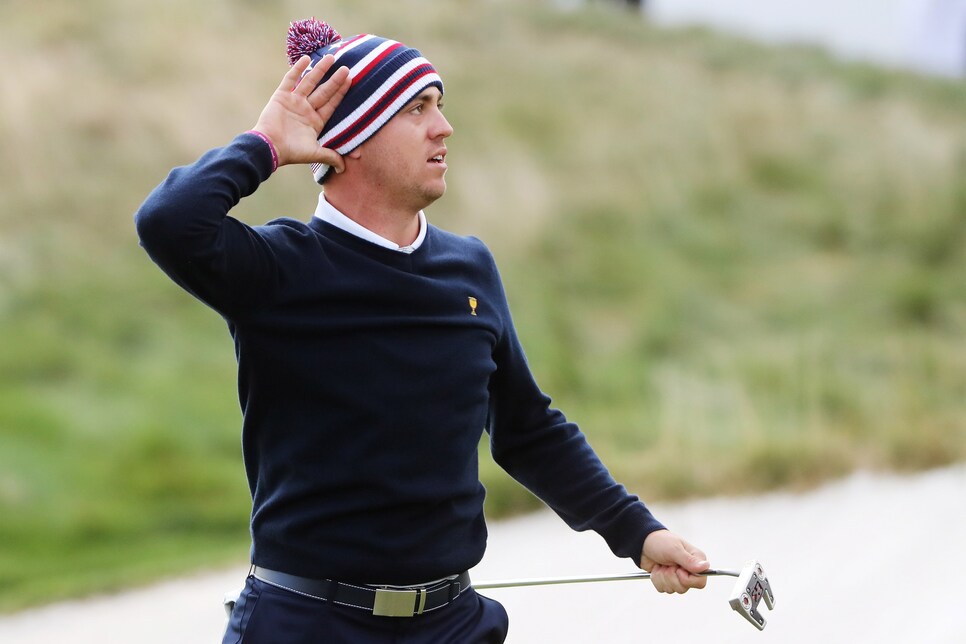 Photo By: Sam Greenwood/Getty Images
JERSEY CITY, N.J. — It's all over but the shouting at Liberty National. Almost literally. Despite the cool, cloudy skies and lopsided leader board, the rowdy New York-area crowd was in full throat on Saturday at the Presidents Cup. Yes, the outcome of the overall competition was all-but-decided a day early, the Americans grabbing an insurmountable (again, almost literally) 14½-3½ lead. But it didn't appear to have an adverse effect on beer sales.
The galleries will be back out on Sunday, too, as will the players, of course. The 12 remaining singles matches won't impact the ultimate outcome—the U.S. needing just one point to win the Cup—but aren't without meaning.
For nearly seven years, Nick Price had devoted himself to a somewhat thankless cause, trying to establish a camaraderie among a disparate group of golfers who, for one week every two years, are asked to wear blue uniforms and call themselves an International team. To see Price on Saturday morning, his face looking like all the blood had drained out of it, was to know just how awful this felt. By day's end, the captain of the International team looked a little better, probably because he had moved from depression to acceptance in the stages of grief.
"I thought we would be competitive this week. But the last two days, we just have no momentum," Price said Saturday night. "And I don't know how you get that. … The five of us [including his assistant captains] have racked our brains. But it seems like everything we tried has kind of backfired on us."
So, what's left to play for on Sunday? For the International side, there's most certainly pride. It's not as if Price stood outside Newark Liberty International Airport, tapped the first dozen guys he saw dragging golf clubs out of Terminal B and asked them, "You looking for a game?" These are among the best players in the world, shocked and frankly embarrassed by the results of the last three days. No, they haven't played their best, but they all know they're better than this. And this isn't the impression they want to leave anybody, let alone themselves.
"We have to somehow get up … we have to get up for it any way," said Jason Day, still searching for his first point after going 0-3-1 this week and now tallying a 4-11-4 record in four Presidents Cup appearances. "We can't just pack our bags and go. We have to come out and play."
"I think even if we just do a proper session tomorrow, and we get some good points on the board, that will help the spirit a little bit," said Louis Oosthuizen, who with Branden Grace has just one of the two International team wins this week.
There's plenty for Team USA to play for, too. A statement victory by the Americans will resonate beyond just this weekend. It will certainly echo a year from now in France, where the Americans will be trying to win back-to-back Ryder Cups for the first time since 1993. That was the same year the Americans last won on foreign soil.
U.S. Presidents Cup captain Steve Stricker is either a genius or damn lucky. Maybe a little of both. He has been blessed this week with a young, hungry squad of golfers (and their crazy uncle, Phil Mickelson), anxious to make him proud but more so to show everyone watching that they are a generation of players ready to make a true and meaningful impact on the game. (As if their play in this year's major championships wasn't already evidence enough.). What they're playing for on Sunday, frankly, is history.
Looking over Stricker's shoulder is Jim Furyk, an assistant this week who will lead that 2018 U.S. Ryder Cup squad. You've got to wonder if, in a small corner of his mind, Furyk might be nervous that the Americans used up all their birdies this week. Yet in Jordan Spieth (age 24), Patrick Reed (27), Rickie Fowler (28) and Justin Thomas (24), the Americans have a core four that every team captain in the next dozen years will lean on. The group has a combined record of 30-17-13 record in Ryder and Presidents Cups through Saturday. Add in Brooks Koepka (27), Dustin Johnson (33) and Daniel Berger (24), and there will be instances where just making Team USA will be a more difficult task perhaps than actually playing in the competition.
"They're just having a lot of fun," Stricker said on Saturday, trying to explain how this group that looks and acts so loose outside the ropes is able to play so well inside them. "Like I keep saying, they came in here with a lot of momentum, a lot of confidence and a lot of desire to play well here."
During Saturday's broadcast, Johnny Miller noted that this 2017 U.S. Presidents Cup squad just might be the best golf team ever assembled. Miller is known as a good quote, but he doesn't just say things to hear his own voice. The man himself was a member of a few Ryder Cup squads that are on that short list of "best ever," most notably the 1981 squad that also had Jack Nicklaus, Raymond Floyd, Lee Trevino, Tom Watson, Hale Irwin, Ben Crenshaw, Tom Kite and Larry Nelson, nine World Golf Hall of Famers.
Whether the 2017 guys are deserving of the No. 1 spot is up for debate; their finish on Sunday could be a deciding factor. What isn't debatable is the fact that they play golf with an impressive fearlessness, anxious to seize each big moment and make it their own. They've proven that for sure this week.