News
2017 Presidents Cup: Anirban Lahiri forced to DQ hole after rules infraction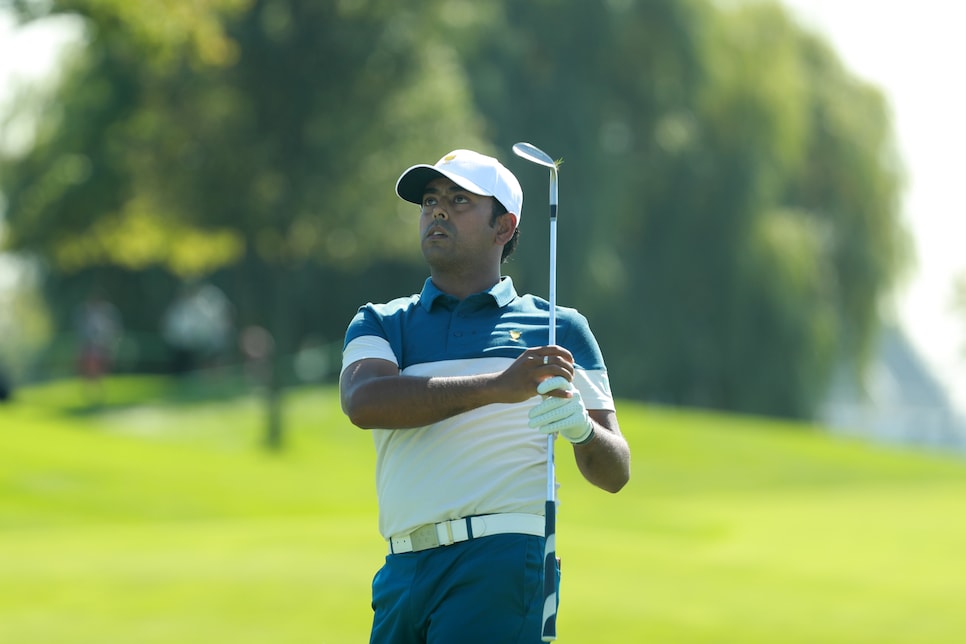 JERSEY CITY, N.J. — Anirban Lahiri needs a hug.
After sitting out Day 1, Lahiri's Friday began on inauspicious terms. He dumped his drive on the first into the drink, and his bunker shot on the second failed to leave the sand. Conceding the hole to the American team of Kevin Chappell and Charley Hoffman, the 30-year-old Lahiri innocuously retried this shot for practice.
Or, at least it seemed innocuous. After his tee shot on the third—which was sprayed off the grid—Lahiri was informed his second sand shot was against the rules. While the Presidents Cup does allow players to practice putts after a hole is finished, practice shots of any other kind are prohibited. Because the second hole was already finished, Lahiri was penalized—and disqualified—on the third.
Luckily for Lahiri, partner Charl Schwartzel managed to halve the hole against the U.S. Yet Lahiri stumbled again on the fourth, making 6 on the par 5 to give the Americans a 3-up lead through four holes.
The international event has not been kind to Lahiri, as the Indian star went 0-3 at 2015's competition. But this is taking agony to a new level.
In his defense, he's not the first player to forfeit a hole in the Presidents Cup: In South Korea two years ago, Phil Mickelson suffered a similar fate when violating the one-ball rule. Still, here's hoping Lahiri bounces back on Friday afternoon.