News
Presidents Cup 2017: Kevin Chappell's TV tower adventure is probably the most exciting thing that will happen on Sunday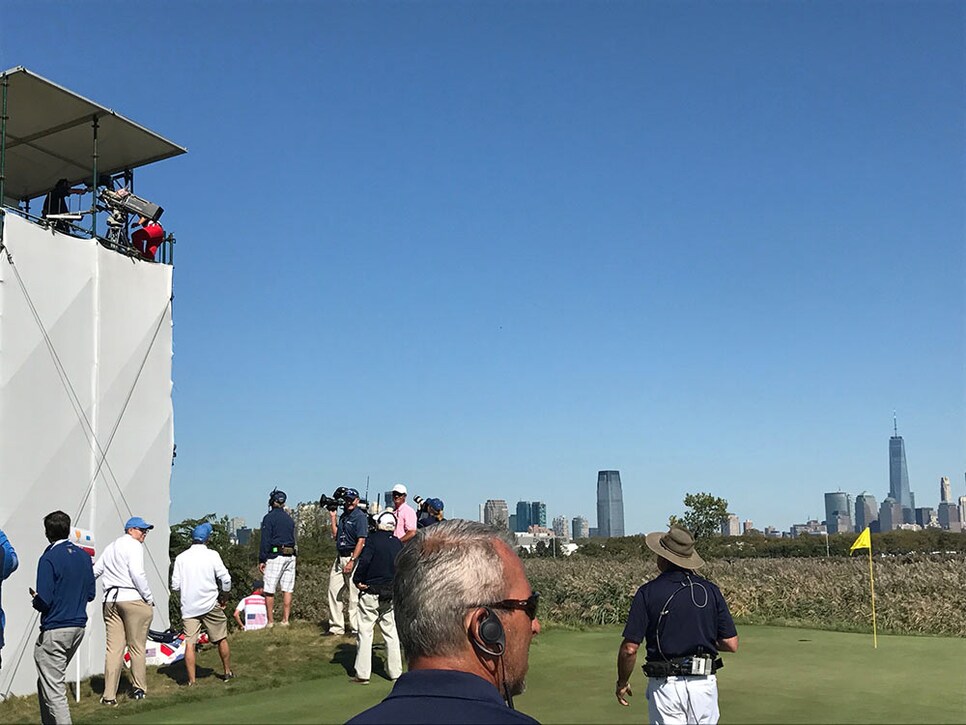 JERSEY CITY, N.J. -- It doesn't matter how much golf you've watched in your life, there's always the potential to witness something you've never seen before. Take Liberty National's 10th hole on Sunday during the 2017 Presidents Cup. I was following the first group of the day to the green when I saw International assistant captain Geoff Ogilvy contemplate trying to wrangle a baby snake. Oh yeah, and then there's what happened to Kevin Chappell on the same hole moments later.
Chappell's tee shot on the beautiful, but treacherous short par 3 had gone way long. It would have been in the hazard, but remarkably it landed in a TV tower. On a bunch of cables. No, really. So naturally, Chappell climbed up there to assess his options.
It was a wild scene as Chappell looked around for a few minutes before finally picking up his ball. When Phil Mickelson learns about this, he will be very disappointed in his young teammate for not trying the ultimate hero shot. Others watching were letdown as well.
"I kinda wish he had tried to play it," Ogilvy said to NBC's Roger Maltbie. Same, Geoff. But to be fair, I kinda wish you'd actually picked up that snake.
Then as the situation seemed to return to normalcy, the latest wacky rules situation at Liberty National got even more bizarre. Next thing we knew, Chappell was walking through the hazard and to the 11th tee in a spirited conversation with PGA Tour rules official Steve Rintoul.
Then Marc Leishman, Chappell's opponent who was waiting to attempt a short birdie putt, yelled out, "Are we moving on?"
"Yeah, he's conceded the hole," Rintoul replied as the match went back to all square.
It turns out, Chappell had been informed he was being assessed a penalty for grounding his club after taking a drop in the hazard behind the green. So rather than waste more time, he picked up. But he didn't drop the conversation. After piping his next tee shot, Chappell gave Rintoul an earful as he walked down the fairway. Apparently, he wasn't too pleased with the ruling, and even getting a nice view of the NYC skyline from that tower wasn't helping his mood.
But the whole incident was a pleasant surprise to golf fans. On a day that's all but a formality, Kevin Chappell's TV tower adventure will probably the most exciting thing that happens at Liberty National. Even Maltbie acknowledged that was a new one for him. And ol' Rog has seen a lot of golf.