A New Era
Tiger Woods, Rory McIlroy announce new team golf league in partnership with PGA Tour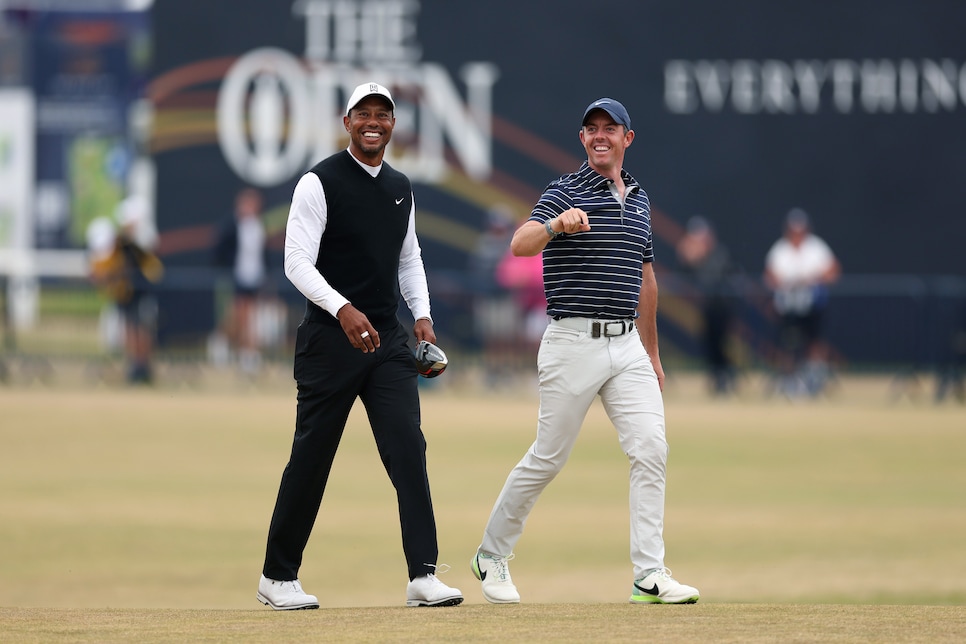 A new team element is coming to the PGA Tour—it just won't take place on an actual golf course.
Tiger Woods and Rory McIlroy's TMRW Sports announced on Wednesday the creation of TGL, a tech-infused team golf league in partnership with the PGA Tour. According to a press release, the league will feature primetime matches from a custom-built venue beginning in January 2024.
"TGL is the next evolution within professional golf, and I am committed to helping lead it into the future," Woods said in a statement. "Embracing technology to create this unique environment gives us the ability to move our sport into primetime on a consistent basis alongside so many of sports' biggest events."
Woods and McIlroy have also committed to play in the new league that will feature six teams of three PGA Tour players competing in two-hour contests. A schedule of 15 Monday night matches is planned as well as a semifinals and finals to complement the existing PGA Tour calendar.
TGL's venue is being described as "A first-of-its-kind experience for golf enabled by a data-rich, virtual course complete with a tech-infused, short-game complex." This announcement comes a day after Woods and McIlroy announced they had joined former Golf Channel president Mike McCarley to create TMRW Sports (pronounced as "tomorrow"), a technology-focused company that will venture into "progressive approaches to sports, media and entertainment."
"I have the utmost respect for the game of golf, and the TGL, while rooted in the traditions of the game, is taking a bold step into the increasingly tech-fueled future of sports," McIlroy added. "TGL will tap into the appeal of team golf within an exciting, fan-friendly environment, comparable to sitting courtside at an NBA game. TGL will widen the appeal of golf to younger and more diverse fans and serve as another avenue to introduce people to the game I love."
It's been a busy few months for the PGA Tour as it tries to combat the new LIV Golf series that has lured a group of its players including Dustin Johnson, Brooks Koepka and Bryson DeChambeau. But the activity has turned up even more this week.
The TGL announcement comes on the same day that PGA Tour commissioner Jay Monahan announced sweeping changes for the PGA Tour as well, from an increase in Player Impact Program prize money and recipients to "elevated events" to more guaranteed money for rank-and-file PGA Tour members as well.
The 2021-2022 PGA Tour season and FedEx Cup Playoffs conclude this week at the Tour Championship in Atlanta.