Pleasant surprise
U.S. Open 2022: Joel Dahmen will tell you he can't win a major. Don't believe him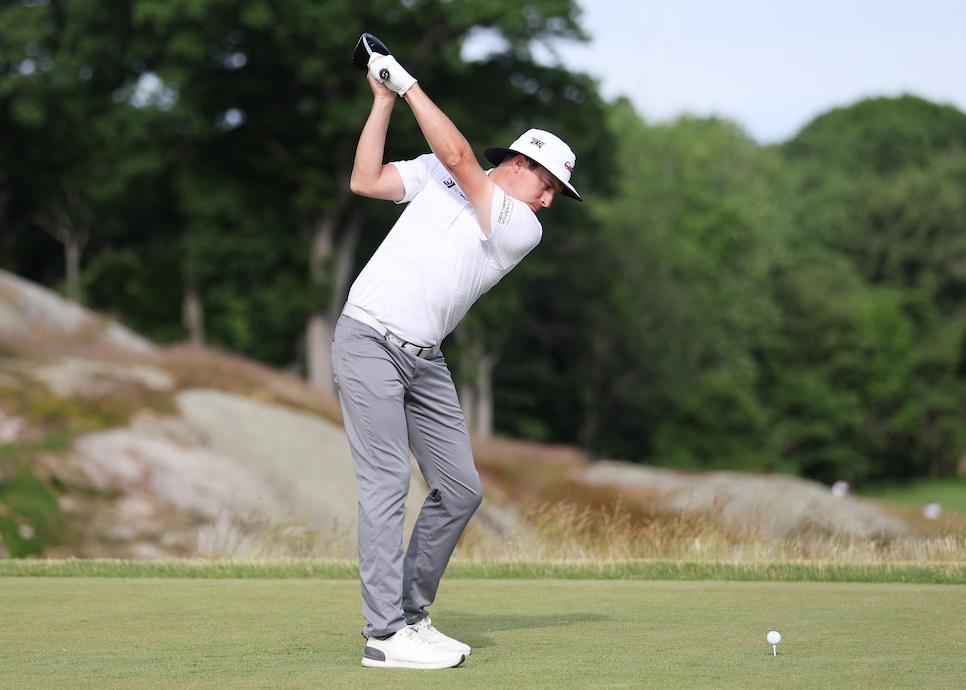 Joel Dahmen plays his shot from the 10th tee during round one of the 122nd U.S. Open Championship.
Warren Little
BROOKLINE, Mass. — Joel Dahmen knew precisely what questions were coming. He teed up this narrative 10 days ago, when he told The Athletic that he knows he will never win a major and wasn't sure he'd even try to qualify for this one. (He did, and he made it rather easily). But he also leaned into it for the entirety of his six years on the PGA Tour. Dahmen harbors no delusions of grandeur regarding his golf. He will tell you he has no shot of making a Ryder Cup team, let alone the World Golf Hall of Fame.
He does, however, have a habit of poking holes in his own self-image. There was his second-place finish at Riviera, perhaps the most major-quality course on the regular PGA Tour schedule. Another solo second at Quail Hollow, which hosted the PGA Championship in 2017 and gets the Presidents Cup this September. Simply put: Joel Dahmen is a lot better at golf than Joel Dahmen would lead you to believe.
Take Thursday's round at the U.S. Open, a tournament that invites each of the 60 best golfers in the world. Dahmen carved his way around The Country Club in shooting three-under 67, tied for best in the morning wave. Everyone wants to talk after rounds like these, and as Dahmen trudged toward the podium, he began to outline this very story that you're reading.
"Yeah, yeah, can Joel Dahmen win a major," he said with his ever-present half-smile. "I could write this for you guys."
In fairness, Dahmen's U.S. Open pessimism came before he laid his eyes on this New England masterpiece. Winged Foot, this is not. It ain't Torrey Pines, either. Length is always an advantage, but in most U.S. Opens of recent vintage, it's been a pre-requisite. Not this week.
"Winged Foot stood out to me," Dahmen said. "I didn't have a fighting chance there. I had to hit it so perfect all the time, where this one even if you are in the rough, it's graduated a little bit. I can get it around the greens. I'm not hitting 4-iron or hybrid into every hole; there's wedges out there. You can get to the par 5, No. 8, that stuff.
"You still have to hit it great, and you still have to be in the right spots, but this is like everyone can play this golf course, from Brian Stuard to myself to the long players. Even myself, I hit multiple 3-woods off the tee, hit a hybrid on 9. It's not just a hit-as-far-as-you-can-type contest."
Par 3s also aren't hit-as-far-as-you-can-type contests, and Dahmen birdied three of them on Thursday. He also closed with three birdies in his last five holes and, as he tapped in for par on the nine (his final hole of the day), he absolutely thought about the significance of what he'd just accomplished.
"How often are you going to be tied for the lead of the U.S. Open? This is incredible, right?" Dahmen said. "Is it way cooler to finish in the lead on Sunday? Yeah. Is it still cool as a kid who grew up in Clarkston, Washington, to be like, man, he is leading the U.S. Open, that's kind of a cool deal. For sure."
Still, Dahmen was hardly in alpha-male I love my chances mode after his round. He was quick to point out that he could easily shoot 76 on Friday and quickly find himself in 40th. And whereas most players near the lead at the U.S. Open would use a free afternoon to rest, recover, maybe a light gym sesh, Dahmen will head to a concert and try his hardest not to drink "100 beers like we typically do at the concerts." His caddie/best friend since childhood, Geno Bonnalie, was off grabbing a cold beverage and a bag of Cape Cod potato chips.
"Is there anything better than this?!" Bonnalie said.
The pair have serious everyman appeal. They grew up on the Washington/Idaho border, hardly a hotspot of golf, and Dahmen learned after one year at the University of Washington that college wasn't his thing. He would never have tried professional golf if it weren't for the kindness of Bob Yosaitis, a Washington businessman who bankrolled Dahmen's journey to the PGA Tour—which included four years on the PGA Tour Canada and a stop on the Korn Ferry Tour. Now trending toward PGA Tour veteran territory, he feels he's overachieved in his career. But overachievers have won plenty of golf tournaments, and one in particular nearly spoiled a signature performance by the greatest player of his generation. There is a place for overachievers in this game.
"It's just understanding who I am and where I'm at. Rocco Mediate took Tiger to 91 holes; I think I can do OK," Dahmen said. "I've done pretty well under pressure. The closer I get to it, I don't tend to just completely collapse."
That's Dahmen-ese for: Yeah, I actually do believe I can win this thing.