STANFORD QUARTET
U.S. Open 2023: Stanford's star foursome relishes chance to compete against each other on game's biggest stage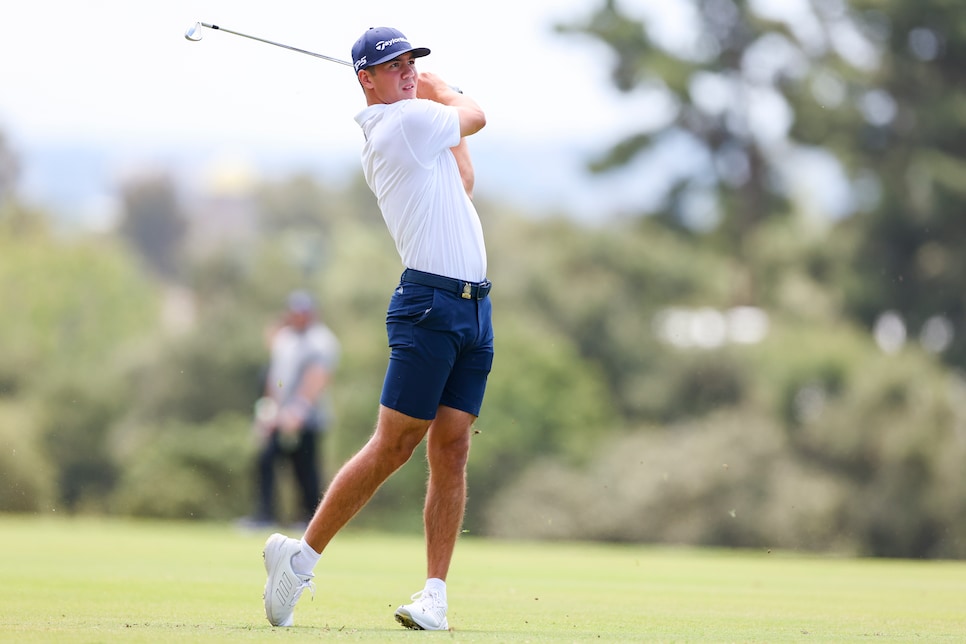 Michael Thorbjornsen plays a shot on the 12th hole during a practice round of the U.S. Open Monday at Los Angeles Country Club. Thorbjornsen is the world's No. 3-ranked amateur and is the most experience of his teammates in playing on professional stages. (Kathryn Riley/USGA)
Kathryn Riley
LOS ANGELES — They look like men and play like junior tour professionals. Four Stanford players—Michael Thorbjornsen, Karl Vilips, Alex Yang and Barclay Brown—stunned the golf world last week by earning spots in the U.S. Open field via 36-hole Final qualifying. They're decked out head-to-toe in apparel from equipment companies. They've got athletic physiques, which suggests their college training regimes have prepared them for golf's biggest stage. Some even have clothing sponsors now that the NCAA and USGA allows that from its amateurs.
On Monday, Thorbjornsen walked onto the first tee at Los Angeles Country Club for a practice round. He was playing with another college star, Vanderbilt's Gordon Sargent. Sargent asked Thorbjornsen if he wanted some lunch, because his mom was in the gallery and had offered. Sargent might have won the individual NCAA Championship in 2022 and reached No. 1 in the World Amateur Golf Rankings, but he's still only 20 years old.
"Mom said she could grab us maybe a turkey sandwich or an Uncrustable," Sargent said.
"Yeah, I'll take a turkey sandwich," Thorbjornsen replied.
Thorbjornsen, the world's third-ranked amateur, then ripped a drive down the middle of LACC's par-5 first fairway, past PGA Tour pro Seamus Power. So, too, did Vilips, with veteran caddie, Col Swatton, standing next to Vilips' TaylorMade L.A.-themed staff bag.
"I see a guy who is explosive and can make a lot of birdies in a short space of holes similar to Jason," said Swatton, who coached and caddied for Jason Day from childhood until a few years ago. "He drives the ball maybe a bit better than Jason did at that age, and if he can improve his short game and putting I think you'll see his name more often."
Adds Vilips, an Australian native now coached by Swatton: "Col is awesome; he's had so much experience with Jason in the past at U.S. Opens. I think it's a huge advantage for myself and great decision to have him on the bag [this week]."
Vilips was buzzing that his three teammates had qualified for the U.S. Open from four different USGA sites across the country. "It's so cool, it shows how good we're playing right now," said Vilips, who earned co-medalist honors at Woodmont CC in Texas. "All four of us are going to play a practice round tomorrow."
Adds Yang: "Our team is pretty deep and we could sense something like this was coming."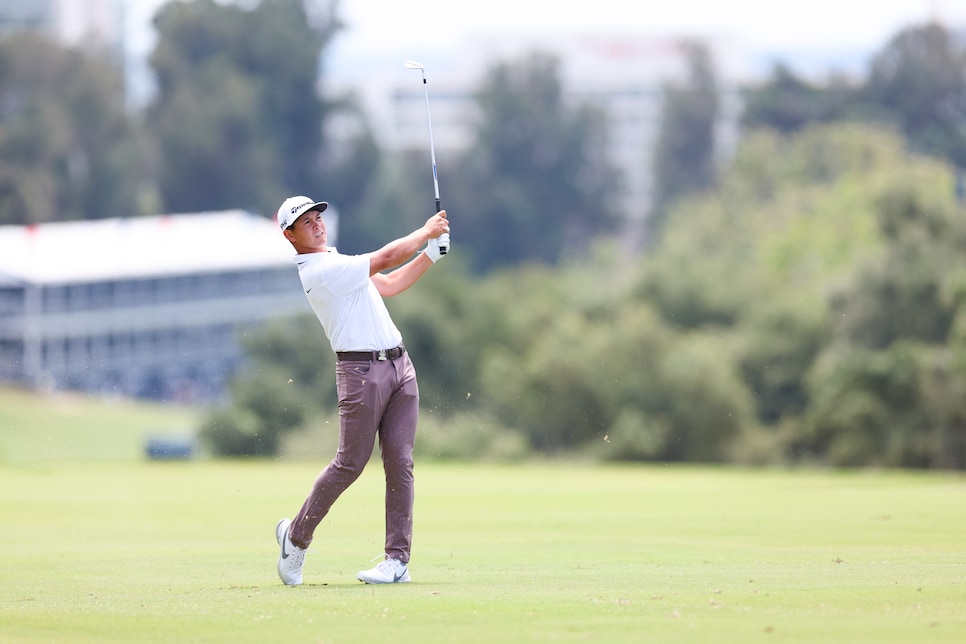 Karl Vilips plays a shot on the 12th hole Monday during a practice round of the U.S. Open at Los Angeles Country Club. (Kathryn Riley/USGA)
Kathryn Riley
Vilips rooms with Thorbjornsen and Brown at Stanford, although none of the quartet are staying together this week. Brown, from South Yorkshire in England, will stay with members at nearby Hillcrest Country Club, which hosted the final qualifying site where he finished in second place.
"I've stayed in LA since the qualifiers [on June 5] because the Hillcrest members were nice enough to host me," Brown said.
Yang, who birdied five of his final seven holes in to earn co-medalist honors at the Tacoma qualifier in Washington, moved with his family to nearby Newport Beach from his native Hong Kong at age 8. Yang has family in Venice Beach. "It feels like I'm basically at home," Yang said.
Yang might feel at home, but he, Vilips and Brown are making their U.S. Open debuts. Brown made the cut at last summer's 150th Open at St. Andrews and finished one shot shy of low amateur honors.
"It was such a great week and hopefully I learned some things from that experience," Brown said.
Vilips is making his major debut, but says recent college events, and earning co-medalist honors U.S. Open final qualifying at Woodmont CC had him feeling confident.
"In [NCAA] nationals I was in a playoff to get into the match play [portion] and then at the [final U.S. Open] qualifier, coming down the stretch it was a high-pressure situation," Vilips said. "I haven't handled those situations well in the past, but I've started to handle them a little bit better. I think those experiences are great for a tournament like this and hopefully I can put that into effect."
Thorbjornsen is the standout among the four, having had stellar finishes on the PGA Tour already. Last year at the Travelers Championship he finished fourth. This year, he tied for 20th at the DP World Tour's Dubai Desert Classic. This is his third U.S. Open after making the cut at Pebble Beach in 2019 and missing the cut last year at The Country Club at Brookline.
"They are starting to feel more normal," Thorbjornsen said, "although it is still the U.S. Open."
MORE FROM GOLF DIGEST @ THE U.S. OPEN