Fire and ice
U.S. Open 2022: Tantrums aside, Rory McIlroy produces the strong start he needed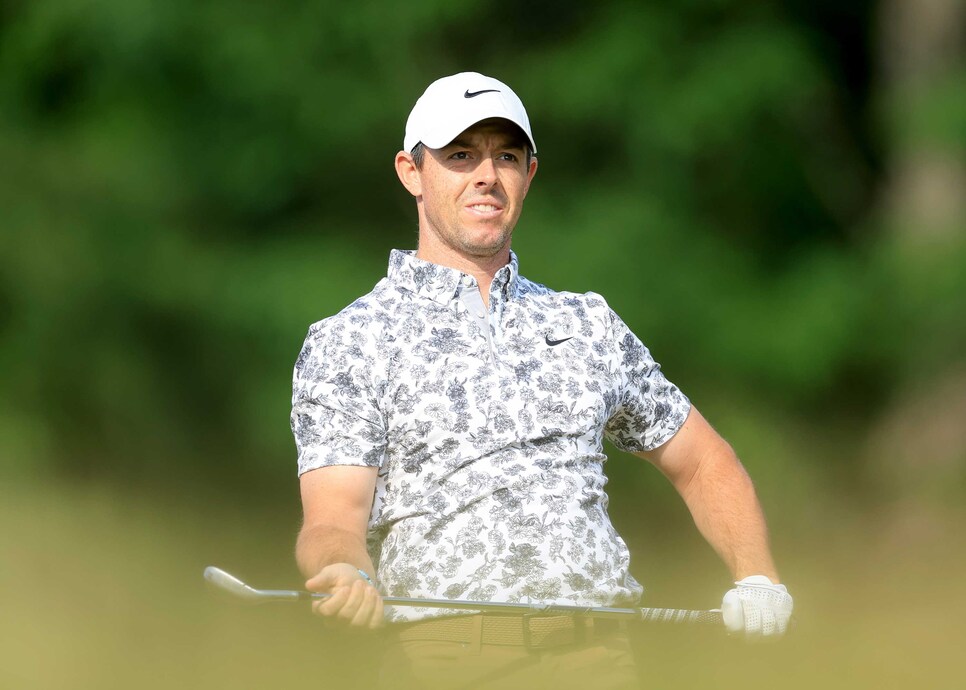 BROOKLINE, Mass. — More than half a century has passed since Lee Trevino completed a remarkable sequence of play and claimed what quickly became known as golf's "Triple Crown."
Over the course of just 30 days during June/July 1971, the then 31-year old ball-striking genius won three national championships in succession: the Canadian Open, the U.S. Open and the Open Championship.
No one has repeated that extraordinary feat since. But it could happen this year. Following his successful defense of the Canadian Open at St. George's last weekend, Rory McIlroy kicked off his 14th U.S. Open campaign with a rather nifty 67 at The Country Club. It is just the sort of solid platform that could see the Northern Irishman heading to St. Andrews for next month's 150th Open with Trevino and triple on his mind.
More immediately, McIlroy's three-under-par total represents further evidence that he is finally cresting a hill of his own making. At least for the moment—and just as he was at Southern Hills in last month's PGA Championship—he is more clear-headed "morning person" than fuzzy-headed and slow to rise from his slumbers. This four-birdie, one-bogey performance immediately places the four-time major champion front and center on the leaderboard. Perhaps more importantly, he will also be occupying a similarly prominent place in the hearts and minds of his fellow competitors.
Still, for all that the end result was so obviously pleasing—even with that lone bogey on the ninth, McIlroy's final hole—it wasn't all straightforward. In many ways, in fact, this was a typical U.S. Open round. McIlroy hit only 57 percent of the fairways he aimed at and missed five greens in regulation. But he used his putter only 28 times.
Indeed, as has been the case so often in the recent past, the four-time major champion appeared ill at ease between tee and green over his opening holes. Fairways were being missed, as were putting surfaces. The difference here was that his early putts—the eight-to-10-footers for struggling pars—disappeared into cups rather than sliding disappointingly by. This was McIlroy scoring, not squandering. More of the same over the next couple days will spare us the familiar rampage through the field in tepid weekend pursuit of yet another relatively meaningless "back door top-10."
All in all, then, McIlroy was happy, even if he was quick to express a lingering frustration over the seemingly straightforward approach he pushed right of the ninth green. "I missed it where you can't miss it," was his rueful verdict. Overall, though, he was "pleased."
"It's a great start to the tournament," he confirmed. "You'd take 67 around this golf course any day. I felt like I did most things well. I certainly putted well. And I hit the ball in the right spots. I hit a lot of greens and gave myself plenty of chances. Just basically did everything that you need to do at a U.S. Open. That's now two majors in a row that I've started well. Hopefully I can just keep going from here."
Significantly, when asked for the highlights of his round, McIlroy pointed directly at the par saves he pulled off at the second and fifth holes. On the former he contrived an unlikely up-and-down from long grass well right of the putting surface. And on the latter —all while displaying a full range of emotion—the 2011 U.S. Open champion made a 13-footer for a par on the drivable par-4.
Which demands an explanation. McIlroy's pushed tee shot found an ugly spot in long grass on the edge of a bunker, maybe 70 yards from the flag. If the lie was awkward, his stance was even more so, the ball above his feet. Forced to hold his club on the shaft rather than the grip, McIlroy could only prod the ball into another bunker no more than 15 yards ahead. That depressing outcome provoked a minor tantrum, McIlroy pounding the sand in a manner more usually associated with an irate Sergio Garcia.
"You're going to encounter things at a U.S. Open that you don't really encounter any other week," said McIlroy. "It's hard not to get frustrated because I'm walking up there going like, 'just come back into the bunker.' The thickest rough is around the edges of the bunkers. So I was cursing the USGA going up to the ball. The margins are just so fine in this tournament, and I think you can sort of see that out there with some of the reactions. But you just have to accept it. I gave the sand a couple of whacks because I'd already messed it up. It wasn't like it was much more work for [caddie] Harry [Diamond]. Then I reset and played a decent bunker shot. It was really nice to hole that putt."
And shoot a 67 that clearly left him more than satisfied. This was the start McIlroy was looking for, no matter the brief moments of madness—there was also a club toss on the 9th—along the way. More than perhaps anyone else in the field, he had a pressing need for at least a solid beginning. Already there have been too many "over by Friday morning" majors in his career.
"I feel like I'm right in the tournament, which is nice," he said. "I'm going into tomorrow with the mindset of 'let's keep it going,' rather than 'where is the cut line?' If you don't get off to a great start those thoughts start to creep in. It's certainly a different mindset when you get off to a good start. I've just got to keep it going."
For only seven more rounds.