Glory Days
U.S. Open 2022: For Justin Leonard, relieving his famous 1999 Ryder Cup putt at Brookline never gets old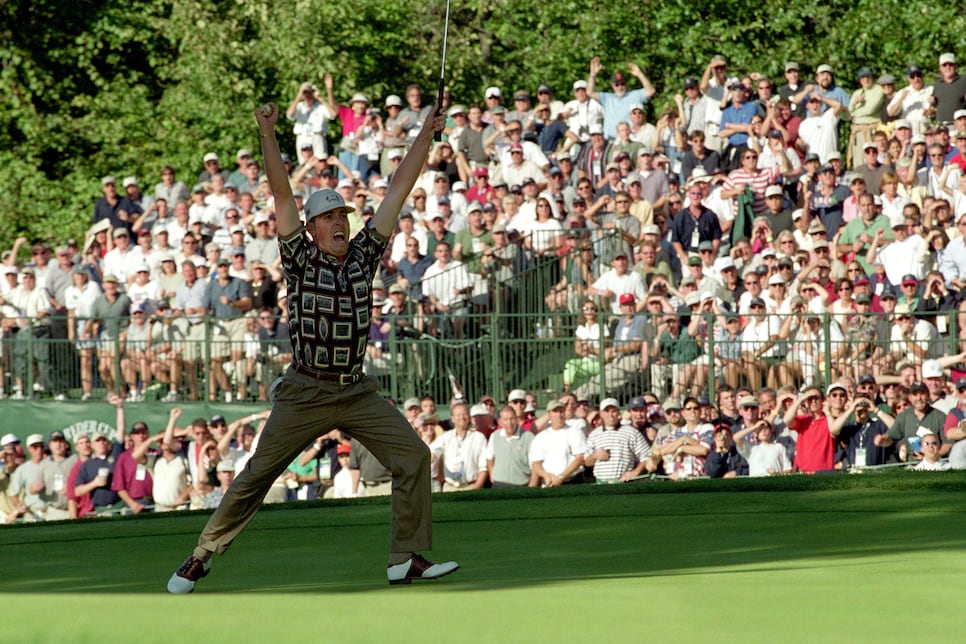 BROOKLINE, Mass. — Ben Crenshaw calls him Francis as a term of endearment in honor of Francis Ouimet, the American hero of the 1913 U.S. Open at The Country Club. Justin Leonard, who delivered his own heroics on the same part of the same golf course 86 years later, offers a knowing chuckle about the nickname he has earned.
Ouimet sank a putt of roughly 36 feet for a birdie on the 17th hole at The Country Club in that long ago championship to force a playoff against British titans Harry Vardon and Ted Ray. The 20-year-old amateur then stunned his professional rivals the next day in an 18-hole playoff to become the first American-born winner of the U.S. Open.
Tied with Jose Maria Olazabal in his singles match on the final day of the 1999 Ryder Cup, Leonard holed a 45-foot putt for birdie on the 17th green that capped a furious American rally—as well as his own—and ensured that the U.S. team would win back the cup from a stunned European team. Crenshaw, the U.S. captain, fell to his knees and kissed the green. Since that day, he has called Leonard "Francis."
That's quite an honor, you say.
Leonard replies, "Yeah, well, Ben used to have a cat named Francis as well, so the cat and I are both named after Francis Ouimet."
There are few strokes in the modern era of golf, let alone in the Ryder Cup, that are more famous, more consequential and best remembered than Leonard's putt that sped hastily up the slope and rattled into the cup that September day in '99. It set off a raucous celebration by the American side because it seemingly assured the U.S. team of the half-point it would need to complete its record comeback from a 10-6 deficit.
What the U.S. side failed to process amid the chaotic, cathartic moment was that Olazabal still had a putt of 22 feet to tie the hole and send the match to be decided at 18. But after the spontaneous eruption subsided, the Spaniard missed, and America won 14½-13½. Until that day, no team had rallied from more than two points down going into the 12 singles matches.
Leonard still hears some complaints about what transpired. He still gets poked about it on social media. He refuses to let it dampen the memory.
"Boy, some people are still bitter about that," he said. "This is 23 years ago. You can move on now."
Of course, Leonard can't move on, even if he wanted to. News flash: he doesn't. He will be asked about that Ryder Cup and that putt maybe 30 times more, he estimates, than any of his 12 PGA Tour wins, including his victory in the 1997 Open Championship at Royal Troon. Understandably, he still relishes the moment.
"I can remember the feeling of it," Leonard said Wednesday at The Country Club, where he returns as part of the broadcast team for NBC Sports for this week's 122nd U.S. Open. "One of the reasons is that I relive it every couple of years with the Ryder Cup, and it's part of the history of the event. I can remember some of my thoughts, little bits and pieces. And the pieces that I do remember are vivid."
Leonard happened to be celebrating his 50th birthday on Wednesday when he enjoyed an opportunity to retrace some of his footsteps while walking the back nine with Scottie Scheffler, Justin Thomas and Sam Burns during their practice round. They were toddlers when Leonard somehow rallied from 4 down with seven holes to play to set up the magical stroke, so they had questions. Leonard tried to give some play by play.
He had lost the 11th, but Davis Love III sidled up to him on the 12th tee with some words of encouragement. And then Leonard won the 12th, which this week is the par-5 14th hole, with a 10-footer for birdie. He two-putted for par to win 13 when Olazabal hooked a drive and had to pitch out. He won 14 with a 20-footer and then evened the match with a 35-foot dagger on 15, a putt that Randy Smith, his longtime coach, said was every bit as big as the one at 17.
"It got me back to even—and I had momentum," Leonard agreed.
When the group made its way down the 17th fairway, Smith, who also serves as swing coach for Scheffler, the World No. 1 player, asked his longtime pupil about the spot from which he hit his wedge into 17 that failed to clear the slope and get near the back hole location. Leonard knew. It was about 95 yards.
When they arrived on the green, Scheffler handed Leonard his putter and told him to make the putt again. "He and JT were roughing me up in a fun way," Leonard said. "They were telling me if I didn't make it again, then it never happened."
Leonard put a ball down and lagged one up the slope that stopped three feet away. The native Texan, who moves into a new home in South Florida next week after several years in Colorado, was pleased with the effort. "I told those guys that I would have taken that [in '99]. Three feet is a darn good putt. Obviously, I did better than that."
Smith still can't believe what he saw that day. He had taken up a spot under one of three trees to the right of the green. "It's not 10 feet off his putter and I know it's in," Smith said. "I could tell by his mannerisms and what he was seeing that he knew it was good."
"I did think it was pretty good," Leonard said. "But I thought it might be going too fast."
It was. But it was too good to not go in.
That's not a bad way to spend your 50th birthday, reliving one of your best shots, one of your best days. Leonard was grateful.
"Walking up the last few holes and remembering where I was, the shots I had to play, and all those things, and to stand in those spots, especially where I was on 17, that was pretty cool," said Leonard, who will make his PGA Tour Champions debut in early July at the Bridgestone Senior Players in Akron, Ohio. "It's great being back. I've talked about it a lot over the years, but it's a lot different, it feels different, talking about it here, because this is where the memories occurred, and they certainly come back a lot easier when I walk around this course.
"I know that people around here certainly remember what happened, and that has been a pretty special part of the week as well. Obviously, it was an incredible moment for me and for a lot of people."
MORE U.S. OPEN COVERAGE FROM GOLF DIGEST