Travel woes
U.S. Open 2022: Think your airline losing your clubs during a major week is rough? Try having it happen twice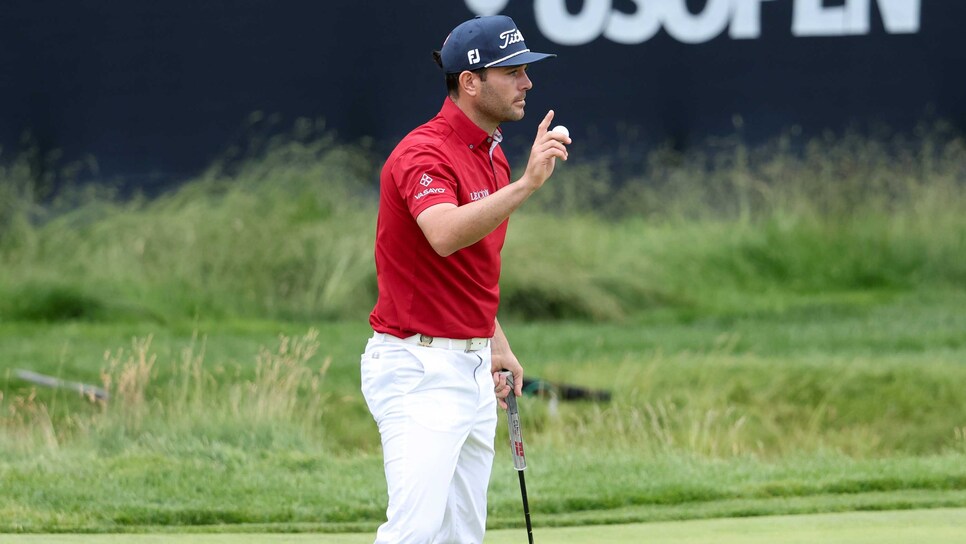 Callum Tarren waves on the ninth green during Round 1 of the 122nd U.S. Open.
Warren Little
BROOKLINE, Mass. — PGA Tour rookie Callum Tarren would like to make playing in the U.S. Open a habit. Same with appearing on the leaderboard, which the 31-year-old from England did on Thursday after teeing it up in the first group off the 10th hole in the opening round and shooting a three-under 67 for a share of the morning lead.
What Tarren would like not to repeat again is losing his golf clubs during the U.S. Open. Unfortunately, he's gone 2-for-2 in that department.
Tarren played last week at the RBC Canadian Open but missed the cut, so he flew on Saturday from Toronto to Boston. Fearing a difficult check-in process for the international flight, he got to the airport four hours ahead but cruised through. Too quickly perhaps.
Sure enough, when Tarren landed, his clubs were nowhere to be found. "There was five other players on my flight," he said. "They all got golf clubs."
Tarren came out to The Country Club on Sunday and walked with a wedge in hand. Thankfully that afternoon he got a call that his clubs had found their way to Boston.
"Luckily, there was somebody in Canada who went to the airport and gave the airport staff a little kick," he said. "This time I got them a little bit faster than last. I didn't actually get them until Wednesday in Pebble Beach a few years ago, so that was a nightmare."
Indeed, in his first U.S. Open appearance in 2019 at Pebble Beach, Tarren flew from Atlanta to San Francisco and was then supposed to go to Monterey, but the last leg got canceled due to a bizarre mechanical failure (the cabin door broke when it was closed with a cellphone charge in the doorway). Tarren paid $450 to take a taxi from San Francisco to Pebble and was told his clubs would be there the next day. But they didn't make it, the clubs somehow were rerouted to New Orleans and on do Denver.
It led to a few days of panic as Tarren attempted to prepare for the first major championship of his career while practicing with borrowed clubs. Not surprisingly, he wound up missing the cut.
With clubs in hand in Brookline, Tarren seemed to get off to a so-so start on Thursday, sitting one over through his opening nine holes. He then went four under over his final nine, including a chip-in eagle on the par-5 eighth, his second to last hole.
"I'm kind of pinching myself … I didn't realize it was on the top of the leaderboard until I pulled that final put on the ninth hole," Tarren said.
To say Tarren's spot on the leaderboard is a suprise is an understatement. After earning his tour card by graduating from the Korn Ferry Tour last fall, Tarren missed the cut in seven of his first eight starts. And in the other, he was DQ'd. He's subsequently earned enough FedEx Cup points to sit 107th on the points list entering the week while ranking 445th in the world.
"Just excited with my start, and let's see what the next few days holds," he said.