Live Blog
U.S. Open 2021 live updates: Rory McIlroy, Jon Rahm finish in dark, Louis Oosthuizen, Russell Henley lead after Day 1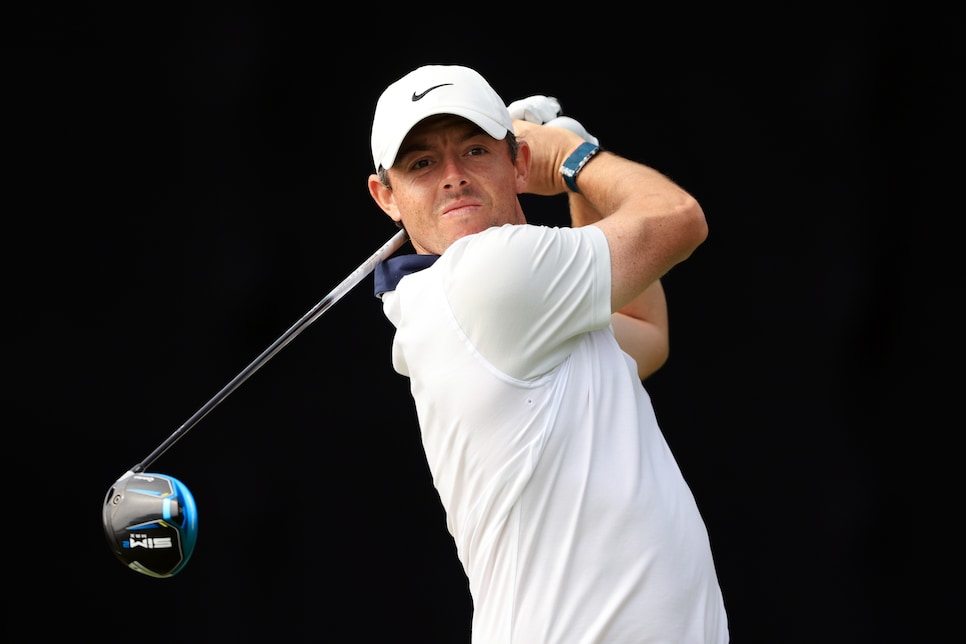 A U.S. Open at Torrey Pines elicits special feelings—Dan Hicks called Tiger Woods' victory in 2008 the No. 1 sporting event he's ever called. If only this year's U.S. Open is on the same stratosphere, we're in for another treat in La Jolla, Calif.
(Scroll down for the latest updates)
Two competitors who figure to have a say in that: Brooks Koepka and Bryson DeChambeau, who have grabbed most of the headlines over the past month. We won't get a Bryson/Brooks pairing on Thursday or Friday—but maybe they'll play their way into a featured pairing on the weekend. We can only hope.
The latest videos from Golf Digest
And here are the latest updates from Torrey Pines (most recent updates at the top):
11:10 p.m.: It is officially nearly pitch black at Torrey Pines, and Rory McIlroy's group decided to play on at the 18th hole to finish their round. Rory managed to roll in his birdie putt to end at 1-under 70. This is one of those moments where even the cameras can't mask how dark it is at Torrey ... that's a great start for Rory. Dustin Johnson, in the same group, just misses the birdie to finish at even par for the day.
Louis Oosthuizen, with two holes left, has opted to finish his round Friday morning—get ready for an early start!
11:02 p.m.: Oh man, some players are opting to keep playing—especially the guys who just had one hole left (the extra sleep will be clutchhhh). One of those competitors is Adam Scott, who rolls in a birdie at 18 for two birdies in a row to end his round. The Aussie is very quietly just three back with a 1-under 70.
Jon Rahm was another player who opted to finish his round at the ninth hole—and his birdie putt at the par-5 ninth hole comes up short. He'll wrap with a 2-under 69 as the Spaniard and betting favorite is firmly in the mix.
10:53 p.m.: The horn has blown at Torrey Pines with the marine layer rolling in. That's just as Bryson DeChambeau and Hideki Matsuyama are finishing up their first rounds. Bryson ends an up-and-down day with a birdie at the 18th hole to card a 2-over 73.
Hideki missed a very makable birdie putt on 18, which would've put him one back of the lead—but he'll have to settle for a 2-under 69. The Masters champion is firmly in the mix of yet another major.
10:29 p.m.: You gotta love the U.S. Open. We always get young, up-and-coming names near the top of the leader board—it's a perfect intersection of our game and its democratic nature. The latest examples: Hayden Buckley, a Korn Ferry Tour pro out of Missouri, just carded an opening-round 2-under 69—matching Brooks Koepka's and Xander Schauffele's rounds—to sit two back after Day 1.
Taylor Montgomery, another talented young Korn Ferry Tour player, is also in the clubhouse under-par at 1-under 70. The former UNLV golfer is actually the son of the general manager at Shadow Creek, where the PGA Tour hosted the CJ Cup this season.
These kind of stories are what makes the U.S. Open so great—and with qualifying back this year, these individuals have a chance for their moment on golf's biggest stage, unlike last year.
10:12 p.m.: Russell Henley finally has company at the top of the leader board. Louis Oosthuizen rolls in a birdie at the fifth hole (his 14th) to get to 4-under and share the lead. Oostie continues that great play we saw at Kiawah as he continues to be a major machine.
10:09 p.m.: OK, coverage is officially over to Peacock. And for the past 10 minutes, we got ambient coverage—no announcers and just the course sound. You might've thought it was odd, I thought it was incredible. It was like being on-site but getting to see all the highlights. Alas, the producers realized what was happening after 10 minutes, and we now have the announcers back. It was kind of cool while it lasted.
9:46 p.m.: There's a very odd trend at the majors for Rory McIlroy: He has played the par 5s over par in the past 16 major rounds. And he just added to that over-par number at the par-5 13th hole. After Rory hit an amazing third shot from the thickest rough on property left of the fairway, he managed to hit the green—but hit a really bad first putt, and missed the par ... so he falls back to 1-under and three back.
That's one of the oddest trends with McIlroy being one of the longest hitters in the game. You'll figure he needs to take advantage of the par 5s here in order to find that elusive fifth major.
9:20 p.m.: Oh boy, this is some awful luck for Bryson DeChambeau at the par-5 13th hole. After a massive 337-yard tee shot, his approach JUST came up short of the green, elevated 21 feet above the surface and rolled all the way down .... into a sand-filled divot. Just awful. Then like we all would do, Bryson chunked it into the bunker. That leads to a third straight bogey for the defending U.S. Open champion, who is now 4-over. Ouch...
While all that was going on, Rory McIlroy just birdied the second-toughest hole at Torrey Pines. Rory rolls in an 11-footer to get back to 2-under and two back of the lead.
9:05 p.m.: Friends, this is the trajectory from a 4-iron launched by Rory McIlroy at the long par-3 11th hole. I don't know about you, but my 4-iron baby cut doesn't look like this. Actually I don't even carry a 4-iron because I can't hit it. In the absence of video, we present this screengrab. SHEESH: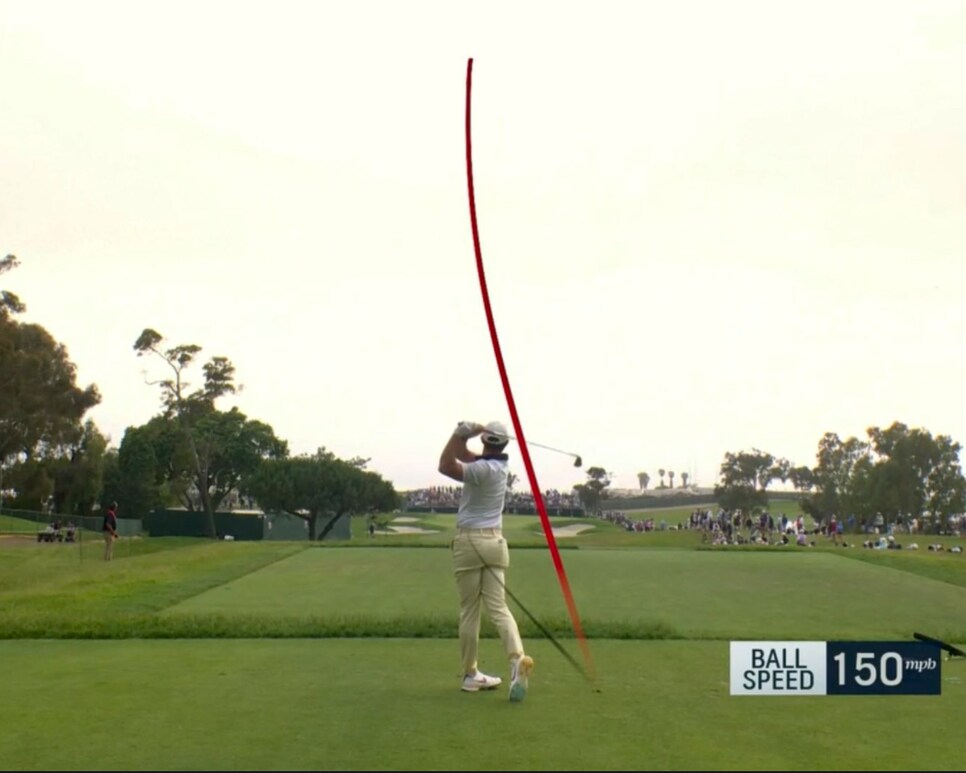 The shot gave him 10 feet for birdie ... and the USGA would've posted the video if he made the putt, but alas, Rory missed on the low side. He stays at 1-under through 11 holes.
8:54 p.m.: Rory McIlroy drops a shot at the 10th hole, moving back to 1-under with a bogey. He found the fairway bunker off the tee and hit it a bit fat—coming up short of the green ... and he failed to convert the six-footer above the hole. As the announcers said, that's going to happen at a U.S. Open. Limit the double bogeys and you'll have a chance. Rory's got a good round going currently—just a matter of getting this into the clubhouse in red numbers—a rarity for him in the first round of majors lately.
8:50 p.m.: We know Patrick Cantlay is a thoughtful guy, and that extends to animals, too. This was pretty funny—his playing partner, Sungjae Im, was up on the green after marking his ball—so Cantlay had Sungjae chase a duck off the 18th green before playing his approach shot:
The U.S. Open can be a grind. We need moments like that to keep it light.
8:43 p.m.: Jon Rahm hit a phenomenal second shot into the par-5 18th hole, leaving himself about 29 feet for an eagle, but just comes up shy. The Spaniard gets to 1-under with the tap-in birdie.
And WOW, Hideki Matsuyama just rolled in a bomb—his second straight birdie—to get to 2-under and two back.
OK and one more name we need to tell you about: the big-hitting Belgian Thomas Detry just made his third consecutive birdie to get to 3-under. Detry hit it TIGHT at the par-3 eighth with the difficult front hole location and converted the birdie to join Richard Bland as the low scores of the afternoon.
8:38 p.m.: Louis Oosthuizen is back among the leaders at a major ... what else is new? The sweet-swinging South African just holed his second straight birdie putt—this one at 17—to get within two of Russell Henley's lead.
And wow, 48-year-old Richard Bland isn't backing up yet—in fact he now has the best round of the afternoon with another birdie at the 12th hole. Bland is at 3-under and one back of Henley.
8:25 p.m.: Christiaan Bezuidenhout drops back to 2-under with a disappointing bogey at the short par-4 second hole (his 11th of the day). No. 2 is playing as the third-easiest hole of the day, so that one stings. Bez falls back to a tie with Rory McIlroy and Richard Bland for players in the afternoon wave who are at 2-under, the lowest round thus far in the p.m. wave.
7:56 p.m.: At long last, we are getting some serious action this evening at Torrey. Moments after Bryson's bomb, Christiaan Bezuidenhout holes out for eagle at the par-5 18th, giving him a back-nine 33 (his front nine). The South African has gotten off to some great starts in majors thos past year, but nothing quite like this. He's just one back.
More action! Right after Bez produced a huge roar, Rory McIlroy produced one of his own, rolling in a long birdie putt at the par-4 seventh to get to two under. Now we're rolling!
7:47 p.m.: Quick update on the World No. 1, Dustin Johnson: he's started par-par-par-par-par-par. Ain't nothing wrong with that on U.S. Open week. Meanhile, up ahead at the par-3 eighth, Bryson DeChambeau just dropped a bomb for birdie to get back to one over.
7:38 p.m.: Making the turn in two-under 33 is ... Hayden Buckley? Yup, the Korn Ferry Tour pro playing in his first ever U.S. Open is feeling it, going bogey-free on the outward nine and pulling within two of Russell Henley. Like fellow surprise story Richard Bland, Buckley also picked up his first pro win in 2021, though his came on the KFT at the LECOM Suncoast Classic and it came in his 17th KFT start. The road to Torrey is different for everybody.
7:18 p.m.: Developing story this evening - England's Richard Bland, the 48-year-old who finally got his first European Tour victory at the British Masters this past May in what was his 478th career start. Now, he's two under through seven holes at the United States Open. Life comes at you fast.
6:53 p.m.: While we were away, Spain's Rafa Cabrera Bello posted three-under 68, putting him one off the lead. He had been hitting it better as of late, but wasn't seeing the results. His last top 10 on the PGA Tour? The 2019 Arnold Palmer Invitational. He's far too good a ballstriker for that to be the case. Now it's time to back up a strong start.
Not much doing for the big boys in the afternoon wave right now. Only Rory and Hideki are under par among the marquee guys. Willy Z, Scottie Scheffler, Dustin Johnson and the Patricks Cantlay and Reed are plugging along at even.
6:00 p.m.: Jordan Spieth starts his day on the 10th hole, sticking his approach to about 15 feet. He's playing with Masters runner up Will Zalatoris and fellow Longhorn Scottie Scheffler. This group couldn't be any more Texas if it tried.
5:47 p.m.: Defending champion Bryson DeChambeau is on the course. His drive at the first finds the left fairway bunker. Of course, he won at Winged Foot last year missing the majority of fairways, so this isn't the end of the world for him.
Hometown hero Xander Schuffele finished up with a two-under par 69 and is in great position to contend after 18 holes.
5:25 p.m.: The Brothers Molinari are here to play. Edoardo has been in the clubhouse at one-under for some time now, while Francesco just zipped around with a three-under 68, one shot off the lead.
Also, Kevin Na just did this.
5:09 p.m.: Russell Henley birdies the 18th to set the Day 1 pace with a four-under 67. It's going to be hard to beat that this afternoon the way the course is drying out. He'll have plenty of time to prepare for his second round as he's not scheduled to tee off until 1:03 p.m. local time.
The power group of Koepka, Thomas and Morikawa didn't exactly live up to the hype today. Koepka did—since this is a major—finishing at two-under, but Morikawa carded a four-over 75, while Thomas was two-over for the day.
5:00 p.m.: Patrick Rodgers burns another edge at 18 as Wolff taps in for his par on the ninth. Both finish at one-under and are very much in the mix, but have to feel like they left shots on the course today. Mickelson, meanwhile has made two bogeys in a row and fallen to four-over. He's not out of it, but will need a pretty good day tomorrow to put himself back in the conversation.
At the first and tenth tees, the afternoon wave is officially on the course.
4:40 p.m.: Any moisture left on the course from the marine layer that rolled through La Jolla this morning has evaporated, as greens and fairways are starting to firm up and turn a nice U.S. Open brownish green. The afternoon wave, which is just getting started, is definitely getting the tougher side of the draw today.
There are only 12 players under par, at the moment. The best score of the day is a one-under 70 from Edoardo Molinari. His younger brother, Francesco, is two-under thru 16 holes.
4:20 p.m.: Rodgers drops another shot at the par 3 16th as Koepka cleans up for par at the sixth, his 15th hole of the day. Georgia Bulldog Russell Henley kicks in a birdie on 15 to tie for the lead. He, Koepka and Wolff are tied at three under, though Wolff is knocking the ball all over the seventh hole, his 16th, and may be lucky to drop only one shot.
4 p.m.: Rodgers, Wolff and Koepka are all through 14 holes and all at three under. There are seven players just one off the lead at two under, including hometown hero Xander Schauffele. England's Tyrrell Hatton and Spain's Rafa Cabrera Bello also just joined the two under mix. World No. 2 Justin Thomas is not, having just dropped to two over with another bogey.
3:43 p.m.: Narrator: Patrick Rodgers did not hang on to the clubhouse.
OK, it wasn't all that bad, just a bogey at the 14th. He's now tied for the lead with Koepka, who made par at the fourth, his 13th hole. Just as we typed that, Matthew Wolff made another birdie to get back to three under after dropping four shots earlier in his round. All-world grit.
3:23 p.m.: Brooksy cools off at the third, making bogey, but it was a good bogey at that. His tee shot went into the penalty area and he eventually made a gutsy six-footer to only drop to three under. He's now one back of Patrick Rodgers, who is pitching a gem right now at four under through 13 holes. We'll see if the former Stanford product can hang on tight to the clubhouse.
3:04 p.m.: Brooks Koepka gets to four under with another birdie at the second, putting him in the solo lead at the U.S. Open. Stop us if you've heard that before.
2:57 p.m.: The Cali group of Max Homa, Mickelson and Schauffele all got to the green in two at the 18th, but only Homa and Schauffele were able to capitalize with a birdie. Mickelson three-putted for par to remain at two over. Homa is a four over, while Schauffele is now tied for the lead at three under. Impressive start for him, especially considering all the pressure on him this week.
2:53 p.m.: What a day for Matthew Wolff. After jumping out to an early lead at three under, he gave all three shots back plus one more, dropping to one over. But he's fought back with birdies at No.'s 18, 1 and 2 to get back to two under, one off the lead. Serious guts for a guy who looked completely lost the last time we saw him.
2:41 p.m.: Finally some good vibes for Phil Mickelson, who damn near jarred one for eagle at 17 and then tapped in the birdie to get back to two over. Might just need to fight for a one or two over round today and he'll still be very much in the mix.
2:32 p.m.: Whoops. Scratch that on JT. He missed the four-footer, not all that shocking given how woeful his putting has been this year.
2:30 p.m.: OK, the tournament might actually be over. Koepka just stuffed one to literal kick-in range at 18 to get to three under, which will give him a share of the lead at three under with Russell Henley. Then again, he's got some serious thoroughbreds chasing him, like playing partner Justin Thomas, who is also tight in three and should get to one under shortly. Solid little leader board right now.
2:18 p.m.: And just like that, the tournament was over. We kid, but man, when Brooks Koepka's name moves to the top of the leader board at a major it just feels different. Especially at the U.S. Open where he's only gone WIN, WIN, runner-up his past three starts. Anyway, Brooks joins the group at two under after birdieing the 17th, his eighth hole of the day. So much for that video of him limping that was making the rounds yesterday. He looks pretty darn good so far.
2:12 p.m.: Cameron Young adds a second birdie of the day at No. 18 to go with no bogeys. He makes the turn at two under and tied for the lead. Full disclosure, there might be a couple people writing this blog who put a few bucks on him. OK, now we jinxed it. Sorry, Cam.
2:04 p.m.: Xander Schauffele joins the gang at two under with a birdie on 14 then pipes a 348-yard drive down the middle at No. 15. Yes, he's from San Diego. Yes, he's had a few close calls in majors. Yes, you're going to hear a lot more about both of those things as the week goes on if he keeps this up.
1:50 p.m.: Matthew Wolff has suddenly cooled off after gonig bogey-double bogey on 15 and 16, where he missed a two-foot putt. Yikes. That drops him to even and two back of a growing group of golfers at two under. Francesco Molinari, Matt Fitzpatrick, Patrick Rodgers and Si Woo Kim, Russell Henley and Tyrrell Hatton are all currently tied for the lead. The course is definitely gettable right now. Just watch out for those flagsticks.
1:35 p.m.: Welcome to the U.S. Open, where even the flagsticks are hazards. Phil Mickelson became the latest to get daggered after taking a penalty drop and hitting an amazing pitch from below the green. His only chance of keeping it near the hole was to hit the stick—unfortunately, it hit so hard it ricocheted all the way back into the rough. From there he got up and down for a disappointing—but adventurous—bogey.
1:21 p.m.: Oh, boy. Phil just tried to hit his 2-wood thing off the deck on the par-5 13th and his ball looks to have found some bushes left of the green in a penalty area. That was bold play. And we're guessing he immediately regretted that decision. Stay tuned.
1:17 p.m.: Let's check in on the Cali group of Phil Mickelson, Xander Schauffele and Max Homa. Mickelson lipped out for par on 10, lipped in for par on 11 and made a more conventional par on 12 to start one over thru three. Xander is one under following a birdie at 12, and Homa is struggling at three over. So not a lot of swing roasting of his partners from Max so far.
1:03 p.m.: Matthew Wolff moves to three under after two-putting for birdie on the par-5 13th. And we've got a Cameron Young sighting! Not that we're surprised. The New York native and Wake Forest product won back-to-back Korn Ferry Tour events last month to punch his ticket to the PGA Tour next season. He's one under through five after a birdie on No. 14.
12:47 p.m.: Beware the just-married golfer? OK, so that's not really a thing, but we've got two of them in the field this week and one of those guys, Tyrrell Hatton, has birdies his opening two holes at Torrey Pines. Good thing the World No. 9 got to his tee time on time. That wasn't the case at his wedding last week. . .
12:35 p.m.: Remember Matthew Wolff? That guy who looked like he might run away with this title in September at Winged Foot? Well, after a disastrous start to 2021, he's off to a fantastic start at Torrey Pines with birdies on two of his first three holes. Wolff is the first player to get to two under (yes, it's early) after hitting an approach to tap-in range on the beastly par-4 12th. Anyway, it's good to see this young star playing well again.
12:25 p.m.: Our California featured group—with Phil Mickelson, Xander Schauffele and Max Homa—are now on the course as well. Schauffele's the hometown kid (you'll only hear about it 100 times this week), but the starter at the 10th tee mis-pronounced his last name. C'mon! Where's the love from the San Diego contingent?
Schauffele pulled his tee shot into a greenside bunker at 10, and Homa and Mickelson just find the rough, so they are underway.
Oh man, Tyrrell Hatton joins the growing group at 1-under with a birdie at the first hole—and he really deserved it. His approach clanked off the flagstick and rolled about 25 feet away—but the Englishman bangs home that putt to grab a share of the lead, as does his countryman Matt Fitzpatrick in the same group, who rolls in about a 17-footer for birdie.
We now have eight competitors tied for the lead at 1-under! Kuchar, Wolff, Sigg, Rodgers, Hatton, Fitzpatrick, F. Molinari and Lowry.
12:13 p.m.: One of the featured tee times of the morning is now on the course—Brooks Koepka, Collin Morikawa and Justin Thomas—have began their rounds at the 10th holes. Morikawa and JT made nice up and downs from the right greenside bunker. And Koepka, who just pulled his wedge from the fairway, settles for a par.
We told you that Edoardo Molinari birdied the first hole before—now his brother, Francesco, just did the same! There are actually two sets of brothers in the field this week: Carlos and Alvaro Ortiz, too. There should've been a prop bet on the Molinaris vs. the Ortizes. Fun stuff at the first hole from the Molinaris.
12:04 p.m.: How about that! Matthew Wolff rolls in a beautiful 18-footer on the 10th hole—after finding the rough off the tee—to jump atop the early leader board. Like we said, it's just fantastic to see the 22-year-old on the course with a smile on his face.
11:50 a.m.: There are a few birdies to be had early on at Torrey Pines. Patrick Rodgers stuck his opening approach to about six feet and jarred the putt to get to 1-under. Fabian Gomez and Greyson Sigg are also at 1-under early. Molinari has fallen back to even par with a three-putt at No. 2.
Matthew Wolff is now on the course starting his opening round ... and it is just phenomenal to see him playing at the highest level once again. We last saw Wolff at the Masters where he was DQ after a scorecard penalty (he would've missed the cut anyway). The 22-year-old was a 54-hole leader at the 2020 U.S. Open at Winged Foot, and so it's fitting he's returning to competition here at the USO.
11:29 a.m.: We've been used to seeing "Molinari" at the top of major leader boards over the past couple of years. But not Edoardo Molinari. Francesco's older brother, Edoardo, is having a great year and he makes the first birdie of the 121st U.S. Open—after spinning his approach at the first hole within five feet. The 40-year-old rolls it in to get to red numbers early on!
11:25 a.m.: Our biggest takeaway after watching the approach shots at the first and 10th holes: These greens are not as firm as they might've been earlier this week. All the players had no trouble stopping their second shots—even spinning their approaches nicely. Thomas Aiken spun his wedge at least 30 feet back. The fog obviously is making these greens softer and more receptive.
11:15 a.m.: We finally have some golf! That delay lasted 90 minutes but it felt longer. Sahith Theegala, the former standout at Pepperdine University and a California native, hits the first tee shot of the 121st U.S. Open, going right into one of the fairway bunkers at the first.
Andy Pope, who qualified from the sectional qualifier at Century Country Club and Old Oaks, finds the fairway at the 10th hole. The U.S. Open is officially underway!
11:10 a.m.: OK, it seems like we're done with the 15-minute delays. The first groups are in position on the course to get going at 11:15 a.m. (8:15 a.m.), so a 90-minute delay. That Thursday anticipation is even higher than it was this morning. Let's do this!
10:39 a.m.: The USGA has added another 15 minutes to the delay. 8:15 a.m. (Pacific) is the earliest tee time right now ... so we're at a full 90 minutes delay.
10:27 a.m.: We expected to be starting at 10:30 a.m. (7:30 a.m. Pacific), but the USGA has added another 15 minutes of delay with the fog lingering over the golf course. Now we're at a full hour delay.
The Peacock coverage is showing the group on the 10th hole—Pope, Kennedy and Aiken—who are now awkwardly lingering out by the 10th tee. Now they're heading back to the courtesy cars. It doesn't seem like we're going to be ready to play for a little bit still.
10:10 a.m.: OK, the fog is finally lifting—so it seems like our weather delay will be 45 minutes. The 6:45 a.m. (Pacific time) tee times will be off at 7:30 a.m. Those groups:
Off the first tee: Sahith Theegala, Chino Hills, Calif.; Edoardo Molinari, Italy; Greyson Sigg, Augusta, Ga.
At the 10th hole: Andy Pope, Glen Ellyn, Ill.; Brad Kennedy, Australia; Thomas Aiken, South Africa
9:58 a.m.: Oh boy, the weather delay has been extended to 45 minutes. This marine layer is no joke. We love Southern California, but this fog means we have to hear the Golf Channel crew extend their pre-tournament preview content. We're ready to watch actual golf now.
By the way, this is the first fog delay at a U.S. Open since the 2004 U.S. Open at Shinnecock Hills. We remember the fog delaying play in 2000 at Pebble Beach before Tiger lapped the field.
9:45 a.m.: Well, the first groups were supposed to be teeing off at Torrey Pines' first and 10th holes right now. But Mother Nature had other plans. A marine layer has engulfed Torrey Pines at the moment—so we are in a delay. Mike Davis just joined the Peacock broadcast to say there will be a 30-minute delay at the least.
The outgoing CEO acknowledged this likely means all players won't finish their first rounds on Thursday, but the weather forecast does look good for the rest of the week. We just need this fog to chill.
MORE U.S. OPEN 2021 STORIES FROM GOLF DIGEST: