Gambling Trends
U.S. Open 2021: How Phil Mickelson could deliver the biggest blow to sportsbooks since a famous Tiger Woods win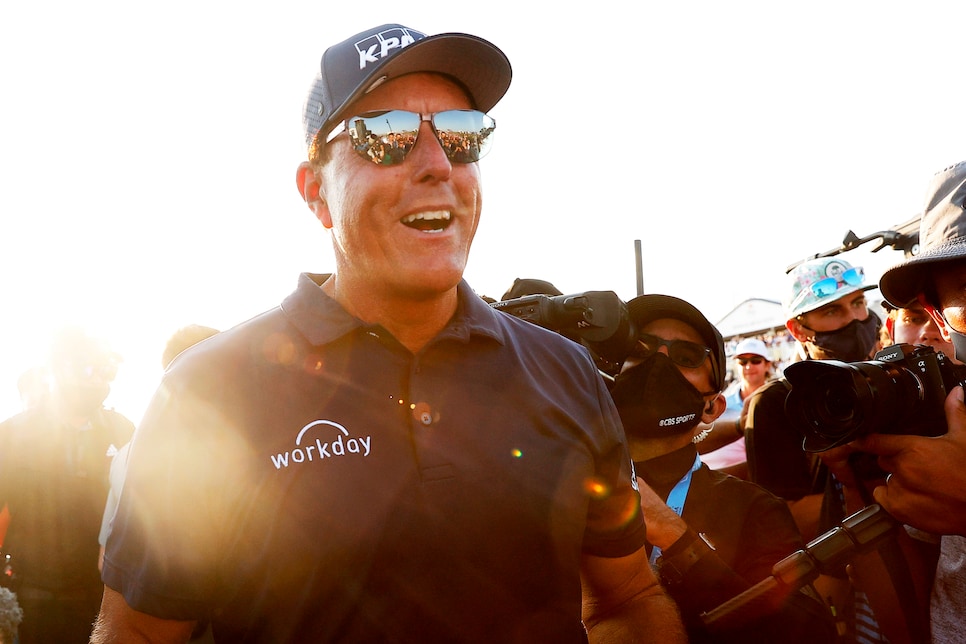 Maddie Meyer/PGA of America
Phil Mickelson's fan approval has always been good for golf. But that popularity has several sportsbooks worrying this week.
Following his victory at the PGA Championship last month, Mickelson has been attracting a lot of backers heading into the 2021 U.S. Open. In fact, he's been attracting the most backers. And it's not even close.
ESPN reported the six-time major champ has had the most bets placed on him of anyone at several U.S. sportsbooks. And at Caesars Sportsbook by William Hill, the 50-to-1 golfer has been bet on twice as much as any other player in the field at Torrey Pines.
"I think the only bigger liability in a recent golf major was when Tiger was coming back from all those injuries and won the Masters," Nick Bogdanovich, director of trading for William Hill U.S., said in a company statement.
Of course, Bogdanovich was referring to the 2019 Masters in which Tiger Woods was a popular bet at 12-to-1 odds. One gambler, James Adducci, won $1.2 million for Tiger claiming his fifth green jacket.
According to ESPN, the biggest bet at William Hill thus far is a $2,100 wager on Mickelson that was placed when his odds were still 85-1. That would result in a $178,000, but Caesars is expecting a "seven-figure" liability on Mickelson by the time the tournament starts on Thursday.
Mickelson, who became the oldest major champ in golf history last month at Kiawah, has a record six runner-ups at the U.S. Open, but it's the only major he's failed to win in his illustrious career. Mickelson will play with Xander Schauffele and Max Homa the first two rounds at Torrey Pines.
Needless to say, the man who turned 51 on the eve of the tournament finally winning in his hometown, would be quite the story. Just not the one sportsbooks want to see.
For more betting insights heading into the 2021 U.S. Open, listen to this week's episode of Golf Digest's weekly gambling podcast "Be Right":