The back-and-forth between Brooks Koepka and Bryson DeChambeau—and the heckling of DeChambeau at the Memorial—had all eyes fixated on the USGA's release of pairings for Thursday and Friday of the U.S. Open. A large subset of fans clamored for USGA officials to embrace chaos by grouping the two major champions together. It seemed a distinct possibility, given the USGA's history of cheeky pairings for the opening rounds of its marquee championship.
It wasn't to be. Koepka and DeChambeau aren't just not playing together; they're on opposite sides of the draw. And while that will disappoint those who love to watch the world burn, there are still plenty of mouth-watering pairings to keep an eye on at Torrey Pines. Here are seven to keep particular tabs on:
Brooks Koepka, Justin Thomas, Collin Morikawa
Thursday (10th tee): 10:39 a.m. EDT/7:29 a.m. PDT
Friday: 4:14 p.m. EST/1:14 p.m. PDT
They're three of the top 10 players in the world and all PGA Championship winners—Justin Thomas in 2017, Koepka's double in 2018-'19 and Morikawa last year at TPC Harding Park. As always, Koepka opted to play the week before a major and, as always, looked only half-interested while doing so. He missed the cut at the Palmetto Championship but admitted his mind was already on Torrey by noon on Friday, so look into that result as you will. Thomas is battling an ice-cold putter and has now gone seven straight events without a top-10, but he still has a chance to reach World No. 1 with a victory this week. Morikawa, a Southern California native comes in playing remarkably consistent golf, with five straight finishes of T-18 or better and a playoff loss at the Memorial in his last start.
Will Zalatoris, Scottie Scheffler, Jordan Spieth
Thursday (10th tee): 4:25 p.m. EDT/1:25 p.m. PDT
Friday: 10:40 a.m. EST/7:40 a.m. PDT
Dallas, Dallas and some more Dallas. All three 20-somethings grew up in and round Big D and still call it home. As such, they've played together since they were teenagers. Spieth is the elder statesman of the group, a grizzled veteran at 28. And while the 24-year-old Scheffler has been a known commodity for much longer, he's actually only a month older than Zalatoris, who has shot to stardom in the nine months since last year's U.S. Open. The two also played together on the comically stacked 2017 Walker Cup team. Interestingly enough, Spieth is the only in the group with a PGA Tour victory, although that could well change this week. Our only hope here is that the UT boys don't pick on Zalatoris, a Wake Forest grad, for his matriculation decisions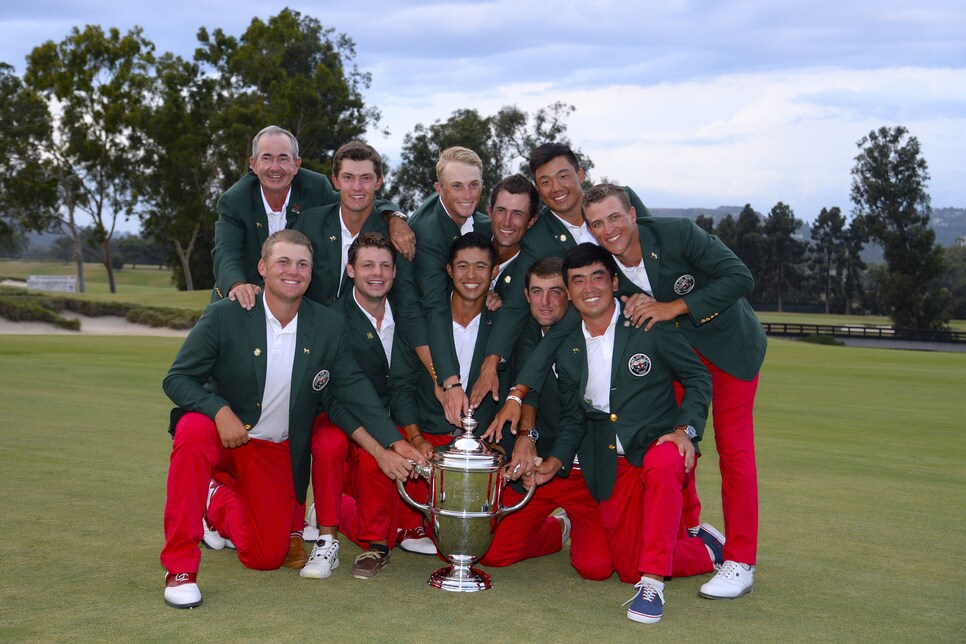 Will Zalatoris and Collin Morikawa (center top and bottom row) pictured as part of the impressively talented 2017 U.S. Walker Cup team.
Robert Laberge
Dustin Johnson, Rory McIlroy, Justin Rose
Thursday: 4:36 p.m. EDT/1:36 p.m. PDT
Friday (10th tee): 10:51 a.m. EDT/7:51 a.m. PDT
A World No. 1 who's been a bit off for months; a four-time major winner trying to snap a seven-year major drought; a U.S. Open champion who has fallen off considerably. Johnson played his way into contention at last week's Palmetto Championship only to make a triple bogey late. Still, the T-10 ended a streak of seven straight events without a top-10, including missed cuts in his title defense at the Masters and in his native South Carolina at the PGA Championship. McIlroy has the most recent win of the group, last month at the Wells Fargo Championship, but looked very much a work-in-progress at the PGA as he continues his work with new swing coach Pete Cowen. Rose has top-10s in the first two majors of the year but still sits outside the world top 40—a precipitous drop since January 2019, when he won at Torrey Pines as the reigning World No. 1.
Max Homa, Xander Schauffele, Phil Mickelson
Thursday (10th tee): 10:51 a.m. EDT/7:51 a.m. PDT
Friday: 4:36 p.m. EDT/1:36 p.m. PDT
Three SoCal boys, one of whom did a pretty remarkable thing last month. Perhaps you heard? Mickelson, who turns 51 on Wednesday, returns to his native San Diego as the most recent major champion—it's still surreal to type—and in search of his White Whale. If he somehow pulled this off, winning the U.S. Open to complete the career Grand Slam, in his backyard, we're pretty sure the Golf Twitter would melt. Homa played stellar golf throughout the West Coast swing this year, highlighted by his win at the Genesis Invitational, and finished T-18 at the Torrey Pines in January. Schauffele continues to rack up top-10s and has consistently put forward great performances in majors, but he's failed to win a trophy in more than two years.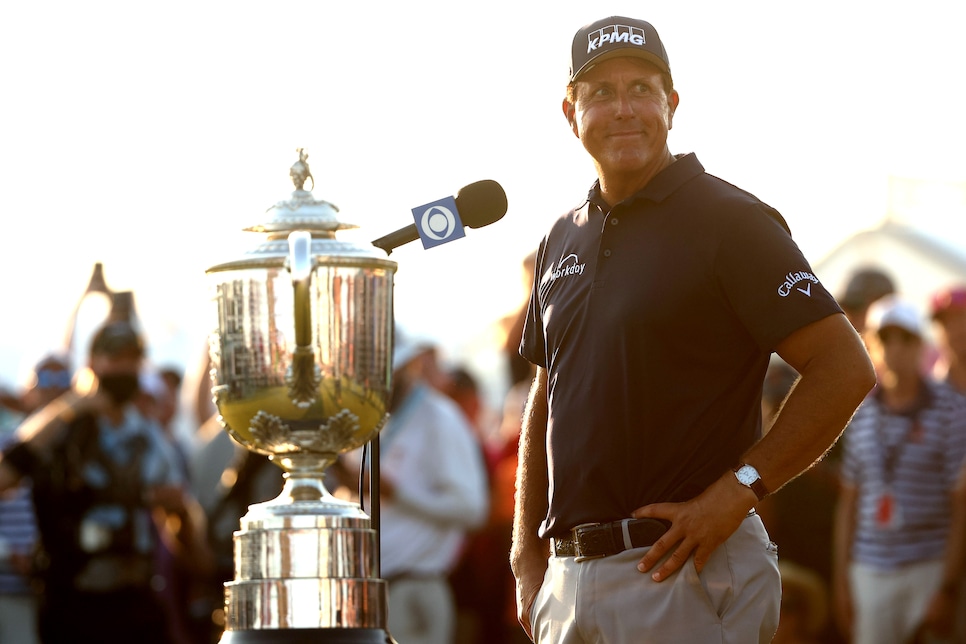 Mickelson was all smiles after becoming the oldest winner of a men's major championship last month at Kiawah Island.
Patrick Smith
Lee Westwood, Paul Casey, Stewart Cink
Thursday (10th tee): 4:14 p.m. EDT/1:14 p.m. PDT
Friday: 10:29 a.m. EDT/7:29 a.m. PDT
Yup, they put the old guys together. Westwood (48), Casey (43) and Cink (48) each remain world-class players despite inching closer to PGA Tour Champions eligibility. Westwood earned back-to-back 54-hole leads in the Florida Swing and missed a putt to get into the Rocco-Tiger playoff at the 2008 U.S. Open at Torrey Pines. Casey has two top-four finishes in his last five major starts and would love nothing more than to punctuate his career with a major-championship victory. And Cink has been one of the best stories of the 2020-21 PGA Tour season, first ending an 11-year win drought in Napa last fall and following it up with a dominant performance at the RBC Heritage at Hilton Head in April. Take that, kids.
Cameron Young, Wilco Nienaber, Guido Migliozzi
Thursday (10th tee): 10:07 a.m. EDT/7:07 a.m. PDT
Friday: 3:52 p.m. EDT/12:52 p.m. PDT
We're venturing off the beaten path here. These aren't guys the casual fan will be familiar with, but we are not casual fans here at Golf Digest, and we're pumped to watch three really promising young players tee it together. Young, a 24-year-old Wake Forest grad, won back-to-back Korn Ferry Tour events in May and breezed through Final Qualifying in New York. If there's anyone capable of using this U.S. Open as a springboard to success, as Zalatoris did last year, it's fellow Demon Deacon Young. Nienaber is a 21-year-old South African who will be the longest player in the field, DeChambeau included. The difference: he doesn't drink protein shakes, doesn't bulge out his shirts, doesn't swing out of his shoes. His effortless speed and jaw-dropping distances are a look into golf's future. Migliozzi, a 24-year-old from Italy, finished solo second in each of his last two starts on the European Tour.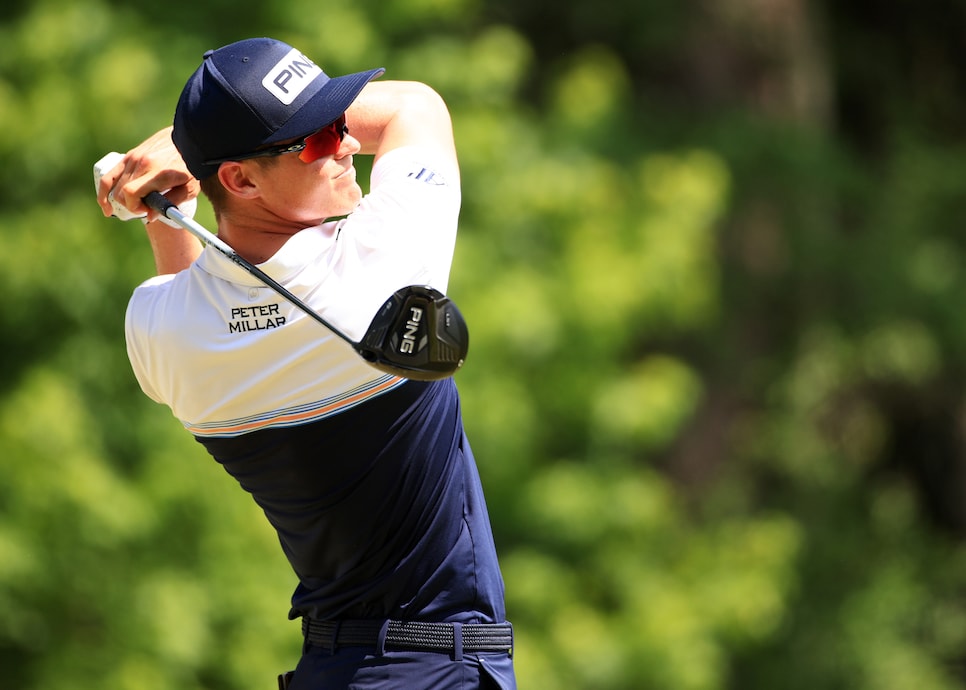 If you haven't watched Nienaber hit a drive, take time this week. You'll thanks us later.
Mike Ehrmann
Bryson DeChambeau, Hideki Mastuyama, Tyler Strafaci
Thursday: 4:14 p.m. EDT/1:14 p.m. PDT
Friday (10th tee): 10:29 a.m. EDT/7:29 a.m. PDT
We're obligated to include this once because we included Koepka's, and we don't take sides. This group is interesting for three reasons. First, Koepka isn't in it. Second, the defending U.S. Open champion is traditionally paired with the reigning Open champion and the reigning U.S. Amateur champion—but with the last Open Championship coming 23 months ago, the USGA opted to pair DeChambeau with Masters winner Matsuyama rather than Shane Lowry. Third, the USGA did decide to give the look to the U.S. Amateur winner … despite him no longer being an amateur. The USGA changed a rule requiring the U.S. Am champion remain an amateur in order to get a spot in the U.S. Open, and Strafaci turned pro right after the Masters in April. Not a bad pairing for the World No. 1,352.