Palmetto Championship
Why 21-year-old bomber Wilco Nienaber is a glimpse into golf's future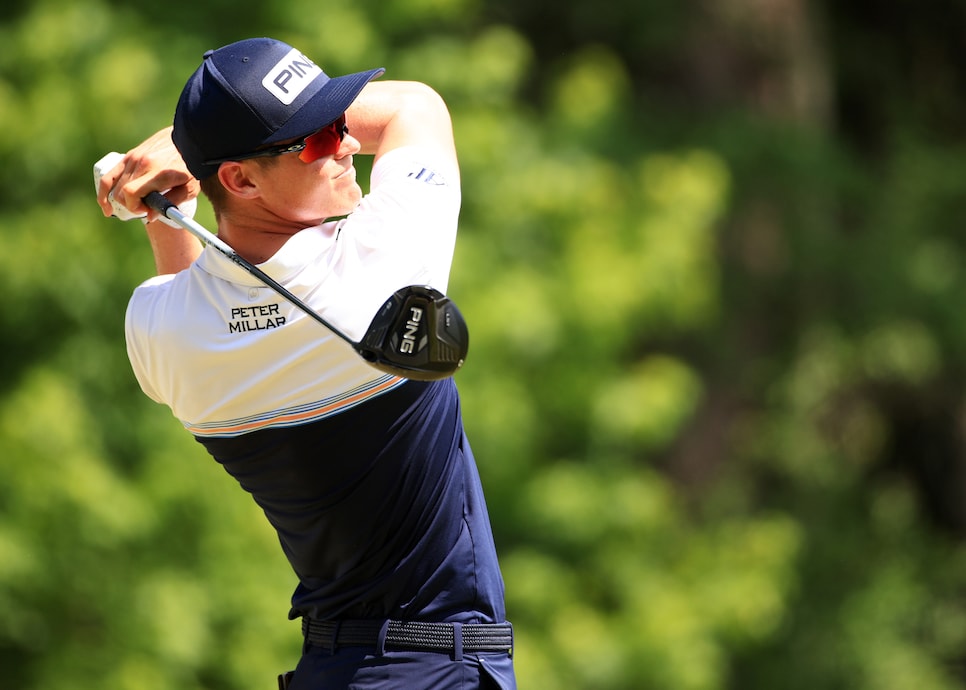 Wilco Nienaber hits his shot from the 12th tee during the third round of the Palmetto Championship.
Mike Ehrmann
RIDGELAND, S.C.—Not all 190 mph ball speeds are created equal. Bryson DeChambeau can get there, but it requires a truckload of effort—starting with a whole-body transformation fueled by protein shakes, weight training and living-room speed sessions. Blasting ACDC also helps the cause.
Then comes the actual golf shot. When The Big Golfer decides he wants to properly unload on one, his mannerisms turn body builder-esque. He hastens his breathing. Starts to twitch. He whispers sweet nothings to himself as he pulsates his driver up and down. Prepare for liftoff. He then brings the club back past parallel, loads up on his right foot, brings his left off the ground, unloads every ounce of force he has into that poor golf ball, spins out with his lower body, grunts, and needs some impromptu footwork to retain his balance as he admires his work.
It is impressive, for sure, but also labored. Which makes watching Wilco Nienaber, born April 2000, downright jaw-dropping.
The 21-year-old from South Africa, who is playing in this week's Palmetto Championship at Congaree, first made headlines during last November's Joburg Open when he smashed a 439-yard drive that didn't hit a cart path. There was no funny business involved, no noise, no wobbly-legs finish—just a hyper-athletic, super-wide golf swing from a 6-foot-2 young man with gangly arms, rapid hips and a preternatural gift for speed. His arms appear unburdened by whatever syrupy matter hinders the movement of other tour pros. They're simply moving faster. And it's all natural.
"It's not something I've worked on, at all," Nienaber said. "I can definitely get longer."
The resulting ball flight is a different, too. Whereas DeChambeau plays a high draw—and Cameron Champ, another 190-pluser with easy speed, hits a low, spinny ball­—Nienaber games a mid-height cut that hardly seems to be spinning at all. If DeChambeau's distance comes largely from carry, and Champ's from roll, Nienaber's gets both. It flies miles, it lands and then it rolls, and it rolls some more, once all the way to 439 yards.
Nienaber finished solo second that week in Joburg, his best-ever result as a pro until he won the Dimension Data Pro-Am last month. That victory propelled him to the top of the Sunshine Tour's money list, good for a berth into next week's U.S. Open.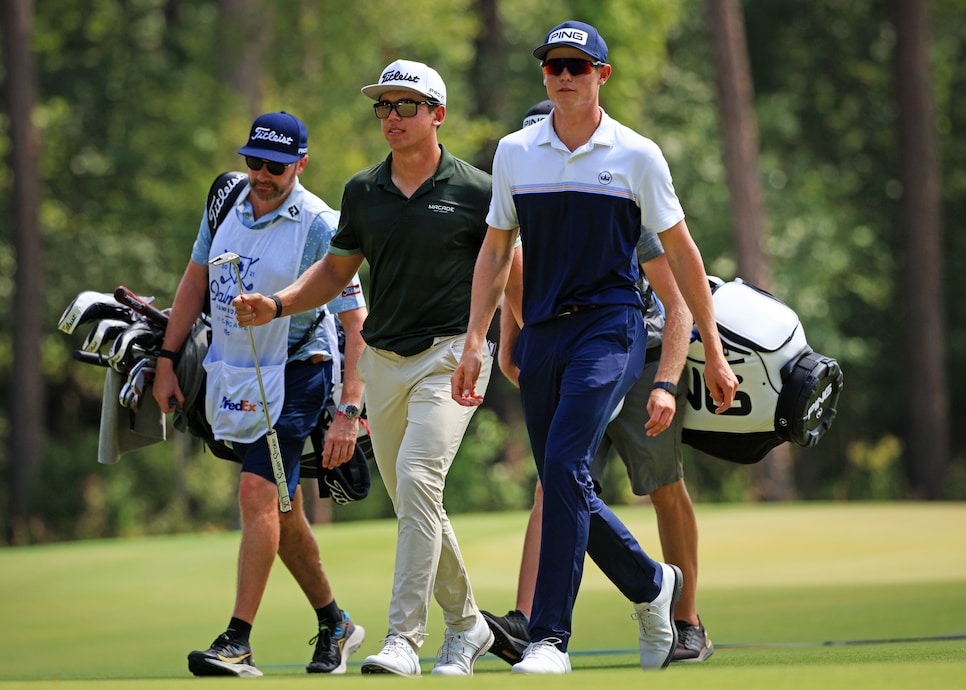 Garrick Higgo and Wilco Nienaber walk from the 11th green during the third round of the Palmetto Championship.
Mike Ehrmann
Upon learning Nienaber had secured a tee time at Torrey Pines, Johann Rupert sprang into action. The South African billionaire, a golf fanatic who, according to The Scotsman, is the "driving force" behind the European Tour's Alfred Dunhill Links Championship, has supported both Nienaber and his playing partner Saturday, 22-year-old Garrick Higgo, since they were juniors. Rupert phoned his friend and fellow billionaire Dan Friedkin, co-founder of Congaree, and helped get both young players a sponsor's invite into the Palmetto Championship.
Playing in his first-ever event on the PGA Tour, Nienaber posted back-to-back 68s to earn a Saturday afternoon tee time with HIggo, who he jockeyed with for the No. 1 junior ranking in South African junior golf not long ago.
"I don't even watch where he hits it," Higgo said after a 68 that has him inside the top five heading into Sunday. "I'm used to it."
Asked if he ever hits it by his taller countryman, Higgo didn't hesitate: "Maybe if he hits it off the hosel or something."
Nienaber's easy power also caught the eye of his fellow players who, unlike Higgo, were not familiar with Nienaber's game. On Thursday, tour pro Roberto Castro took to Twitter to express his amazement.
"I played in front of this dude today," he wrote, posting a screenshot of Nienaber's 354-yard drive on the 11th hole. "This drive rolled 15 yards. No wind. I saw it land, had to get my yardage book out to see how far it flew. 340. Shotlink confirmed."
And that was a short one. Relatively speaking, of course, but Nienaber averaged 361.1 yards over the first two days at Congaree, which had him on pace to challenge DeChambeau's record for the longest average driving distance in a single event (363.1, during the Shriners Hospitals for Children Open.) He hit five drives of 360 or longer on Friday alone.
On Saturday, perhaps feeling the nerves of being in semi-contention on the Big Tour for the first time, Nienaber was a bit of a foul-ball machine in shooting 74. Especially early. On the first, he smothered a quick hook into a waste bunker left. At No. 2, a block-fade into the water hazard down the right. He's a 21-year-old kid ranked No. 143 in the world; this is far from a finished product.
It's what he did at the next hole that'll send a shiver down the spine of those clamoring for an equipment rollback.
The third hole at Congaree is a par 4 that measures 367 yards. With the South Carolina heat and Congaree's firm turf, it's been drivable all week. Nienaber opted for driver and unleashed a three-yard cut—that's his stock shot—that landed just short of the front edge and bounded through, a good 20 yards over the green. ShotLink pegged it at 385 yards.
It was a breathtaking display of power, and, short of any rule changes, a glimpse into the future of the professional game.
Nienaber first hit balls on a launch monitor at the 2018 British Amateur. "The rep could not believe what he saw," Nienaber said. "I had no idea what good numbers were. From that day, I learned a bit more." Today's 13-year-olds know what good numbers are, for launch monitors have been an ever-present prop in their golfing journeys. They also have more statistics and data available to them than ever before, course management systems that help them choose mathematically optimized targets and clubs. The influx of information tells a very clear story: Distance is king. The closer to the hole, the better. It's why Bryson bulked up.
Courses have had to respond. Congaree was in a better position than most, seeing as it opened just three years ago. Tom Fazio designed the place with today's distances in mind. As such, it measures 7,600 yards and is a par-71 this week … and it's not playing long for these guys, at all. Just around five years ago, 120-mph clubhead speed and 180-mph ball speed stood as the unofficial benchmark for "long" on the PGA Tour. Nienaber cruises above those with his 5-wood, which he comfortably flies 305 yards. He doesn't carry a 3-wood because, well, it would go too far. On Saturday, he touched 132-mph clubhead speed and topped out at 199-mph ball speed
And he's only getting longer. His body's still developing, and he's entrusted his physical conditioning to Dr. Steve McGregor, who worked with Rory McIlroy for years and still sees Lee Westwood, who's doing just fine as 48. Nienaber's sinewy build is an interesting contrast with Bryson's bulk, and DeChambeau frequently cites his lack of height as the main roadblock to adding even more speed. Taller men mean longer arms, which serve as longer levers to generate whip.
"I think as time goes on, there's not much more to gain from the technology side of golf club manufacturing, building," DeChambeau said ahead of the Masters. "There are little things we can do, but where the massive gains will be is in athletes. Once you get somebody out here that's a 7-foot-tall human being and they are able to swing a golf club at 145 miles an hour effortlessly, that's when things get a little interesting."
Golf statiscian Lou Stagner posted a fascinating graph to Twitter recently that showed the percentage of starts on the PGA Tour by players 6-foot-2 or taller. Back in the early 2000s, the number hovered just under 20 percent; there's been a huge uptick over the last two years, and 29.1 percent of starts on tour this season have come from players Nienaber's height or taller.
As the money at stake keeps increasing—hello, PGL and SGL—more top-level tall athletes will gravitate toward golf. Back in April, 6-foot-8 Jordan Hahn became the tallest player to ever tee it up in a PGA Tour event. Tommy Morrison, a junior committed to playing at Texas, stands 6-foot-9. Nienaber may well be the longest player in next week's U.S. Open, but the 30,000-foot view suggests he's but the next in a long line of taller and longer players. Hate it or love it, it's the truth.