Chit Chat
U.S. Open 2021: Webb Simpson perfectly sums up Brooks-Bryson beef, and other tales from the press conference parade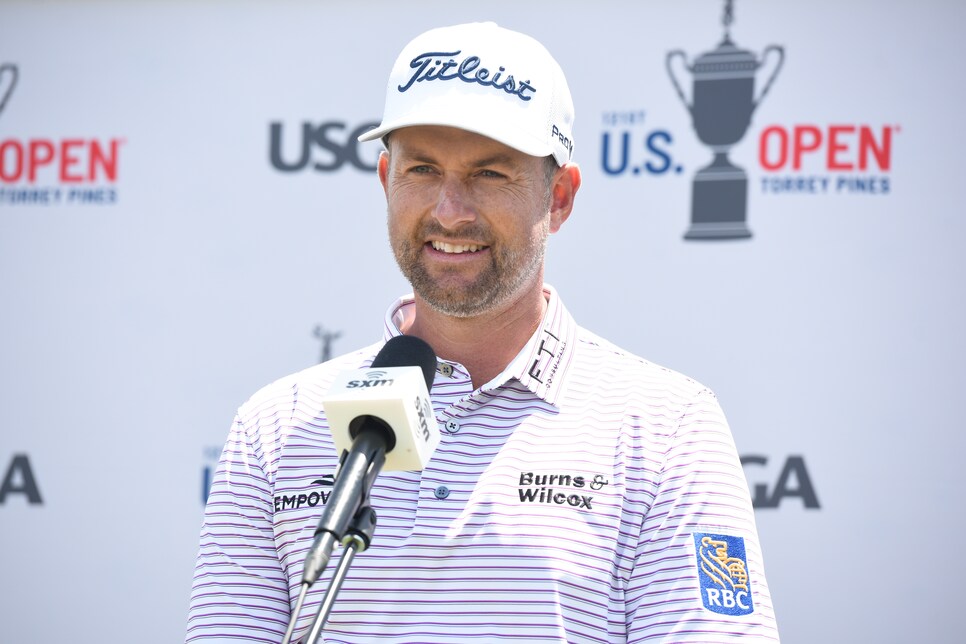 Webb Simpson speaks on Tuesday at the U.S. Open.
Vivien Killilea
Tuesday at a major championship means another parade of the top-ranked players in front of the media. A few of the headliners this week at Torrey Pines avoided the set list on Tuesday. The local Phil Mickelson rolled through for an early Monday interview to pay his compliments to the conditioning and mostly bite his tongue on the Rees Jones work at his hometown course. Wednesday will bring the always insightful Rory McIlroy and the entertainingly terse World No. 1 Dustin Johnson.
Everybody else, however, fell into the usual Tuesday slot for a pre-toughest-test-in-golf chat. The Brooks-Bryson tension enveloped much of the day, especially after some early morning scuttlebutt from a Brad Faxon radio interview in which the former PGA Tour pro said the USGA asked DeChambeau if they could pair him with Koepka, and the reigning U.S. Open champion reportedly declined the grouping. So for some awards and superlatives from the day, let's skip the appetizers and immediately start with the beef.
Best hypeman: Gary Woodland
Both Brooks and Bryson refuted that radio interview and denied that they were asked about a potential first- and second-round grouping together. Gary Woodland, who also got tossed in the rumors flying around about pairing the last three U.S. Open winners together (as an aside, have we ever talked more about pairings? Had rumors flying around about pairings? Had to refute rumors about pairings? Debated, shouted and pearl-clutched about pairings? /Allen Iverson voice "We're talking about pairings!"), was asked about the potential of playing with Brooks and Bryson. The two adversaries both played it too-cool-for-school when they were asked about a potential pairing, but the third wheel in this rumor, Woodland, played hypeman:
No, I wasn't approached by the USGA at all. I think it would have been great. I think the fans … all my friends back home, everybody was talking about it. I think it's good for the game. Brooks didn't play for two weeks and he's all over ESPN, all over the sports news. I think that's good.
I would have loved to have played. I think the energy in that group would have been amazing. I would have instigated and tried to start fights or whatever I could have done. I would have loved it, but I think they separated … I think they're on opposite waves to be honest with you.
Best USDA Beef grader: Webb Simpson
Yes, you read that right! Webb Simpson! Not exactly an infamous bomb-thrower, Simpson is usually the exceedingly amenable nice guy at Ryder Cups who they pair with the quirks, loners and malcontents that may not have teammates lining up to play with them. The USGA even sandwiched his press conference right in between Brooks and Bryson perhaps as some sort of preemptive Southern charm palate cleanser.
So when Webb was asked about the Brooks-Bryson beef, you might expect him to demur, hem and haw, and try to use as many words as possible to say absolutely nothing. Instead, what he delivered was the best summation of the entire drama, and its benefits, that I have heard.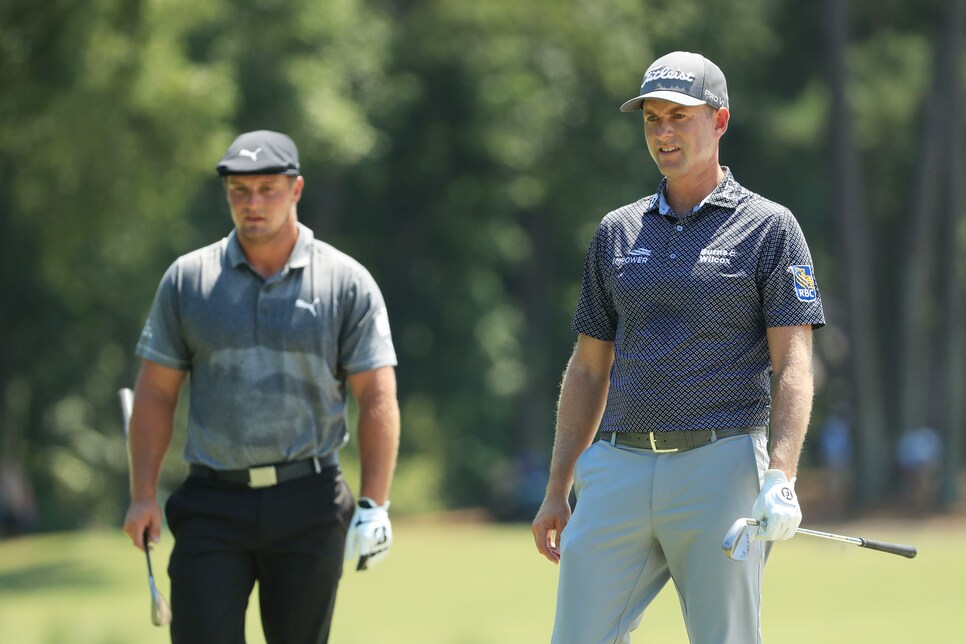 I think they're competitors, and I think the media doesn't see the competitiveness come out in us as much as maybe you guys need to. We all want to beat each other every week of the year. Except the Ryder Cup and Presidents Cup, we want to beat each other. I think they're just living it out a little more in their words than maybe keep it inside.
I think it's fun. I think they've got a rivalry now, and I think it's good for the game in the sense of rivals. I think there used to be more rivals that became well-known. We don't have that as much anymore. So I think them kind of being open and honest is good in a way because we know kind of what they think. I don't know how much of them … I don't know if they texted each other on the side and possibly went in agreement, 'Let's play this thing up for the player impact program.' That was kind of one of my thoughts. It would be fun to see them duel it out in a tournament here coming up, head to head on Sunday.
What a delightful response! He did not downplay it in any way or suggest this is somehow bad for the game or disrespectful or un-gentlemanly. One notable TV commentator during these beef inquiries on Tuesday opined that yes the drama was widening an audience and "bringing new eyes to the game, but are these the eyes we want?" You know, because golf needs higher walls around it and more gatekeepers at the front door.
Contrary to that was Simpson's very human response. This is, after all, a game. He reminds us they're all competing on tour, but maybe they don't exhibit or act out on the underlying über-competitiveness that has made them the absolute best in the world at this game, like we see in many other sports. He longed for more rivalries in the game. He didn't overhype it or shout about it like Michael Buffer. He even allowed for the possibility, as so many of us watching from the outside have, that this is just PIP-induced kayfabe. It's all there and the fact that it comes from one of the most measured (sometimes vanilla!) voices in the game makes it the best summation of why the beef is good for all.
Most "I'm fine. This is fine." response: Bryson DeChambeau
The defending champ is not mad. This Koepka pestering, and the attendant drama, is actually great.
It's been fun. Shoot, to be honest, people saying Brooksy's name out there, I love it. I think it's hilarious. ... There's a point where it's great banter. I personally love it. I think that, as time goes on, I hope on the weekend we can play against each other and compete. I think it would be fun and would be great for the game.
Most "saved in drafts" performance: Brooks Koepka
Koepka huffed his way through his press conference, offering little in the way of confirmation, escalation or mitigation of the contretemps with the defending champ. He said he was "not concerned about what other people think" when it came to the beef, but also after the next question reiterated his line from last week that it's "growing the game."
It's pretty much been on every news channel. Pretty much everything you look at online, it's got this in the headline, or it's up there as a big news story. To me, that's growing the game. You're putting it in front of eyeballs, you're putting it in front of people, the game of golf, who probably don't normally look at golf, don't play it, might get them involved. I don't know how it's not growing the game.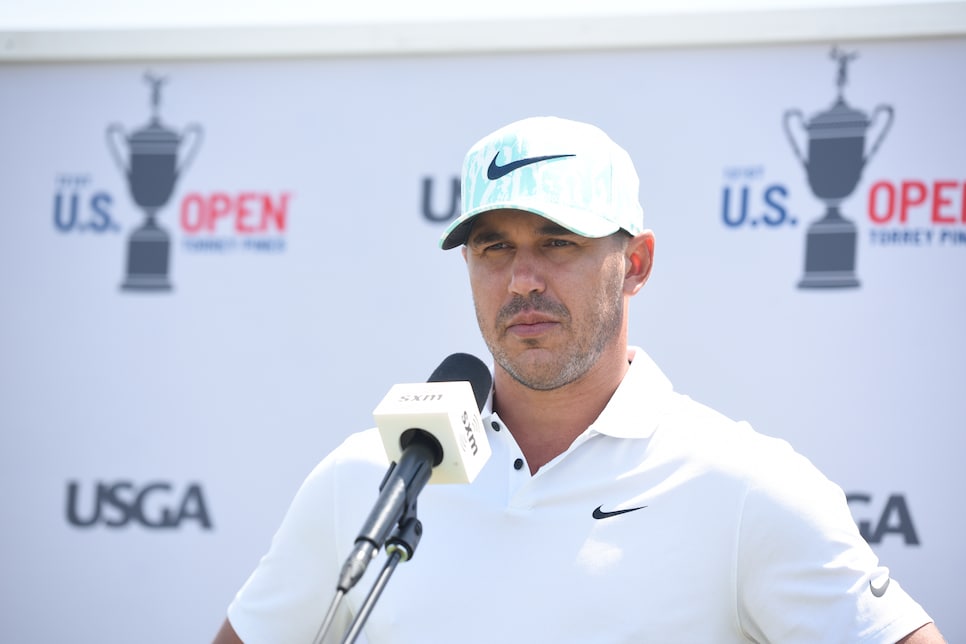 Brooks seems to be "very online," as they say, and seeing those headlines. He didn't reveal much or offer any new barbs from the dais, but social media, where much of this has played out over the past year, is just one face-ID unlocking of the phone away.
Most "I think I've got my swagger back" self-assessment: Jordan Spieth
This should come as no surprise to anyone who follows golf even casually, but Spieth was forthright about where he was at the last U.S. Open and where he is now. He was that last September at Winged Foot, when he said, "There's a lot that's off. I'm not really sure. If I knew, I'd fix it." Today was a much happier assessment, with acknowledgment and contrast to that past:
I think Winged Foot was, 'Oh, boy, here we go,' and I think this week is I'm in a position where I think I can stand on the 10th tee on Thursday and win this golf tournament. As much as you want to say that you can fake it till you make it, I needed that confidence between then and now to really think that standing on the tee. In a U.S. Open when you're really struggling off the tee, it's just not going to go well. You could get away with it at other places but not at a U.S. Open.
I was out here yesterday with Michael, and I'm like, man, I remember this shot just being no chance earlier this year, and now I feel really comfortable about it.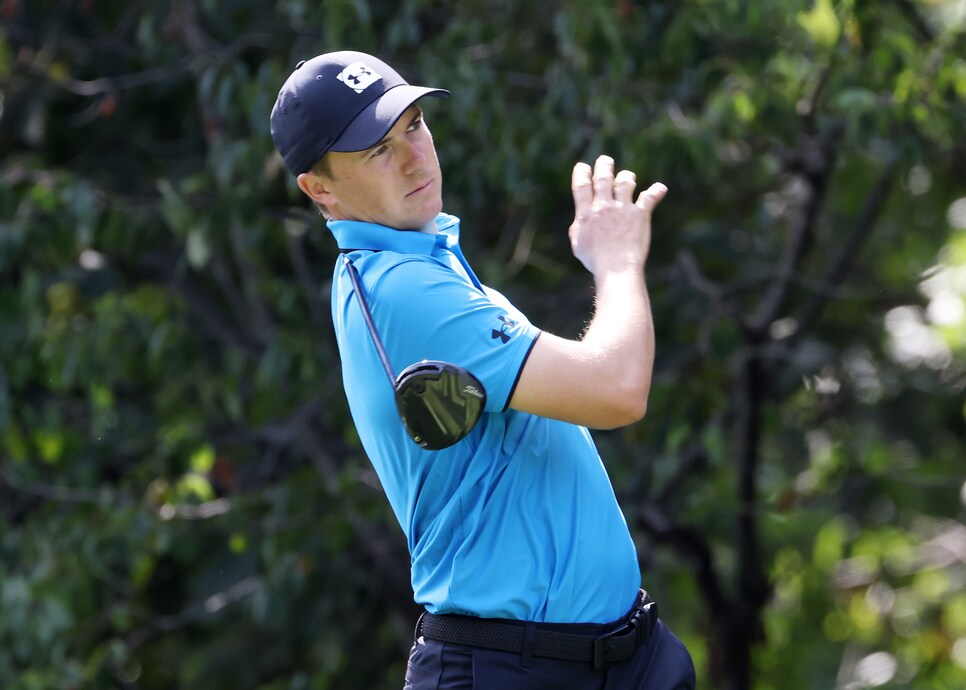 Most likely to yell "Get in the bunker!": Patrick Reed and Bryson DeChambeau
As is always the case at a U.S. Open, the golf course and its conditioning were constant topics. Justin Thomas threw out the always amusing "It's all right in front of you" cliché to describe the layout. Nearly everyone was asked about the difference between Torrey for the regular PGA Tour event in January and this June week, and nearly everyone responded with "firmness." The rough was portrayed as monstrous and unpredictable, with Reed indicating some balls sink to the bottom and can barely be advanced, while others sit up on the kikuyu and could be hit with a driver.
One notable revelation was that the bunkers, which are still supposed to be hazards, will often be preferable to the rough that surrounds them in the fairway and certainly the rough that surrounds the greens.
"You have to make sure you attack and hit the greens or, worse case scenario, leave it in the bunker," said Reed of the avoid-at-all-costs (unless you can get embedded ball relief) rough around the greens.
"Sometimes the bunkers are good to be in out here," was the line from DeChambeau, who plans to employ a repeat strategy outlined below.
Made Mike Davis cringe the most: DeChambeau
The 2020 champ is going back to the well from Winged Foot, saying he felt this course and his strategy for it felt similar to last year. He also said the quiet part out loud, straight up using a term that's generally considered derogatory when it comes to describing a style of play.
For the most part, I'm going to be trying to bomb it as much as possible and try to gouge it out when I don't hit it in the fairway.
Bryson outthought and out-executed the field last year and deserves full credit for both his skill and work. But literally using the term "bomb-and-gouge" to describe how you're going to attack Torrey Pines, and how you attacked venerable Winged Foot, does not imply a full examination of all the skills that Davis would probably prefer.
Most prepared or even over-prepared: Xander Schauffele
The X-man is a local, in case you haven't heard 100 times by now. But that doesn't mean he's out at Torrey Pines every time he's home. It's a busy place, he reminded us, so he took full advantage of the course being closed and just a drive away last week.
I played 64 holes last week starting on Wednesday. I played 18 Wednesday, 18 Thursday, 10 holes Friday, 18 Saturday. I'm trying to make this more of a local place for me. It's a really busy place during the year, which I'm not sure if everyone is aware of. It's hard to just come out here and play golf just for fun.
Schauffele relayed stories of watching Tiger in 2008, and sitting on his couch as an amateur dreaming of a career when it was announced the U.S. Open would return in 2021. So he'll be a local favorite. His work last week may help with course knowledge, but the loops from high school, however, may not be of much use.
Yeah, the tricky part in high school is we played a lot on punched greens, so putts were breaking left and right when they shouldn't be and going straight when they shouldn't be. No real memory to pull on from high school besides the views and the tee shots and just the fun experience of being out here as a kid.
Happiest to get the hell out of Dodge: Justin Thomas
Thomas had the distinction of visiting the dais first in what is often an interminable day. Perhaps the assembled press was still getting their coffee and steeling themselves for those later hours of inquisitions. Or maybe it was just that JT's presser had been moved up earlier in the morning. Whatever the reason, JT did not get a question. The USGA officials on site offered a few queries, and there was a remote written submission, but the visit was markedly short … three questions and about four or five minutes.
Now, Thomas may have been happy he doesn't have to tarry with a nagging press. But he is the No. 2 ranked player in the world, and he seemed almost surprised there was nothing more and he was allowed to flee so soon. A Brooks Koepka of three years ago would probably take it as a sign of great disrespect and then go win by four shots.
Most versatile, most impressive: Jon Rahm
This was the first we'd seen and heard from Rahm since he withdrew from the Memorial with a six-shot lead after testing positive for COVID-19. Rahm had to wear many hats in this press conference, and he bounced from one tough topic to the next with both the grace and insight that few of his peers would either pull off as well as he did or even indulge with anything more than brusque grumbles.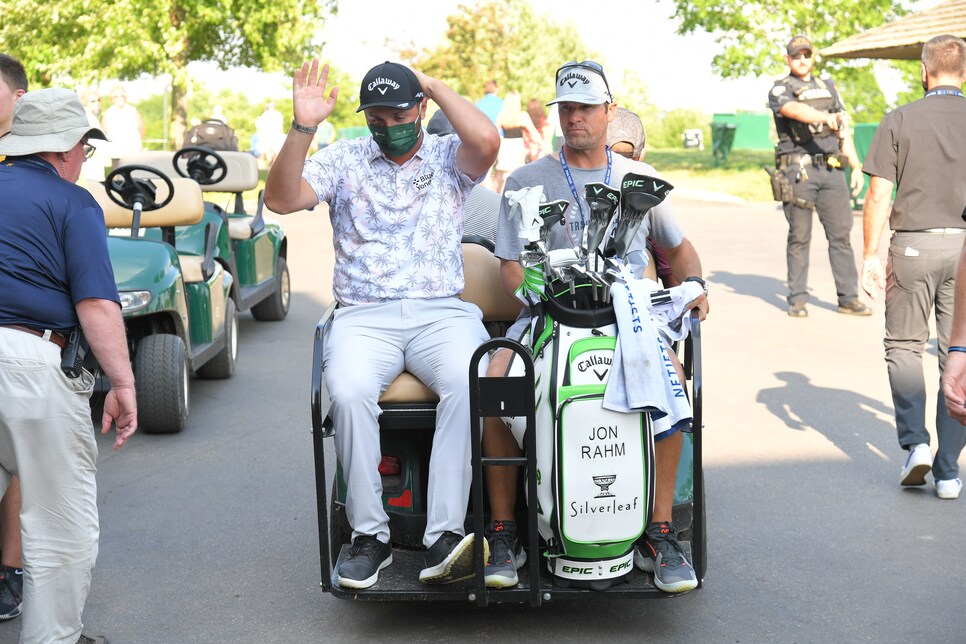 He had to play executive assistant and run through the calendar tick-tock of his past week. He had to be an impromptu expert on CDC guidelines. He had to relay the personal tale of his own isolation.
I was a little bit scared because, even though I was feeling fine, I didn't want to give the virus to anybody in my house. I didn't want to possibly give it to our young son. Yeah, I think the hardest part out of all this was for just over 10 days not being able to even spend any time with my little one. Adding to that, my parents came into town, couldn't be around them. My mom is fully vaccinated, so I spent a little bit of time [with her]. My dad is in the process. I wasn't there when my parents met my son, and I hadn't seen my parents in over a year, almost a year and a half. Those are the hard parts about this virus in life.
He had to stand in as an advocate for the PGA Tour protocols, the ones that left him out of the final round of a tournament he led by six shots.
And to all the people criticizing the PGA Tour, they shouldn't. We are in a pandemic, and even though this virus has very different forms of attacking people, you never know what reaction you're going to get.
So [the] PGA Tour did what they had to do. The CDC rules for a reason. There's players that missed the World Series last year. There's other athletes that have missed events. Unfortunately, I had a really good showing, and I was pulled out of the tournament right before the final round, but, again, the PGA Tour did what they had to do. I've heard a lot of different theories: I should have played alone. [No], I shouldn't have … that's nonsense. The rules are there, and it's clear.
I'm not going to lie, I was fully aware when I was in tracing protocol that that was a possibility. I knew that could happen. I was hoping it wouldn't. I was playing like it's not going to, but I support what the PGA Tour did.
He was pressed aggressively on why he had not been fully vaccinated prior to the Memorial. He performed an extemporaneous PSA on vaccination.
Q: The tour said at the time they were discussing your issue that a little north of 50 percent of players on tour have been vaccinated. What would you say to those other 50 percent that have not?
JON RAHM: I mean, we live in a free country, so do as you please. I can tell you from experience that, if something happens, you're going to have to live with the consequences golf-wise. Now, again, the country is going at a great pace of getting vaccinated. If we want to go back to having a normal life and normal tour events and try to go back to normality as early as possible, people should get vaccinated. I know if you're younger, you run less of a risk of having big problems from COVID, but truthfully, we don't know the long-term effects of this virus, so I would encourage people to actually get it done.
He also articulated a charming little script for a short film love story, discussing what the San Diego area means to him and his wife and why he proposed to her just north of Torrey Pines. He provided streaming recs, having re-watched Rick and Morty during isolation to prepare for the upcoming release of Season 5 (if you're into that). The easy part was what everybody else got all day: assessing his golf game and the golf course, which he also did.
The reviews were all glowingly positive, which is an achievement in this day of divisiveness. There were proclamations on TV that what the interview showed was that he's matured immensely from this. Rahm may still be a hothead on the course, but if you've listened to him closely over the past year, this should have been expected. He's become one of the most thoughtful, measured, and impressive voices on the PGA Tour, perhaps on par with Rory McIlroy. That showed again on Tuesday on a variety of topics after a week in isolation.
MORE U.S. OPEN 2021 STORIES FROM GOLF DIGEST: