Underdog no more
U.S. Open 2021: How a 'reprogrammed' Xander Schauffele plans to turn his major near-misses into a breakthrough win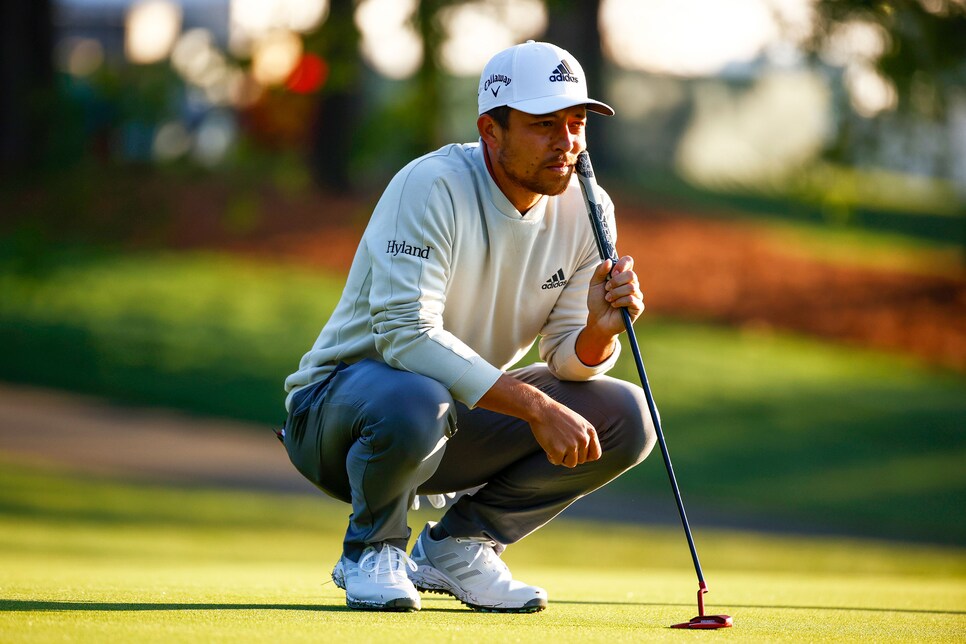 Photo By: Jared C. Tilton
Stefan Schauffele is searching for the right word. He speaks four languages, so his ever-fertile mind must flash through pages of a variety of dictionaries. He's trying to describe what finishing second nine times in the last two years has meant to his son, Xander, the sixth-ranked golfer in the world.
Scar tissue? No, that would suggest wounds that Stefan Schauffele doesn't think exist. Then he's got it: callouses. Yes, that's perfect, especially in a family whose German heritage is in construction work. The surname translates into "small shovel," because if you are a Schauffele, you probably labored with your hands, and if you didn't have callouses, you weren't working hard enough.
"On our side, we look at it as paying your dues, if you will," the father said this week of his son's many close calls. "There's no shame in 10 [career] seconds and four firsts. If you take a look at a long career, there's a lot of seconds. Jack Nicklaus had a lot of seconds [19 runners-up in majors]. So did Tiger Woods [seven in majors]."
Next week, the U.S. Open returns to Torrey Pines, just a couple of miles from where Xander Schauffele was born and 15 miles west of where he grew up. As a 15-year-old, he shimmied up against a tree on the Sunday of the 2008 U.S. Open, trying to get the slightest glimpse of Tiger before he made his famous birdie putt.
"When it went in, the sound was deafening," Schauffele recalled. "It got so loud, so quickly. I was quiet, but everyone else was going crazy. I was sitting there in shock. What just happened?"
Woods is out for the tournament, recovering from the leg injuries he suffered in a car accident, while Schauffele will no doubt be one of the favorites, the 27-year-old coming in with a couple of parallel storylines.
He will be lauded as the hometown boy who played nine-hole high school matches at Torrey Pines and went on to compete for San Diego State. His early struggles as a pro at Torrey should be noted, but so too will the seeming breakthrough he experienced in tying for second there this past January in the Farmers Insurance Open.
The other wrinkle for Schauffele is just as obvious. Not only is he trying to snap a streak of near-wins, he's building a résumé in majors that is both highly impressive and already sprinkled with the kind of disappointment that his frequent at-home playing partner went through. Fellow San Diego native Phil Mickelson had three seconds and five thirds in 42 majors before he won the 2004 Masters at age 33.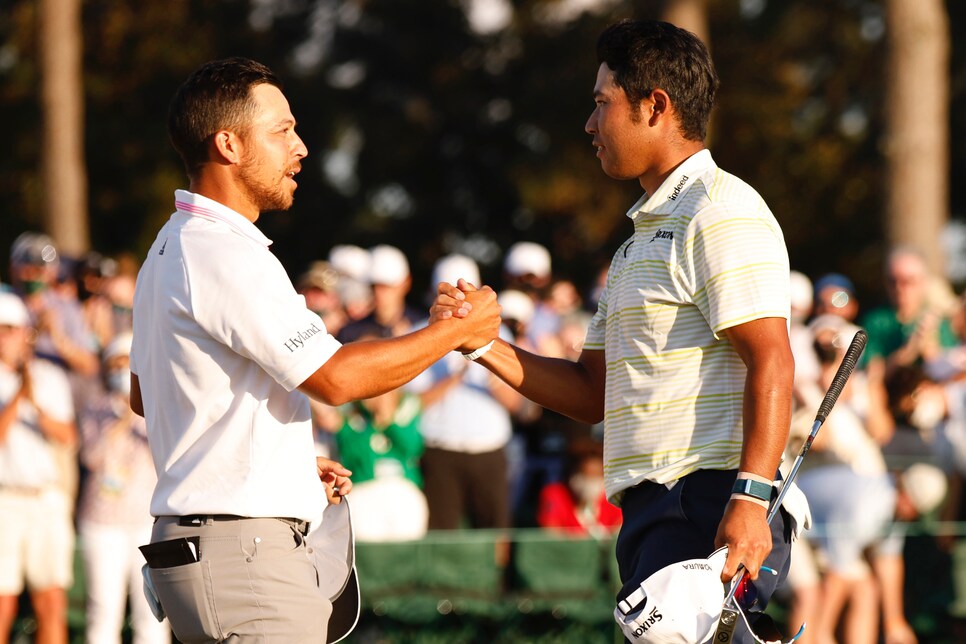 Xander Schauffele (left) congratulates winner Hideki Matsuyama after the 2021 Masters.
Jared C. Tilton
In only 16 career majors for Schauffele, he can boast of having top-10 finishes in half of them. Six are top fives, and in a rare display of versatility on all courses and conditions, Schauffele already has a top-10 result in each of the Big Four. In four U.S. Opens, he hasn't finished worse than sixth.
"Xander has said that last round at the Masters was the most fun he's ever had playing golf," said Stefan, who is the only full-swing coach Xander has ever had. "He was two shots behind Hideki [at 16] and he had to hit first off of that tee there. He did the right thing. He went for the jugular. People said this is going to hurt for a long time. Quite the opposite is true. It's one of those moments that will give him the potential to separate from the field the next time."
Xander knows that the questions about his closing ability will be there until he erases them himself.
"The big area I need to work on is my mental preparation, getting my head in the right space to win, and not sort of think about what everyone else talks about, not think about what everyone writes about," Schauffele said. "If you don't win right away, if you come close, you think about the times you haven't won rather than the times you have."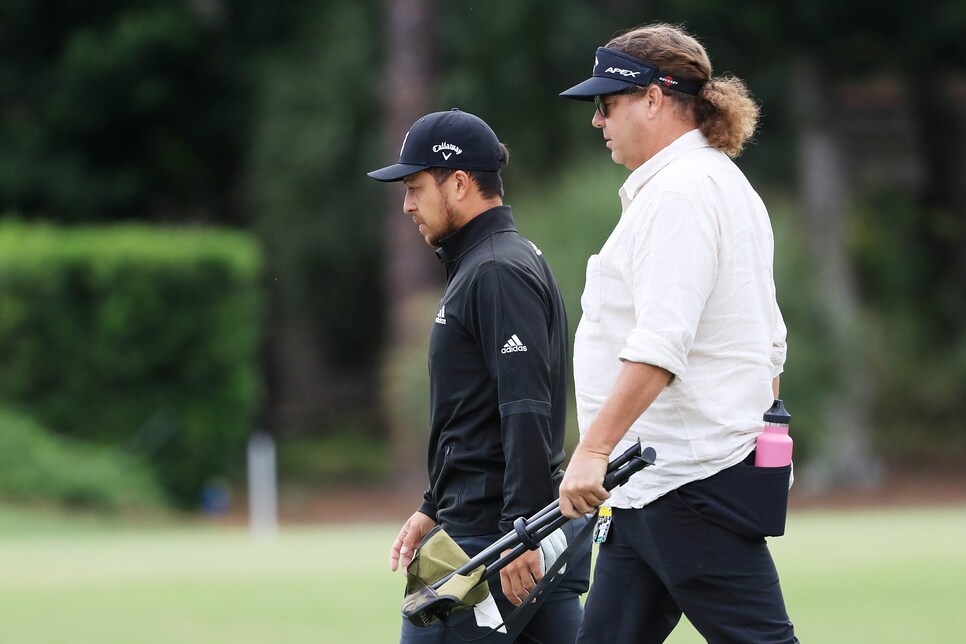 Xander Schauffele and his dad and coach Stefan are working to "reprogram" his mental approach after Stefan taught him early to play as an underdog.
SL
Schauffele's team is working on what they call his "programming." They will all admit that when Xander was younger, Stefan instilled in him an underdog mentality. The father remembers meeting the UCLA golf coaches when Xander was 16 and they lamented that they'd never heard of him. They suggested putting him in Southern California Toyota Cup tour events, and then Stefan twisted the screws on his son: Xander had to perform if he wanted a college scholarship. The result: three consecutive second-place finishes that put him on the recruiting radar.
That approach worked, even as Schauffele began to excel, with his first truly big victory coming in the match-play final against Beau Hossler in the 2014 California State Amateur. And it hasn't changed much until now during Schauffele's time on tour, despite two wins in his rookie season, including the Tour Championship, and his last win, at the 2019 Sentry Tournament of Champions, when Schauffele charged with a 62 in the final round.
None of his victories have come from leading the pack early—and only one has come from being in the final group on Sunday—because it seems as if Schauffele has always had a chaser's mentality that hasn't served him well when he reaches the top of the board.
"You need to have a certain arrogance, a certain confidence level," Stefan Schauffele said, "that you only get from frequently winning as a junior or having your parents blow smoke up your butt. Xander doesn't have that. For him, that will only come from the consistency of being there."
Schauffele is taking strides to work on the mental side. Never much of a reader, he has begun absorbing books on psychology and mental preparation. He started with Limitless by Jim Kwik, a brain coach who focuses on the three Ms—mindset, motivation and methods. He also ordered a book on "flow state"—the new twist on the old adage of "being in the zone," when focus and calm are absolute and there are no distractions.
"It's a matter of reprogramming my brain to think of myself as ahead rather than behind," Schauffele said. "When you're leading a tournament, that can't be a new realm you're in."
He added, "Now that I'm at a certain level, I need to feel like I'm the best of all-time. Nothing can waver from that. It's an interesting thing I've been delving into recently. It's fun to work on it."
Schauffele will play this U.S. Open with a newfound confidence at Torrey Pines—not to mention the new arm-lock putting grip he first put into play last week at Memorial (T-11) and a Callaway low-spin ball that he's excited about. His initial appearances in the Farmers Insurance Open yielded fairly shocking results: cut, cut, T-25, cut. There were a couple of times in there when he was sick, but he also only broke 70 once in 10 combined rounds on the North and South courses.
Then this year, without fans on-site in his hometown, Schauffele found a groove at Torrey, shooting 68-69 for the weekend on the South to finish in a five-way tie for second, five shots behind Patrick Reed. The Schauffele camp is happy to point out that over the three rounds on the South, where the U.S. Open is played, Xander beat Reed by a shot—seven under to six under.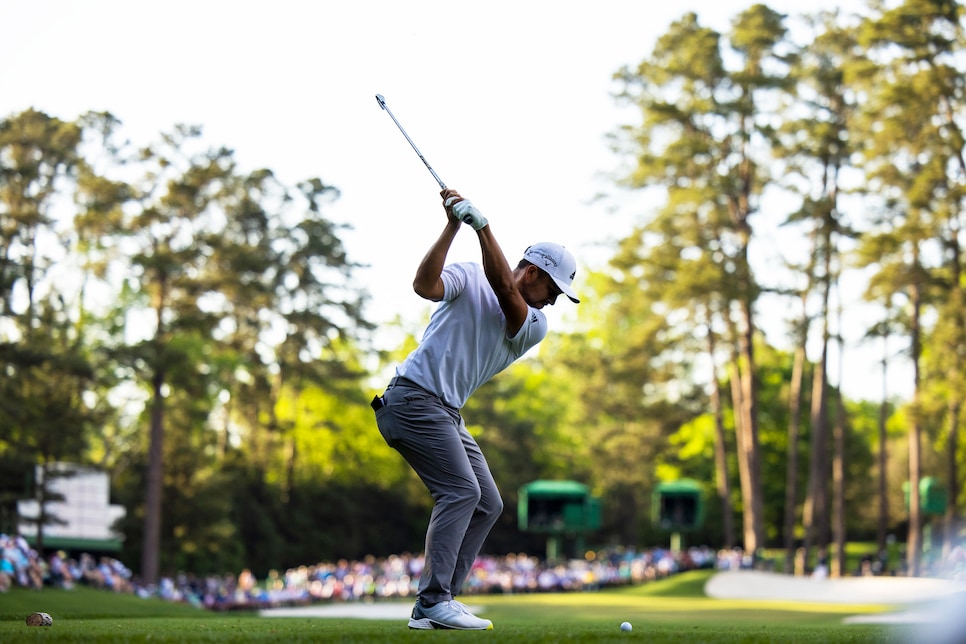 Schauffele had clawed into contention on Sunday at the Masters, but this fateful swing on the 16th hole proved too costly.
Ben Walton
"It just felt like a massive college tournament for a lot of money out there," said Schauffele, who didn't have the normal distractions he usually has in the San Diego event. "No fans and working on my mentality, it was the perfect storm out there."
The Schauffeles all believe that the challenging conditions at a major, and now at Torrey in particular, play into one of Xander's key strengths: patience. Xander admitted that the Kiawah Island course for May's PGA Championship, where he suffered his first missed cut in a major, got the best of him.
"I lost a bit of my edge and it bit me pretty bad," he admitted.
Schauffele has been playing practice rounds of late on Torrey South, including one last week in which he and Charley Hoffman walked, carrying their bags on their shoulders. On the 615-yard 13th, with the wind at their backs, Schauffele wagered that he could reach the green in two shots. Xander loaded up on his 3-wood approach and went over the green. Hoffman won the bet, since Xander wasn't on the green.
Xander also told his dad about the gnarly high rough around the greens. "Absolutely penal," Stefan said. "If it gets any higher, oh my word, it's going to be absolute carnage."
He laughed and added, "Just like you want it to be."
Sounds like the work for a man with calloused hands, and among the Schauffeles there is a quiet, measured confidence for the coming days.
"We are very, very pleased with where he's at," Stefan said. "We're ready. We wish it was starting today."