Prediction sure to go wrong
U.S. Open 2021: Yep, we're taking inspiration from Rocco Mediate for our 'can't miss' Torrey pick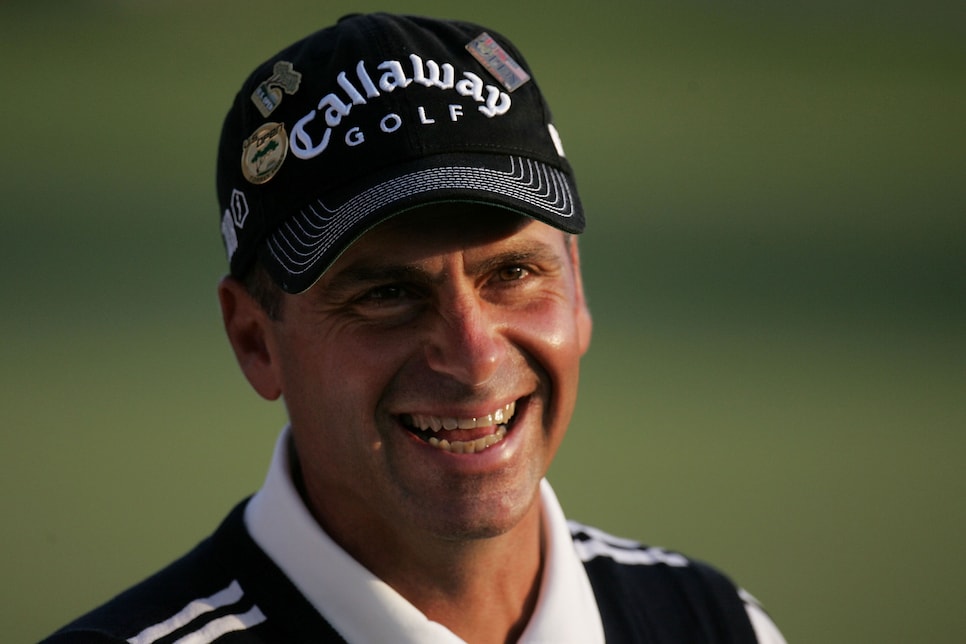 The U.S. Open has steadfastly marketed its championship's "open"-ness. You've seen the Don Cheadle ads: "E Pluribus Unum, baby." (I mean, seriously, on the all-time cool list, Don Cheadle is up in the high country, just this side of St. Thomas More and Ossie Davis and probably right there with George Gervin and Abebe Bikila. If you win the Olympic Marathon in bare feet, let's face it, even Chuck Norris tips his hat.) But running a marathon barefooted also is a legitimate comparison to what winning the U.S. Open is supposed to be. It is designed to break you, and only those willing to be broken and then rise up from those scattered spare parts and put themselves back together again, only those really have a chance to win the U.S. Open.
So, frankly, if I'm going to break my streak of futility, I figured it's about time I get serious and discover the formula for resilience that numerically should find us this year's U.S. Open winner. Yes, I know that is what I say I do in predicting a winner for every major. But my words in this area are as reliable as those of the cable guy: late arriving and ultimately meaningless.
However, with the U.S. Open having only been played once before at Torrey Pines, I think my task is much simpler. Let's just find a guy who exemplifies all the characteristics of the player who navigated the cliffside haymaker factory the best last time and there's your blueprint for this go-round's can't-miss pick. So I chose …
Rocco Mediate, circa 2008. (Like I needed to clarify. For Pete's sake, Rocco Mediate today, Rocco Mediate yesterday, Rocco Mediate any day, is Rocco Mediate 2008. If there's anybody who is the very definition of E Pluribus Unum, Baby, it's Rocco Mediate.)
Point of order, you say? Tiger Woods won the U.S. Open in 2008. Well, yeah, I suppose if you're going to get technical, that is true. Sweet player, gritty with the leg and whatever, nice putt on the 72nd hole (only set up, of course, by a shot from the light rough hit with a wedge whose grooves would have been non-conforming just 18 months later, leaving that shot twice as far from the hole as it was at that particular Sunday in San Diego in 2008). But, really, who outplayed whom? The data is clear: In 10 vital statistics, Rocco had equal or better numbers than Tiger in eight of them, including better averages in driving accuracy, sand saves, scrambling, one-putt percentage and three-putt avoidance. Yes, Tiger outdrove Rocco by literally 37.5 yards for the week. But he'd basically do the same to you, too. And you basically are Rocco Mediate. We all are Rocco Mediate. E Pluribus Unum, baby, right?
I mean, it was the legendary Johnny Miller who said Mediate "looks like the guy who cleans Tiger's swimming pool" during the broadcast in 2008. Now, that's a bit much. The guy had won five PGA Tour events prior to that year's U.S. Open. Of course, one of them was sponsored by KMart. Then again, he only got in the field by surviving an 11-man playoff at the Columbus sectional. He was ranked 158th in the world, just .03 ahead of Craig Parry, whom Miller of course also skewered by suggesting that Ben Hogan would puke if he ever saw his swing.
Not sure what Hogan would do if he had seen Rocco in 2008, but since the Hawk had been hit by an oncoming bus before, he probably would recognize what can only be called tragedy in motion. Mediate's swing wasn't so much pool boy as it was 18th-century scythe farmer. But no one made for better theater. Roy McAvoy didn't have as much personality, and his chance of winning the U.S. Open was better than Rocco's. Not just figuratively, either. I looked at 84 statistical categories heading into the 2008 U.S. Open and Mediate didn't rank in the top 100 in 44 of them. Yet he dang near beat a guy who ranked in the top 20 in 39 of those categories.
So, what to do? Well, I looked at where Mediate ranked in all those categories and I found the one guy who most often had the same ranking. Turns out, guys that bad don't get in the U.S. Open usually. A lot of Bronson Burgoon's and Mark Hubbard's and Nelson Ledesma's. Guys who have to show their credential twice to get into the tour locker room. Of course, Mediate never had to show his credential back in 2008. They just assumed he was the shoe guy.
The trouble with numbers is they don't account for the heart of a champion. That only reveals itself when you least expect it and when it's most required. Like when Mediate birdied three holes in a row on the back nine of Monday's 18-hole playoff (which by the way recorded the best cable TV numbers for a golf broadcast ever at the time, in the middle of a workday afternoon, no less). Maybe the heart of a champion comes not from fitting a statistical profile but from winning in tough conditions against a young buck who the world assumes is going to crush you.
Sort of like what happened in the AT&T Byron Nelson Classic this year, when a relatively pedestrian journeyman chased down the young stud, waited out a 2½-hour rain delay and held on for his first PGA Tour win.
That guy, my 2021 U.S. Open winner, is Lee Kyoung-hun, or K.H. Lee to you.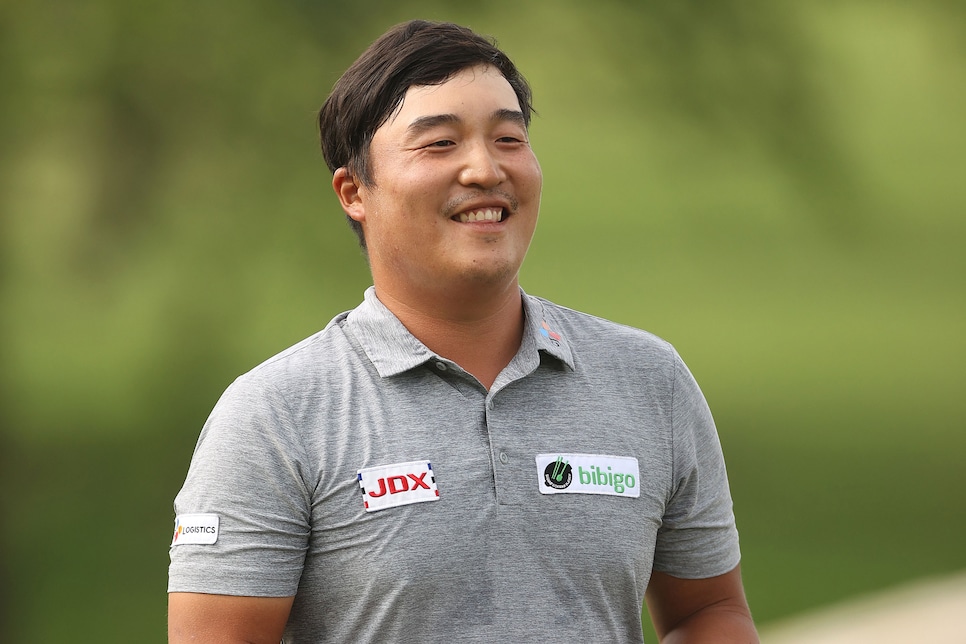 I'm not saying K.H. Lee is Rocco Mediate. But his rank in strokes gained/tee to green and strokes gained/putting matched up perfectly with Mediate's in 2008. That one was 78th and the other was 153rd is immaterial to me. Which is why I'm as good at picking major championship winners as well K.H. Lee is at being sexy. (For those who aren't on Lee Kyoung-hoon's Facebook page, he's said his goals are to be the No. 1 player in the world and to be the sexiest golfer in the world.) But he confesses "it may not be possible as I enjoy eating too much." That is straight Rocco if there ever was.
His name in Korean means "honor" or "respect," and all I know is the guy showed up at the PGA Championship and played a practice round with Phil Mickelson and Bryson DeChambeau. That's some Rocco-like why-not-me swagger, isn't it? Heck, he's ranked almost 100 points higher than Rocco was in 2008 heading into the U.S. Open so he's technically got better odds. And just like Rocco, he also missed the cut at the PGA Tour event played at Torrey Pines earlier in the year.
So maybe K.H. Lee is the Rocco Mediate of the 2021 U.S. Open. He's definitely got that E Pluribus vibe. The Unum? That's set aside for legends. Break a leg, K.H.