Bryson-Brooks
U.S. Open 2021: Brooks Koepka dismisses Bryson DeChambeau rumors with typical Koepka disgust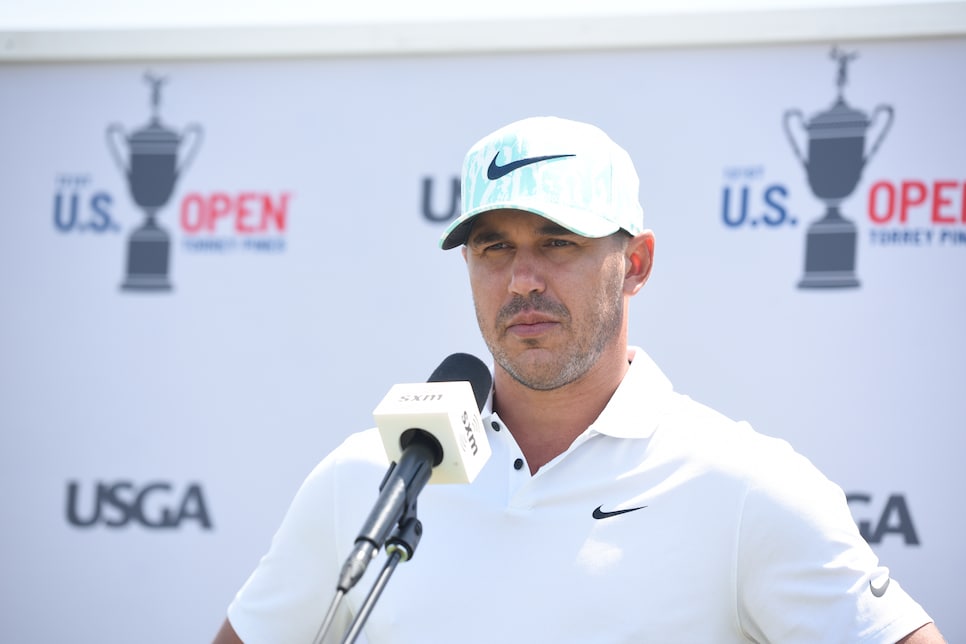 San Diego—Brooks Koepka said he wasn't asked. He also says it doesn't matter.
Koepka's ongoing feud with Bryson DeChambeau is the dominant storyline in the sport, but it did not manifest in an early-round pairing at the U.S. Open. In itself this was not unexpected, yet the non-pairing gained a level of intrigue Tuesday morning as former PGA Tour pro Brad Faxon claimed on a radio show that the USGA offered DeChambeau the chance to play with Koepka and DeChambeau turned it down.
The USGA and DeChambeau's agent both denied such an offer was extended, and speaking to the media Tuesday morning at Torrey Pines, Koepka echoed the same.
"I was not asked about playing with Gary Woodland nor Bryson," Koepka said bluntly, a nod to the possibility of the last three U.S. Open winners bunched together.
Fair enough. Koepka was then asked if he would have enjoyed such a pairing. After all, Koepka has done most of the needling in this renewed spat, going so far to offer free beer to fans that were kicked out for yelling "Brooksy" in DeChambeau's direction.
Koepka dismissed the notion.
"It doesn't matter to me," Koepka said. "I'm trying to play—I play my own game. I don't care who I'm paired with. It doesn't matter to me what goes on. It makes no difference to me. I'm out there trying to play my own game. What happens inside the ropes, it won't bother me."
Koepka also reiterated his indifference with perception of his role in the matter, or what people think of his reaction to the leaked Golf Channel video that reignited this fire.
"I'm not too concerned. It is what it is," Koepka said. "Like I said last week, I don't think—I don't live with regret. It got out, not a big deal. And as far as perception, I'm not really too concerned -- I'm worried about what I've got to do and what I'm doing. I'm not concerned about what other people think. If I was concerned about what everybody else thought, I'd have been in a world of pain."
Which, if you've been following Brooks' career, is about what you'd expect him to say. To him, caring is a sign of weakness.
However, lest you think Koepka is over this storyline, he maintained his belief that his relationship with DeChambeau is good for the sport.
"It's bringing new eyeballs. Like I said last week, you've got different—it's pretty much been on every news channel," Koepka said. "Pretty much everything you look at online, it's got this in the headline, or it's up there as a big news story. To me, that's growing the game. You're putting it in front of eyeballs, you're putting it in front of people, the game of golf, who probably don't normally look at golf, don't play it, might get them involved. I don't know how it's not growing the game."
Koepka missed last year's U.S. Open at Winged Foot, which DeChambeau won. In his three previous U.S. Open starts Koepka has two wins and a runner-up, and is coming off a T-2 in May's PGA Championship. Koepka begins his 2021 U.S. Open at 7:29 a.m. Thursday with fellow PGA Championship winners Collin Morikawa and Justin Thomas.
MORE U.S. OPEN 2021 STORIES FROM GOLF DIGEST: