News
U.S. Open 2020: The 7 most intriguing pairings during the first and second rounds at Winged Foot
With the USGA canceling qualifying for the U.S. Open this year because of the COVID-19 pandemic, that means only 144 players are teeing it up at Winged Foot, down from its typical field of 156. What are the most intriguing pairings among them for the first two days? Let's have a look.
Collin Morikawa, Justin Thomas, Tiger Woods
Thursday, 8:07 a.m. first tee
Friday, 1:27 p.m., 10th tee
It should come as little surprise that Thomas and Woods would be grouped. They've played a lot of golf together over the past five years and somewhat surprisingly Thomas has outplayed the 15-time major champ by a wide margin on those occasions. Thomas, with three wins in the 2019-'20 season, is rightly among the favorites this week, while Tiger is Tiger. Throw in the reigning PGA champ in Morikawa and this group pops even more.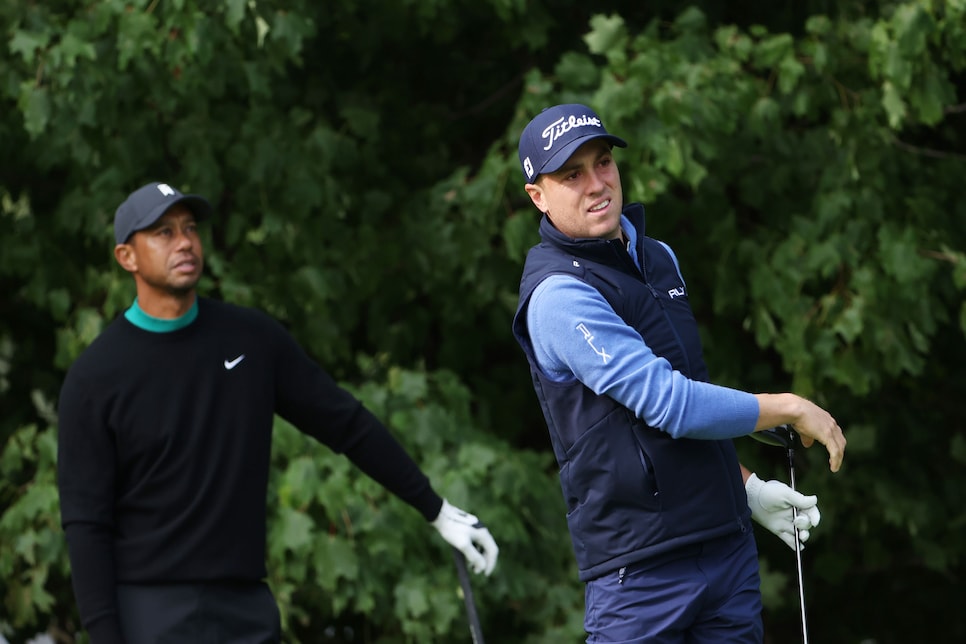 Justin Thomas plays with Tiger Woods during a Tuesday practice round prior to the 120th U.S. Open.
Jamie Squire
Rory McIlroy, Adam Scott, Justin Rose
Thursday, 8:07 a.m., 10th tee
Friday, 1:27 p.m., first tee
A trio of major champions, Scott is the only one in the group not to have won a U.S. Open, with McIlroy having taken home the trophy at Congressional in 2011 and Rose two years later at Merion. Scott is also the only one with a win this year on tour this year, but that was back in February and all three have been fairly underwhelming in recent months. Still, this is a star-laden tee time that will draw plenty of eyeballs and no one would be stunned to see any of them in contention come the weekend.
Bryson DeChambeau, Dustin Johnson, Tony Finau
Thursday, 1:16 p.m., first tee
Friday, 7:56 a.m., 10th tee
Will Winged Foot's almost 7,500 yards be enough to contain this group? DeChambeau has already said that he absolutely doesn't plan to throttle back this week, despite the tight, tree-lined fairways and thick rough of the West Course. Johnson and Finau are capable of bombing away, too, but will they? It'll be fascinating to watch.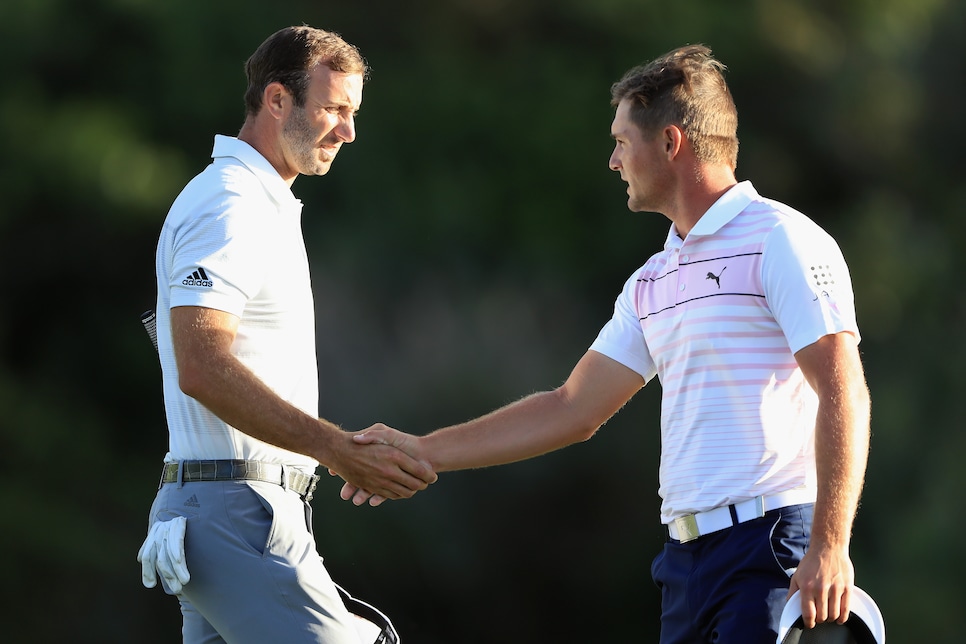 Big hitters Dustin Johnson and Bryson DeChambeau will be joined by fellow bomber Tony Finau.
Sam Greenwood
Phil Mickelson, Paul Casey, Jon Rahm
Thursday, 1:27 p.m., first tee
Friday, 8:07 a.m., 10th tee
In case you hadn't heard, Phil Mickelson memorably lost the 2006 U.S. Open here. In all seriousness, his best days are clearly behind him, and the Foot is no Ozarks National, but the week will likely be an entertaining one because it always is when Mickelson is involved. Rahm figures to be the real threat among this group, and perhaps Casey, who finished second at the PGA for his best finish in 65 career major starts, will be one as well. If nothing else, these three can swap stories about their times at Arizona State.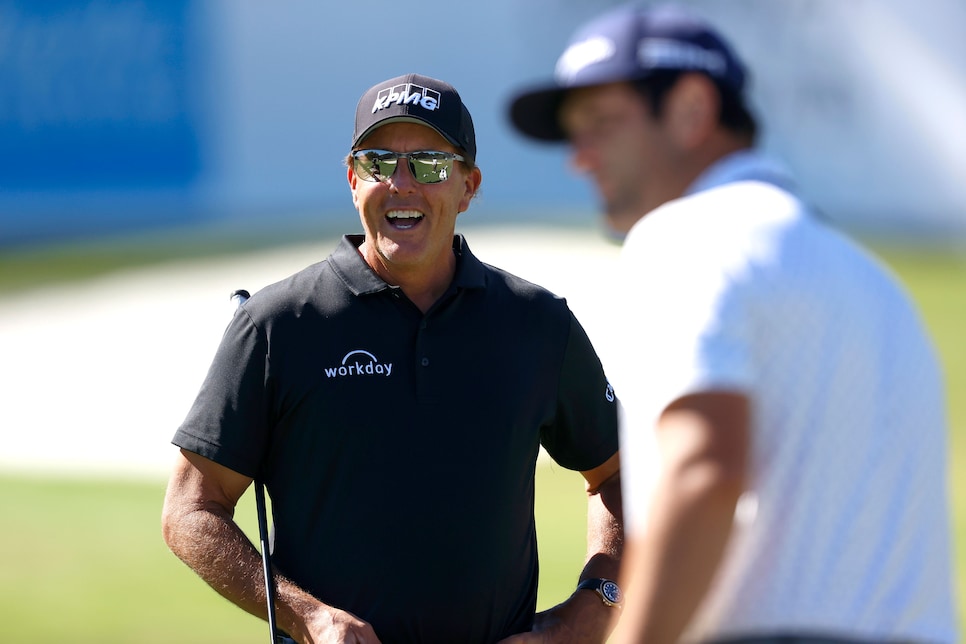 Phil Mickelson will be paired with fellow Arizona State alum Jon Rahm during the opening rounds of the 120th U.S. Open.
Tom Pennington
Hideki Matsuyama, Patrick Reed, Jordan Spieth
Thursday, 7:56 a.m., first hole
Friday, 1:16 p.m., 10th hole
Remember the days when Reed and Spieth formed a dynamic Ryder Cup duo? To say their careers have gone in opposite directions since would be an understatement. Spieth, the 2015 U.S. Open champion, hasn't won in three years and in the 2019-'20 season ranked 181st out of 193 players in driving accuracy. Not great heading into Winged Foot.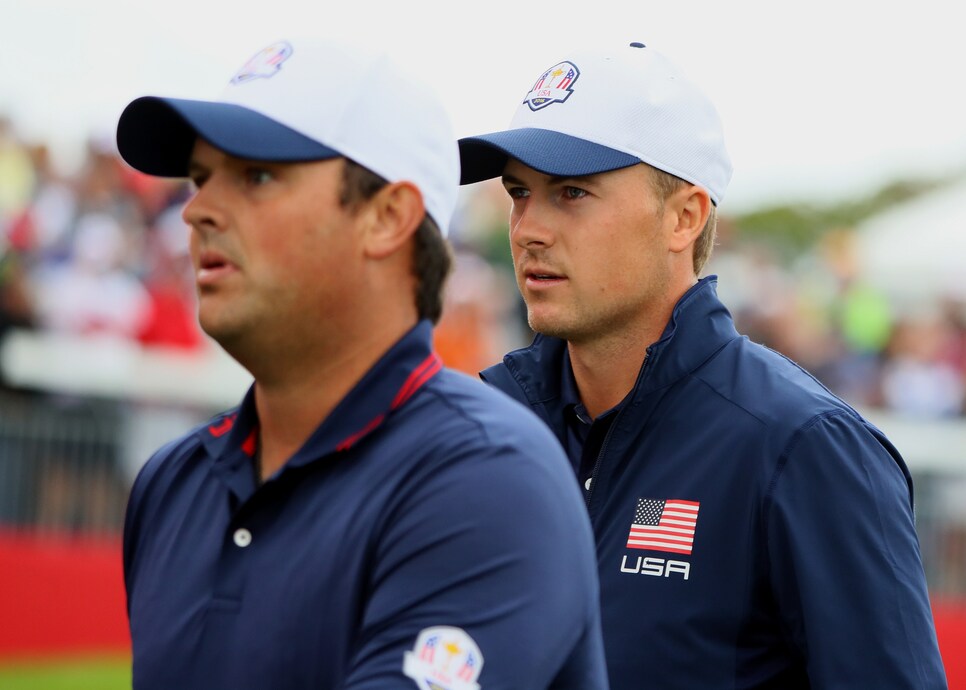 The one-time Ryder Cup star team of Reed and Spieth will be paired together early at Winged Foot.
Getty Images
Webb Simpson, Sergio Garcia, Jason Day
Thursday, 7:56 a.m., 10th tee
Friday, 1:16 p.m., first tee
The USGA does enjoy a themed pairing or two and delivers another one here with a former U.S. Open winner (Simpson), a Masters champ (Garcia) and a PGA Championship winner (Day). Simpson is clearly in the best form of the group and the narrow fairways of the A.W. Tillinghast gem should suit him just fine.
Billy Horschel, Xander Schauffele, Brandt Snedeker
Thursday, 1:38 p.m., 10th tee
Friday, 8:18 a.m., first tee
Nothing against Horschel or Snedeker, both fine players, but Schauffele's major prowess—a half-dozen top 10s in majors since 2017, including three-straight top fives in the U.S. Open—befits a more prominent pairing. Not that the low-key San Diego native will mind. He prefers to fly under the radar and in his own way will use any lack of deserved attention as motivation to what will presumably be another impressive week if not a breakthrough one.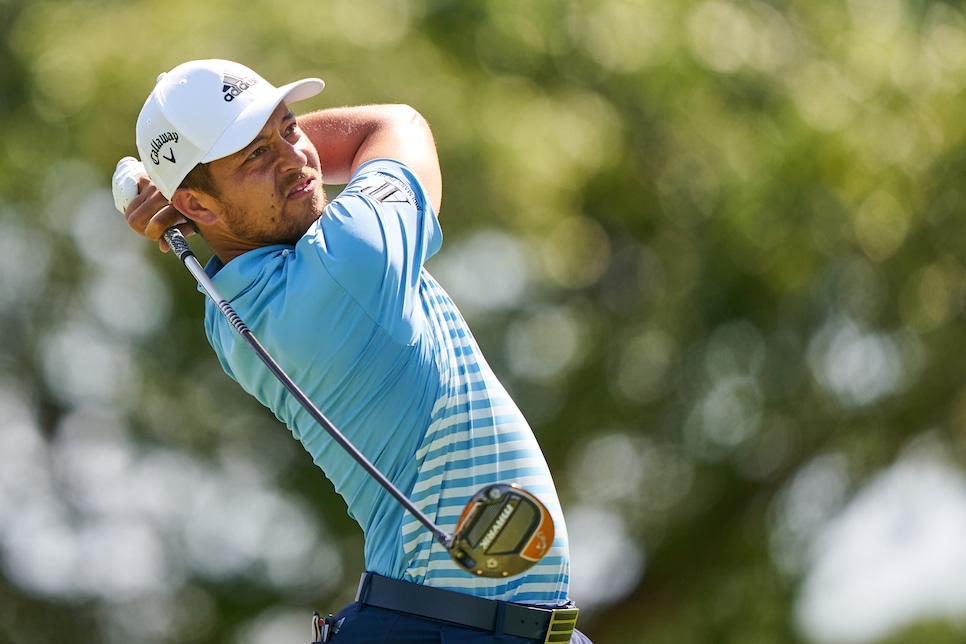 Xander Schauffele has three top-10 finishes in the U.S. Open in his three career starts.
Darren Carroll for Golf Digest