News
U.S. Open 2020: Can Bryson DeChambeau overpower Winged Foot? He has a confident answer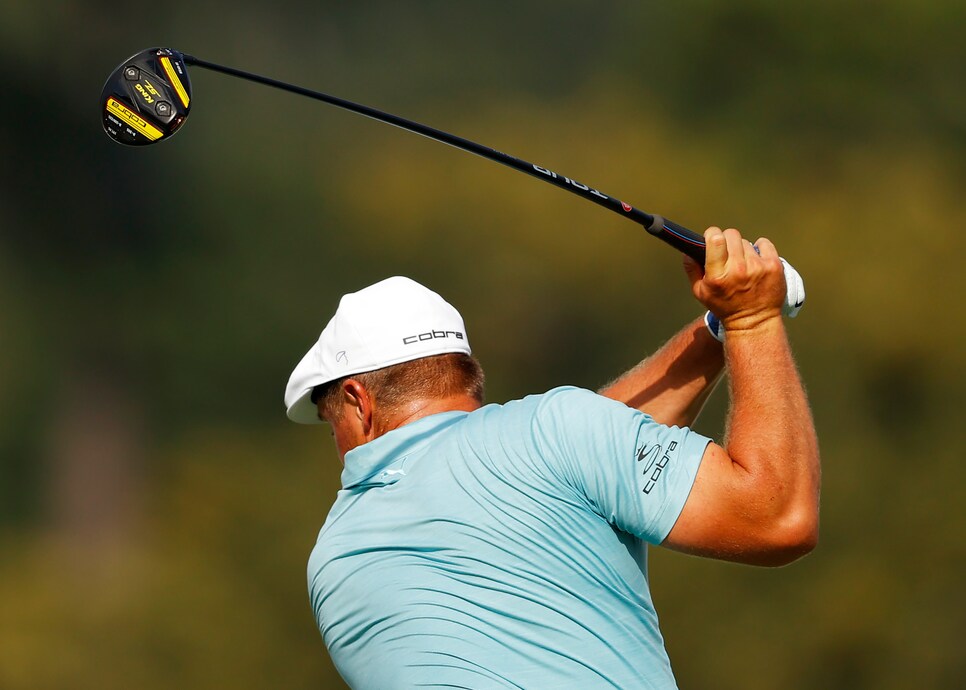 Bryson DeChambeau led the PGA Tour in driving in 2019-'20, improving by a whopping 20 yards from the year before.
Kevin C. Cox
It was Friday night of Labor Day weekend in Atlanta, just before 8 p.m., the last hint of twilight having already faded and the locker room long since emptied out. A large and solemn figure, shirt untucked and head hanging in exhaustion, trudged across the 10th fairway at East Lake Golf Club and toward the lone car still in the parking lot, a gleaming white Bentley Flying Spur.
Bryson DeChambeau had tied for the worst score of the day in the opening round of the 30-man Tour Championship two weeks ago with a two-over 72, which dropped him 11 strokes off the lead of a tournament he basically no longer had any hope of winning. He'd finished playing more than two hours earlier but that didn't really matter. Neither did his score that day as far as he was concerned. The U.S. Open was already on his mind and there was work to be done.
"I'm always trying to improve," DeChambeau said. "And I think I've figured a few things out.
"My ultimate goal is to be able to drive the ball 400 yards in the air so I can drive the greens every week and have it be an unfair advantage. I've still got a ways to go, but if I'm hitting it as good as I am now with the driver, it's going to be a tremendous asset."
As the 26-year-old heads into the second major championship of the year this week at Winged Foot, it's a point that's hard to argue.
Since packing on 40 pounds over the last 11 months, thanks to a caloric intake that would make a competitive eater jealous, DeChambeau is generating a swing speed of 140 mph and ball speed teetering on 200 mph. He seemingly attacks every hole the way a jack hammer does pavement and has emerged as much a danger to the covers of golf balls everywhere as the fields in which he competes. In the recently completed 2019-'20 PGA Tour season, he led in driving distance with an average of 322.1 yards—up an impressive 20 yards from the previous season.
Consider, in a stretch from mid-February through early July (a period of which was interrupted three months by the COVID-19 pandemic), DeChambeau finished no worse than eighth over a span of seven starts, culminating with a three-stroke victory at the Rocket Mortgage Classic.
How would all that extra oomph play in a major championship, though?
We found out in August. DeChambeau hammered his way into contention at TPC Harding Park, where he swung so hard with one lash on the reachable par-4 seventh that his driver had weakened to the point of snapping when he leaned on it to pick up his tee. In the end, he wasn't able to catch Collin Morikawa on Sunday and finished in a tie for fourth, but that hardly dissuaded him. Quite the opposite, actually.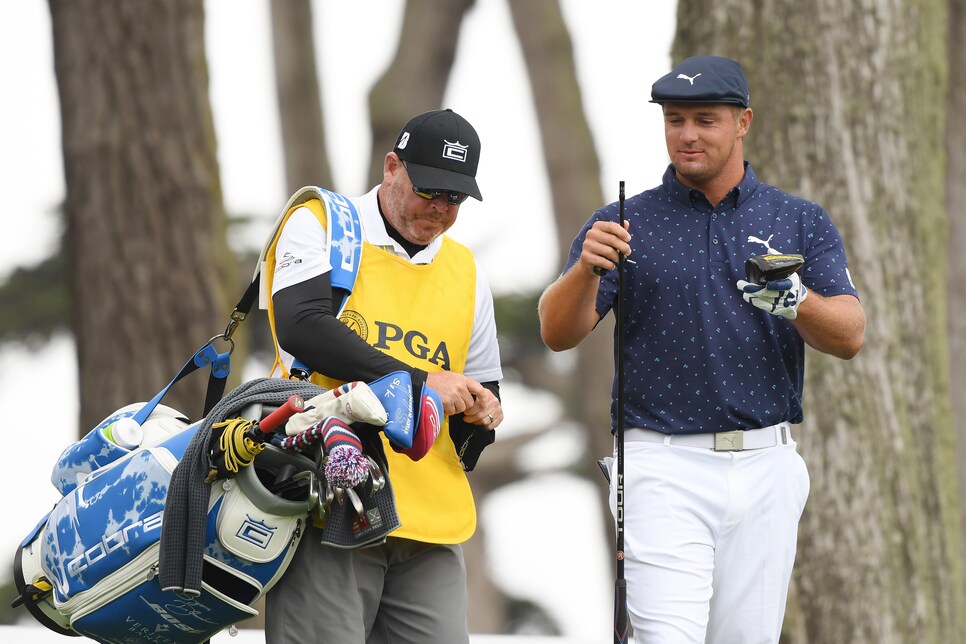 At the PGA Championship, Bryson DeChambeau, with caddie Tim Tucker, affixes a new shaft to his driver head after his previous driver broke on a swing.
Harry how
Victory, no. Validation, yes. It was DeChambeau's first top 10 in 13 career majors and he left San Francisco oozing with confidence. "I learned a lot at the PGA," he says. "Mostly that my game is good enough to play this way in a major."
So it's little wonder that when faced with the tight fairways and gnarly rough of the classic A.W. Tillinghast Winged Foot West Course at the U.S. Open, DeChambeau has absolutely no plans to pull back on the reins.
"It depends on where there's water or trouble and if it's too penalizing to hit it in the rough," said DeChambeau, who has only been to Winged Foot once before but has never played there competitively. "But hitting the driver straight the way I am now, I don't see why I wouldn't go for it."
Though the fairways tend to tighten the farther the ball travels at Winged Foot, there will be opportunities. And the rough doesn't seem much of a concern to DeChambeau.
There's little reason, for example, not to let it rip on the 467-yard fourth, where a carry of a mere 300 yards is required to clear the left fairway bunker, and the 502-yard fifth, which would eliminate the fairway bunker on the right.
Then there's the 321-yard par-4 sixth, the shortest par 4 on the course. DeChambeau won't be the only one to give it a go, trying to reach the kidney-shaped green that is fronted by a deep bunker and guarded on the left by a stream that also swings past the back of the green.
At the 490-yard eighth, an aggressive line off the tee by DeChambeau could easily shave off 40 yards from his approach on the dogleg right. The par-5, 565-yard ninth, meanwhile, figures to be an eagle opportunity awaiting for someone who could have a mid- to long iron in.
The 384-yard 11th? Green light. The 633-yard 12th? DeChambeau is one of the few in the field who might be capable of reaching the putting surface in two, or certainly coming close to doing so.
The fairway bunkers on the 452-yard 14th won't be a problem for any long hitter, while only a creek 110 yards short of the green on the 426-yard 15th figures to be one of the few things to give DeChambeau pause this week.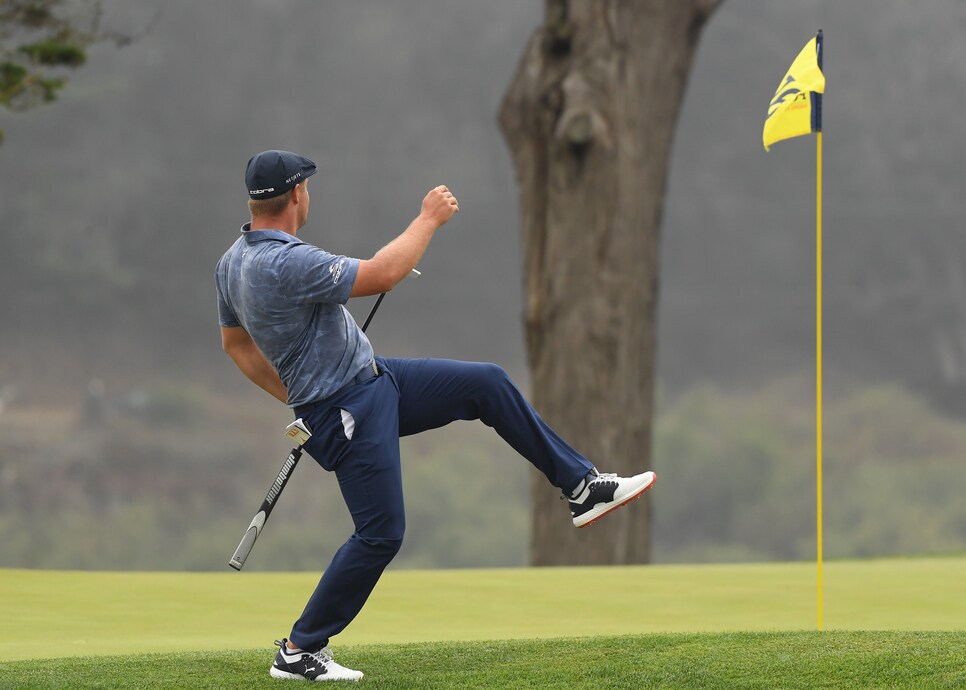 Bryson DeChambeau reacts to a missed putt for eagle on the 16th hole during the final round of the 2020 PGA Championship at TPC Harding Park.
Harry how
It wasn't always that way, though.
A little less than a year into his transformation, there were times DeChambeau found himself questioning whether it would all work. Early on, the results were mixed, as he finished 15th out of 18th at the Hero World Challenge last December and missed the cut in Abu Dhabi a month later. He tied for eighth in Dubai, but regressed in Phoenix with a tie for 52nd.
Along the way, his short game also suffered and has continued to be a weak spot on occasion even now. In the 2019-'20 season, DeChambeau ranked 119th in strokes gained/approach and 111th in strokes gained/around-the-green. "Three years ago I said the same thing, my wedges are terrible," he said. "I'm still in the same place now."
Still, DeChambeau managed a run of three straight top-five finishes in the spring before the pandemic hit, shutting the PGA Tour down. It didn't slow down DeChambeau, though.
After the Players Championship was canceled, DeChambeau and swing coach Chris Como headed back to Dallas. Once there, Como ditched his apartment, called a realtor and moved into a house, with a caveat: It had to have very tall ceilings. Como essentially converted the living room on his new pad into a biomechanics lab and the two went to work.
Once the tour resumed playing in mid-June, DeChambeau picked up where he left off with a T-3 at Colonial, T-8 at Hilton Head and T-6 in Connecticut. Then came victory in Detroit and nearly another at the PGA.
"Very, very validating," he said in the wake of his performance at TPC Harding Park. "And something that I'll take for the future and hope that will suit me well for these majors coming up."
The year's next major is here. Will it be DeChambeau's time?