Mush Life
The whole world bet on Tom Kim, then he promptly had the worst putting performance of his career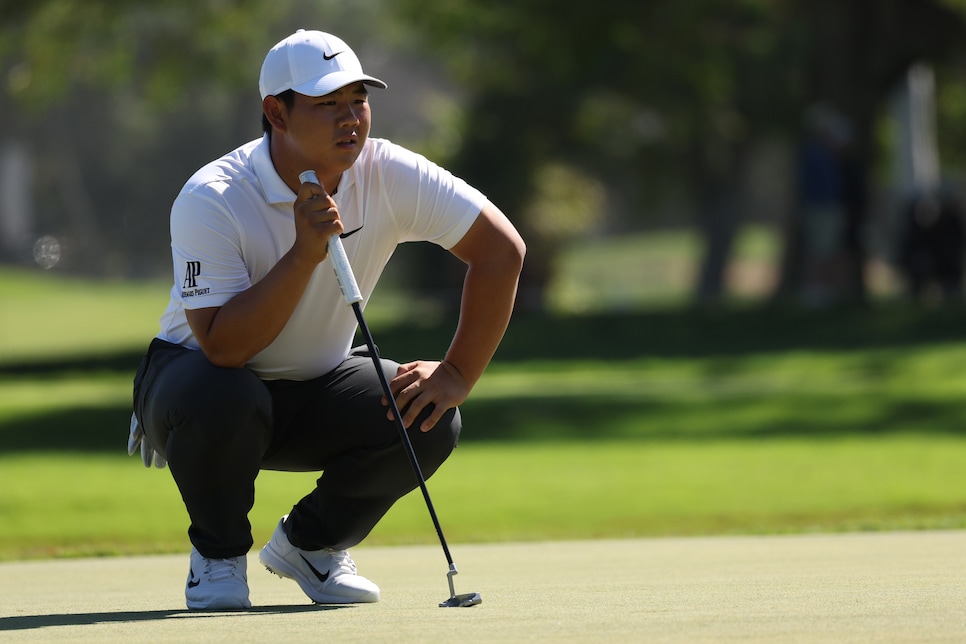 For the better part of seven months, it's been Tom Kim this, Tom Kim that. Rightfully so. Between his two wins, his electric performance at the Presidents Cup, and his solid start to 2023 with a T-5 at the Sentry TOC, it really felt like the guy could do no wrong.
This week, Kimsanity reached a fever pitch, with the 20-year-old checking in as THE solo favorite to win the Sony Open in Hawaii. Normally, that would scare bettors away, but the golf gambling community did not flinch. As we reported on Wednesday, everyone and their mother was betting on the rising star despite his low odds, with Kim having the highest ticket percentage at 10.5 percent according to BetMGM. Kim's handle percentage, which is the amount of money wagered on him, was even more insane at 17.2 percent (the next closest was Jordan Spieth and Russell Henley at 10.6).
Kim has been a popular play before, too, and he has consistently delivered. But eventually the gambling gods get ya, as Kim bettors learned the hard way on Thursday. Per Rick Gehman, Kim had the worst single putting round of his (young) career on Thursday at Waialae:
Ouch. Particularly shocking given Kim's putter had been arguably the most reliable club in his bag. At the Wyndham Championship, Kim gained a ridiculous 12.5 strokes putting en route to his maiden win. Three starts later, at the Shriners, he won again with a hot putter, gaining 6.1 strokes on the greens.
Tough. To be clear, we're not leaving Kim for dead this week. He's *only* eight strokes back, which isn't that much when you remember Kim overcame a six-stroke deficit, and an opening-hole quadruple bogey, in the first round of the Wyndham, which he ended up winning by five. No one would be surprised if he quickly overcame one bad putting round, though overcoming a potential "mush" situation by the gambling community at large might be an even tougher feat.