Mother Nature
Powerful storms produce one of the most incredible (and terrifying) photos of Pebble Beach's Lone Cypress ever
On Christmas weekend, a powerful storm system rolled across the plains. Picking up moisture from the Great Lakes, it barreled into Western New York, dumping over four feet of snow, encasing homes in ice, and wreaking havoc on millions of holiday travel plans. The generational storm closed the airport, shuttered the train station, and shut down I-90 for days, while also toppling two area golf domes. In the end 37 people lost their lives.
Now it's California's turn. This week, Monterey Bay found itself in the crosshairs of a so-called "atmospheric river" of storms, which slammed the home of some of the country's most treasured seaside golf courses, from Pebble Beach to Spyglass Hill. The intense bands of moisture caused massive coastal flooding and knocked out power to over 176,000 as of Friday. Evacuations were issued and so far two people have been confirmed dead.
On the scope of concern, golf barely rates, but for golfers, one image—snapped by Craig Pernick at the perfect moment—emphasized the severity of the storms above all others.
Needless to say, if this isn't one of the golf photos of the year when all is said and done, then it's going to be another very eventual 12 months for the sport. Pebble Beach's Lone Cypress normally stands 150 feet above sea-level. Here we see it enveloped by waves, some even towering above the iconic landmark. For scope and scale, here's what it looks like on a calm day.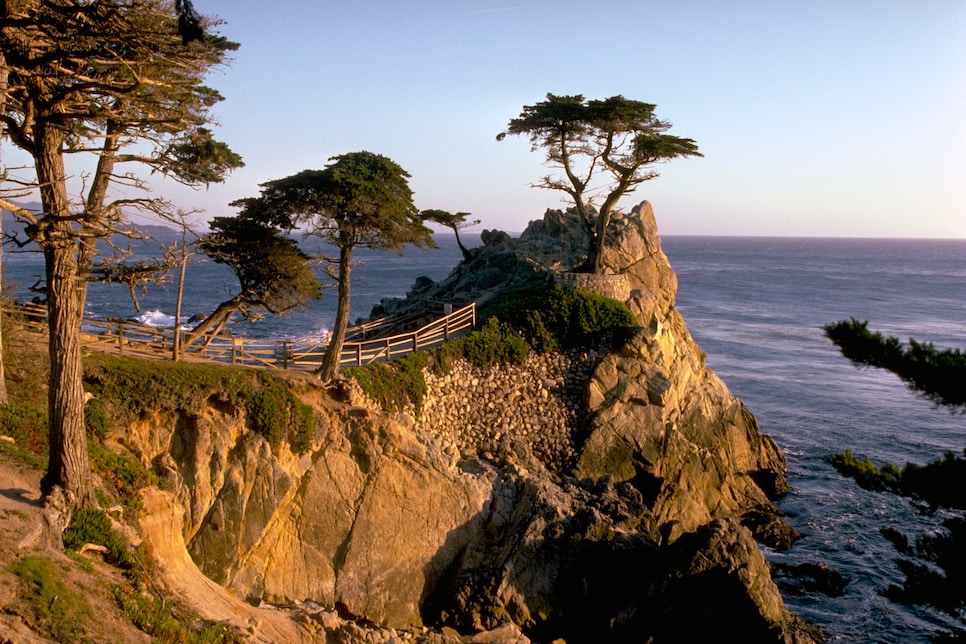 The image is an astounding demonstration of nature's power and serves as a stark reminder that there's no golf course on earth that can't be wiped from the proverbial chalkboard overnight. As if that weren't enough, flooding also completely devoured of portion of Monterey Peninsula's Country Club Dunes Course, as seen in these shocking images.
According to Monterey Peninsula general manager J.J. West, damage was mostly confined to Dunes Course's 14th hole, which will remain closed "a little while." Here's hoping that's the end of the destruction, both in Monterey Bay and beyond, this year. Unfortunately, with severe weather becoming more and more common across the planet, something tells us this is just the start.