News
U.S. Open 2020: Tiger Woods overmatched by Winged Foot in missing cut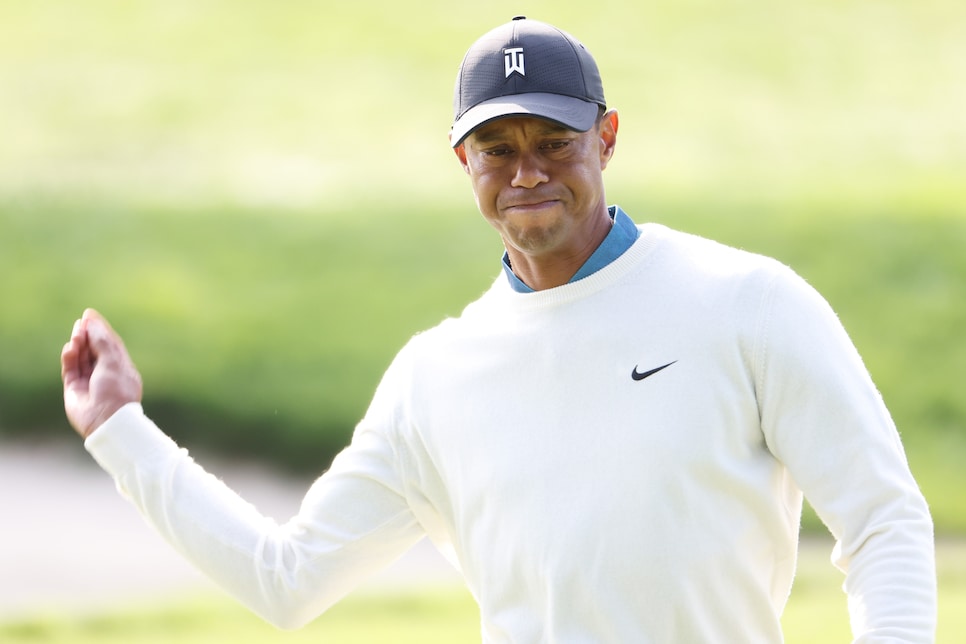 Tiger Woods tosses his gum in frustration on the 18th hole in the second round of the U.S. Open.
Jamie Squire
MAMARONECK, N.Y. — That ridge. That damned, beautiful ridge. It guards the front of Winged Foot's 18th green like a troll with a toothache. It wrecks rounds. Just ask Tiger Woods.
On Thursday, playing his last hole of the day, Woods' second shot came up just short of it. He flubbed his third, then made double. On Friday, playing his ninth hole of the day, Woods' second shot on 18 came up just short of it. He flubbed his third, then made double.
Any realistic shot Woods had of making the weekend at the U.S. Open died on that ridge. It was his second double in three holes, he made the turn in five-over 40 and he found himself in an impossible position: needing to make birdies on a golf course that wasn't giving any.
Woods wound up shooting seven-over 77, even after birdieing two of his last three holes. (Quit, he does not.) Woods has now missed the cut in three of his last four U.S. Open appearances and is now 0 for 2 in U.S. Opens at Winged Foot—it was here that he missed his first ever cut in a major as a professional, in his first start after the death of his father in 2006.
"It's frustrating that I'm not going to be here for the weekend and be able to compete for this great championship," Woods said. "It feels like the way the golf course is changing, is turning, that anybody who makes the cut has the opportunity to win. I didn't give myself that opportunity."
Woods was outside the top 70 after Thursday's 73 but had climbed more than 30 spots on the board before he teed off. That's the kind of day it was at Winged Foot—the average score was over 75 by day's end, and only three players broke par in the second round. Woods only needed to shoot 73 or lower to make the cut.
The start was solid enough. Woods got up-and-down from over the 10th green for par, then parred 11, then had a great look at birdie after a knockdown-draw from 175 yards to eight feet on the par-5 12th. On a day like today, those are the chances you have to take. When you stumble upon a birdie opportunity, you capitalize.
Woods did not. A misread led to a par. His first bogey of the day came after a foul ball left on 14, and the wheels began to squeak loose at 16, when he missed his approach short-side and left his third short of the green. Three more from there added up to a double-bogey 6, and all the sudden Woods' focus was squarely on the cut line.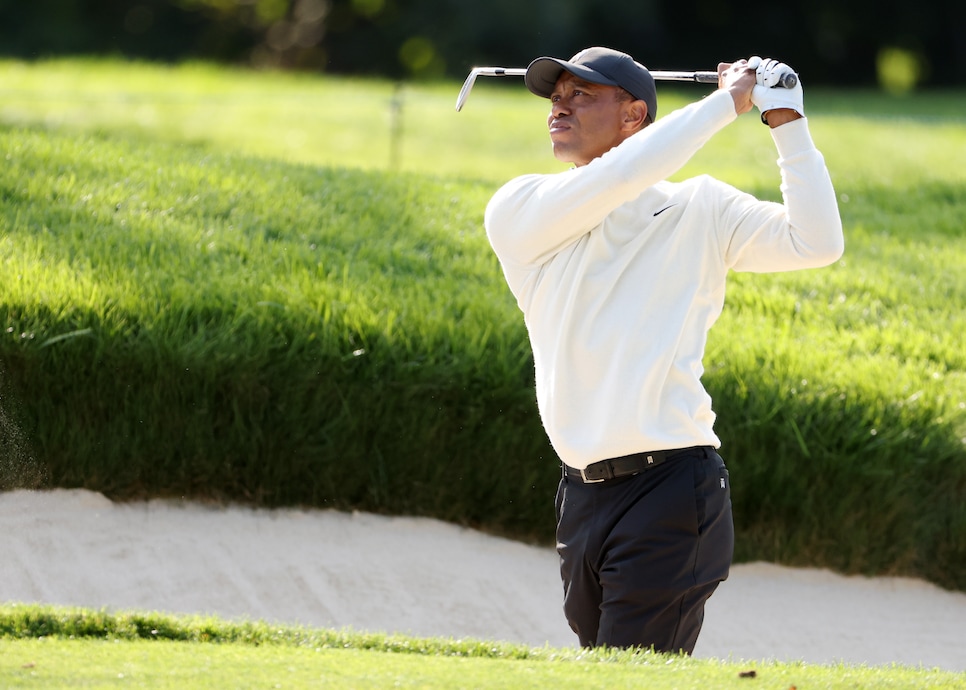 Tiger Woods plays a second shot from a bunker on the 18th hole during the second round of the U.S. Open.
Jamie Squire
Then came 18, and that ridge.
He made four bogeys in a five-hole stretch after the turn, as he continued to miss fairway after fairway, a non-starter at any U.S. Open, but particularly this one. He hit just five of 14 on Friday. And as the bogeys began flowing, any juice from the marquee pairing of Woods, Day 1 leader Justin Thomas and recent PGA Championship winner Collin Morikawa faded as the sun began to set. (Morikawa missed the cut, while Thomas gutted out a 73 to enter the weekend in a tie for third.)
"On this golf course, it's imperative that you hit fairways. And I did not do that," Woods said.
The final two birdies were virtually meaningless. If anything, a frustrating example of what could have been. In his five starts since the COVID hiatus, Woods has shown flashes of his form from late 2019, when he was on the short list for best player in the world. But he's struggling mightily to sustain momentum, to grind out scores and avoid round-killing mistakes.
Where Woods will play in a tournament next remains a mystery. On Tuesday, he'll participate in the Payne's Valley Cup to debut his new golf course in Missouri. But after that? The Zozo Championship seems a logical choice—it's three weeks before the Masters, and it's at Sherwood Country Club in Southern California, where he used to hold his foundation's tournament and where he has won five times. For now, it's back home to see some smiling faces that make bad golf a bit more palatable.
"Now that I have kids, missing cuts has a different perspective to it," Woods said. "But still, the whole goal of entering an event is to win. And when I don't give myself that opportunity over the weekend, it doesn't feel good."