The Grind
Tiger Woods turns heads (and helicopters), Lydia Ko stuns an announcer on live TV and the worst golf honeymoon ever
Welcome to another edition of The Grind, where we could have used that local news helicopter that followed Tiger Woods during a practice round last week for the Royal Wedding of Dustin Johnson and Paulina Gretzky two weekends ago. Jeez, you would have expected more from the Tennessee affiliate stations. But seriously, kudos to Tulsa's KOTV for treating Tiger's scouting trip to Southern Hills with the proper respect it deserves. We got some great, EXCLUSIVE footage:
And Woods gave a great reaction to all the coverage when asked a few days later by poker player Phil Hellmuth at the annual Tiger Jam event in Las Vegas what was going on in Tulsa? "Not much."
Well, not much until Tiger comes back for the PGA Championship in a few weeks, that is. Then Tulsa is going to be the place to be! Until then, this is the place to get caught up on everything going on in the world of golf. Let's take a spin.
Jon Rahm: It's hard to call any PGA Tour event a must-win event, but that's how it felt for Rahm during the final round of the Mexico Open at Vidanta. The overall betting favorite led wire-to-wire, but really had to grind down the stretch to hold off Brandon Wu, Kurt Kitayama and Tony Finau for his first worldwide win since the U.S. Open last June. With all the great golf Rahm has played since that major victory, letting another tournament get away—especially against arguably the weakest field of the season—would have been tough. Instead, he got a special celebration with the fam: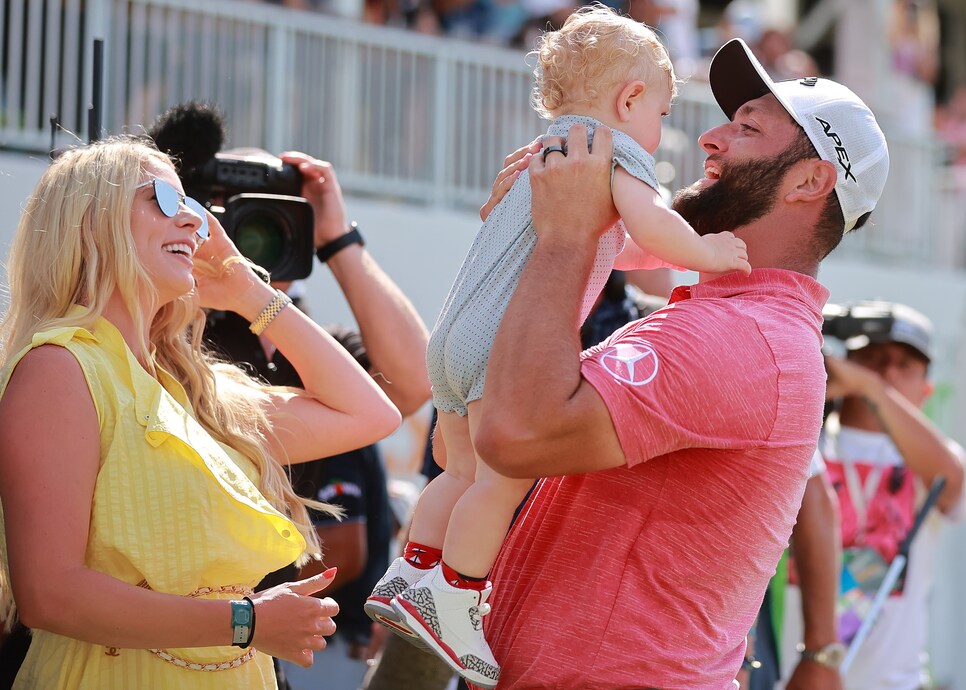 "It's a lot more fun and a lot more meaningful when they're there," Rahm said. "I'm sure it will be even more when he can get an idea of what's going on." So much PERSPECTIVE. And so much talent. If you think this guy won't be World No. 1 again at some point soon, you're crazy.
Marina Alex: Just defeating Jin Young Ko is a big deal these days, mostly because if you beat her, you're probably winning a tournament. Such was the case for Marina Alex at the LPGA's Palos Verdes Championship, where the New Jersey native's Sunday 66 gave her a one-shot victory and a celebratory shower:
"I wasn't sure if this would ever happen again if I'm being perfectly honest," said the 31-year-old Alex, who missed seven months in 2020 due to a back injury. "It's been tough. We're all getting older. I'm getting older. There are so many amazing players out here. The competition is really, really difficult." Turns out, you don't need to be a parent to display a wealth of perspective.
Willy Wilcox: First of all, congrats to one of our favorite guys in golf on getting sober. If you haven't read PGA Tour pro Mark Baldwin's story on Willy for the Firepit Collective, it's a must. But now congrats are in order for Wilcox rediscovering his golf game and picking up the first victory of his comeback by winning an Emerald Coast Golf Tour event by seven shots. Oh, and he made a walk-off ALBATROSS:
Kevin Na vs. Grayson Murray: Actually, we're selling the fact there weren't any cameras rolling—either from a chopper or on the ground—when they had their heated exchange on the driving range in Mexico last week:
That's the stuff of ratings gold!
Leaving stuff at a hotel: After missing the cut at the Korn Ferry Tour's Huntsville Championship, Tee-k Kelly shared his "worst bogey" (well said) of the season and I'm sure a lot of travelers can sympathize:
That's rough. Although it's not as rough as when I inexplicably forgot to pack an entire drawer containing my fantastic collection of basketball shorts when I came home from freshman year at college. And I never saw those sweet threads again. Sigh. That still crushes me. Anyway, Tee-k had a happy ending to this story:
Although that extra trip cost him time and a decent chunk of gas money.
Honeymooning in … Huntsville?: Yep, Huntsville. No disrespect to the Alabama city(?), but it's not where little girls dream of being swept off their feet. But Beccah Wallace found out that's life as a WAG in pro golf, as she and newlywed husband Shad Tuten went directly from their wedding in Aiken to the Korn Ferry Tour's Huntsville Championship:
You're a good sport, Beccah. Imagine if Dustin Johnson tried pulling that on Paulina Gretzky? And Shad turned in a decent performance with a T-35 that covered some of the wedding costs. Hopefully, he at least took Beccah out to dinner somewhere other than player dining.
The PGA Tour heads to Charlotte Washington D.C. for the Wells Fargo Championship, AKA that one they usually play at Quail Hollow, AKA that place where the final three holes are known as the GREEN MILE. TPC Potomac at Avenel Farm will play host this week as Quail Hollow gets prepped for the Presidents Cup in September. So you'll just have to wait a few more months to get your annual GREEN MILE content.
Random tournament fact: The last time TPC Potomac at Avenel Farm hosted the PGA Tour was the 2018 Quicken Loans National when Francesco Molinari won by eight shots. A few weeks later he won the Open Championship as well. Dude was balling.
RANDOM PROP BETS OF THE WEEK
—Someone will win by eight shots this year: 1,000-to-1 odds
—Francesco Molinari will win by eight shots this year: 1 MILLION-to-1 odds
—Kevin Na will not be sending Grayson Murray a Christmas card: LOCK
PHOTO OF THE WEEK (GROSS DIVISION)
Make sure you're not eating anything when you look at Bryson DeChambeau's hand post-surgery:
Get better soon, big guy.
PHOTO OF THE WEEK (PUZZLING DIVISION)
Introducing the artist formerly known as Jesper Parnevik:
The "I've been stranded on a deserted island for a decade" look is a pretty wild look—especially when you do it voluntarily.
VIRAL VIDEO OF THE WEEK (HONEST DIVISION)
Lydia Ko is a future hall-of-famer, but her response to a post-round question from Golf Channel's Jerry Foltz was an instant classic after she finished T-3 at the LPGA's Palos Verdes Championship:
Good for Ko for speaking out about something that isn't discussed much. We love her honesty. And judging by the reaction, so did just about everyone else. What a trailblazer.
VIRAL VIDEO OF THE WEEK (MUSIC DIVISION)
John Daly celebrated his 56th birthday by grabbing the mic—while grabbing a beer—and belting out his best-known original song, "Hit It Hard":
Good to see JD's pipes are still as strong as ever. And also good to see him stepping out of his comfort zone by getting away from his usual go-to live performance of "Knockin' on Heaven's Door." The man's got some range.
VIRAL VIDEO OF THE WEEK (ARCHIVE DIVISION)
How had we never seen this old video of a young Jim Nantz getting pulled into a jacuzzi full of Utah Jazz players?
What an amazing clip. And what an effort by Jim, who wound up working his current gig at CBS shortly after. Talk about going the extra mile for a story. Take notes, kids.
THIS WEEK IN PUBLIC DISPLAYS OF AFFECTION
Sergio Garcia, Angela Akins and Sergio Garcia's new cowboy boots and hat went to a George Strait concert:
Hey, it's a better look than that time he dressed like a banana playing with Tiger in the final group of the Open Championship. And it's obviously a better look than whatever Jesper Parnevik is going with these days. If the "Spanish Cowboy" hasn't been taken as a nickname, we'd like to file for it on Sergio's behalf.
"In the past we've given each other shit a little more during the rounds, but right now, at least on my part, I feel like I just want to get done with the 72nd hole and then give some shit, and luckily I'm going to be able to give some today." —Alvaro Ortiz after finishing birdie-birdie to beat older brother Carlos by one shot at the Mexico Open. Have a day, Alvaro. Have a day.
Remember a few weeks ago when I said that everyone I work with at Golf Digest will have a kid make a hole-in-one before I do? Well, I wasn't joking. Jay Coffin's 15-year-old son Brady became the latest:
Congrats, guys. … Speaking of kids, kudos to 16-year-old Anna Davis for making the cut in her first LPGA start. The recent Augusta Women's Amateur champ is the real deal. … Congrats also to Adri Arnaus for claiming his first DP World Tour title at the Catalunya Championship. Forget making an ace, Arnaus only needed to keep making pars—including five on the 18th hole—to win the six-hole playoff. … A 74-year-old is under arrest for attempted murder after shooting a 64-year-old man in the ankle and beating him with a golf club because he dared walk his dog on a golf course. Fortunately, the victim is going to be OK. And yes, this happened in Florida. … And, finally, happy 40th to my childhood buddy Alex Christon, who threw one heckuva a birthday bash and led a rousing rendition of "New York, New York":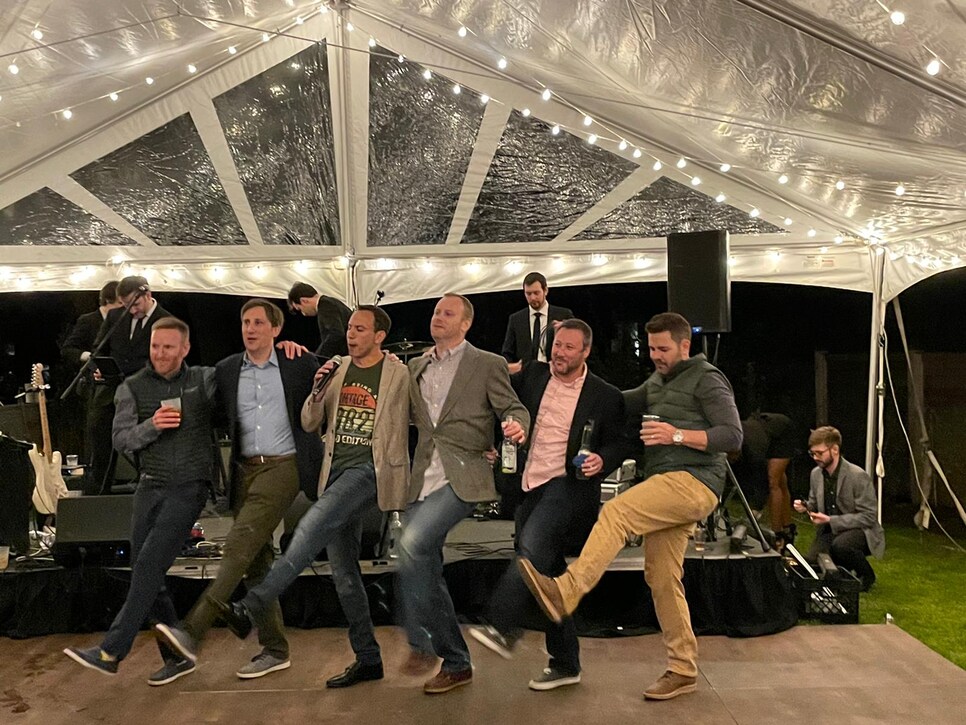 What a shindig. It was basically like going to a wedding. Good times.
RANDOM QUESTIONS TO PONDER
Should I have done more for my 40th?
What the heck is Jesper Parnevik doing?
Can someone send a chopper to the Brooks/Jena wedding?