LPGA Tour
Marina Alex's relationship with competitive golf got complicated. Now, she's an LPGA winner again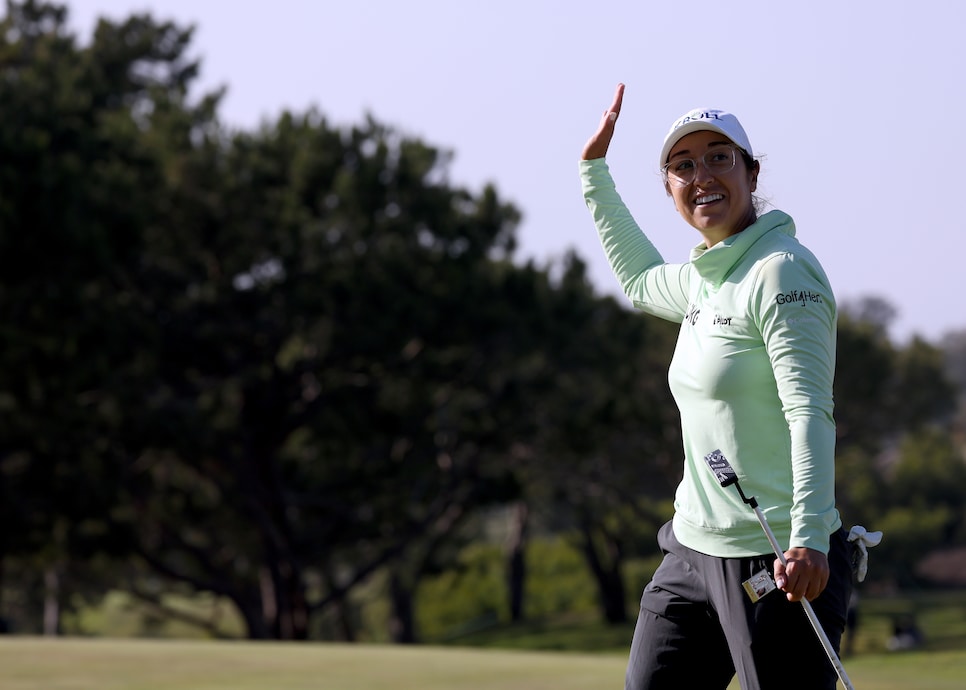 Marina Alex wasn't sure how much competitive golf she had left in her. The 31-year-old from New Jersey has been on the LPGA Tour since 2013. In 2018, she secured her first win. But on Sunday in Los Angeles, after enjoying a champagne celebration for winning the Palos Verdes Championship by a shot over World No. 1 Jin Young Ko, Alex admitted that a lot has changed since that first win nearly four years ago.
The COVID-19 pandemic made 2020 a difficult season for everyone. While waiting for tournaments to start up again, Alex's usual schedule of practice and conditioning changed. To fill her time, she added more workouts. When competition began again, her back wasn't right. She tried to play through it, but after the ANA Inspiration in September 2020, she knew she had to take some time away. Her plan was to get healthy for the U.S. Women's Open and the CME Group Tour Championship at the end of the year. But physical therapy and cortisone shots into her back weren't enough. She didn't return to competition until March 2021.
She's open about the struggle.
"If you had talked to me last year or the beginning of even this year, I didn't think it was even a remote possibility that I was going to win ever again," said Alex, who was three back at the start of the final round Sunday before shooting a closing five-under 66 to win with a 10-under 274 total. "I didn't know how much longer I really wanted to be golfing ever again."
Part of the issue was the geographic location of her coach. At the time she was working with Ian Triggs, who lives in Australia. With the travel restrictions put in place, she wasn't able to see him in person.
"You could only do so much with FaceTime," Alex said.
Her injury added to the stress. Though her back was feeling good enough to compete, the thought of hurting it again scared her.
"I was so nervous about re-injurying myself, and so I just really was very, very protective of my body last year," Alex said.
But outside of the mechanics of the swing and the physical realities of recovering from an injury, Alex felt a mental shift, too.
"My priority of being home and kind of just spending more time in one place and feeling a sense of community has been important to me. It's tough. Like the tour life takes you away from that, so I've had a lot of struggle I think internally with what I want, the direction I want to go, what my next steps are in my life," Alex said. "It's definitely made me a bit more realistic of my future. I went into this year and I was like, 'I don't know how many more years I'm going to play if I'm being perfectly honest.' "
Alex says that when she pictures a life after competitive golf, she sees herself advocating for the women's game. She wants to be involved in events, to try to get more attention on women's golf. She wants to see tournaments where men and women compete together.
Though she knows there's a life after competitive golf, she decided that as long as she chose to compete, she'd give it everything she had. She found a new coach stateside, Claude Harmon. Physically, she wasn't in pain anymore. That combined with working on some new things with her swing gave her energy.
"I felt really just like re-inspired I guess coming out here," Alex said. "It's just amazing, like the hard work has paid off. I wasn't sure if this would ever happen again if I'm being perfectly honest."
Alex's five-under 66 on Sunday at Palos Verdes Golf Club secured her second LPGA Tour win. And though it's been a difficult road getting here, those closest to her knew this is exactly where she wanted to be.
"It was a goal this year if I'm being honest," Alex said. "It was a goal amongst like my family and people close to me. I was like, I really want to win this year no matter what I decide to do with continuing to play or the rest of my career. I would love to be in contention and win another tournament."