Payday at Palos Verdes
Here's the prize money payout for each golfer at the 2022 Palos Verdes Championship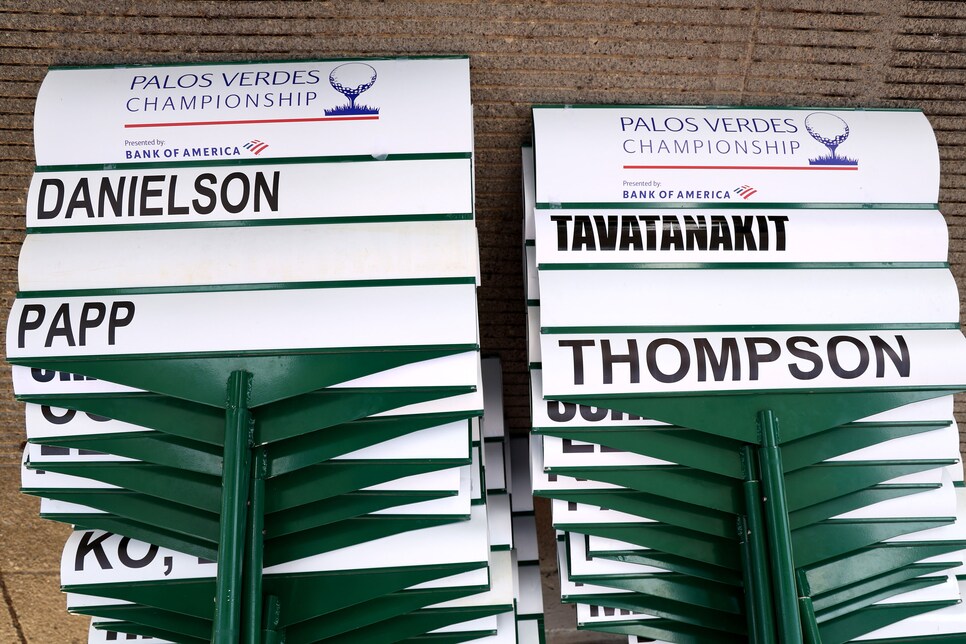 Scorer signs during the third round of the Palos Verdes Championship.
Harry How
Nearly four years and 63 starts since her first victory, Marina Alex can proudly call herself a two-time LPGA winner. The 31-year-old New Jersey native rallied from three off the lead at the start of the final round of the Palos Verdes Championship, shot a closing five-under 66 in the first-year event for a 10-under 274 total and did something she wasn't convinced she could.
"I wasn't sure if this would ever happen again if I'm being perfectly honest," said Alex of beating Jin Young Ko by one shot and holding off Lydia Ko and Megan Khang by two. "It's been tough. We're all getting older, I'm getting older. There are so many young amazing players out here. The competition is really, really difficult. I just didn't know if my mind and my body were going to put me back in a position where I was going to be able to do it again. And today was the day."
Injuries and the COVID break became particular stumbling blocks for Alex, who said she hadn't felt completely healthy until the start of the 2022 season. Since winning the 2018 Cambia Portland Classic, Alex has posted 12 top-10 finishes in those 63 starts, with one runner-up to show for it.
With the victory, Alex earned a first-place prize money payout of $225,000 from an overall purse of $1.5 million. Here are the prize money payouts for everyone who made the cut this week at Palos Verdes.
Win: Marina Alex, -10, $225,000
2: Jin Young Ko, -9, $139,217
T-3: Megan Khang, -8, $89,559
T-3: Lydia Ko, -8, $89,559
T-5: Ryann O'Toole, -7, $48,781
T-5: Andrea Lee, -7, $48,781
T-5: Annie Park, -7, $48,781
T-5: Hannah Green, -7, $48,781
T-9: Ashleigh Buhai, -6, $30,012
T-9: Madelene Sagstrom, -6, $30,012
T-9: Jasmine Suwannapura, -6, $30,012
T-9: Albane Valenzuela, -6, $30,012
T-13: Atthaya Thitikul, -5, $23,526
T-13: Lexi Thompson, -5, $23,526
T-13: Minjee Lee, -5, $23,526
T-16: Xiyu Janet Lin, -4, $19,055
T-16: Jennifer Kupcho, -4, $19,055
T-16: Agathe Laisne, -4, $19,055
T-16: Allisen Corpuz, -4, $19,055
T-16: Inbee Park, -4, $19,055
T-21: Yaeeun Hong, -3, $15,717
T-21: Chella Choi, -3, $15,717
T-21: Alana Uriell, -3, $15,717
T-21: Hye-Jin Choi, -3, $15,717
T-21: Gemma Dryburgh, -3, $15,717
T-26: Ruoning Yin, -2, $12,489
T-26: Patty Tavatanakit, -2, $12,489
T-26: Emma Talley, -2, $12,489
T-26: Ally Ewing, -2, $12,489
T-26: Nanna Koerstz Madsen, -2, $12,489
T-26: Sarah Kemp, -2, $12,489
T-26: Stephanie Meadow, -2, $12,489
T-33: Amanda Doherty, -1, $9,578
T-33: Celine Boutier, -1, $9,578
T-33: Sarah Jane Smith #, -1, $9,578
T-33: Cheyenne Knight, -1, $9,578
T-33: Mina Harigae, -1, $9,578
T-33: Maude-Aimee Leblanc, -1, $9,578
T-39: So Yeon Ryu, E, $6,936
T-39: Wei-Ling Hsu, E, $6,936
T-39: Katherine Kirk, E, $6,936
T-39: Sarah Schmelzel, E, $6,936
T-39: Ruixin Liu, E, $6,936
T-39: Robynn Ree, E, $6,936
T-39: Ana Belac, E, $6,936
T-39: Sophia Schubert, E, $6,936
T-39: Bronte Law, E, $6,936
T-39: Jennifer Chang, E, $6,936
T-49: Jodi Ewart Shadoff, +1, $4,809
T-49: Ayaka Furue, +1, $4,809
T-49: Amy Olson, +1, $4,809
T-49: Liz Nagel, +1, $4,809
T-49: Paula Reto, +1, $4,809
T-49: Min Lee, +1, $4,809
T-49: Pauline Roussin-Bouchard, +1, $4,809
T-49: Haeji Kang, +1, $4,809
T-49: Maria Fassi, +1, $4,809
T-49: Kelly Tan, +1, $4,809
T-59: Charlotte Thomas, +2, $3,837
T-59: Hee Young Park, +2, $3,837
T-59: Wichanee Meechai, +2, $3,837
T-62: Eun-Hee Ji, +3, $3,582
T-62: Kaitlyn Papp, +3, $3,582
T-65: Charley Hull, +4, $3,392
T-65: Pernilla Lindberg, +4, $3,392
T-67: Sanna Nuutinen, +5, $3,201
T-67: Frida Kinhult, +5, $3,201
T-67: Moriya Jutanugarn, +5, $3,201
70: Anna Davis , +7, Amateur
71: Casey Danielson, +8, $3,049
72: Katherine Perry-Hamski, +9, $3,011