The Grind
Dustin Johnson and Paulina Gretzky (finally!) get married, Jena Sims' epic bachelorette trip and the PGA Tour's feel-good-story of the year
Welcome to another edition of The Grind, where we can't believe it finally happened. After nearly a decade in the making, the Royal Wedding between Dustin Johnson and Paulina Gretzky took place—and it was spectacular. Well, it looked spectacular, at least. Apparently, my invite got lost in the mail.
Seriously, you guys, who has given you more (positive) press since you got engaged way back in 2013? Heck, that's even the year I started writing The Grind. Coincidence? Probably, but this couple has certainly been an integral part with their elaborate Halloween costumes, R-rated Instagram messages and boat dancing. I've chronicled (nearly) your every move (that's a lot of painstaking research) from Ryder Cup galas to Paulina making WAG history at the 2020 Masters. What a fun ride it's been, and I couldn't be happier for you two tying the knot. Just one request: Please don't get boring like most married couples (looking at you Scottie Scheffler). Keep that content coming. OK, here's what else was going on during an eventful week in golf.
Patrick Cantlay/Xander Schauffele: The Collin Morikawa-Viktor Hovland pairing teed off as favorites to win the Zurich Classic, but these Cali kids were the clear pick due to their off-course chemistry that extends to their significant others: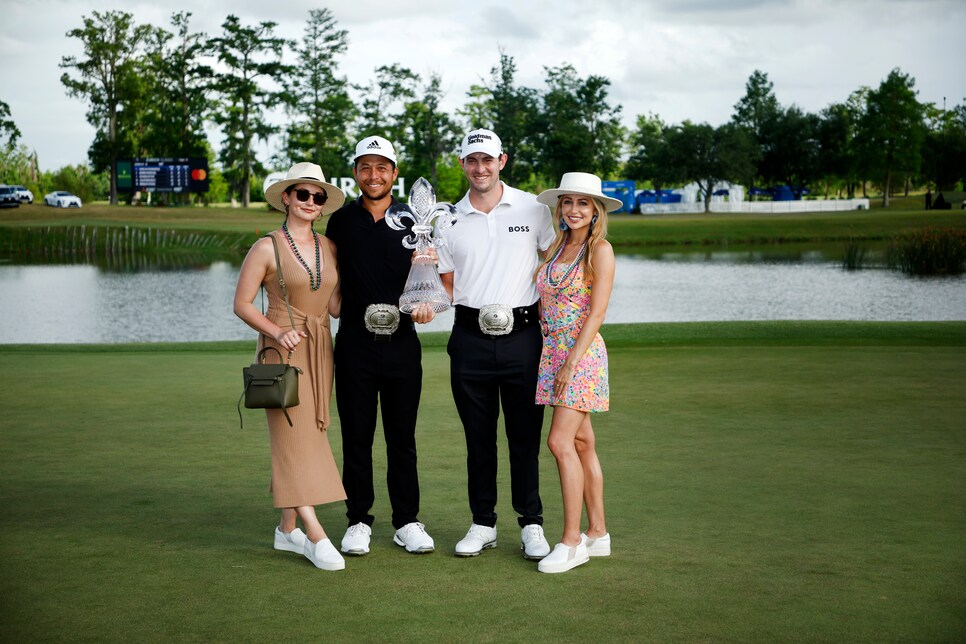 Oh, and Cantlay was on a sneaky heater coming off his second playoff loss of the season the week before. Does this guy ever miss a putt anymore? Everyone likes to poke fun of his shuffle-off-to-Buffalo routine on the greens, but you can't argue with success. Anyway, the pair broke a tournament record with an opening 59 and went wire-to-wire for the win at TPC Louisiana, displaying an uncanny level of team unity:
Yeah, these guys were locks.
Bill Haas/Jay Haas: But it was this Wake Forest duo (Go Deacs!) that became the feel-good story of the week year in New Orleans by making the cut despite having the longest odds in the field—and having the player longest in the tooth. Congrats to 68-year-old Jay for becoming the oldest player in PGA Tour history to make a cut. (Yes, Sam Snead fans, there's an asterisk because this was a team event, but let's just celebrate this cool moment.) It was the first time Jay has played the weekend on the PGA Tour in 16 years and it marked a 49-year span since making his first career cut. Amazing.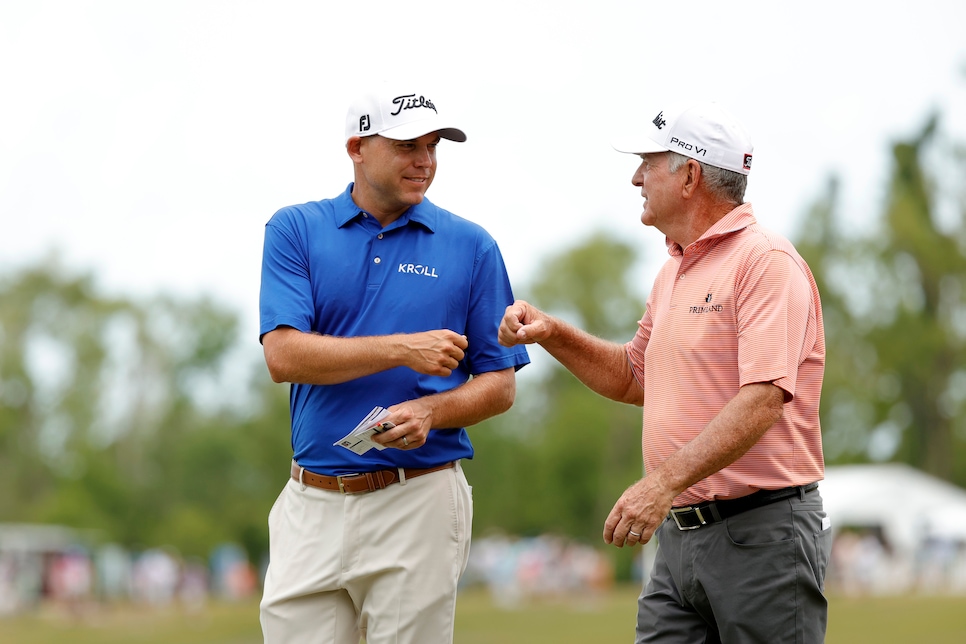 And my Wake Forest classmate deserves a nod as well for joining forces with his dad despite having limited exemptions. Put this performance with their 15 career combined PGA Tour wins and the time Bill won the Presidents Cup for Captain Jay in 2015, and Old Haas and Young Haas are the most legendary father-son combo in golf history outside of Old Tom and Young Tom Morris.
Nasa Hataoka: A week after missing the cut in Hawaii, the 23-year-old from Japan cruised to a five-shot win at the DIO Implant LA Open for her sixth career LPGA title. And she did it thanks to a Facetime lesson with her coach on the eve of the tournament.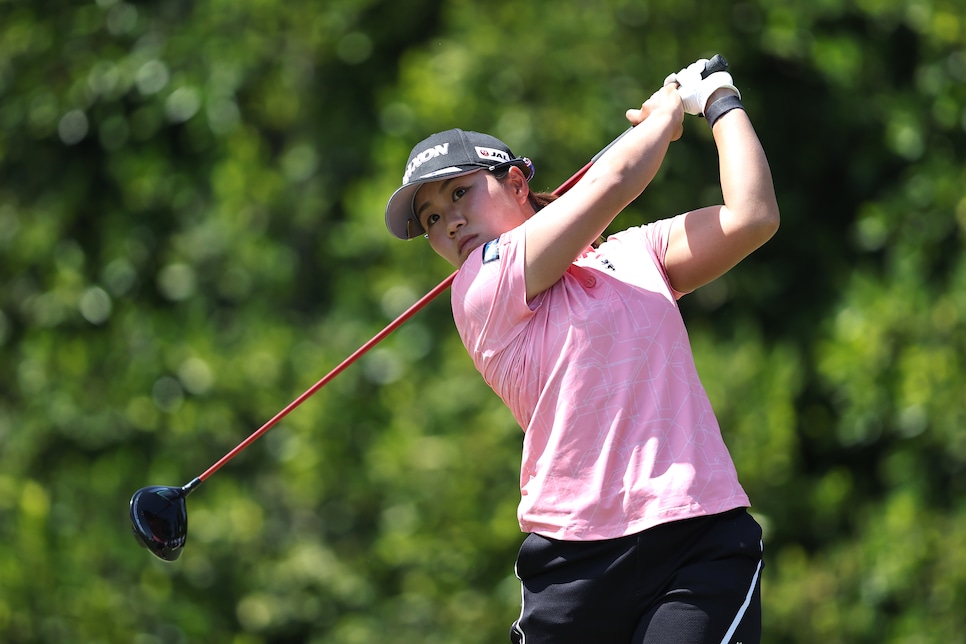 "I didn't play good last week," said Hataoka, who didn't reveal the name of her new swing coach. "I knew I had to make a change, so it wasn't hard to try something new [this week]." Well, whoever he/she is, they earned their money this week. Speaking of money …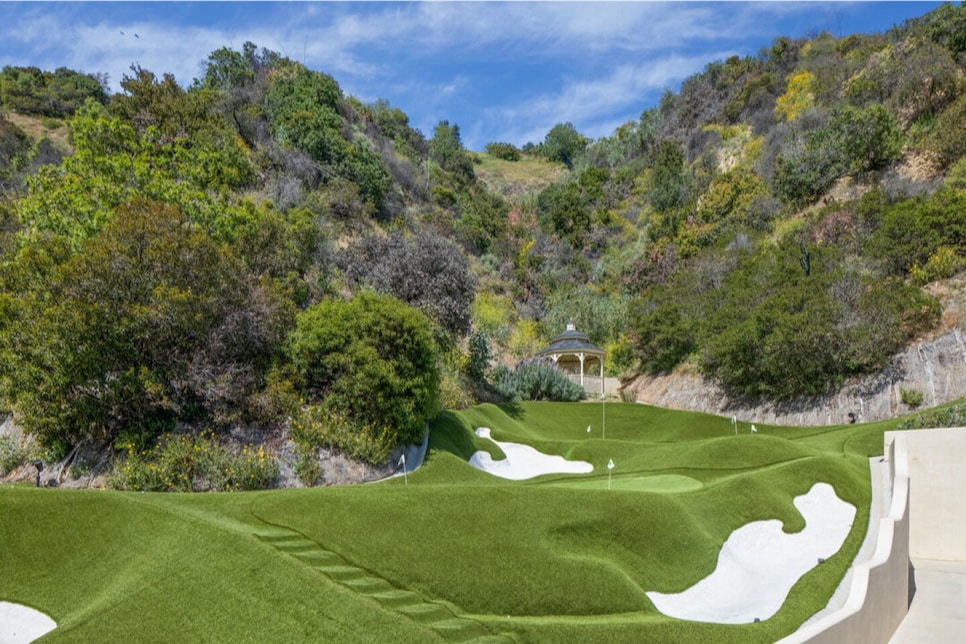 I should probably mention that you get the Hollywood star's ridiculous house as well.
Not too shabby. So what are you waiting for? Get those offers in!
Xander's streak: Look, I love Xander. During the 2021 Masters I even made him my first "new favorite player" in more than a decade. However, even I'd be lying by claiming his record isn't at least a bit troubling. Schauffele won for the first time on the PGA Tour in more than three years, but he still hasn't had a solo win in a tour event since the 2019 Sentry Tournament of Champions. And yes, I realize he won the Olympics during that time and had the low gross at the 2020 Tour Championship, but it's just not the same. Meanwhile he has eight runners-up in that span. And of his five career wins, four are limited-field or team events. Just saying. C'mon, Xander. Please win a full-field PGA Tour event by yourself soon. Or I'm going to feel really bad for jinxing you with that special status like I did for Anthony Kim and Andres Romero. Yeah, those were my last two "new favorite players." Yikes.
Branden Grace's bad break: It was a great week for Grace and fellow South African Garrick Higgo, but it certainly wasn't a great moment on Saturday when this tee shot managed to get lodged in the stump of a tree:
That's a penalty?! Why is there a tree stump just off the fairway?! Also, what are the odds a 280-yard shot would land right there? Golf! Anyway, kudos to Grace for still saving par. And the pair still managed a top-five finish.
Greg Norman's "big" announcement: Not that any of the Shark's big announcements have gone well for him lately, but this one was particularly embarrassing. The former World No. 1 proclaimed he wanted to play in this year's Open Championship (without trying to qualify) and the R&A promptly shot him down. Pretty embarrassing for the two-time Open champ.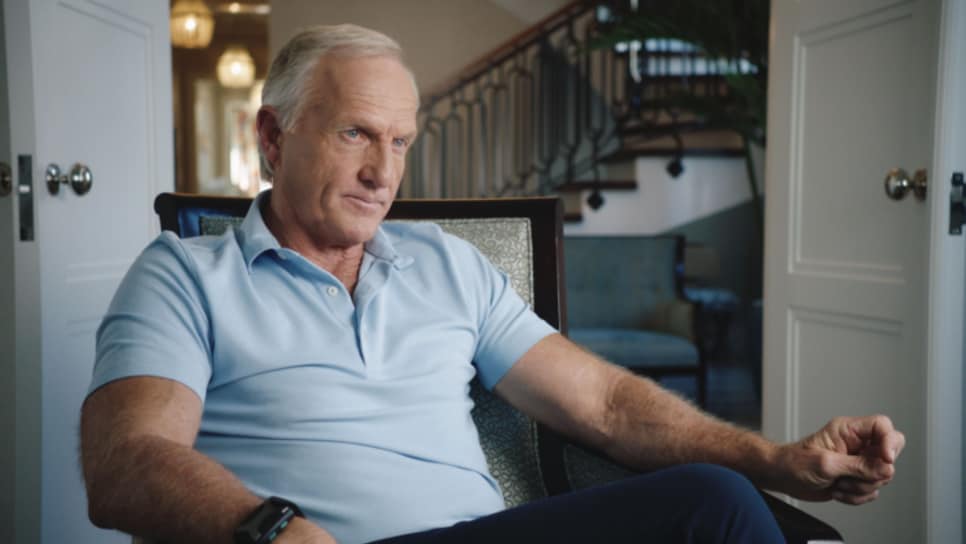 If you were going to say you want to play, wouldn't you think of at least running it by the people running the tournament? Then again, Norman probably isn't on speaking terms with any of golf's governing bodies these days.
The PGA Tour heads to Mexico for the (checks notes) Mexico Open at Vidanta, AKA (checks notes) that new event. Hey, Jon Rahm is in the field! And, well, that's about it. Let's just say this won't be pulling Masters TV ratings. Unless you're referring to the Nordea Masters.
Random tournament fact: Actually, the Mexico Open has plenty of history—just not as a PGA Tour event. It was first contested in 1944 at the Club de Golf Chapultepec (of WGC fame) and it has a storied list of winners from Lee Trevino to Billy Casper to … Jay Haas. Hey, let's let Jay play in this one, too!
RANDOM PROP BETS OF THE WEEK
—Jon Rahm will have a tee shot disappear into a tree stump: 1 MILLION-to-1 odds
—Dustin/Paulina will be doing more boat dancing on the honeymoon: LOCK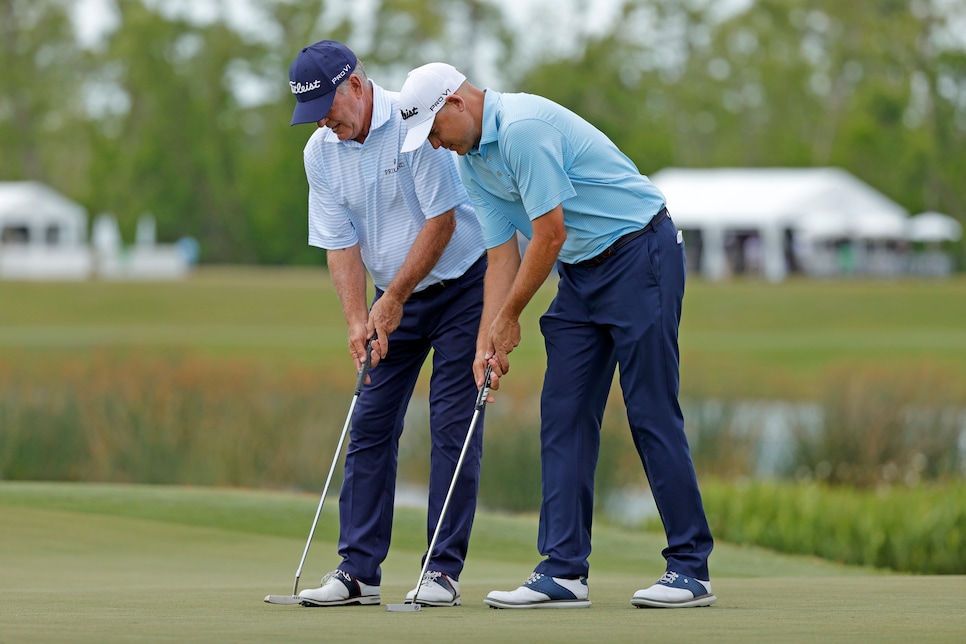 VIRAL VIDEO OF THE WEEK (IMPRESSIVE DIVISION)
Apparently, Bryson DeChambeau can still hit BOMBS with only one hand:
Move over single-plane swing and make way for the single-hand swing.
VIRAL VIDEO OF THE WEEK (IMPRESSIVE KIDS DIVISION)
This young student of George Gankas might have the best short game in the world:
I counted her holing six out of seven chip shots in that clip. Not putts, CHIPS. Even Jordan Spieth would be impressed.
VIRAL VIDEO OF THE WEEK (PAINFUL DIVISION)
Andrew "Beef" Johnston took quite a punch from British boxer Dillian Whyte!
Of course, Whyte went on to lose his heavyweight title bout to Tyson Fury. Maybe next time he should find a sparring partner who isn't a golfer.
THIS WEEK IN CELEBRITY GOLFERS
Shout-out to J.R. Smith for winning North Carolina A&T's Academic Athlete of the Year Award with a 4.0 GPA!
The guy used to really COOK on the court and now he's COOKING in the classroom. Love to see it. And love to hear this story from Simon Rex involving Larry David complaining about the price of a large bucket of range balls. Seriously, it couldn't be more on brand:
Please make that a scene in the next season of Curb Your Enthusiasm.
THIS WEEK IN PUBLIC DISPLAYS OF AFFECTION
More from the ROYAL WEDDING!
The lovely couple had their own personalized golf cart: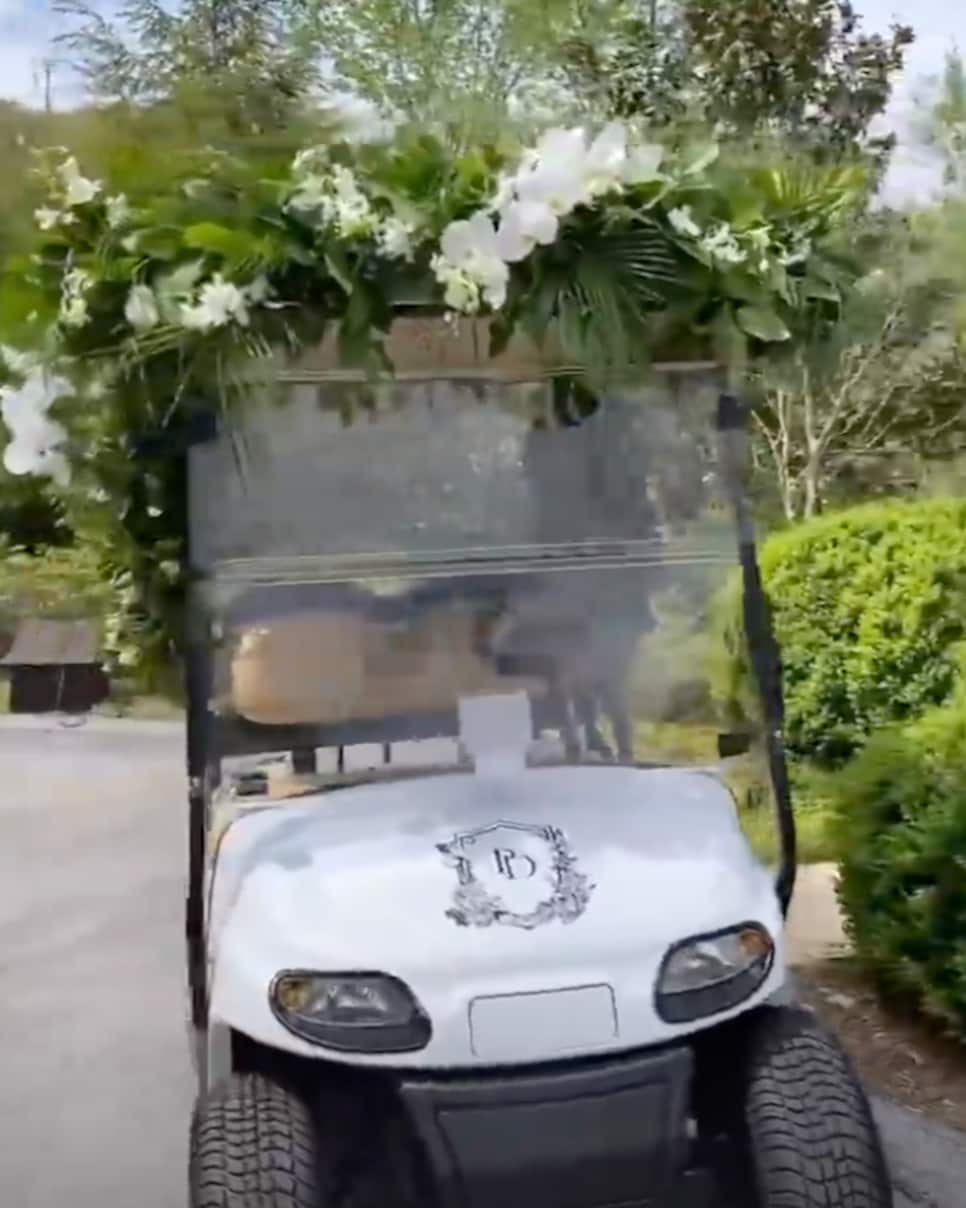 Paulina got this "personalized" note from DJ:
And here's the doting father of the bride:
Although, that also could be the face he made when Wayne was presented with the bill.
THIS WEEK IN PUBLIC DISPLAYS OF AFFECTION (NON-DJ/PAULINA DIVISION)
In what has to be the greatest weekend in WAG history, Brooks Koepka's fiancée, Jena Sims, also had her bachelorette party!
Great stuff, but for the purposes of The Grind, Paulina and Jena are supposed to space this stuff out! It's too much content!
"I believe in my ability as a diaper changer. I go for speed over quality. We get it on fast." —Jordan Spieth. "Speed over quality"? Suddenly, I'm just as anxious thinking about Spieth changing diapers as I am watching him attempt short putts.
Tiger Woods(!) and Phil Mickelson(!) have officially registered for next month's PGA Championship, which is great from a content standpoint. Especially now that the DJ/Paulina wedding and Jena bachelorette party have passed. … Congrats to Alex Fitzpatrick, who won his match on the 21st hole for the decisive point, and the Wake Forest men's golf team (Go Deacs!) for capturing their first ACC Championship since 1989. Matt's little bro is a stud. He's definitely the most clutch Alex to come out of Wake. … Shout-out to Brae Burn pro Dylan Newman on qualifying for his first PGA Championship. I covered Dylan when he was a high school freshman at New Rochelle and look at us now! Well, look at him, that is. … And finally, my oldest daughter is convinced that I went to the Masters to play in the tournament. And that I deserve Scottie Scheffler's green jacket:
To be fair, I think she's confused because my annual buddies trip has its own green jacket. Anyway, maybe this will guilt trip my friends into letting me win this year. It's been too long.
RANDOM QUESTIONS TO PONDER
How many golf writers would it take to buy Mark Wahlberg's house?
How much did the DJ/Paulina wedding cost?
How much will (gulp) my daughters' weddings cost?