Fire Pit Collective
'I was a drug addict with a PGA Tour card'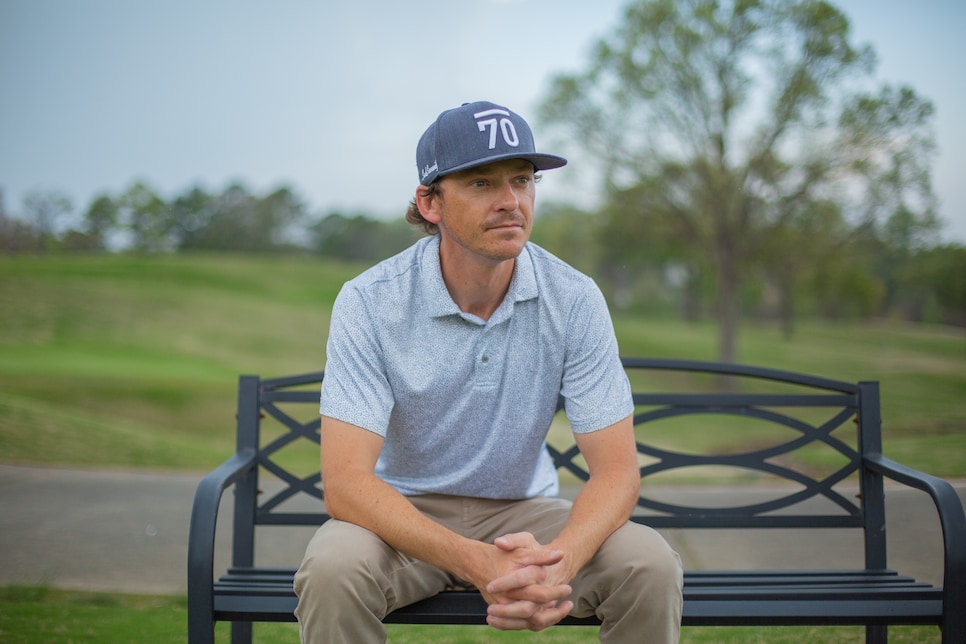 Before I met Willy Wilcox, I thought nothing was more addicting than hitting a perfect golf shot on the PGA Tour. But that was before Willy called me from a drug rehab center recently to reveal he had almost died. After that close call, he was finally ready to unburden himself of all of his secrets.
I had glimpses of the story I was about to hear. A dot here, a dot there, with the promise that when the dots were connected, the constellation formed would be dark and otherworldly. These pieces had been shared in passing during practice rounds. As someone who was trying to reach the PGA Tour, I was thrilled to play alongside Willy at Korn Ferry events. He had been to the promised land—a few successful seasons on the PGA Tour during which he was among the ball-striking leaders, contended for tournament titles, earned more than $2.5 million and made a hole-in-one at the iconic 17th hole at TPC Sawgrass during the Players Championship.
As the story went, a wrist injury and deteriorating play sent him back to the top minor league circuit, the Korn Ferry Tour, in 2018. In our first competitive round together, Willy hit a shot over the flag and into the top of a thick bush. He was riding the cut line with a few holes to play and no margin for error. With his ball wedged between the leaves of a heavy plant, at eye level and the target behind him, Willy aimed a lofted club to the sky and made a wristy, ascending bunt. The ball popped over his shoulder and onto the green within 12 feet of the hole. It was an impossible shot he made look routine.
Two holes later, Willy's tee shot sailed toward the Atlantic. His hopes of playing the weekend were about to vanish with his Srixon. Suddenly, his ball propelled out of the water as if thrown by Poseidon himself; it had caromed off a rock and bounced 30 yards back to the fairway. Willy capitalized on the luck, made the cut and shot 66 the following day. That was when I learned to never count out Willy.
We played together often after that round. With his thin frame and approachable demeanor, Willy is unassuming. His speedy swing reflects his hyperactive personality. He's quick-witted, smiles easily, asks thoughtful questions and often has a joke at the ready. Willy loves stand-up comedy and has an encyclopedic knowledge of Seinfeld. He speaks lovingly of his family—his "brilliant" older sister, his "saintly" mother and his "hard working" dad. Before the start of one Korn Ferry round, I was struggling with my swing. Willy approached my caddie and quietly suggested a simple swing fix. After my caddie passed the tip along, I didn't miss a shot for two rounds. There are other stories of generosity, as when Willy offered Lanto Griffin a place to live, a caddie job and financial help when the struggling pro needed it most. Lanto went on to win the PGA Tour's 2019 Houston Open and became a top-50 player in the world.
"My biggest memory of Will's golf is sitting there thinking this guy's gonna be on Ryder Cup teams," Lanto says. "This guy's gonna win majors. This guy's gonna win multiple times on the PGA Tour. He hits the middle of the face more than anyone I've ever seen."
In our practice rounds together, Willy occasionally mentioned that even those close to him knew few things about his story. Finally, in the summer of 2020, he was ready to open up. We sat on faded blue couches overlooking the parking lot of a Holiday Inn Express in a nowhere town on the Korn Ferry circuit. This would be the first of many deep conversations between us; he said that by sharing the details of his journey he hoped for catharsis but, more importantly, he eventually wanted to help others who were struggling. A bottle of red wine sat on the table between us. Even for a Tuesday night, it was quiet. The distant sound of vehicles echoed off a couple of strip malls. We nursed the wine from paper coffee cups as the sun went down.
"I still drink a bit," Willy said. "Nothing like I used to. I'll have five or six (beers) to take the edge off. I've been clean now for seven or eight months. Every now and then I'll smoke a little grass. The craziest thing is that's what got me suspended."
Willy fidgeted uncomfortably. He recalled how he finished seventh on the Korn Ferry Tour money list in 2013, achieving at the age of 27 his dream of earning a PGA Tour card, only to get suspended before the ensuing season had even started. Willy shook his head, took a sip and continued.
"It's just so crazy I lost the beginning of my rookie Tour season because I got caught doing things that are now legal and reasonably safe," he said. "I still can't believe it wasn't the other stuff."
"What other stuff exactly?" I asked.
"The pills," he replied. "Opioids. Oxycontin. Hydrocodone. Percocet. Muscle relaxants. Xanax. Heroin. I was a drug addict with a PGA Tour card."
Watch the below video, in which Wilcox describes his journey to the PGA Tour:
For Willy, the rushes of life on tour were a means to something cheaper. More accessible. More dangerous. Deft golf shots meant he could experience another kind of rush, sometimes in the heat of competition. Even as he became an elite PGA Tour player, he nosedived into the life of a severe drug addict.
He talked for a good three hours that night. The stories poured out of him as if their weight had been suffocating.
In reflection, Willy clearly saw the moments that should have led to a serious reevaluation or intervention. Despite not being sober during most of them, the moments stood out to Willy like a quadruple bogey on a scorecard full of birdies. But like someone who insists on hitting a driver on a dangerously narrow hole, he believed he could have it all. "Have your cake and eat it too," was a phrase he repeated on an endless loop of justification. You'd think when a card-carrying member of the PGA Tour landed in a heroin dealer's dilapidated hotel room on Christmas Day, he might have finally realized his cake was poisoned.
Willy grew up in Pell City, Ala., a blue-collar town 35 miles east of Birmingham. Willy's mom, Kim, was one of the best players on the high school boys' team. Kim accepted a scholarship to attend Auburn in 1977, and the Tigers qualified for the women's national tournament at the end of her junior year.
"Title IX was in '72, but it (benefits) didn't trickle down for a long time," Kim says. "We won a tournament in New Port Richey, Fla., and it was the biggest deal because we beat Georgia (a top team). We didn't even have matching uniforms!" She hoped to play on the LPGA Tour, but she got married, took a job and life got in the way. Kim's friend Chris Spivey, an Alabama Women's Amateur champion, helped Kim land the head pro job at Pine Harbor Country Club, where Willy learned the game. In the Deep South few women had leadership positions in the golf industry.
"Mom was a badass thriving in what was then a man's world," Willy says. "She was a feel player, and that's the way she taught me to play."
For his fifth birthday, Willy received his first set of clubs. She began taking him to work with her. "Hours are long in the golf business," Kim says. "We would get to the course at 6 in the morning. We were always on the putting green, or I would just let him hit balls at me on the driving range. It really helped him get his distances down."
When he was 9, Willy played in his first tournament. He was instantly hooked. "He crafted his own swing from a very young age," Kim says. "He always had great hand-eye coordination and was copying other people's swings."
"Mom and I spent a lot of time together," Willy says. "She was my mentor and is my best friend. She was the good cop in the disciplinary parenting duo."
Willy's father, Bill, was close with Willy's older sister, Sarah. Bill underwent a botched back fusion surgery in his early 20s that would require 16 more excruciating surgeries. Because of his physical limitations, Bill developed into a skilled handyman and worked at a printing press. Watching his Dad's struggle shaped Willy's early view of adulthood. What he saw was pain. It left Willy defiant.
"Dad tried to get his son interested in his handiwork and pass on his skills," Willy says. "Dad would say, 'Go get the Allen wrench.' I'd walk to the garage and stare at a tool box for 10 minutes trying to figure out what an Allen wrench was." For Willy, a purely struck driver was more intoxicating than a custom-built door.
Like most juniors who go on to play college golf, Willy spent long hours on the course with older kids. By the time he was 13, he was hanging out with 16- and 17-year-olds. Some were skilled players themselves and were often gambling, drinking or smoking pot on the course. Willy envied the way they played golf, but he also observed something else: pill-popping. When he inquired what the older boys were taking, he was told "birdie pills." A powerful cocktail of pain medication, the drugs of choice surfaced off the course as well. He never could have imagined he was taking the first steps down a path to destruction.
"First we are buying and selling these highly powered narcotics in the bathroom at school for a huge markup, and also doing quite a heavy dose of them per day," Willy says. "At the time, I'm becoming the second-highest ranked golf recruit for my graduating class of 2004. How I juggled all this shit, I'll never know."
Golf was his saving grace. "Of my friend group in high school, there were eight of us," he says. "Three are dead, three went to prison for five-to-10, one is a highly skilled engineer for Sherwin-Williams, and I made it to the PGA Tour. It was a mixed bag, and everyone did drugs as often as we could afford them."
Willy willed himself into being a strong junior golf prospect. He attended Alabama-Birmingham, where his mom had become the coach of the women's team. His college years were like a rollercoaster ride: a barrage of low scores, a litany of petty crimes and arrests, dismissal from the golf team and an effort to join the Navy upon leaving school.
After being given one last chance to play collegiately at Clayton State, a Division II school in Morrow, Ga., Willy was back with his hometown crew. "We bought a bag of cocaine," he says. "Almost immediately I knew something was very wrong. My heart was racing, and I was feeling sick. It felt like my heart was going to burst."
Willy had overdosed, and he was rushed to the emergency room. His heart rate was 222 beats per minute. "It was terrifying," Willy says. "The deep stabbing pain in my heart lasted for days."
It turns out the bag of cocaine had been laced with Comet. The brush with death at least taught him to steer clear of certain drugs. Part of surviving as a drug addict is predicting what the chemical cocktails will do to you. The other part is pure luck.
"That incident taught me I wasn't an 'upper' guy," Willy says. "Uppers are what we users call stimulants. Anything that gives you energy and alertness is an upper. My highs needed to come from 'downers,' or pills that had a sedative effect."
Possessing an addictive personality can be both a blessing and a curse. After Willy won the Alabama Amateur prior to the start of his senior year of college, he became a range rat. He practically lived on the practice tee. During one marathon stretch, he recalls hitting balls for six hours a day for 90 consecutive days. "The range became my office, my escape and my most healthy addiction," he says. "Entire days would disappear in the dirt, and I loved it."
This work ethic helped earn Willy All-America honors at Clayton State, and the only thing that kept his drug consumption in check was a lack of money. When Willy realized how much he could earn with his golf swing, the notion of reining in his addiction eroded. The mini tours with the largest purses traversed the Southeast, which meant Willy was never far from his drug connections and his hometown crew.
Willy was shooting low scores and cashing checks ranging from $3,000 to $9,000 in almost every tournament. He often got high during rounds, popping pills between shots. His important relationships—the ones with his family and friends—suffered. The increased access to drugs affected everyone in Willy's orbit, even if they didn't know the reason for it.
"I was Jekyll and Hyde, which made it difficult to hold down any relationships, romantic or otherwise," Willy says. "Most of my addict friends had screwed me over at some point. Some stole from me, threatened my life or left me in a life-threatening situation when I needed help. I was far from what you might think of as a good friend. Pills took priority over almost everyone and all my commitments."
Remarkably, Willy's golf game continued to improve, and with that came bigger checks. He gained status on the Korn Ferry Tour (then Nationwide Tour) in 2011 after Monday qualifying into an event and tying for third. And although he missed the cut, he qualified for the U.S. Open at Congressional. The following season, heroin began to dominate his life.
"I'd usually snort it," Willy says. "I shot heroin a few times. Every time I shot up, it scared the shit out of me. I was lucky nothing terrible happened. Shooting heroin was fatal for people I knew."
Yet he didn't stop. And while he acknowledged he was struggling, he didn't reveal what he was struggling with. By the end of the season, he was unrecognizable to himself as a golfer and a person.
"People asked, 'What the fuck is going on with you?'" he recalls. "I'd reply with some variation of, 'Golf is hard right now.' I can't imagine what the response would have been if I had described how much heroin I'd been snorting."
As the grip of heroin squeezed him, he needed to escape. He left Alabama. Left the Deep South. Left the world as he knew it. He hid away on St. Croix. He got clean, spending his days in the salt water, pouring himself into training and working out. He started smoking more weed to dull the craving for something harder.
Free of the addiction, Willy more than likely would have been sitting on a significant pile of cash. But he couldn't pay his bills. All the drug purchases and frivolous spending caught up to him. He turned to a golf sponsor to make ends meet.
"My sponsor never asked where I had sunk all my money," Willy says, "and I was lucky to have such unwavering support."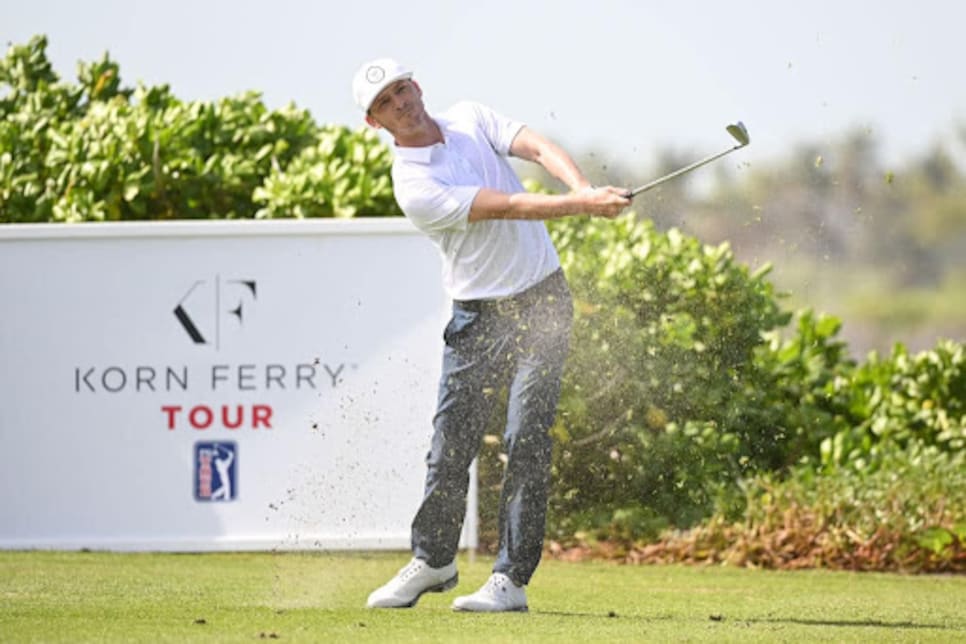 Wilcox at the 2020 Bahamas Great Exuma Classic.
This is an ongoing theme connecting troublesome moments in Willy's life: Because he was playing well, people gave him the benefit of the doubt. In the wake of Tiger Woods' struggles, Nike released an ad campaign with the slogan, "Winning takes care of everything." In Willy's case, winning only enabled him, prolonging an inevitable reckoning.
Willy had shaken the ghastly grip of heroin when he returned to competition in 2013. He was energized, tanned and rejuvenated. He calls that season "the best golf year of my life. I was smoking a lot of grass but working out constantly. I averaged 317 yards off the tee, and my body felt amazing. Weed helped me recover and helped balance my hyperactive personality."
With this fresh outlook, his confidence exploded. Willy won the 2013 South Georgia Classic on the Korn Ferry Tour by four shots, collecting $117,000 and locking up PGA Tour status for the following season. Andrew Loupe, a long-hitting All-American from LSU, played in the same group as Willy that Saturday, and the experience left a mark. "He was in the zone," Loupe says. "He holed a 5-iron on No. 11 or 12. Just hooped it. He kept making birdies and then won the tournament. That was when I was like, this guy can really hit it."
With their natural swings and roots in the Deep South, Loupe and Willy began playing practice rounds together. Loupe is thoughtful and perceptive and he sensed Willy's deeper issues. "I knew there was some sort of vulnerability even before I knew about the drug use," Loupe says. "It was such a blind confidence with golf. But he seemed volatile, even at the high points."
Later that season, Willy shot a 59 in the final round of the Utah Championship. His increased weed consumption required constant water intake in case he was drug-tested during competition, the theory being the water would dilute the chemicals in his system so he could pass the test. He became complacent toward the end of the season and failed his second test of the year, leading to a suspension that meant five months away from competition.
"A little weed nearly cost me everything," he says. "Despite my drug tests coming back dirty for a litany of pain medication, that wasn't against the rules. The lesser of two evils had the career-ending potential."
The suspension left him reeling. He had just achieved the dream of earning a PGA Tour card, but now he was relegated to watching his fellow pros compete in the Fall Series without him. He was a finely tuned race car slapped with a boot. As part of the suspension, the PGA Tour required Willy to visit a doctor and attend eight counseling sessions. Despite that, Willy began to backslide into the throes of addiction.
"My game was sharp and trending," he says. "Now I had to keep my head down, avoid questions and stay out of the spotlight to keep from losing sponsors and support. The problem was that without tournaments to keep me somewhat focused, the shock of the suspension sent me spiraling."
That's when Willy called Lanto, who was grinding on the mini tours. When Lanto graduated from VCU in 2010, he was paired with Willy in his first start as a professional. Willy knew Lanto had a dedicated work ethic and was laser-focused on advancing to the next level of professional golf. "He said I'll give you a deal to live with me if you can just keep me out of trouble," Lanto recalls.
Lanto had played with Willy on the mini tours, and he admired Willy's ball-striking ability. Willy had dominated the Hooters Tour in Lanto's first year as a professional. "The sound that his irons made," Lanto says. "He was such a straight driver of the ball. He flushed it. He was basically a PGA Tour player playing on the mini tours."
Professional golf had been hard on Lanto. He had been living with his mother and begun amassing credit card debt from all of his tournament and travel expenses. A free place to live and the opportunity to practice with a PGA Tour player were too good to pass up.
"I knew he had problems," Lanto says. "But I was so naive to drugs. I had never taken anything. When he asked me to live with him to get clean, I thought it was weed." Even after living and practicing with Willy for months, Lanto was unaware of the full extent of Willy's struggles.
"We never really went to dinner," Lanto says. "Willy was never into going to bars or clubs. I just remember him being sleepy all the time. He seemed low on confidence. He'd just go to bed, and I would be left by myself."
For professional golfers, the PGA Tour is Carnegie Hall. The courses are pristine, the perks and amenities unparalleled, the competition unrivaled. Yet when he returned, Willy felt embarrassed. He hadn't shared the news of his suspension with many people, but he sensed that everyone knew. Part of his discomfort was from wondering what sponsors and fellow players might think about him, but to a larger degree, he felt burning shame. Shame he had been suspended. Shame he was an addict. Shame he had to lie repeatedly. Shame he was nearly alone in this struggle. Those feelings would only intensify.
Willy had been away from PGA Tour competition for months. He had missed the Fall Series, a crucial stretch of tournaments for a recent Korn Ferry Tour graduate looking to advance his career. If Willy hoped to qualify for enough tournaments in his first season to retain his PGA Tour card, he would need extraordinary play. He delivered. At the Sony Open in Hawaii in January 2014, he played his way into the last group on Sunday after shooting 69-66-64. He tied for eighth with a final-round 71 and earned $119,000.
Lanto watched his roommate play on TV with great excitement. "If you can take months off for being suspended and go play on the PGA Tour and play in the final group on Sunday," he says, "it shows you the amount of talent he had." Willy was back on Tour with a fresh infusion of cash in his bank account. He was also largely left to his own devices.
The addiction raged. His battle with drugs, and especially heroin, led to mental and physical breakdowns before tournaments. "I snorted a shag bag full of heroin during that time," he says. During some tournament weeks Willy battled heroin withdrawal. Knowing the severe potential cost of another positive drug test, he tried to wean himself off during tournament weeks.
According to Willy, the first day off of heroin isn't terrible, but the second day is hell. It brings a dark depression and excruciating pain. His body would go into severe withdrawal, screaming for something, anything, to end the suffering. On days when colleagues were charting the tournament course and preparing, Willy couldn't get out of bed, laying in a river of sweaty torment.
"I'd cry. I couldn't sleep. I couldn't eat," he says. "My skin turned gray and looked like wet cardboard. My eyes swelled. I didn't think I was going to make it."
Early in the summer of 2014, Lanto was almost out of money and back living with his mother. He had missed six straight cuts on the eGolf Tour. With $176 in his account and contemplating a career outside of professional golf, Lanto caddied for Willy in The Greenbrier. For the first time, Willy told Lanto he had been abusing opioids, and Lanto witnessed up close what drug withdrawal looks like: the sickness, the shaking hands, the unsteadiness of it all. And yet somehow, almost inexplicably, Willy played nearly flawless golf and tied for fourth.
"Golf's hard enough when you're 100 percent," Lanto says. "I could see his hands shaking, and it was because he was trying to get clean. For four days, I didn't see him hit a bad shot. I couldn't fathom it." Willy earned $227,036 and cut Lanto a check for more than $17,000, the amount Willy would have paid a full-time caddie. Lanto never expected the level of generosity, and the money turned out to be career-changing. "I'm 100 percent convinced if I hadn't caddied for him, I wouldn't be where I am on the PGA Tour," says Lanto, who has since earned $6.4 million between the ropes. It also opened up the relationship and gave Willy a good friend he could confide in.
At the end of 2014, his first season on tour, Willy was playing the last regular-season event, the Wyndham Championship. He needed to finish 12th or better to keep his card. Early in the tournament his hands were calm. For the first couple of days, he took whale-sized doses of hydrocodone: 6,000 milligrams of acetaminophen per day (twice the daily recommended maximum). He was a ticking time bomb.
"My hands shook uncontrollably and I never regained control," says Willy, who somehow still finished 24th. It wasn't good enough to maintain full playing privileges.
The vicious cycle continued: He would swallow an excessive number of pills to numb the pain of addiction, which led to more pain, which led to more pain pills. Something in his lower back was producing waves of stabbing agony. His organs ached.
"I was buying 200 to 300 hydrocodones at a time," he says. "Friends were mailing them to me. I paid someone $1,500 to drive a stash to me at the last (Korn Ferry) Finals event. My body had taken me as far as it could, and I hit a wall."
At the end of the season, Willy went directly to a methadone clinic in Jupiter, Fla. It took 10 days of tapering off the drugs and bathing in salt water to get clean. He was in such poor shape that when he told a clinic worker he was a PGA Tour player, she couldn't help but chuckle. "Every golfer thinks they're a professional down here," Willy remembers her saying. As he sat wedged between two homeless people for treatment, he could hardly blame her. Most importantly, the toxins were leaving his body. So was the pain.
The tournament results began to improve. During 2014 and '15, Willy accumulated five top-10 finishes, including a solo second at the 2015 Barbasol Championship. For the first time in his career, he had qualified for the lucrative FedEx Cup playoffs. His 2014-15 season stats were impressive: eighth in scoring average, fourth in greens in regulation, eighth in strokes gained off the tee and second in sand saves. Willy was playing the best golf of his career when he arrived in New Jersey for the first playoff event, The Barclays.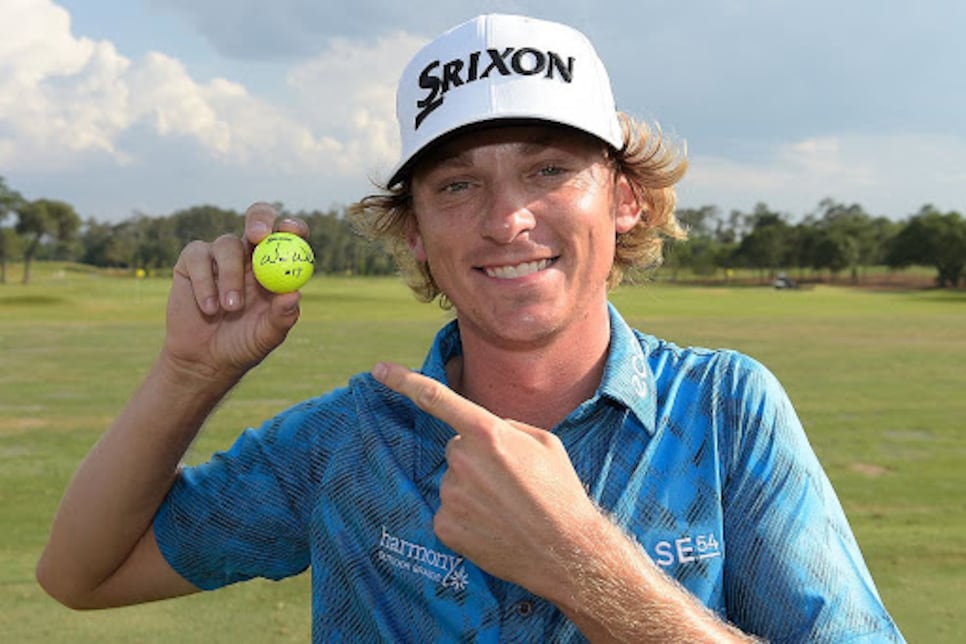 Willy with the ball he used to ace TPC Sawgrass's 17th hole during the 2016 Players.
He was two strokes off the lead after an opening-round 67 at the tricky Plainfield Country Club. But he struggled to maintain the momentum in the second round and missed the cut. The good news was that he had already accumulated enough points to advance to the next playoff event, the Deutsche Bank Championship. Given the importance of the following week and the relatively close proximity of the tournament at TPC Boston, most professional golfers would have found a place to stay locally to rest and prepare. Willy headed home. Again he was close to temptation. "All I had to do was not go to my buddy's apartment, get on a plane and go to Boston," Willy says. But he went to the apartment. Monday of tournament week went by in a haze of marijuana smoke and pills. He woke up Tuesday and repeated the drill. Willy was paired with Hunter Mahan and Davis Love III for the first two rounds at TPC Boston. He never made the trip.
"At that point you're 48 hours from a potential drug test and I've got all this money on the table," Willy says. "None of that would have been available if I had failed (the test)." He justified the WD to protect everyone who was relying on that income—not just himself, but his management team and family. Instead, Willy exaggerated the significance of a minor injury he'd been dealing with and his season was over.
He pocketed a $75,000 bonus for finishing 97th in the FedEx Cup standings, but who knows what happens had he teed it up at TPC Boston. Maybe he plays well enough to climb into the top 70 and earns a spot in the BMW Championship. Once there, maybe he plays his way into the Tour Championship, where he would have been guaranteed $175,000 and secured coveted exemptions to big-time tournaments for the following season.
"No one in the history of the PGA Tour has done anything that stupid," he says. "If I had played that second playoff event with how well I was playing, there's no telling where I could have ended up in 2016." After he withdrew, Willy immediately flew to the Caribbean and bought two cases of Dom Perignon. He spent the remainder of the playoffs feeding his drug addiction, which had returned with a vengeance.
When he returned for the Fall Series, Willy didn't miss a beat. He opened with a T-10 at the Frys.com Open, playing in the final group on Saturday. A few weeks later he came to the Sanderson Farms Championship in Jackson, Miss., with "a pocketful of Percocets," a powerful pain medication consisting of oxycodone and acetaminophen. Willy planned to make the cut and start popping the pills on the weekend.
He opened with a smooth 4-under 68 before torrential rains led to tedious delays. Willy waited anxiously on Friday for the rest of the field to complete the first round. During most of this time, he remained in the top 10 on the leaderboard, but the Percocets beckoned. "I was bored out of my mind and I was an idiot for having them on me knowing I had no self-control whatsoever," he says.
As the rains intensified so did the temptation. It was clear his second round wouldn't begin until Saturday afternoon. Willy grabbed the pills and began "gobbling them up." Then he did something unfathomable. With college friends nearby in Atlanta, Willy withdrew from the tournament and hit the road. By the time he arrived, his 4-under score was in a tie for 23rd.
Much of Willy's career is marked by juxtapositions: one minute achieving something most will only dream about, and the next doing something so desperately dangerous, so hopelessly reckless, it's unimaginable. This is the paradox of drug addiction: When you're high, you're numb. And when you're not, you agonize.
"I thought pain pills, or birdie pills, gave me strength and in the very short term, some excessively long drives confirmed this," Willy says. "For a time, the worse I treated my body, the better I played." There's the temporary pain of lipping out a three-footer, hooking a tee shot out of bounds or missing a couple of cuts in a row. Most golfers have felt that in some way. That's nothing like the deeper, lingering psychological pain that has tormented Willy for most of his life.
Loupe played alongside Willy during his first two seasons on the PGA Tour and the two had grown closer. Willy slowly opened up about his life off the course, to the point Loupe became concerned. "I would always check him," Loupe says. "I would always be honest. Tell him opioids are the worst one—you're playing with fire here."
Willy says the outgoing Loupe was the one person who could occasionally get through to him. "He could grab me by the shoulders and shake some sense into me," Willy says. But the addiction wouldn't allow him to accept Loupe's help often enough.
Willy inspired galleries with a flurry of late birdies at, of all places, the 2016 Waste Management Phoenix Open, the tournament known for its rollicking party atmosphere. He tied for sixth. A couple of months later, he hit the most memorable shot of his career—an ace at the 17th hole at TPC Sawgrass during the second round of the Players Championship, the Tour's flagship event. The hole-in-one was the first in 14 years at the island-green hole; it generated an electric celebration and came in front of family members who were in the gallery. Willy tossed his pitching wedge in the air and leaped into his caddie's arms and then around the tee box, delivering adrenaline-fueled high-fives. The Associated Press story described Willy as a "free spirit."
But his health and play deteriorated and worsened in the following seasons. At the end of the 2021 season, after losing his remaining playing privileges on the Korn Ferry Tour, Willy retired. At the age of 36.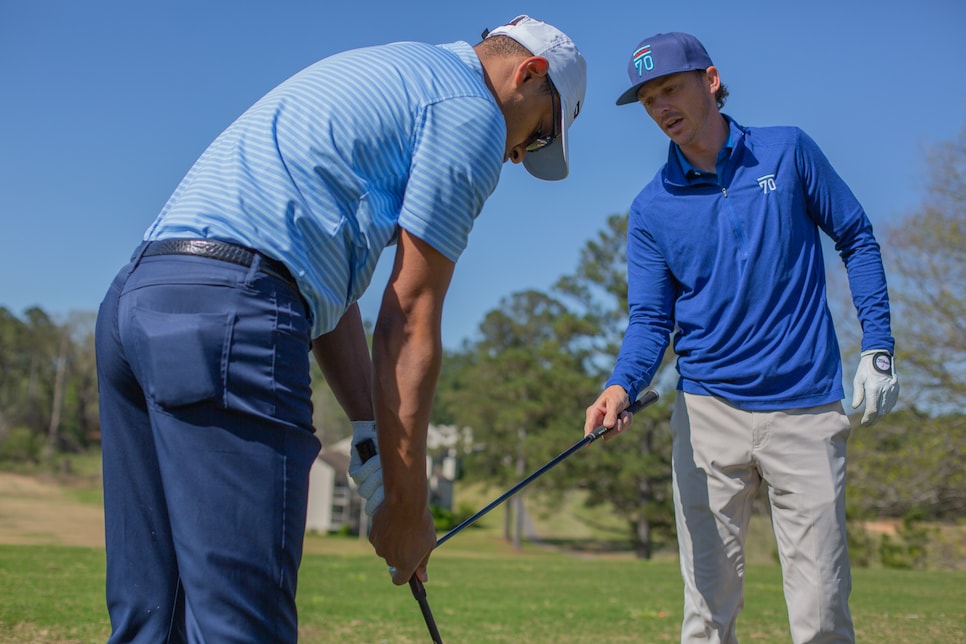 Wilcox has started giving lessons around Birmingham for $100 a session.
Without competition to prepare for, Willy backslid. Recently he had a brush with death, which caused him to realize that if he didn't get sober and stay clean, he wasn't going to survive. In February 2022, Willy's family and friends helped him find a treatment center. When he called me from the facility, he hadn't slept in days, hadn't eaten a meal in a week and said he had never felt worse. Willy isn't religious, but a voice in his head told him "it was now or never."
When he emerged after about a week in treatment, Willy looked like a younger man. He began tweeting about his struggles and says he feels reborn. He acknowledged it would not be an easy journey, but he had successfully completed the first step. It was a significant stride for a guy who for 20 years had been fighting his demons and lying to everyone, including himself, about his addiction. He has visions of making a comeback to professional golf, starting with some Monday qualifiers.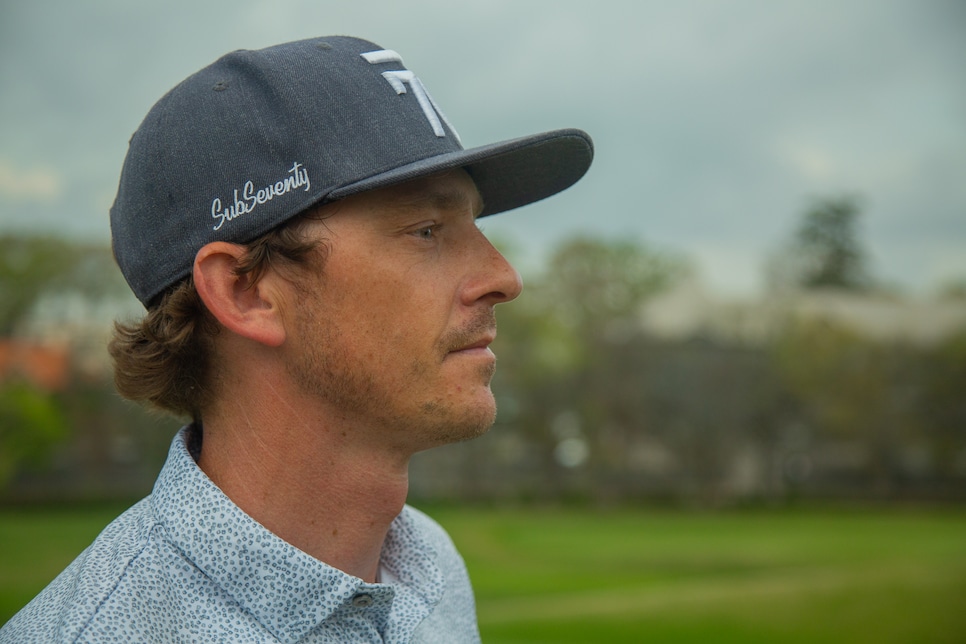 Twenty years of drug abuse has taken its toll, but Wilcox looks ahead to better times.
"I made millions of dollars playing on professional golf's biggest stage and blew a significant percentage of those winnings on drugs," Willy says. "All of these things happened without almost anyone knowing."
Willy hopes that by sharing his frightening ordeal—and his road to recovery—he will inspire others who are battling addiction. He hopes to become an advocate for those with substance-abuse issues.
But first he has to stay clean. If he can, those Monday qualifiers beckon. Maybe, finally, the thrill of a purely struck golf shot will be the only addiction Willy needs.