The Loop
A 1 and only moment for Will Wilcox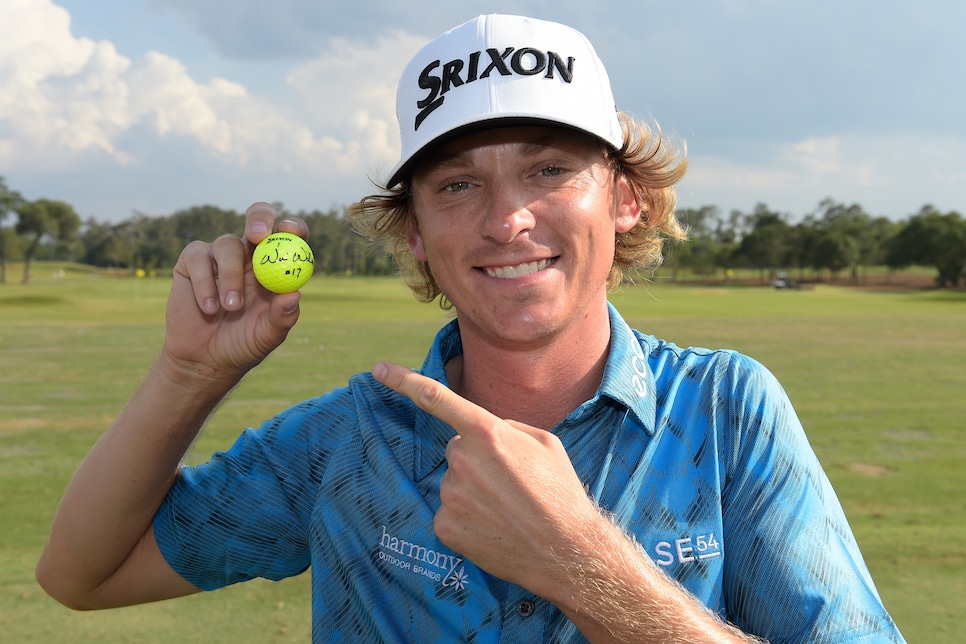 There was a time when Will Wilcox didn't think he'd live to see these days. Certainly not the type of day he experienced Friday at TPC Sawgrass, when his yellow golf ball disappeared on the fabled island green, and his hole-in-one went epically viral. "The reaction to that shot," Wilcox said on his Twitter feed, "was mind blowing."
The 29-year-old from Pell City, Ala., now in his third year on the PGA Tour, has known trouble. Wilcox's late teens and early 20s were dotted with DUIs and other alcohol-related problems. Because of his arrest record, he was rejected when he tried to enlist in the Navy in 2006.
"He just was kind of lost for a while," his mother, Kim, former executive director of the Birmingham Golf Association and coach of the women's golf program at University of Alabama-Birmingham, said on Saturday while walking through the gates of the Players. "As a mother you're worried about that kind of stuff, but he came through it. I told him it's all up to you. We can talk and send you places, but if you're not going to do it, it's not going to happen. He's definitely on the right path now."
Wilcox's wrong path a decade ago included being thrown off the men's team at UAB and getting kicked out of his parent's home. He slept on a cot in his sister's house in Auburn and worked at a pizzeria for $5.50 an hour. He pawned everything he owned except his golf clubs. The most he could get was $50, and that didn't seem worth it.
Around this time Barry Harwell, the coach at Clayton State in Georgia, gave him a break, and Wilcox responded. He won seven college tournaments, earned Division II All-American honors three times and also claimed the 2008 Alabama Amateur title. He turned pro in 2009, playing on mini-tours for more than he'd made rolling pizza dough, but for far less than the $2.35 million he has earned on the PGA Tour since January 2014.
What occurred on the 17th hole in Friday's second round was both priceless and surreal. "I didn't realize it was 6,300 shots since the last [hole-on-one]. That's pretty crazy" Kim Wilcox said. "One would think as a mother I would cry, but I was screaming. I was hugging this guy that I'd never met before."
Will is a lanky 6-foot-1, 150 pounds, with long blond hair coming out of his hat and probably the most unorthodox swing on tour. He plays with an open stance with the ball off his right foot and swings at it as hard as he can. Though he hit a perfect pitching wedge from 147 yards, Wilcox took heat on Twitter for his imperfect swing. He shot back, "If you don't want to watch it, watch some other sport."
In a sit-down interview with NBC's Steve Sands, Wilcox talked about "just trying to luck it up on the green." The ball came out with a little draw, and he thought, "Wow, it's right at it!" The series of double fist pumps reminded Kim of her son's reaction to his first win on the Hooters Tour.
Wilcox no longer seems like a lost child, even when he shot 82 on Saturday with a water-ball 5 at 17 and finished the tournament T-72, 22 strokes back of Jason Day. Wilcox knows that his celebration on Friday was about more than a single shot.
"It obviously affects people really positively," Wilcox said of the pandemonium he created. "The fact what I did can make that many people happy, then that's a good thing."