PGA Tour
Nothing came easy for Jon Rahm at the Mexico Open, which made winning that much sweeter
Let's not bury the lead here: Jon Rahm won the Mexico Open at Vidanta by staying "positive."
Read on for the details, but the crux of the story on Sunday can be neatly encapsulated by the fact that the occasionally volatile Spaniard—OK, it can be more than occasionally—didn't have his Mariano Rivera-level stuff in trying to close out his seventh career PGA Tour title, but he remained composed and departed Vallarta, Mexico, unscathed. A final-round two-under 69 proved just enough for a one-stroke victory.
"I've won in a few styles already, but this was a pretty stressful weekend all the way to the end," Rahm, 27, said after posting 17-under 267 and winning for the first time since the U.S. Open last June. "I stayed positive. I let my frustrations out a few times out there, but I always stay positive and I always stay hopeful.
"It wasn't my best putting weekend. It was great the first two days, but after that it wasn't great. But I stayed aggressive. … I was confident in what I was doing, and I had faith in every part of my game. And it showed."
Stay positive. Stay aggressive. Have faith. Check, check and check. Oh, and we're positive that a check for $1.314 million will be positively received by the soon-to-be father of two.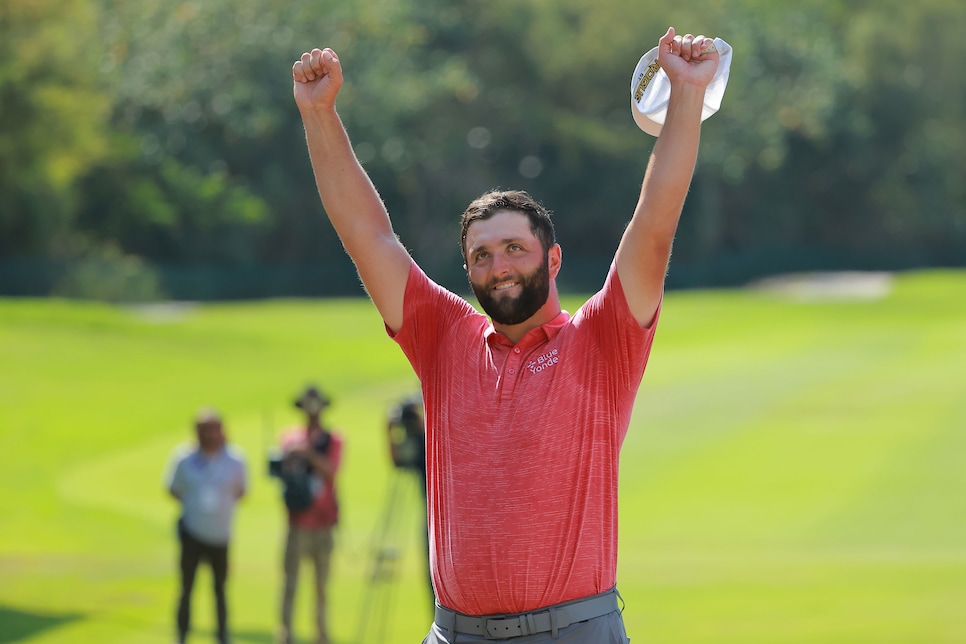 Rahm was the heavy favorite to win in Mexico, which brought its own unique pressure.
Hector Vivas
During the final round on a sunny and breezy afternoon, eagles and birdies were being found all over the Greg Norman-designed Vidanta Vallarta Golf Course, but Rahm traipsed around looking like the kid who got shut out at an Easter egg hunt.
Three players—Aaron Wise, Martin Trainer and David Lipsky—shot closing 64s. Tony Finau, without a top-10 since August when he won The Northern Trust, and rookie Brandon Wu did one better, each posting bogey-free 63s, a course record. They tied for second with another rookie Kurt Kitayama, who closed with a 68.
At one point, they all had a share of the lead at 16 under par with Rahm, who seemed more stressed than an accountant on tax day. That was mainly because, as he alluded to earlier, the putter that seemed to shake off an early-season cold snap (he ranked 132nd in strokes gained/putting on the PGA Tour coming into the week) returned to the deep freeze over the weekend. After a brilliant 64-66 start, the heavily favored World No. 2 converted just seven birdies over his final 36 holes. On Sunday, the field collectively registered 309 birdies; Rahm contributed just three.
"Thursday, Friday I played amazing, and I was in incredible control of my game. Seemed like really nothing could go wrong," said Rahm, who had a share of the first-round lead and then outright the rest of the tournament, including a two-stroke lead over Kitayama and Cameron Champ after 54 holes. "Yesterday, I played really good tee to green, just couldn't make the putts. Today felt good, but I just couldn't quite get started. And I had my chances, I had my putts, and I just didn't make them."
Fortunately, he banked one when he really needed it, sinking an 11-footer on the par-5 14th hole that broke the four-way tie. "The one that finally went in outside five feet on 14 was a huge booster," he said. Pars the rest of the way sealed the deal.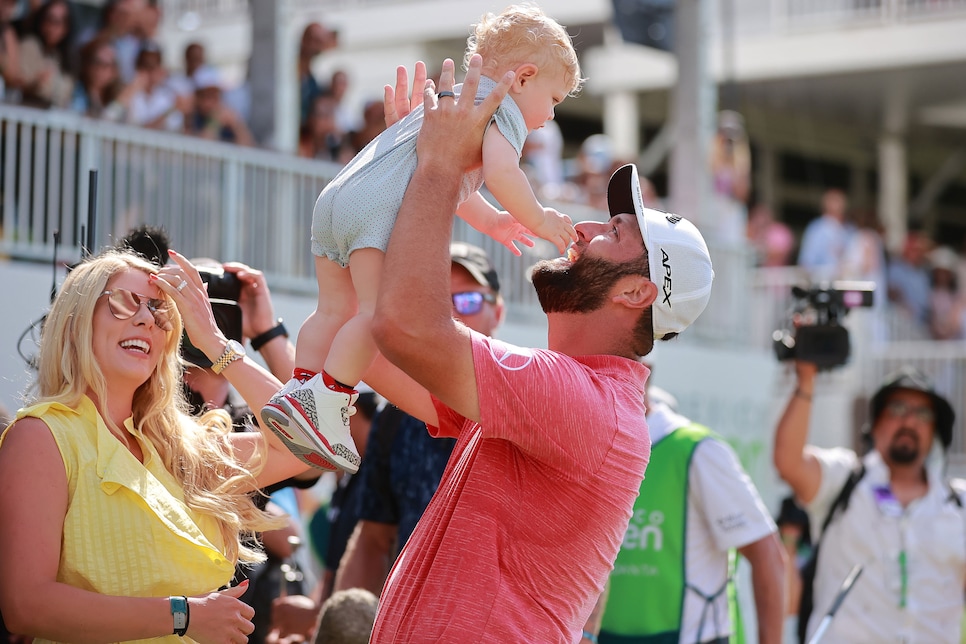 Rahm holds his son Kepa and celebrates with wife Kelly after closing out his win on Sunday.
Hector Vivas
Rahm probably was due for a win, and he sure looked beyond satisfied when he tapped in his two-inch par putt at the last, pumping his first emphatically and finally allowing himself to smile. Recall that he started the year shooting a 33-under 259 masterpiece at the Sentry Tournament of Champions, the lowest score in relation to par in PGA Tour history—except for the 258 Cameron Smith countered with to steal the victory. Rahm has finished 21st or better in all but two of his 10 starts this season. And let's not forget that he was an absolute beast for Europe in a losing effort in the Ryder Cup last fall.
Rahm might think he wins in "different styles," but if you put aside the clutch birdie putts on the final two holes of the U.S. Open at Torrey Pines, you know he won his first major the way he usually wins, and that is with a punishing, pugilistic tee-to-green arsenal. He arrived in Mexico ranked first on tour in strokes gained/off the tee and second tee-to-green, and, well, look here: he was second and third, respectively in those two categories at Vidanta.
Rahm said that he found something during a final-round 69 at the Masters paired with Tiger Woods. Frankly, he found himself.
"I think that Sunday with Tiger at Augusta gave me quite a bit of confidence," he said. "I was a little bit technical in my approach, a little too technical. I'm a feel player, and that Sunday I told myself just go out there and hit the golf ball, make shots, see the ball flight and execute and I shot a three under without having my best stuff on a tough day. So, I applied the same thing this week, minimal technical thoughts and just visualizing ball flight of the shot and getting back to my true self and I truly saw the difference.
"Sometimes we deviate from our path, but this time we didn't."
Neither did he deviate in his demeanor. Being the top-ranked player in the field didn't mean much to him because, he said, "I like to think every time I tee it up, I'm the favorite, because I play to win." So, yeah, he exudes an intensity on the course for which he will not apologize. But he'll tell you in the next breath that off the course he's just a big softie.
Like here, in this next breath.
"When it's go time, it's go time. When it's over, it's over," he said. "I've said it many times, I'm a very different person on and off the golf course, especially when I'm competing on a Sunday. That's a stressful part of the job. You'll see a much more serious face and a much more intense look outside. … This should be a difference, right, on and off the golf course? We're in there to do a job, it's a different mental state. I don't know how or why I switch it so quickly, but it's just how it's always been."
Not always. Not on this Sunday. His attitude helped carry him to victory. Absolutely. Positively.