British Open
British Open 2021: Sergio Garcia needed a police escort to make tee time Thursday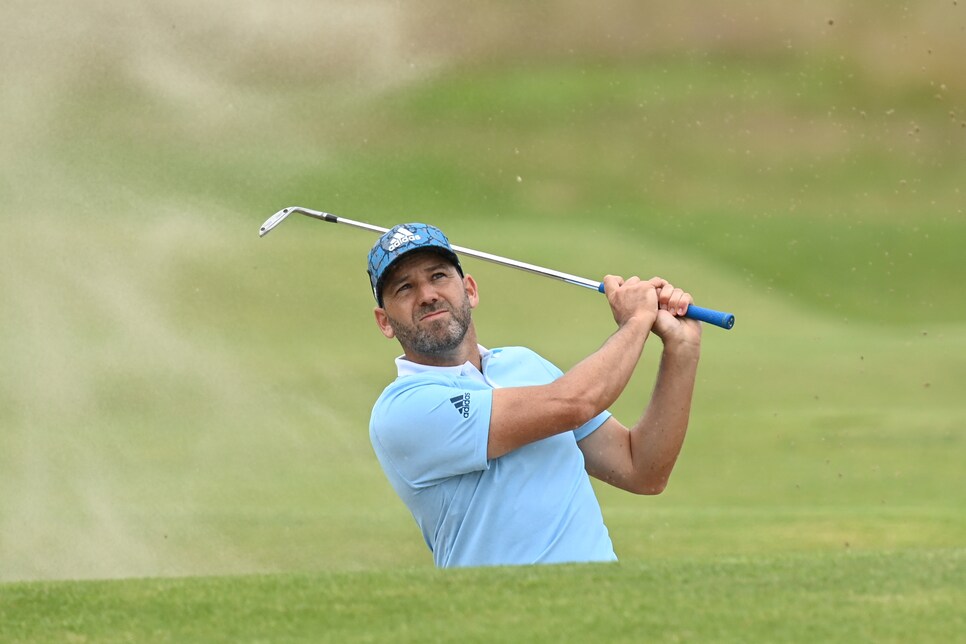 Spain's Sergio Garcia plays from a bunker on the 15th hole during his first round on day one of The 149th British Open.
GLYN KIRK
Sergio Garcia turned in a two-under 68 Thursday, a score that has him in good shape at the Open Championship. Of course, merely making it to Royal St. George's was somewhat of an accomplishment for Sergio.
Following Round 1, the former Masters champ said he was pleased with his performance given he darn-near missed his tee time.
"Very happy with it. Obviously very happy with the finish. Even happier after how the morning started, where because of terrible traffic coming in," Garcia explained, "even though I left the house with plenty of time, I needed a little bit of help from a couple very nice English policemen on the bikes to get me here with only about 35, 40 minutes to tee off."
Garcia explained that he usually arrives at a course 90 minutes prior to his tee time to allow for a full warm-up. Clearly the abridged time did not effect Sergio, as he made three birdies on the front. "I was able to do a very quick practice, very quick warmup, but it worked out okay because I played nicely," Garcia said.
As for what happened en route to the course, Garcia had no clue.
"I don't know, we just got stuck," Garcia said. "We couldn't move, and thankfully they helped us a little bit and got us here in time."
After a string of four missed cuts, Garica entered the week with three consecutive top-20 finishes. The Spaniard has 10 top-10s at the Open in his career, including a T-9 (2003) and T-10 (2011) at Royal St. George's, and Thursday's start gives him a chance to build off that success. "It's always nice," Garcia said about his opening round. "It doesn't mean that it's going to do—it's going to make or not your week, but obviously if you start nicely, it gives you a little bit more confidence. It gives you a little more—you relax a little bit more. I'm very excited about that."
And with a 3:32 p.m. tee time on Friday, he'll have plenty of time for a proper warm-up.