Betting Analysis
Sentry Tournament of Champions picks 2023: We're taking a gamble on Hideki Matsuyama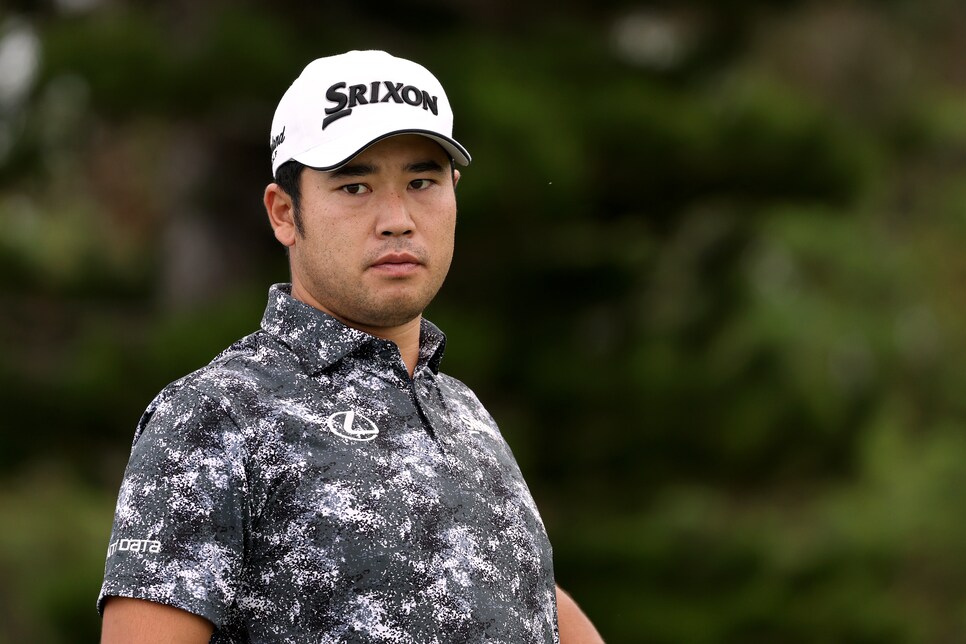 Folks, we're pleased to report that golf is BACK. As always, we begin the new year with the Sentry Tournament of Champions in Hawaii, which is now one of the PGA Tour's 17 elevated events, a series that includes the majors and the FedEx Cup Playoffs. Once a laidback start to the calendar year, the TOC is now officially serious business.
Speaking of business, we have some to conduct before we get to the picks. We're thrilled to welcome Andy Lack as the newest member of our expert panel. Andy is one of the sharpest minds in the gambling community, making what was already the best gambling column in golf that much better. Join us in welcoming Andy by tailing his picks this week (responsibly).
Another new edition to the column: The celebrity shot of the week, which you'll find right after our matchups section. The gist is simple: Each week, we'll crowdsource a pick from one of the many fine folks of the Golf Twitter gambling community, not only because many of you out there deserve some shine, but because you can never have too many winners. Let's have a year.
Scroll down to see who we like this week at the 2023 Sentry Tournament of Champions.
Sentry Tournament of Champions picks 2023: Our Experts' Outright Predictions
Anonymous Caddie Picker of the week: Patrick Cantlay (10-1, DraftKings) — Cantlay always gets overlooked among the elite players, but it's not a surprise oddsmakers have him as the third favorite at Kapalua. He's got the course history—two fourth-places in his past three appearances—and he's coming off a win at the BMW Championship and a second-place in Vegas in last two full-field starts. I could absolutely see his stellar second-shot game leading him to a victory here in Maui.
Pat Mayo, DraftKings/Fantasy National, Mayo Media Network analyst: Collin Morikawa (20-1, DraftKings) — Morikawa only managed three top 10s after leaving the California swing last year—the Masters, U.S. Open and St. Jude—three elite fields. And though he's never won at Kapalua, he's been uber consistent, with three appearances and three top-seven finishes. If he managed to improve his putting stroke over the break—even a little—he'll certainly be lingering Sunday with a chance to get back into the winner's circle. I'm expecting a YUGE bounce-back year in 2023, so why not start here?
Brandon Gdula, FanDuel/numberFire managing editor: Will Zalatoris (31-1, FanDuel) — Zalatoris has shown that he's a good wind player, and his putting is really coming around. However, the odds don't really reflect all of this, likely due to his back injury. The fact that he's in the field is enough for me to assume he's ready to go.
Rick Gehman, data scientist and RickRunGood.com founder: Viktor Hovland (18-1, DraftKings) — Technically we had an offseason, but you wouldn't know it from looking at Hovland's schedule. He played seven times in the fall, all across the globe. During that stretch, he piled up four top-10 finishes, including a victory at the Hero World Challenge in his most recent start. The large greens at the Plantation Course should provide Hovland plenty of opportunity to use his putter, which has been one of his biggest improvements over the past 12 months.
Stephen Hennessey, Golf Digest dep. managing editor: Xander Schauffele (10-1, Bet365, with the top-five each way) — It's a scary thing when CP and I are in agreement, so you probably want to run and hide from this bet. But Xander's course history and form in 2022 make this a no-brainer top-five each way outright to start the new year.
Christopher Powers, Golf Digest staff writer: Xander Schauffele (10-1, Bet365) — Tough to stomach this number but at least it's not single digits. Plus, I'd rather go single bullet on a quality player with immaculate course history like X this week rather than spread the capital on a bunch of outrights I'm not confident in. I know he hasn't played in awhile, but it's tough to ignore how red-hot he was between May and October, too. Expect him to pick up right where he left off at Kapalua, a place he's extremely comfortable at.
Andy Lack, RickRunGood.com and Inside Golf podcast: Justin Thomas (11-1, DraftKings) — I always have interest in Justin Thomas on any course that provides him with room to operate off-the-tee and places a greater emphasis on the second shot. Kapalua provides that in spades, and it should not come as a surprise that the 15-time PGA Tour winner has already recorded four top-fives and two wins at the Coore and Crenshaw track. Expect the reigning PGA Championship winner to kick off 2023 with a bang.
UPDATE: Per Mark Rolfing, Xander Schauffele withdrew from the Sentry Tournament of Champions Pro-Am, which has obviously led many to assume it's injury-related:
Of course, until we actually hear from Schauffele himself, there's no way of knowing if he's actually hurt or the extent of any injury. For now, he's expected to play.
Past results: Golf Digest's betting panel caught fire at the end of the summer, correctly predicting the winner in five of the final six events of the season. We cooled off a bit during the Fall Swing, though we correctly picked the winner at the Houston Open, with Stephen Hennessey and Brandon Gdula each hitting on Tony Finau at 16-1. Here's to many more winners in 2023.
Sentry Tournament of Champions picks 2023: Sleepers/Dark Horses Who Could Win
Caddie: Hideki Matsuyama (35-1, DraftKings) — There seem to be a bunch of unknowns on Hideki entering the season. But what's not unknown is that he's one of the best iron players on the planet when his game is sharp. I'll take a gamble at these big-time odds in this small field that we get elite-level Hideki this week.
Mayo: Hideki Matsuyama (35-1, DraftKings) — The results were quite poor from June on, but Matsuyama has flashed at Kapalua in the past (three top-fours in five starts), and his iron play wasn't all that poor during the fall stretch. It was mainly the driving. And even then, in two of three starts in the fall swing, he gained distance on the field but the accuracy was so bad he lost strokes off-the-tee. You need to be hilariously inaccurate to miss these giant fairways. The number simply seems too large for a player of this quality.
Gdula: Scott Stallings (100-1, FanDuel) — Stallings has the volatility to his game that you need to beat a field like this. He is a good overall player with no real weaknesses, and that can be enough to keep him in the hunt through Sunday.
Gehman: Seamus Power (45-1, DraftKings) — Power was scorching hot to finish his 2022, earning a win in Bermuda and then following it up with a T-3 in Mayakoba and T-5 at the RSM Classic. The missing piece for him has been the ball-striking. He won't find much trouble off-the-tee this week so if he can gain just a few strokes on his approaches over four days, he'll put himself in prime position on the leaderboard.
Hennessey, Golf Digest: Max Homa (35-1, Caesars Sportsbook) — Homa's got only two appearances at Kapalua, but he's proven his game translates to big ballparks where second shots are crucial (Riviera and Quail Hollow, anyone?). His putter can get scorching hot, and I think these odds in this event continue to show some disrespect for the now-five-time PGA Tour winner.
Powers, Golf Digest: Hideki Matsuyama (35-1, DraftKings) — I'm with Pat here even though it's not a true longshot, but it's the best we're going to do in a limited-field event. Seems like a wild misprice on a world-class player who has found plenty of success in this event.
Lack: Tom Hoge (80-1, PointsBet) — While it's hard to envision Tom Hoge raising a trophy in a field with so many of the world's best players, I am actually enamored by his course fit this week. With eight par fours measuring under 430 yards, Hoge's world-class wedge play will be able to shine.
Sentry Tournament of Champions picks 2023: Players We're Fading
Caddie: Tony Finau (14-1, DraftKings) — He's very accustomed to playing at elevation, which is why his bad course history surprises me. I think that's a big-time factor this week—there seems to be something that doesn't suit Finau's eye at Kapalua.
Mayo: Patrick Cantlay (10-1, DraftKings) — Rightfully priced as a favorite, especially with his track record at this event. However, of all the top-priced players in this field, he's my least favorite to claim victory.
Gdula: Collin Morikawa (18-1, FanDuel) — It hurts to want to fade any of the favorites, and Morikawa could throw darts at the flag all weekend because of how good he is in the wind. However, the putter and wedges can always hold him back, and at a true birdie-fest, that's enough for me to prioritize other options.
Gehman: Jordan Spieth (22-1, DraftKings) — Speith was magical at the Presidents Cup, going 5-0-0 and headlining the American victory. Outside of those few days, Spieth hasn't been very good. He's in the midst of the worst putting year of his career and has been erratic in the other facets of his game. He would need to completely flip the switch to make a run this week.
Hennessey, Golf Digest: Tony Finau (14-1, DraftKings) — I predict big things for Finau in 2023 (see my futures bet on him), but that swing video Tone posted on Tuesday has me a little scared for this week. It's possible he's using this week to work on some things, which is fine, but isn't a sign we should be investing.

Powers, Golf Digest: Jordan Spieth (22-1, DraftKings) — Spieth has very solid history at Kapalua but there's no way I'm starting 2023 with a ride on the Spieth-coaster.
Lack: Matt Fitzpatrick (16-1, BetRivers) — While the reigning U.S. Open champion is always a threat, Kapalua does not do the best job of accentuating his greatest skill-sets. Fitzpatrick is an incredibly accurate driver of the ball and has one of the best short games on the PGA Tour. On a course with a driving accuracy percentage and greens in regulation percentage both north of 80 percent, I struggle to find value with Fitzpatrick in a field with so many other elite players.
Sentry Tournament of Champions picks 2023: Matchups
Caddie: Patrick Cantlay (-130) over Tony Finau (DraftKings) — My pick to win against my fade, pretty simple (scroll up for the analysis).
Mayo: Brian Harman (-105) over Seamus Power (DraftKings) — Both come in riding excellent form from the swing season, but it's Harman who has not only played in this event before, but has equated himself far better in high-talent events over the years. Plus, it's a nice bonus he's won at a crossover course like TPC Deere run in his career.
Gdula: Tom Hoge (+102) over K.H. Lee (FanDuel) — Nothing against K.H. Lee here, but Hoge just has been the better golfer over the short-term and long-term but is being treated as an underdog.
Gehman: Aaron Wise (-120) over Corey Conners (DraftKings) — There is an inherent safety in Aaron Wise. He's gained strokes to the field in 72 percent of his last 100 rounds – per the RickRunGood.com golf database. That rate is similar to Sungjae Im, Tony Finau and Xander Schauffele. Wise lacks the upside of those three but he only has to beat one golfer here so we're investing in his floor, not his ceiling.
Hennessey, Golf Digest: Adam Scott (+100) over Billy Horschel (DraftKings) — The Aussie has significant edges against Horschel in par-5 scoring (Scott's eighth in this field and Horschel's 25th, over the past 36 rounds), course history at Kapalua (Scott's 10th and Horschel's 21st) and Birdies or Better gained (Scott's 17th, Horschel's 33rd), all per Fantasy National.
Powers, Golf Digest: Collin Morikawa (-120) over Tom Kim (DraftKings) — Can't recall where I saw it, but there's a stat out there somewhere that shows how poorly debutants have fared in this event over the years. It makes sense. Despite the fact it's always a birdie-fest, Kapalua still takes a little getting used to, especially if the winds are up. I'll ride with Morikawa, who is making his fourth start in this event and has finished top five in all three previous trips.
Lack: Viktor Hovland (-108) over Matt Fitzpatrick (FanDuel) — While Viktor Hovland's history at Kapalua leaves a lot to be desired (31st and 30th in two appearances), the young Norwegian has actually struck the ball well here and been undone by shaky around-the-green play. I still have room for optimism given the fact that Hovland has been working on his short game tirelessly, and the numbers back it up. The 25-year-old has gained strokes around-the-green in his last four measured starts. If he can be at least field average in this category, I expect him to cruise to victory over Matt Fitzpatrick.
Matchup Results from the RSM Classic: Mayo: 1 for 1 (Dahmen (-130) over Gordon); Gehman: 1 for 1 (Hughes (-110) over NeSmith); Powers: 1 for 1 (English (-120) over Hodges); Caddie: 0 for 1; Gdula: 0 for 1; Hennessey: 0 for 1
Matchup Results from this season (Wins-Losses-Pushes): Hennessey: 6-3-0 (up 2.71 units); Gehman: 6-3-0 (up 2.39 units); Powers: 4-5-0 (down 1.11 units); Caddie: 3-6-0 (down 3.1 units); Mayo: 2-6-0 (down 4.33 units); Gdula: 0-8-1 (down 8 units)
Sentry Tournament of Champions picks 2023: Celeb shot of the week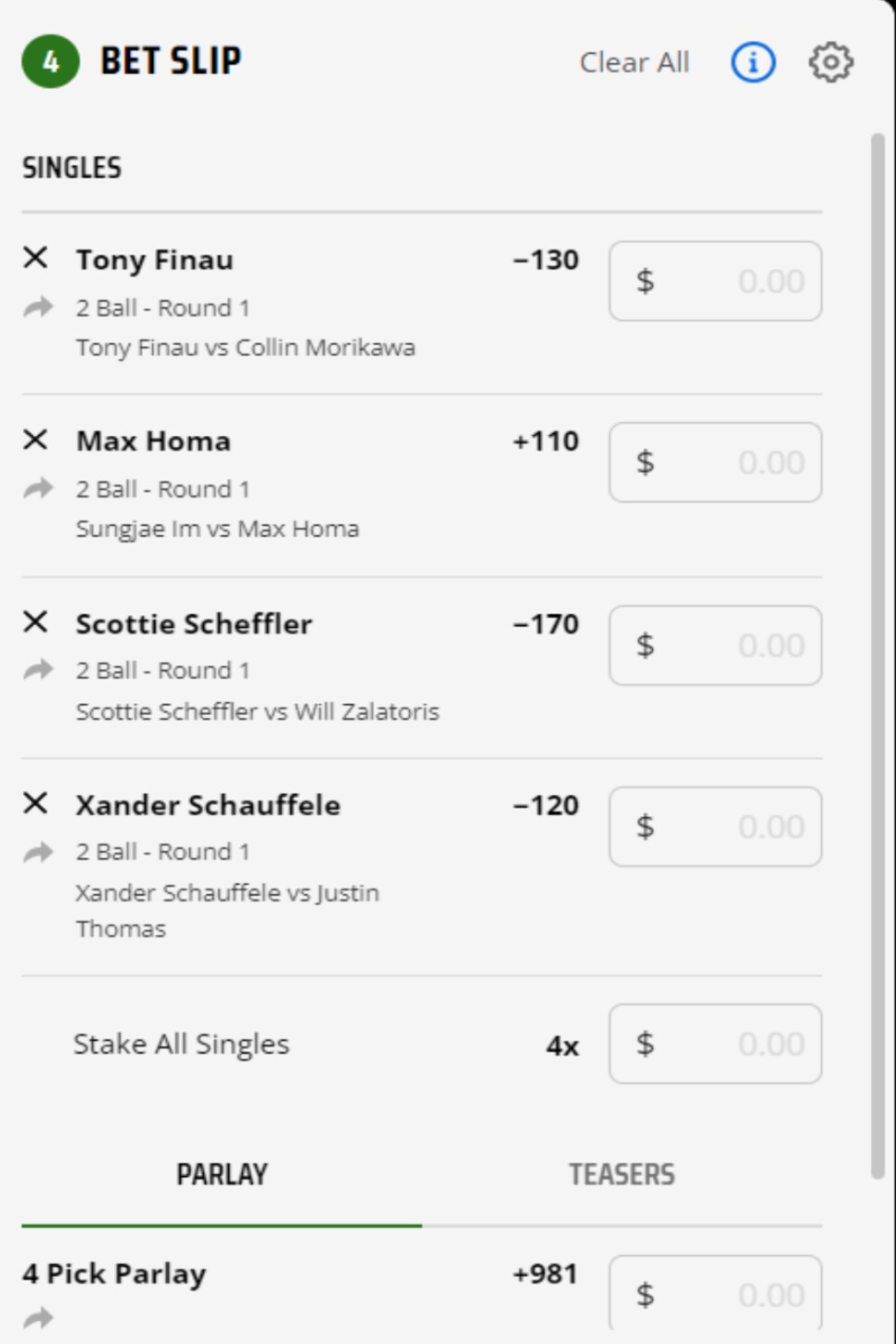 Sentry Tournament of Champions picks 2023: Top 10s
Caddie: Collin Morikawa (+155, FanDuel) — He's got a very understanding wife, so the recent marriage doesn't really bother me with this pick. His iron play + plus-odds on a top-10 seem like a very nice bet.
Mayo: Brian Harman (+240, DraftKings) — Closed the swing season on a heater, and returns to a course which should fit his eye. He's posted a third and a T-17 in two appearances in his career which tracks, because half the time the TOC just boils down to a wedge and putting contest. The perfect scenario for Harman to excel.
Gdula: Max Homa (+230, FanDuel) — Homa was 15th here a year ago, and while he's not overly long off the tee, he shouldn't fall too far behind. He's a good putter, and with the large greens, the modest irons (relative to the field) can be enough to get in the top 10.
Gehman: Tom Kim (+180, DraftKings) — It's hard to find any negative with Tom Kim's game since bursting onto the scene last summer. He has two wins in his last eight starts and he has seven top-15 finishes in his last 11 events. Although it's a smaller sample size than his peers, Kim has elite ball-striking numbers and is the best putter in this field on bermudagrass.
Hennessey, Golf Digest: Collin Morikawa (+155, FanDuel) — Morikawa has three top-seven finishes in his past three starts at Kapalua … let's make it one more.
Powers, Golf Digest: Tom Hoge (+400, DraftKings) — While I did just point out that first-timers aren't great at Kapalua in my matchup bet, it does seem like a perfect course fit for Tom Hoge. This event is ripe for backdoor top 10s, too, so as long as Hoge makes some sort of Sunday push this will feel like great value in such a small field.
Lack: Sungjae Im (+130, DraftKings) — Sungjae Im could easily be slotted into my pick to win, and I have an extremely hard time imagining a scenario where he is not in the mix come Sunday in Hawaii this week. He's both one of the best long iron players and lag putters in the world, which account for two of the most crucial skill-sets at Kapalua. Another point to consider with Kapalua is the egregiously low scoring, and I have little doubt in Sungjae's ability to catch fire with the flat stick, as the 24-year-old ranks fifth in this field on courses with easy scoring conditions.
Top-10 results from the RSM Classic: Gehman: 1 for 1 (Joel Dahmen +700); Everybody else: 0 for 1
Top-10 results from this season: Gehman: 2 for 9 (up 2.25 units); Gdula: 2 for 9 (up 2 units); Hennessey: 1 for 9 (down 1 unit); Mayo: 1 for 8 (down 3 units); Caddie: 1 for 9 (down 3.5 units); Powers: 0 for 9 (down 9 units)

Sentry Tournament of Champions picks 2023: One and Done

Gehman: Cameron Young — There's a new dynamic for One and Done this season with so many elevated events. I don't love burning an elite talent out of the gate but there is a $15 million purse this week. I've settled on Young who has a crazy amount of upside and the game to fit the Plantation Course. He will be able to bomb it around this place and try to eat up the par 5s. If he putts well this week, he has an opportunity to stand on the podium Sunday night.
Previous weeks: Fortinet Championship: Emiliano Grillo. Sanderson Farms Championship: Sam Burns. Shriners: Taylor Montgomery. Zozo: Sungjae Im. CJ Cup: Matt Fitzpatrick. Bermuda: Denny McCarthy. Mayakoba: Viktor Hovland. Houston Open: Aaron Wise. RSM Classic: Brian Harman.
Hennessey: Patrick Cantlay — I don't think I'll use Cantlay in a major this year, so he's worth using in this elevated event with this massive first-place prize.
Previous weeks: Fortinet Championship: Cam Davis. Sanderson Farms Championship: Denny McCarthy. Shriners: Emiliano Grillo. Zozo: Hideki Matsuyama. CJ Cup: Sungjae Im. Bermuda: Mark Hubbard. Mayakoba: Viktor Hovland. Houston Open: Jason Day. RSM Classic: Brendon Todd.
Powers: Xander Schauffele — Feels crazy to burn X here, especially if you like him to finally break through in a major this year. But now that Sentry is an elevated event, the whole vibe will shift from laid-back Hawaii affair to serious business. With that in mind, you're going to have to burn really good players in these spots.
Previous weeks: Fortinet Championship: Sahith Theegala. Sanderson Farms Championship: J.T. Poston. Shriners: Sungjae Im. Zozo: Hideki Matsuyama. CJ Cup: Tyrrell Hatton. Bermuda: Russell Knox. Mayakoba: Thomas Detry. Houston Open: Sepp Straka. RSM Classic: Davis Riley.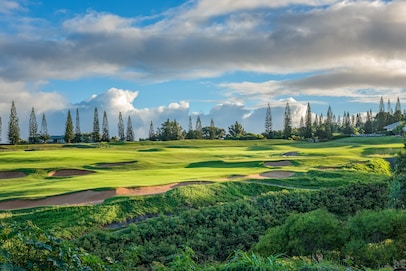 From Golf Digest Architecture Editor emeritus Ron Whitten: Most golf fans are familiar with Kapalua Golf Club's Plantation Course, home of the PGA Tour's opening event each year. Located on the north shore of the Hawaiian island of Maui, the Plantation was built from open, windswept pineapple fields on the pronounced slope of a volcano and is irrigated by sprinklers pressured solely by gravity. As the first design collaboration by Bill Coore and Ben Crenshaw, it unveiled their joint admiration for old-style courses. The blind drive on the fourth, the cut-the-corner drives on the fifth and sixth are all based on tee shots found at National Golf Links. So, too, are its punchbowl green and strings of diagonal bunkers. It's also a massive course, built on a huge scale, Coore says, to accommodate the wind and the slope and the fact that it gets mostly resort play.
View Course
Pat Mayo is an award-winning video host and producer of long- and short-form content, owner of the Mayo Media Network and host of The Pat Mayo Experience. (Subscribe for video or audio.) Mayo (@ThePME) was named 2021 Daily Fantasy Writer of the Year by the Fantasy Sports Writing Association, while also being a finalist for Podcast of the Year and Golf Writer of the Year. Mayo won the 2020 FSWA Daily Fantasy Writer of the Year and Golf Writer of the Year awards, along with the Fantasy Sports Trade Association Best Sports Betting Analyst award in 2020. He was a finalist for four FSWA Awards in 2020 (Best Podcast, Best Video, Daily Fantasy Writer of the Year, Golf Writer of the Year). Mayo is on the board of governors at www.fantasynational.com.
Brandon Gdula, managing editor and analyst for NumberFire, a FanDuel daily-fantasy analysis company, recently won the 2018 FSWA Golf Writer of the Year. Gdula also co-hosts the DFS Heat Check podcast. Follow him on Twitter: @gdula13
Rick Gehman is the founder of RickRunGood.com and the RickRunGood YouTube Channel, is one of the industry's leading experts on golf DFS and gambling. Gehman is co-host of the First Cut Podcast and appears regularly on the Pat Mayo Experience golf podcasts. Follow him on Twitter: @RickRunGood.
Andy Lack is a PGA Tour writer and podcaster from New York City who now resides in Los Angeles. He hosts Inside Golf, a twice weekly podcast focused on the PGA Tour, betting, daily fantasy, golf course architecture, and interviews, as part of the BlueWire podcast network. As well as contributing to Golf Digest, Andy is also a data analyst and writer for RickRunGood.com, where he covers PGA Tour betting and daily fantasy. He came to Golf Digest's betting panel after previously writing for Golf.com, the Score and GolfWRX. In his free time, Andy can likely be found on a golf course. Follow him on Twitter: @adplacksports